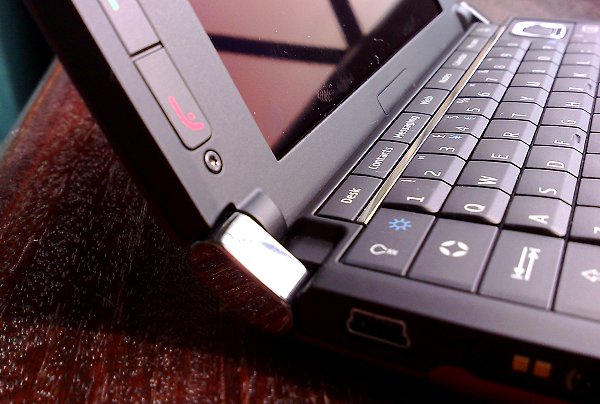 Introduction
From my E61i piece:
"After my lengthy two-part (look 'em up) piece looking at the functionality (for me) of the Google Nexus One compared to the Nokia N97, I was struck by how many commenters still misunderstood my intentions. I was explicitly looking at real world functionality, not raw specifications. So, for example, I would talk about music playback or secure databasing or video watching and I would get back comments like "But, dude, the Nexus one blows the N97 away, it's got a 1 GHz processor and capacitive screen!". Totally missing the point. Great specs are important, but they're not the end of the matter when it comes to your smartphone helping you get through your daily life."
The Nokia E90's unique selling point is, of course, (and like the E61i) its form factor. Here we have twin screens, with the internal one hitting 4" (the same as the very top end superphones of today), plus decent qwerty keyboard, loud stereo speakers, surprisingly good 3mp camera with VGA video recording, graphics acceleration, 80MB of free RAM, oodles of free space on disk C:, SDHC support and so on. It's still a compelling device, when you look at it like that.
But what about the software, the E90's Achilles heel? S60 3rd Edition Feature Pack 1 brought a similar core OS to the Nokia N95, but everything had to be slightly adapted for the E90 becaus e of the non-standard (i.e. bigger than QVGA) screen size. And where there are adaptations, there will be stagnation, since the offshoot OS in the E90 got left behind while the rest of S60 marched on (towards 5th Edition). This is being a little over-dramatic, as the E90 did receive several bug-fix firmware updates, but it's fair to say that, despite the RAM and graphics chip, several functions are on the tardy side, limited by software that had been stretched (both metaphorically and literally) from its QVGA roots.
However, as with the E61i, I was curious as to how useable the E90 would be in 2010, both in terms of its core OS and in terms of the evolving software and services scenes. How well could I make it shape up?
Replacing the 2010 N97?
Because the E90 is a lot closer to 2010 spec than the E61i, I've opted for the same approach as I used when wondering whether a Google Nexus One could replace my Nokia N97, i.e. I've taken the 15 most common things I need to do on a smartphone and looked at how well the E90 copes. After all, it should get most of the way 'there'... I've also picked a 'winner' (just for fun) in each case...
In approximate order of importance to me(!):
Listening to podcasts – the number one thing I use my smartphone for. Keeping up with around a dozen audio podcasts from round the world, these are my companion on journeys and when unable to sleep at night. Podcasting is built-in (or an easy first download) on the E90, as on the N97, and arguably works better in that playback can be using the hardware d-pad rather than having to stab at a touchscreen or fiddle with a multimedia hands-free control. (Winner=E90)

PIM (Personal Information Management) - All Symbian phones come with sync routines from these to Microsoft Outlook at the very least, plus to Windows Address Book and, with a free plug-in to iCal and Address Book on the Mac. Notes isn't included for any of the above, but local sync is essentially covered. Syncing to the cloud is another matter, with Microsoft Exchange protocol normally called upon, via Nokia's client or RoadSync's third party client. But it's never trivial and often problematic. And there's no integrated Facebook contact integration. Both the E90 and N97 are in the same boat here, though the more recent device arguably has more options. Being a Mac user for the last few years, I just sync all my smartphones with iSync, locally, so haven't explored online sync to the nth degree. Sorry. (Winner=N97)

Gmail – the biggie for many professionals these days, this is close to being the perfect email solution – no worries over backups, viruses or spam, and access from any computer, phone or fridge set top box anywhere in the world. And the document sharing features make it ideal for integrating into an online, mobile office – this is 2010, you know? Gmail's ubiquity means that there are several ways of accessing it on a Symbian-powered smartphone, but in truth none are perfect. Nokia Messaging (which can be installed onto the old E90 if you really want it and which apparently works well) attempts a server-side push system but is not really needed for an Internet-hosted (as opposed to an ISP-hosted) email system in the first place. Google's own mobile client is Java-based, fully kitted up for 'starring' emails and other advanced Gmail features (such as contact history and search), but text entry is a real pain, via the Symbian Java full-screen editor. The E90 makes do with the old 'Messaging' email system and both POP3 and IMAP work fairly well here, but do need a geeky touch to set it all up properly – and you still don't get all Gmail's advanced features.



So... lots of options and no standout solution. The biggest difference between the E90 and N97 here is that on the former, the Java runtime is a lot slower, taking about six seconds to start up - if you use the Gmail client, then you'll want to keep it loaded in RAM at all times. (Winner=N97)


Mapping and Navigation – Just about every top end smartphone since the N95 has had GPS built-in (the E90 was the next, if I remember right!), with Nokia buying up Smart2Go and developing it into Nokia (and now Ovi) Maps. The latest incarnation, with real time voice navigation anywhere in the world free (forever) for all the latest Nokia phones, works really well on the N97, though the E90 owner has to make do with stumping up the 10 Euros a year admin charge for the same thing. Not a huge problem.

It's fair to say that, navigation charge aside, Ovi Maps works just as well on the E90 as on the N97. Maybe even better, since the display is larger and higher resolution and the E90's GPS is more sensitive. (Winner=E90)


Twitter – OK, I admit it, like (famously) David Pogue, I've gone from Twitter-sceptic to Twitter-holic rather quickly. It's the first place I pick up on breaking news and on the thoughts of the tech experts in my field of view. On Symbian, there's the phenomenal Gravity third party client if you're happy to part with £8 or so (it's worth it) or an interesting number of alternatives if you're not. The N97 is perfect for Gravity, showing off the kinetic scrolling and intuitive touch interface with a great choice of fonts. On the E90 it still works pretty well, though I have to use 'View|Large fonts' to use it comfortably. (Winner=N97)



Camera – The N97 produces cracking 5 megapixel images using its Carl Zeiss lens, plus 'good enough' VGA videos with goodish sound, providing you're not trying to shoot subjects closer than a metre or so. The E90, long my blogging tool of choice at conferences and events, has an excellent 3 megapixel camera, plus - very importantly - pre-focussed VGA videos (as on the N95 and N86), enabling filming of subjects nearby (people, pets, phones! - MP4 example, 4MB, filmed on early firmware back in 2007). Yes, the E90's camera doesn't have a Carl Zeiss lens, but this last facility means that in my eyes it just wins out over the much newer N97 unit. (Winner=E90)



Alarm clock - yes, yes, a fairly trivial function for such a capable device as a smartphone, but it's also something that has to be there if I'm to wake up in time to get the family off to work and school each weekday. Essentially the same utility is built into both N97 and E90, but the E90 wins out because I can snooze it by hitting a physical key (on the outside keypad) without looking, rather than having to open my eyes and stab at a touchscreen. (Winner=E90)


Secure database - having a password-encrypted store of passwords, PINs and ID numbers is an essential part of modern life for anyone who cares about ID fraud and security. You can't just use the same password on every service. And what about all those software activation and registration keys? In the Symbian world, I've always sworn by Epocware's Handy Safe Pro, mainly because they offered a PC client that did faultless, two way sync to all my phones, all with the one purchase and registration code.



Both the E90 and N97 run Handy Safe Pro well. The E90 scores better because of being able to enter a numeric PIN to unlock the app without having to jump through hoops and in easier copying and pasting of content, while the N97 scores better in use of screen real estate and general interface. (No overall winner)

YouTube - being able to bring up most popular events in modern history, or virtually any music video, or archive clips of old bands, at a moment's notice, is something I've got very, very used to. On Symbian-powered phones, there's Google's dedicated YouTube client (now up to v2.4.4, including logging in to access favourites, etc.) or you can use the mobile site - or even desktop site, with embedded Flash video, if you really like. Plenty of options, though I usually go with the client. This runs on the E90, but doesn't make best use of the large screen and performance is definitely better on the N97. (Winner=N97)



Music playback - having my phone as my primary mobile music device has been part of my life for the last 6 years and the experience (gapless playback apart) on Nokia smartphones is usually very good. Although the N97 doesn't have hardware music controls (like the N95 and N96), it does come with a multimedia headset with its own playback controls. On the Nokia E90, there are no music controls, plus (to my knowledge) there's no multimedia headset compatible with its (4 pole) 2.5mm jack - by the time you've used a 2.5mm to 3.5mm adapter, you've lost the extra pole and any extra control. You do get d-pad control when Music player is in the foreground, but it's not the same somehow. (Winner=N97)



Torch - a seemingly trivial function, but one that's very important to me. Yes, it's possible to simply use the screen display on maximum brightness, but that just gives a general glow - I've loved phones and phone apps that let me use the camera LED as a real torch. Starting with the likes of the Nokia 5500 Sport and N93 and now with the PhoneTorch utility on S60 5th Edition. It's complicated a tad on the N97 by having to retract the lens/flash cover and then 'Exit' the Camera app first, but it's a small price to pay for what is a half decent emergency torch on a dark night. With a little third party software on the E90, you can 'strobe' its camera LED flash, but (again, as far as I know) there's no way to keep it on permanently. (Winner=N97)

iPlayer - the UK's (well, the BBC's) TV-on-demand service is ubiquitous and tremendously useful - going to bbc.co.uk/mobile/iplayer on the N97 pops up a download for a dedicated Symbian client. Having a batch of recent programmes downloaded (with time-locked DRM) on your mass memory or memory card for watching on the way into work or on a boring train journey is just lots of fun. Sadly, the BBC never released a version for the E90 (just the E71 and N95 made the cut), though I understand that there are number of 'hacks' which might allow this. (Winner=N97)

Games - yes, even the

great

modest Steve Litchfield needs to play games sometimes! Usually while waiting in line on journeys or for my family in the supermarket. There's no shortage of casual games for Symbian these days, though decent full action titles are rather harder to find. My favourites on my N97 are Micropool and the free Global Race: Raging Thunder driving game. Neither play well on the E90's main screen, although the latter did come with the hardware-accelerated original version of Global Race. There really aren't many games which play acceptably on the Communicator though, due to the wide screen - most S60 3rd Edition titles either assume or are optimised for QVGA screens. (Winner=N97)

Movies - like most people, I keep a quantity of video on my phone (no, not that sort of video, I'm talking about favourite rock music clips, a few DRM-stripped (shhhh) documentaries, a handful of full length movies). The E90, despite being a 2007 device, does better than expected here, with the powerful graphics subsystem ensuring that near-full-screen playback of my MP4s works well (tip: '2' after starting playback gets rid of the on-screen furniture and broadens the playback window), along with great sound. However, the N97 goes one better, with an even larger playback area (thanks to the more optimised aspect ratio) and wider selection of supported codecs (more MP4 and better WMV, all coming courtesy of S60 5th Edition). Sound isn't as good on the newer device, but otherwise the experience is slightly better all round. (Winner=N97)

Phone - ah yes, how could I forget that these devices are supposed to be telephones? Both N97 and the E90 make good phones, though the E90 leaps ahead in terms of ergonomics - in closed mode, it's the perfect (if heavy) button-driven phone, plus the speakers are loud and of great quality, whereas the N97 relies on a certain amount of touch screen gymnastics and the speakers are tinny (though still streets ahead of many non-Symbian phones - it's all relative!) (Winner=E90)
It's fair to say that all the important bases above are covered by the E90, which is why, even in 2010, it remains fully synced to my main data sets and is always 'on call' for use when needed. And it managed to best the N97 in five of the above functions, some achievement for a smartphone that's two years older!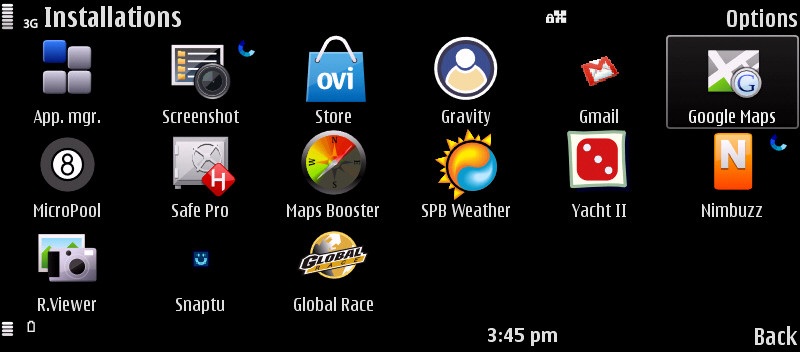 Also installed - Pimp that E90!
In addition to getting to grips with the functions above, I also had quite a bit of fun 'pimping' the E90 with latest versions of a number of other applications, not all of which proved a major success:
Google Maps - the latest v4.0, complete with Google Buzz, works very well here, again taking full advantage of the E90's 800 pixel-wide screen, though the fonts used for detailed listings (including for individual 'buzz' entries) is eye-strainingly small. More...



Maps Booster, the Wi-Fi based location system that works wonderfully in towns and cities but is a pain in the country (so turn it off!), works well on the E90 and gives me an instant position fix, even indoors in Ovi Maps 3.1. More...

Nimbuzz, the VoIP and instant messaging client works well and is especially useful for Skype chatting with the other AAS staffers, though again the screen isn't used fully - there's a lot of empty space around the contact names and messages.



Resco Viewer, reviewed previously on the E90, was brought up to the latest version 6, bringing smoother image transitions - the default E90 Gallery application is stupendously, ridiculously slow and Resco Viewer is the only way I can find to make image viewing bearable! It's fully E90-friendly and decently fast at all operations. Recommended. More...





Snaptu - aside from the five second startup time (it's Java-based), Snaptu could have been made for the E90 - it works superbly, bringing TV listings, Twitter, Facebook, BBC news, Weather, Tube status and more, all in one handy online application with minimal data use. Again, highly recommended, whatever phone you use. More...



Nokia Internet Radio - although not officially supported, the version for the N95 (for example) works fine in 'closed' mode. It's a shame that the app crashes and burns if you then open the Communicator - we've all been waiting for Nokia to fix this for years! More...

Nokia Ovi Store - the latest version of this glorified widget does work on the E90, but it's a horrible experience, with tiny fonts and acres of wasted space. Nokia, there must be something you can do to fix this without bloating the widget any more?



Google Mobile Search - other S60 3rd Edition devices work well for voice searching and general inquiries using Google's 'new' Mobile app - unfortunately, installing this on the E90 means a homescreen shortcut of 'ctrl', a key which is only available when the E90 is 'open'. You're ten times as likely to want to do a voice search with the E90 closed, I'd have thought, and there doesn't seem to be a way to change the hotkey. Sigh... More....
From villain to hero?
From the early hype and leaks to release and then almost immediate criticism (mainly from the 9500 Communicator fans, who were upset about the dropping of 'Series 80'), it has been interesting to watch perception of this, Nokia's biggest, most expensive, and in some ways, most ambitious smartphone ever. When the E90 is mentioned in 2010 by a blogger, you're likely to see the word 'legendary' somewhere nearby.
For the current touch generation, used to plastic resistive screens and a distinctly uninspiring touch implementation, the idea of a metal hero, driven by the best qwerty keyboard in the last 5 years, with the largest screen in the last five years, and powered by Nokia's largest battery, must seem very appealing.
And indeed it is. Still. As you'll have seen above, in areas of core functionality and for mainstream, well-written applications, the E90 still matches anything else on the market, three years later. Its main weaknesses lie in lack of support by developers for the somewhat unusual screen.
Can an E90 replace an N97? Quite possibly, though you'll have to compromise a little on applications. Can an E90 be fully pimped to 2010 standards? I say yes. And I note that, on eBay, over the last 3 months, the average (completed) selling price for an E90 is around £160 - that's still something of a bargain in my books - and you can bet that such a unique device will hold its value, or even rise. What are you waiting for?
Steve Litchfield, All About Symbian, 30 March 2010