Review:
Nokia E90 - Camera and Multimedia
In our ongoing review of the Nokia E90, Steve Litchfield decides that all work and no play make a Communicator owner a very dull boy. Here he looks at all things multimedia, with still and video photography, plus video and music playback.
Links to previous review parts: Nokia E90 - the Early Verdict and Nokia E90 - Adapting the Applications and Nokia E90 - Web and Work
Camera
With the E90's predecessor, the 9500, having a basic VGA camera, there was at least a precedent for imaging on the pure business 'Communicator'. But the pics from a VGA camera are strictly for casual snaps and are grainy even when printed at only 6" by 4". The E90 takes things to a whole new level, with a 3.2 megapixel camera that's comparable, in resolution at least, to a standalone digital camera from only a couple of years ago. Moreover, the E90's camera hardware can also record video at full VGA ('DVD quality' in Nokia's parlance) resolution at up to 30 frames per second, the same spec as the Nokia N93, N93i and N95. All this in a business communicator? What's the catch.
Actually, there doesn't seem to be one. Despite not being blessed with a 'Carl Zeiss' lens, the E90's optics seem up to the job and, more to the point, its image processing algorithms seem superb, unlike those in the N93 (often too noisy), N93i (too smoothed) and N95 (too edge-enhanced).
Check out the quality of the photos below, click through to see/save the full resolution (your browser may auto-scale them down, click its resize tool if needed in order to get the resolution back up):
Very, very impressive, I'm actually happier with these photos than I am with any from my Nokia N93 or N95, previous photographic champions (in different ways). In not quite such good light, and trying to use the E90 in a more snapshot-like environment, I popped out just now and grabbed these:
But it's hard to compare just from memory, so let's take a few examples, with the identical shot taken on all three and then some detail blown right up so that you can see any differences:
Test shot 0: Early morning, bright semi-sunlight, nice green garden(!)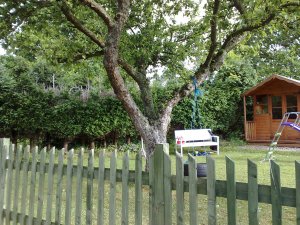 From left to right, much enlarged details from the Nokia N93, N95 and E90: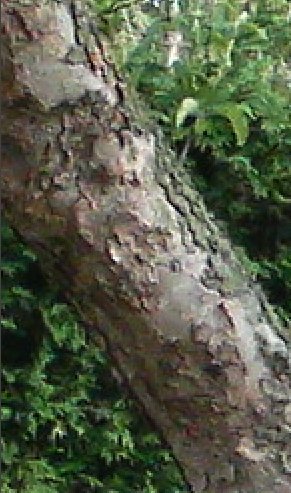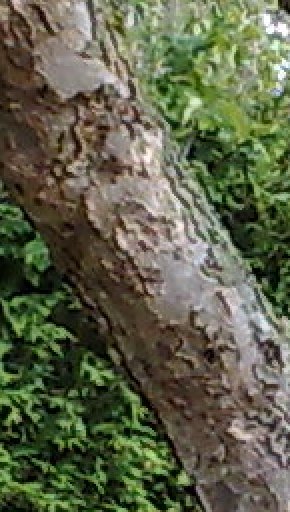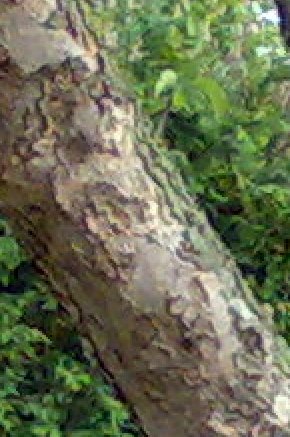 A fairly easy win for the Nokia N93, but the E90's image isn't a million miles behind, considering the difference in initial expectations of the device.
Test shot 1: Good light, a close-up of a puppy ornament on the window ledge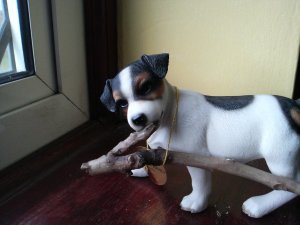 From left to right, much enlarged details from the Nokia N93, N95 and E90: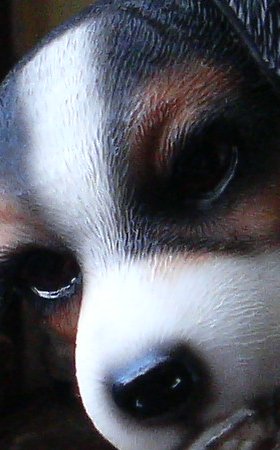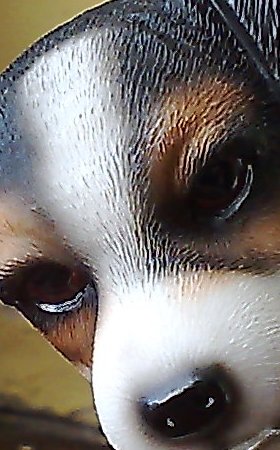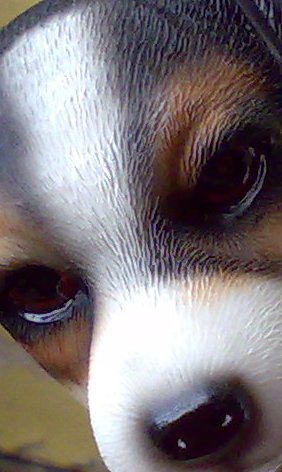 Another easy win for the Nokia N93, with the N95's over zealous edge enhancement completely ruining the photo as usual. And again the E90's image is comparable to the N93's, even though the colours aren't as vibrant.
Test shot 2: A dark room and a small toy - how good is the flash on each device?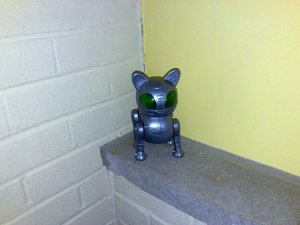 From left to right, much enlarged details from the Nokia N93, N95 and E90: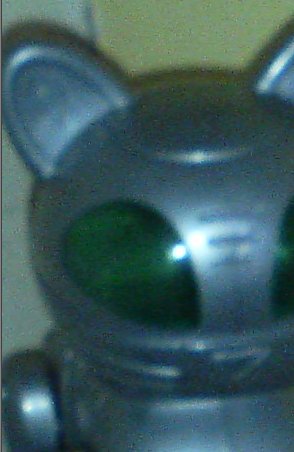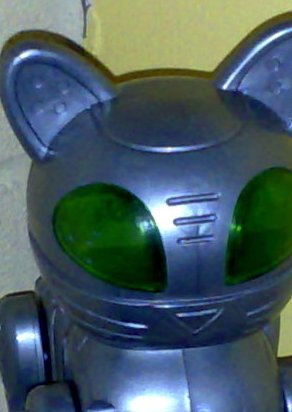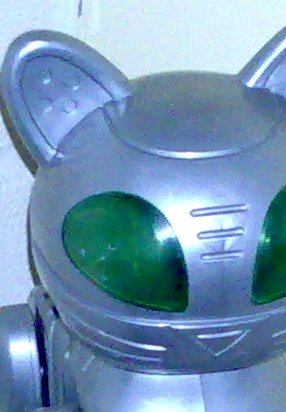 The N93's weakpoint uncovered - an understrength flash and no proper focussing in dark conditions (even with latest firmware). I'd rate this shot as a toss up between the N95 (slightly dark) and E90 (slightly washed out - again).
The lack of professional optics is possibly the reason for the less than perfect colour capture of the E90's camera, but you'll have to admit that to even be in the same 'race' as the N93 and N95 is, for a Communicator, rather impressive.
Access to the camera is slightly slumsier than in dedicated multimedia smartphones though - you have to pick the Camera application from the standby screen or using the main S60 menu. This takes an extra second or so and I wonder why the dedicated shutter button on the right side of the device wasn't doubled as a Camera-starter. It's not a huge problem though.
Gallery on the E90 is the standard Eseries affair, of course, there's no Nseries editing and uploading wizardry, although there is the 'split screen' layout tweak previously mentioned, and being able to zoom to 800% really shows off the huge free RAM in the device:
Turning my attention to video, here's an unprocessed clip shot yesterday on the E90. Unlike with the N93, which (uniquely) has stereo microphones pointing in the direction of the lens, the E90 is in the same boat as the N95, with audio captured via the standard phone mike - hence the comment in the clip.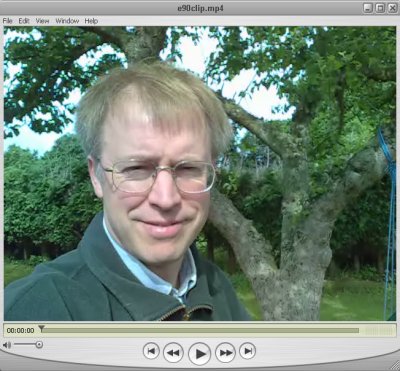 (Click the image to play the MP4 file in your browser, otherwise right-click to save to your device - it's only 4MB)
As with the still images, if I'm picky I'd highlight the fact the colours are very slightly washed out. And when there's wind swirling around, there's horrible buffeting of the side-facing microphone. But, again, to have VGA video recording at 30fps on a Communicator is totally unexpected and very welcome. The E90 makes for a very capable standby camcorder for all your family activities.
Multimedia
Gallery is again sufficient without ever seeming impressive, with RealPlayer very capable at playing back MP4 videos created on the Communicator or downloaded, and again with no RAM issues whatsoever.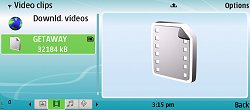 Standard 4:3 aspect ratio videos can be shown correctly but there's no zoom or stretch facility to help make more of the wide 800 pixel screen. Create your videos in a wide-screen ratio on your desktop, though, and the E90 will play them happily in their native resolution. No doubt third party video players such as Smartmovie and CorePlayer will work as well, but these days RealPlayer seems good enough for most purposes - most of the skill in getting movies and video clips onto your device is now on the desktop, with which converter/encode you use.
Although many people have rumoured TV-out for the E90, I haven't seen any evidence of this yet in the firmware... unless this is going to be a very last minute addition.
There's the usual streaming support in RealPlayer, for .ram and .rm audio and video streams, but as usual I think Nokia hasn't put enough effort in here. Users should not have to research their own complex rtsp:// URLs - Nokia should maintain their own online directory for users to access day-to-day. And having RealPlayer not ask which access point to use before starting to stream makes for the occasional unexpectedly large phone/data bill...
Music playback is uniformly excellent, with full support for all varieties of AAC, MP3 and WMA, with large and loud stereo speakers on the bottom of the device, with A2DP stereo Bluetooth playback and with a bog standard 2.5mm 4-way smartphone audio jack to pipe music to a wired stereo headset (though as I haven't seen a boxed E90 yet, I can't confirm exactly which accessory is going to be included as standard).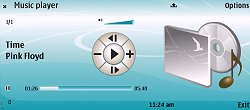 As with Camera, you have to access Music player through the standby screen shortcuts or via the main S60 menu, though at least there's the extra standby screen 'playback' line, for quick pausing or restarting. With the clamshell open, there's also the option of assigning the 'Multimedia' (My own 2) key to Music player too, which works well.

Unlike on the Nseries devices, there's no way to assign album art to tracks. Still, playback is of good quality, there's a working Equaliser and I experienced no drop outs or stuttering, even when launching heavyweight apps like Web in the background.
Stuffing your E90 with music tracks is as easy as on any other recent S60 device. You either copy folders of music on using PC Suite or using the S60 3rd Edition 'Mass storage/Data transfer' mode. Or even take the microSD card (I was using a 2GB card, I'm not sure yet if higher capacities are supported) and load it up in a desktop card reader.
Continuing the crossover of Nseries functions into the Eseries, there's an FM radio here too, although the application in the review late-prototype wasn't working for some reason - possibly because I was using a non-Nokia headset as its aerial.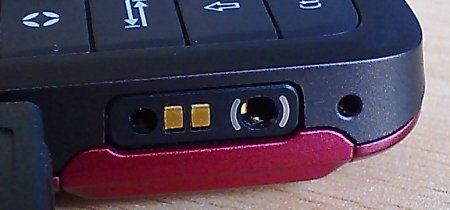 The Multimedia verdict
The Nokia E90 occupies a unique position in the Symbian OS world, perhaps even a unique position in the world of mobile devices generally. No other smartphone has both a high megapixel auto-focus camera with DVD-quality video capture AND a full qwerty keyboard. As someone who wants to both work and play on a single device, I really appreciate the E90's skill set.
When the Nokia N93 came out, to largely appreciative comments, the thought of something with similar volume and weight being able to get close to it in its core specialism while also having twin displays, a full qwerty keyboard and GPS would have seemed remarkable. The Nokia E90 is that remarkable - not perfect, but a genuinely surprising package of imaging and multimedia features added into the classic business Communicator form factor.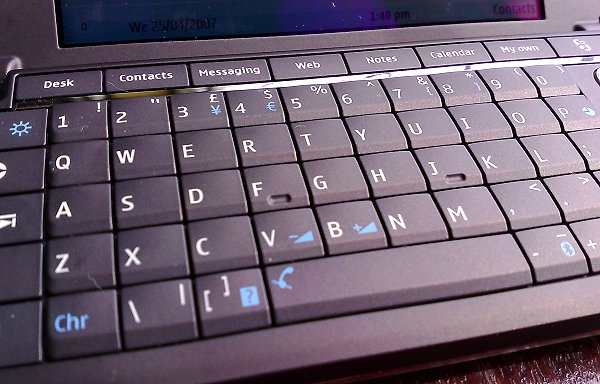 In the final part of the E90 review, I'll be looking at the built-in GPS, navigation software and round up other capabilities which caught my eye. If you want to know what I think of the device as a whole, see my Nokia E90 - the Early Verdict article.
Steve Litchfield, AllAboutSymbian, 13 May 2007
---
Reviewed by Steve Litchfield at