Review:
Resco Photo Viewer
Score:
91%
The fledgling Resco Image Viewer was reviewed by Ewan back in 2006, but Steve Litchfield thinks it's high time to try out the more mature Resco Photo Viewer 5.0 on Nokia's flagship E90 Communicator.
Version Reviewed: 5.00
Buy Link | Download / Information Link

Now, I want to make it absolutely clear at the outset that if you own a Nokia Nseries phone then you don't need to read this review. The photo viewer/editor that comes with all Nseries devices is fast, efficient and will do everything you ever want it to.
However...
If you own an Eseries device, each of which comes with the appallingly outdated original S60 Gallery application, whose code dates from the Dark Ages, then Resco Photo Viewer is definitely something you should look at. I've been trying it on the Nokia E90 and have been enormously impressed.
In order to get a feel for how well this third party application does, however, we need to look at the performance and capabilities of S60 Gallery. On my E90, I snapped a few dozen 3 megapixel photos, each around 1MB. S60 Gallery handles these badly, taking up to eight seconds for each photo to load in the preview pane, and then eight more seconds to load in its own window. Sixteen seconds to view a single 1MB image is appalling. And unusable. In addition, S60 Gallery (on non-Nseries devices) doesn't have any editing functions whatsoever. I know, I know, the E90 - and E71 and E61i and E66 - have no pretensions at being multimedia workhorses, but such slow and clunky operation is downright embarrassing.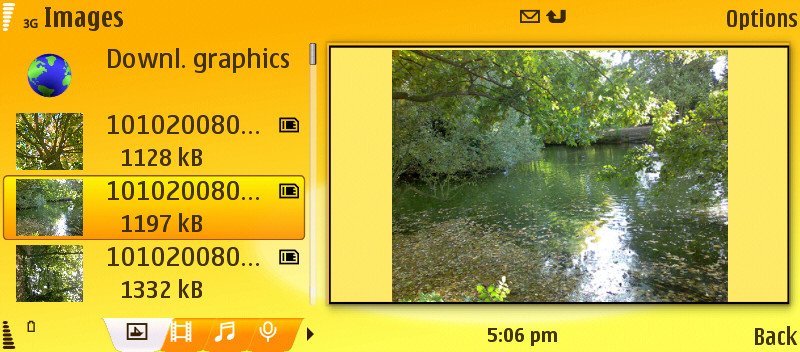 The built-in S60 Gallery. Nice enough interface, but so, oh so slooooowwwwww....
Enter Resco Photo Viewer, which presents the same images in a maximum of a second per photo and quite often with no delay whatsoever, depending on the direction you're moving through your photo collection and thus how much it has cached upcoming images. But even at worst case, it's a whopping eight times faster than S60 Gallery. And you can do more with Resco Photo Viewer, a lot, lot more....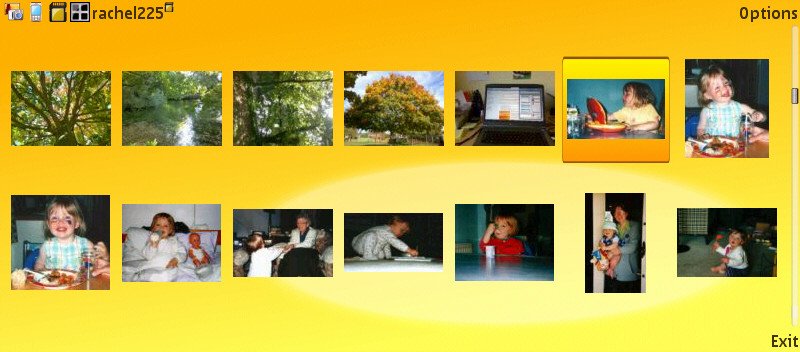 The basic two thumbnail views are of 14 images and 44 images, with two corresponding list views, showing more information per image - for example: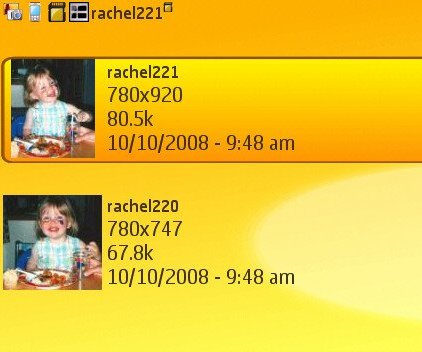 And there are two browsing modes: with folders 'hidden' (the default), in which every image on your device is aggregated together, and with folders shown, in which case you browse through the folder structure on your phone's disks manually.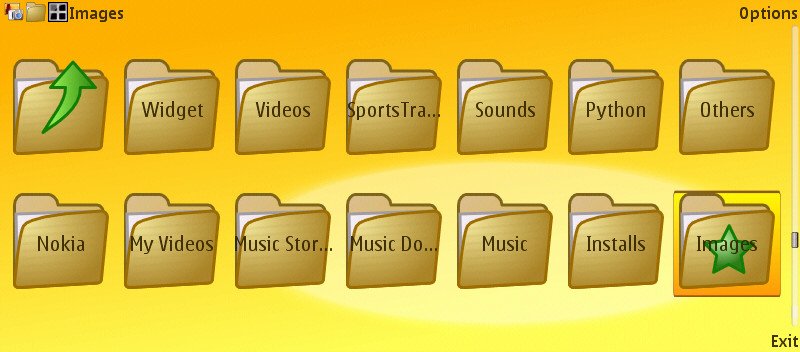 It all adds up to a flexible arrangement. At any point, you can blast into an optimised slide show of the relevant photos by pressing '0', one of a large number of numeric shortcuts in Resco Photo Viewer - although the shortcuts take a bit of memorising, there are always equivalent 'Options' menu commands, and the shortcuts are always shown beside the plain English versions.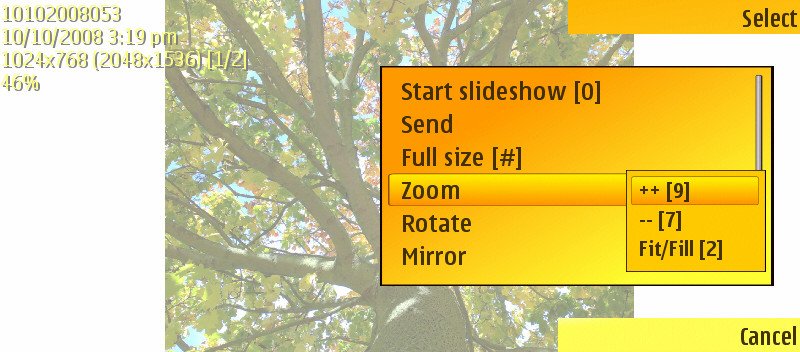 The slideshow itself works very well, with 'blinds' transitions between each image and switches every 5 seconds by default, but you can change absolutely everything in 'Settings', including having each image 'filling' the screen, useful on the wide screened-E90. You can even assign a particular music track as accompaniment, which makes for a professional looking presentation to show to friends and family.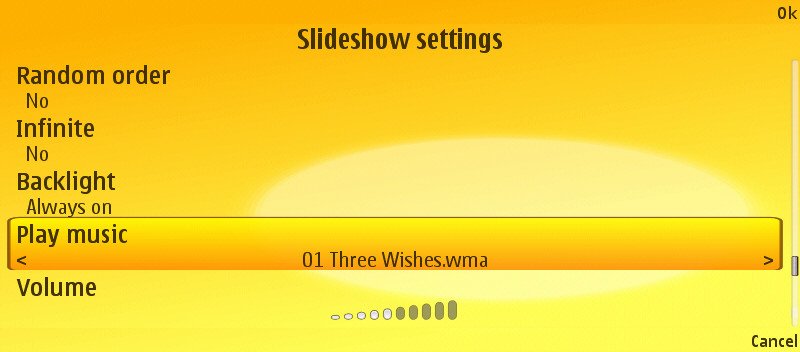 Once an image is on the screen, the same options as for the regular Gallery are present (Send/Rotate/Wallpaper/Add to Contact), plus a variety of zooming and fit/fill options, a 'Mirror' function, plus Negative and colour adjustment screens. These latter are very impressive, with a childishly simple interface making easy work of adjusting brightness, contrast, colour saturation, red, green and blue components.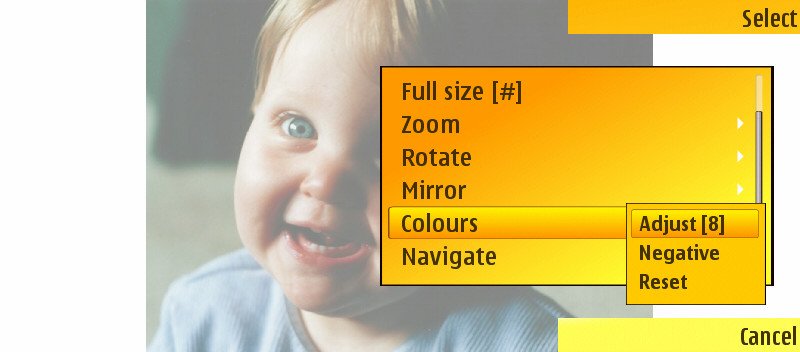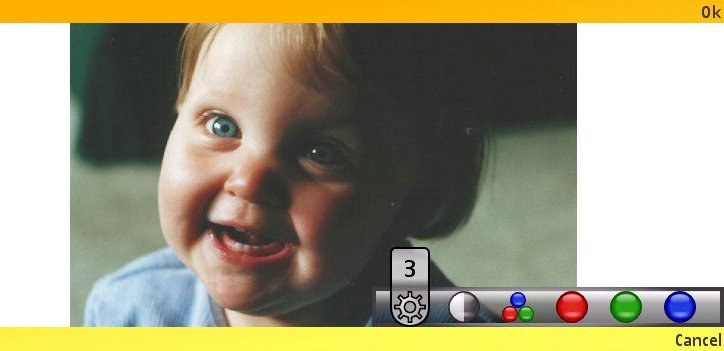 The range of image types supported is wide, including JPEG2000, Tiff/Fax, MBM and others. Significantly, for people who really want to kick the native S60 image routines into touch, you can specify in Settings whether you want Resco Photo Viewer to handle any of these file types on behalf of the OS. A powerful option.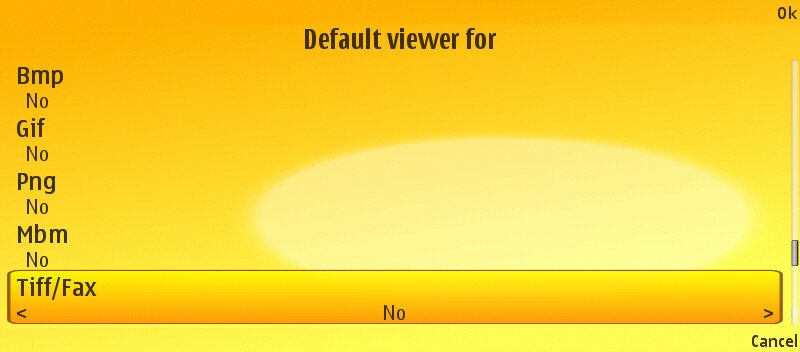 Extras include being able to jump from geotagging information in a photo's displayed EXIF data straight to the right spot in Google Maps online. Sadly, not using an installed Google Maps/S60 installation, but using Web and the generic Maps interface - but still possibly useful and in any case it's not a core feature. Much more useful is to save the geotag position as a generic Nokia Maps/Google Maps landmark, for navigation to at a later date.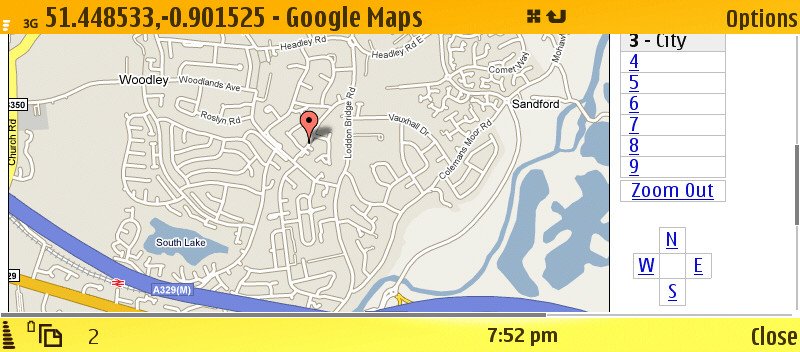 A final extra is a neat memory status dialog, useful because it gives you the amount of free RAM, a figure which you otherwise have to install an extra utility for.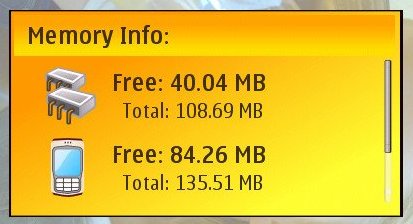 It's very hard to find ways to fault Photo Viewer - with a lot of development behind it, including work specifically for the E90, any rough edges have long since been knocked off and what's left is fit, fast and functional. Yes, S60 Gallery should have included something this good - but since the Eseries seem to have been rather overlooked on this front, I'm going to take all the help I can get from a third party.
In this case, Resco Photo Viewer just earned itself a place on my 'My own' key on the E90 - and also an All About Symbian MegaApp award - with the caveat that this only applies to non-Nseries owers! If you own an E90 in particular, this is an essential purchase.
Steve Litchfield, All About Symbian, 12 October 2008
Reviewed by Steve Litchfield at