It's been fascinating watching the winds of change blow across the mobile industry over the last decade. From the twin worlds of feature phones and PDAs (Psion, Palm, etc) we've seen both Nokia and Handspring create the first smartphones, with the 9210 Communicator and Treo 180 respectively, with the 'smart' bit referring as much to the integration between phone/communications and PDA functionality as anything else, though all of these devices did of course add third party applications as matter of course - and this was all ten years ago, remember, five years before the Apple iPhone was a glint in Steve Jobs' eye.
This was followed closely by the mass market acceptance of the Series 60-powered phones, truly the smartphone making it big in the High Street and exemplified by the building in of converged factors in a big way - so cameras that produced really decent results, speakers that could be used to play stereo music, satellite navigation, all meaning that successively greater numbers of household gadgets could be assigned to the desk drawer - cameras, camcorders, music players, sat-navs, watches, alarm clocks, radios, even (in the Nokia 808's case) binoculars(!)... Here, the 'smart' bit referred mainly to this convergence (Nokia calls their smartphones 'converged devices'), though all of these phones have always had add-on third party apps - Nokia half heartedly even having an on-device app store back in 2006.
From 2008, with the advent of the Apple iPhone 3G and the emergence of Android, a new way of interpreting 'smart' became apparent, as I've commented before, with ever larger screens and touch interfaces leading to new possibilities, applications with a far wider scope. However, these early devices were arguably a good two or three years behind Nokia in terms of converged functionality, components and technology (mirroring the way they were arguably the same two or three years ahead of Symbian in terms of ease of use and UI fluidity).
Gradually and inevitably, devices from Apple, Samsung and HTC (to name but three) have been catching up in terms of converged hardware and functionality, as shown in my chart below, culminating in phones like the Apple iPhone 5 and Samsung Galaxy S III. These match Nokia's N8 (for example) in all areas of convergence except raw camera quality. The two lines are, as you can see, each trending towards full convergence and full extensibility, though Nokia's decision to give Symbian an End Of Life date means that the blue line won't now progress much further, sadly.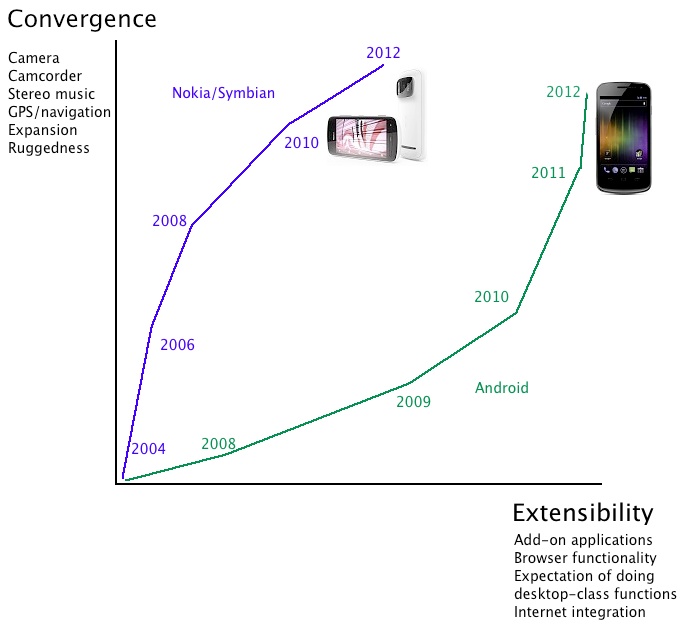 It's facinating to look at two devices representing the archetypes of their ecosystems, though. In this case the Nokia 808 PureView as the ultimate Symbian smartphone and the Samsung Galaxy Nexus as the (currently) most advanced Android smartphone (in terms of operating system). Owning both, I think I'm in a good place to compare my use of each and to spot advantages and weaknesses.
Picking up my 808, it feels like a phone, there's a real emphasis on creating photo and video content, with applications and connectivity available if I know what to do (in my case Gravity, Podcatcher, Notekeeper, Opera Mobile) and a smattering of games of varying quality.

Picking up the Galaxy Nexus, it feels like a mini-tablet, being large and thin - it's genuinely awkward in the hand when mobile, I'm always afraid I'm going to drop it. There's an emphasis on consuming information (and media) at every point. From the desktop class Chrome browser to Flipboard (magazine quality presentation of social media) to 3D-rendered quality games to a HQ YouTube experience to a choice of hundreds of thousands of 'apps', you can quite see the attraction.
It's partly the classic 'creator' versus 'consumer' paradox, though the very best Android phones (and iPhones) do have sufficiently good cameras, camcorders and speakers (see the chart above) that they get closer to 'creator' functionality than devices like the Nokia 808 do to the 'consumer' angle.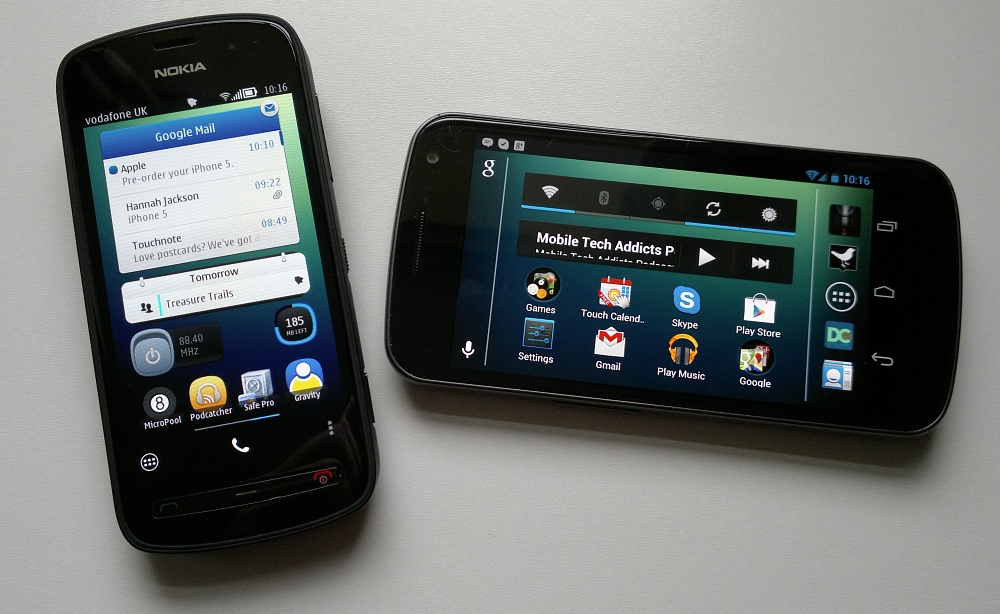 With Belle FP2 imminent on the likes of the Nokia 808 PureView, with shade-swipe lockscreen, transparent toolbars and multitouch keyboard (at last), Symbian is certainly ending up being very competitive into terms of UI, but it has all come rather late in the day, and too late for the ecosystem to get close to matching that of iOS and Android (the 'extensibility' axis, above).
Should I give up on the 808 and go get a Samsung Galaxy S III? No, I don't think so, though the choice would be tantalising if I was starting from scratch, with no knowledge or experience on either platform.
I'm actually very happy with the Nokia 808's feature set and 99% happy with the choice of Symbian apps available (I'll leave that 1% open for a few more really great games), as indeed I (largely) was on the N8 before it. Having the best camera on me at all times, however poor the lighting, is very important to me, since photos endure for much longer than anything in the tech world and can be enjoyed by people far afield (one day you'll look back and be glad you had an N8/808.)
But I'm not blind to the virtues of an ultra modern, ultra connected, ultra high definition smartphone world, as exemplified by the likes of the Galaxy Nexus. I've said before that Android is in many ways a natural successor to Symbian and been ridiculed for it from all sides, but I stand by my comments. Android, like Symbian, is (potentially) totally open, and usually very flexible in terms of connections, disks, batteries and sideloading functionality, in contrast to some other platforms and devices I could mention....
Symbian will be supported by Nokia 'until 2016', and Belle FP2 promises to keep the 808 (and 700 and 701) feeling fresh for another six months or so. The real question is what I'll be using and recommending, come Autumn 2013. The 808 with custom firmware? The latest Nexus? An 'ultimate PureView' Windows Phone?
My smartphone journey continues apace and shows no real sign of letting up anytime soon!
Comments welcome on the chart or my thoughts here. What will YOU be using in Autumn 2013?