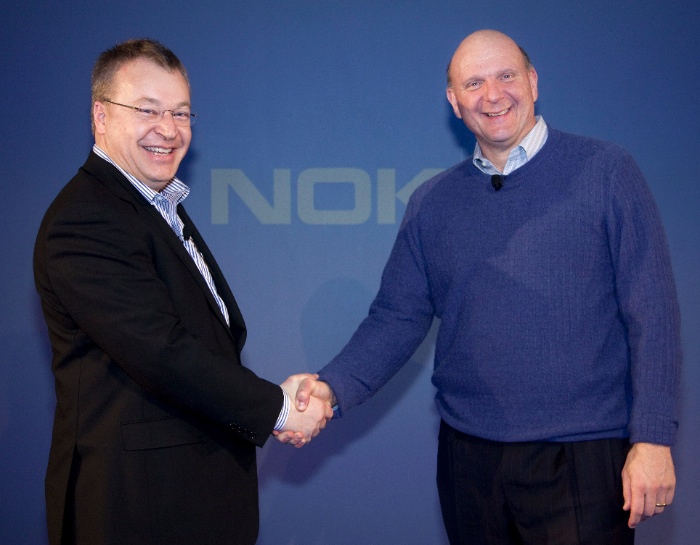 The major elements of the new strategy include:
Plans for a broad strategic partnership with Microsoft to build a new global mobile ecosystem; Windows Phone would serve as Nokia's primary smartphone platform.
A renewed approach to capture volume and value growth to connect "the next billion" to the Internet in developing growth markets
Focused investments in next-generation disruptive technologies
A new leadership team and organizational structure with a clear focus on speed, results and accountability
Nokia plans to form a "strategic partnership with Microsoft to build a global mobile ecosystem based on highly complementary assets". Nokia's hardware and Microsoft's Windows Phone effort do seem to be a good match going forwards, with Microsoft therefore taking the brunt of the future work on OS development and ecosystem maintenance and growth.
The best of Nokia's services are to be integrated into the Windows Phone ecosystem, with Nokia Maps being "at the heart of key Microsoft assets like Bing and AdCenter". Interestingly there's no mention of Ovi in the announcements so far, so perhaps the "Ovi" (meaning 'door' in Finnish) brand has effectively been 'shown the door'? Certainly, it's unlikely that Microsoft would have wanted to confuse users with triple branding on devices. Nokia's "application and content store" is to be "integrated into Microsoft Marketplace".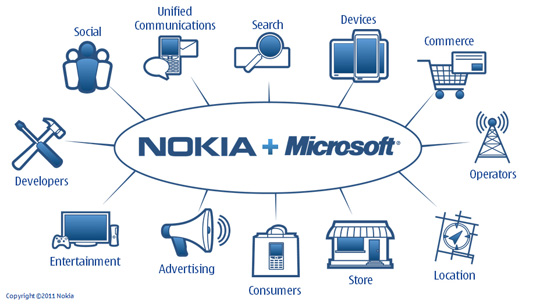 (image source)
Symbian is to become "a franchise platform, leveraging previous investments to harvest additional value". With Nokia adopting Microsoft Windows Phone as the primary smartphone platform, what now for Symbian? While it is moving down Nokia's priority list, it is still aiming to sell "another 150 million Symbian devices over the next few years". By our rough and ready calculations that should take them into 2013. The Ovi Store will presumably carry on as it currently is for Symbian users.
Questioned over both the future of software updates that were planned for existing devices and whether there would be any new Symbian-powered hardware, a Nokia representative said "We will continue to modernize the Symbian experience with a selective programme of enhancements and we will launch more devices on the Symbian platform."

What's interesting is the specific labelling of Symbian as a "franchise platform", a model that we're sure to hear more about later today when Stephen Elop takes to the stage. At the very least this should reassure NTT DoCoMo, one of the largest Symbian operators outside of Nokia, that the OS is not being dropped.
For the medium term, Symbian is going to be a key plank in Nokia's strategy. There are still Nokia products under development for release to the public which should keep Nokia's portfolio buoyant until "Nokia with Windows phones" are ready for the marketplace. The challenge will then be to take that install base (currently at between 200 and 350 million users, depending on who you talk to and how far you go back in terms of devices) and "retain them as Nokia customers while moving them to the new platform".
Reassuringly, Forum Nokia has confirmed plans for Qt and Symbian's future: "Qt will continue to be the development framework for Symbian and Nokia will use Symbian for further devices; continuing to develop strategic applications in Qt for Symbian platform and encouraging application developers to do the same."

The press release confirms that MeeGo is still part of Nokia's long-term plans. Nokia stated that "MeeGo will place increased emphasis on longer-term market exploration of next-generation devices, platforms and user experiences". Most importantly however, is that Nokia have confirmed that it still intends to have a MeeGo product to market later this year (2011). In the new company structure, (as with Symbian) MeeGo will come under the "Smart Devices" business, where it is listed as "MeeGo Computers", which highlights and distinguishes the continued differentiation that Nokia sees between MeeGo and its other phone-specific platforms.
The aforementioned Forum Nokia post adds: "Though our plans for MeeGo have been adapted in light of our planned partnership with Microsoft, the new device will be compatible with applications developed within the Qt framework and so give Qt developers a further device to target. "
Series 40 feature phone development will continue as-is, it seems.
Supporting all this, there's a new "Leadership Team", comprising Stephen Elop, Esko Aho, Juha Akras, Jerri DeVard, Colin Giles, Rich Green, Jo Harlow, Timo Ihamuotila, Mary McDowell, Kai Oistamo, Tero Ojanpera, Louise Pentland and Niklas Savander.
From the press release, here are details of the reorganisation:
New company structure

As of April 1, Nokia will have a new company structure, which features two distinct business units: Smart Devices and Mobile Phones. They will focus on Nokia's key business areas: high-end smartphones and mass-market mobile phones. Each unit will have profit-and-loss responsibility and end-to-end accountability for the full consumer experience, including product development, product management and product marketing.

Smart Devices will be responsible for building Nokia's leadership in smartphones and will be led by Jo Harlow. The following sub-units now in Mobile Solutions will move under Smart Devices:
- Symbian Smartphones
- MeeGo Computers
- Strategic Business Operations

To support the planned new partnership with Microsoft, Smart Devices will be responsible for creating a winning Windows Phone portfolio.

Mobile Phones will drive Nokia's "web for the next billion" strategy. Mobile Phones will leverage its innovation and strength in growth markets to connect the next billion people and bring them affordable access to the Internet and applications. The Mobile Phones unit will be led by Mary McDowell.
In addition, and supporting the above, there will be:
'Markets', be responsible for selling products, executing compelling marketing and communications, creating a competitive local ecosystem, sourcing, customer care, manufacturing, IT and logistics across all Nokia products, led by Niklas Savander

'Services and Developer Experience', led by Tero Ojanpera
'NAVTEQ', an integral part of Nokia's location and advertising business, led by Larry Kaplan
'the CTO Office', responsible for Nokia's technology strategy and forward-looking technology activities, including Nokia Research Center, led by Rich Green
'Design', responsible for Nokia product and user experience design, led by Marko Ahtisaari
'The CFO Office', led by Timo Ihamuotila
'Corporate Development', led by Kai Oistamo
'Corporate Relations & Responsibility', led by Esko Aho
'Human Resources', led by Juha Akras
'Legal and Intellectual Property ', led by Louise Pentland
Nokia Siemens Networks
There's a very short accompanying video to announce the Microsoft/Nokia partnership, included here for completeness: