To take advantage of the online service, existing users will need to update the Sports Tracker application to version 3.5. You can download the update from the Ovi Store or the Sports Tracker website. Alternatively, you can use the application's auto-update service (Options -> Check for update).
The new version has a number of small updates; for example, there are now a greater number of activity categories to choose from (including cross country skiing, rowing and sailing). However, the major update is the support for uploading workouts and associated information to the Sports Tracker online service. For your first upload you will be promoted to connect the application to the online service using your Sports Tracker username and password. If you are not already registered with the Sports Tracker service you can create a new account directly from your phone.
Once a workout has been completed it can be uploaded to the service at any time. You'll be prompted to do this when you complete a workout, but you can also opt to upload at a later time. From the upload screen you can specify whether you want to keep your workout private, or share it with others in the Sports Tracker community.
After successfully uploading a workout the application will prompt you to, optionally, upload associated photos. If you choose to do this, the application automatically scans your phone for photos taken during the time you were working out, then uploads them to the service. By default images are uploaded at 640 x 480, but you can switch this to 800 x 600, in the settings. It's not designed to replace an existing photo storing solution, but rather it adds an extra layer of information and colour to the workout.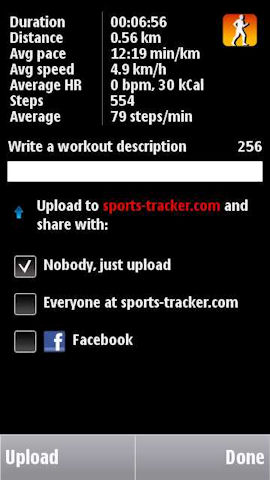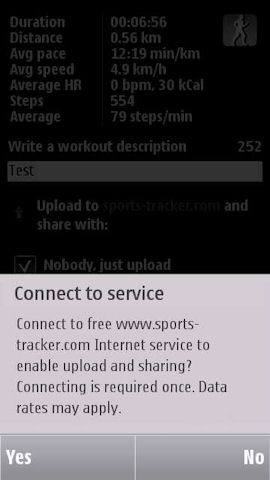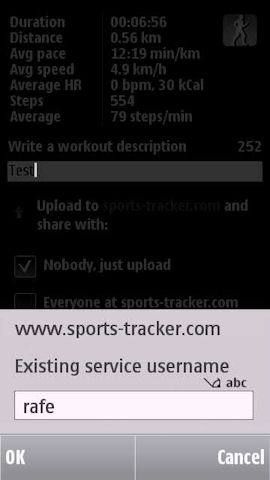 Once you've logged into the online service you are taken to the 'Dashboard' view, which offers a summary of your workouts as well as what's happening with the Sports Tracker service. The 'Dashboard' view is one of the five sections that make up the online service; the others are 'My Workouts' (pages for each uploaded workout), 'Diary' (workout listing by date and time), 'Explore' (other people's shared workouts) and 'Download' (latest version of the software).
Individual workouts each have their own page (found under the 'My Workouts' section), which offer visual representations of the data via maps and charts, as well as a summary of all the collected information. The map functionality is powered by Google Maps (in contrast to OpenStreetMap data used in the Sports Tracker application), with map, satellite, hybrid and terrain views available.
From this page it also possible to share your workout to the wider web via Twitter and Facebook. In both cases a status updates is sent with summary information and a link back to the Sports Tracker website.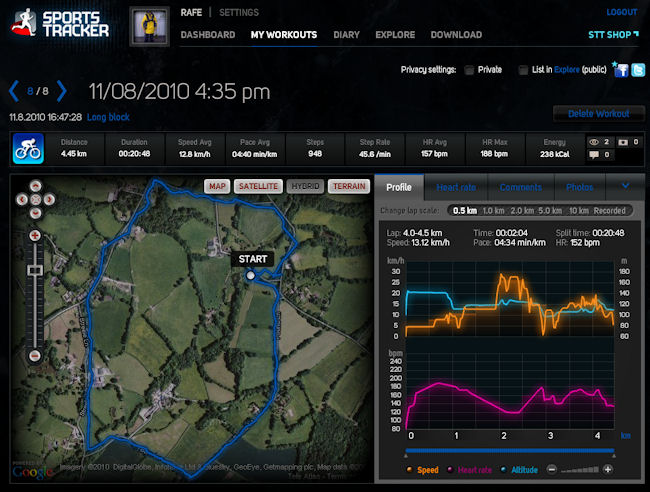 On right hand side of the page there are a series of tabs for showing additional data. A chart showing speed, height and heart rate is displayed by default. The other tabs include: comments, heart rate analysis and photos, an example of the latter two is shown below.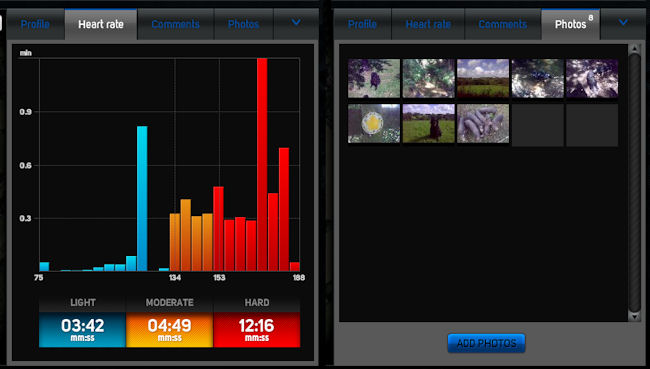 It is possible to access your uploaded workouts in a number of ways. From the 'Dashboard' view (default page) you'll see a listing of your most recent workouts, but the most effective is the 'Diary' view (shown below). This is where you'll find a list of workouts ordered by date and time. From here it's easy to revisit past workouts by specifying a particular date. In both instances accessing a workout will take you the appropriate workout view (My Workouts).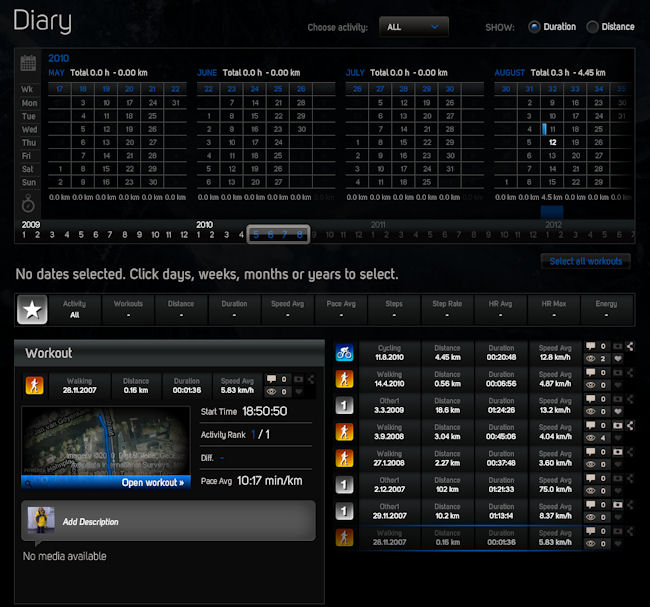 The 'Explore' section of the Sports Tracker website (open to all), lists all the workouts, by user, that have been publicly shared. It's a great way to get a feel for the service and look at other people's exercise activities. Each user, and each of their workouts, has a unique URL, which makes it easy to share with friends. It's this universal sharing ability that made the earlier incarnation of the Sports Tracker service so popular, and we've no doubt that the same will apply here.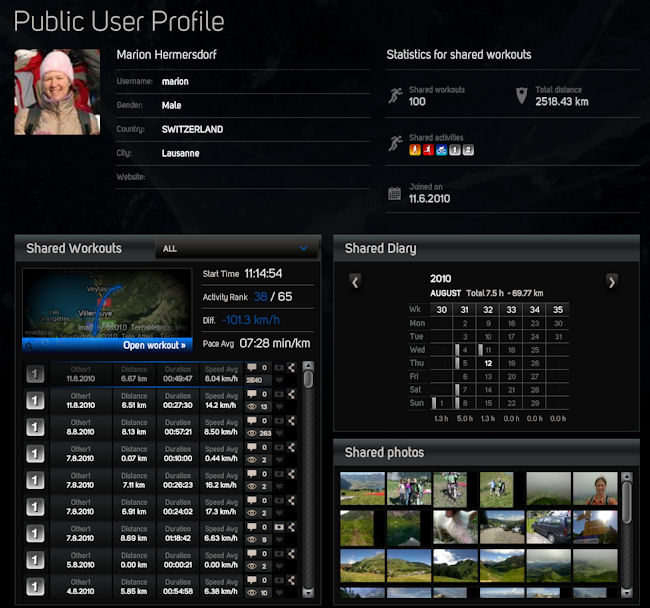 The Sports Tracker online service offers an easy to use and very visually pleasing experience. It is one of the finest examples of a smartphone-web service crossover available today. At first, the primary reason to upload workouts to the service will be to get an at-a-glance visual representation of exercise activities, but over time the community aspect of the service should provide a strong secondary motivation.
If you're a serious data fiend, you may find the service a little lacking in depth. For example, comparisons between workouts are fairly rudimentary. There are more complex tools available, but these tend to be quite expensive and harder to use. By comparison, Sports Tracker, which is completely free, represents unbeatable value. And, of course, there's nothing stopping you from exporting Sports Tracker data into a third party tool. Some may find the Flash powered website a little resource hungry. For the most part however, it's a necessary trade off given the visual richness of the service.
Nokia Sports Tracker is available for most S60 3rd Edition and S60 5th Edition devices, it is compatible with more than 100 million Nokia phones. With the latest release of the application Sports Tracker has added support for some S60 3rd Edition Feature Pack 1 devices, including the Nokia E71.

Our earlier stories on Sports Tracker
Renewed Sports Tracker on Ovi Store for Nokia's touch phones
Renewed Sports Tracker adds S60 3.2 support

Sports Tracker shop opens - buy Polar Bluetooth heart monitor
Review: Sports Tracker / Polar WearLink with Bluetooth transmitter