Sports Tracker collects and records information as you carry out a sporting activity (walking, running, cycling, skiing etc.) and displays that information on screen, as well as writing it to a data file. It uses the phone's GPS to record location, speed and altitude, and the accelerometer to record footsteps.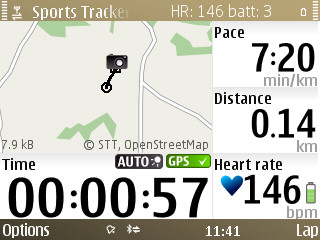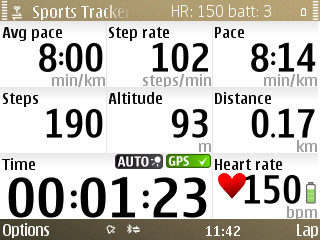 One of the more advanced functions of the application is the ability to pair with a Bluetooth heart rate monitor. Once paired, this will show your heart rate during any activity. It can also be used to show how strenuous a workout is over a given period (a good analogue for how 'hard' you are exercising).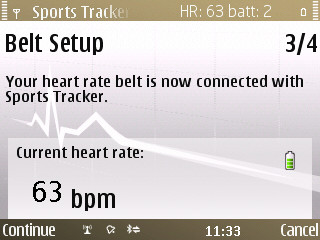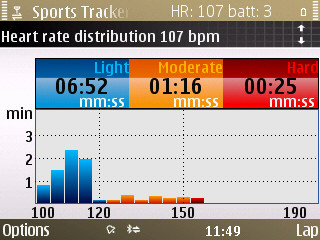 One of the key benefits of Sports Tracker is that it shows a lot of information on the device itself. For example, there are graphs showing pace and heart rate over time and a map showing the route (using data from OpenStreetMap). Similar applications and sports computer devices typically focus on the collection of data and do the analysis on a PC or website - something Sports Tracker itself with shortly support. However it is very useful to be able to get an instant feel for the data and have the option to choose not to use a online/PC-based analysis service at all.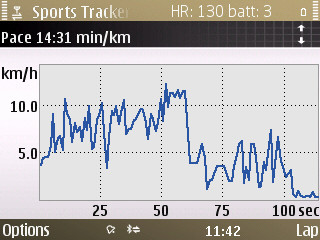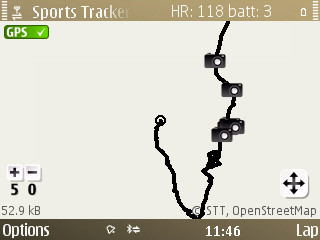 I also like the ability to share and export data directly from the device itself. For example, you can export a completed activity as a KML file and show the route and related information in Google Earth.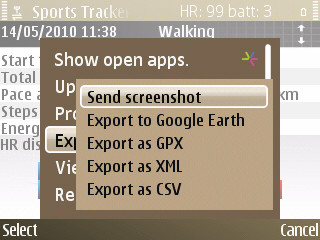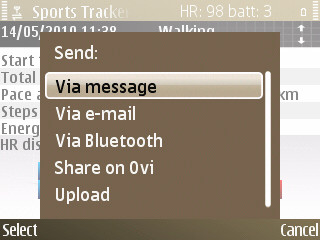 Sports Tracker for S60 3.2 can be downloaded from the Ovi Store.
The S60 3rd Edition Feature Pack 2 release supports the following Nokia phones: 5320, 5630, 5730, 6210, 6220, 6650, 6700s, 6710, 6720, 6730, 6760, 6788, 6788i, 6790, C5, E5, E52, E55, E71x, E72, E75, N78, N79, N85, N86, and N96.
Sports Tracker is developed by Sports Tracking Technologies. Sports Tracking Technologies is the company founded by Ykä Huhtala, Jussi Kaasinen and Antti Sorvari, who originally created Sports Tracker for Nokia as part of a Nokia Research project, to spin the concept out into a separate company.
More details in our previous story about the renewed Sports Tracker.