Review:
Sports Tracker / Polar WearLink with Bluetooth transmitter
Score:
89%
Steve Litchfield dons his sports gear and trials the new Sports Tracker application with wireless heart rate monitor. Can this new version of an old favourite, in conjunction with some Bluetooth accessory magic, help you improve your workouts, whether walking, cycling or jogging? (Short answer: Yes. With bells on!)
Buy Link | Download / Information Link
Sports Tracking Technologies (STT) is the company founded by Ykä Huhtala, Jussi Kaasinen and Antti Sorvari, who originally created Sports Tracker for Nokia as part of a Nokia Research project. It was an old favourite of many and worked on just about every non-touch Symbian phone, though availability once the touchscreen era arrived proved more limited as the authors left Nokia and development stalled while things were set up anew.
Just as significantly, the fabled Polar heart rate monitor belt was originally only shipped with the Nokia N79 Active and thus had a very selected audience. Now, under STT, the heart rate accessory is available to all and will connect via Bluetooth to (almost) any Symbian smartphone running the new software, whether touchscreen or non-touch. For the purposes of the review, I've been out jogging, walking and cycling with the kit, wirelessly connected to a Nokia N96.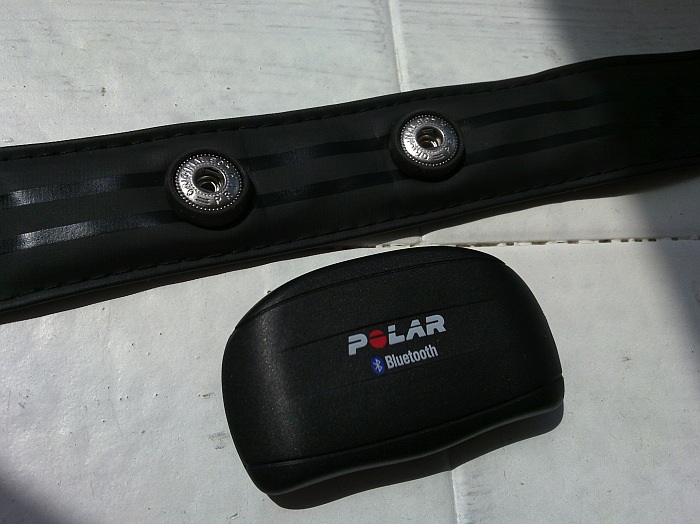 The core idea behind Sports Tracker is that it uses GPS to track the raw stats behind an outdoor activity (walking, running, cycling, skiing, custom 1, custom 2), providing extensive second by second stats, alongside a tracklog superimposed on a map (derived from OpenStreetMap). The software also supports laps, either manually entered or done automatically, which is ideal for circuit-based training. Everything's logged to disk so that you can bring up details of any of your exercise sessions, even months later, for analysis (e.g. graphs of pace, altitude, route taken and so on).
Adding a slick heart rate monitoring system into the mix takes Sports Tracker to the next level, however. The whole point of exercise in the first place is to get your body working, specifically your heart and lungs, potentially extending their life and making you feel fitter and more capable. With your resting heart rate of, say, 80, the aim of giving your heart a decent workout is to get your pulse rate up to around 140 for twenty minutes or so. The exact figures depend a lot on your sex and age, along (probably) with your current fitness level, but Sports Tracker has built-in algorithms for taking a good guess at the right parameters.
From your basic details, it estimates three pulse rate bands, or three exercise levels, if you prefer, Light, Moderate and Hard. The idea would then be, I'm guessing, to get the bulk of your outdoor exercise into the Moderate band, giving the heart a decent workout without pushing yourself too hard. I was certainly keen to see what it made of my main form of exercise - walking. By which I mean a fast walk, I average 4 miles per hour (just under 7km/hr) and my average route is around a mile and a half. So about 20 minutes a time.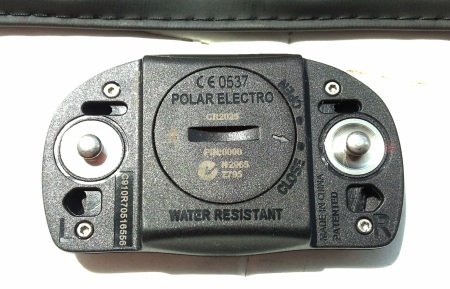 The Polar monitor itself is a small plastic box, less than a centimetre in depth, with a bay for a CR2025 battery and two big press studs, which match up with studs on an elasticated chest belt, supplied. The idea of the studs is:
that you can detach the belt for wiping down or washing (i.e. hygiene)
so that the monitor doesn't need an 'on' switch - pressing the monitor into place makes a circuit and enables the electronics
to connect the monitor to your chest, via two conductive plastic weave electrodes on the strap's back
The whole assembly sits in place in the centre of your chest and seems to stay in place, not needing to be aligned over your heart, thankfully. The instructions do say to 'moisten' the on the strap's back, so that your skin's electrical characteristics can be picked up accurately. Failure to moisten will mean dropouts in heart rate detection - at least until you get sufficiently sweaty!
A 'Heart rate wizard' leads you through (Bluetooth) pairing the application with the monitor and this worked first time, impressively. Thereafter, you only have to strap the device on, start the application and start a workout, for the Bluetooth connection to be made automatically and the system just 'work'.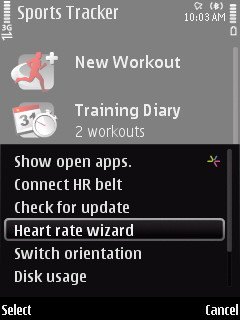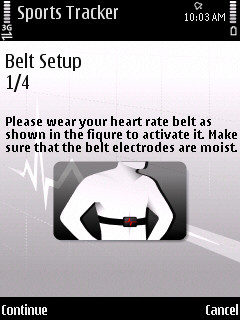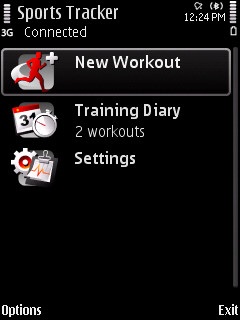 And so to try the system for real. I went for a 2.5km fast walk, watching the N96's screen much of the time to see how my heart was doing and, interestingly, to see which exercise band I was operating in. For the first half, my pulse stayed fairly static at around 120, enough to make me feel nicely warmed up but not enough to push me significantly into the 'Moderate' band. To be told that my normal aerobic exercise wasn't really pushing me enough was a little galling but it was in effect saying that my body had gotten used to a 4mph fast walk and that I needed to push it a bit more.
So I tried a little running, at 1500m pace, something I haven't done for many years (insert usual caveats about seeing a doctor before starting strenuous exercise!) - and within about a minute my pulse was up to 160 and I wasn't feeling great. See the spike in the Sports Tracker chart - I then slowed to a walk and my pulse returned to 120 fairly quickly. All of which told me two things. One - I'm not in terrible shape - the fast recovery rate and the fact that I can walk at 4mph without breaking 120bpm showed that. Two - I could be a lot fitter and should be pushing my body and heart if I wanted to achieve this - ideally getting to the point where I could run smoothly and keep my heart in the 'Moderate' band. That might take a while!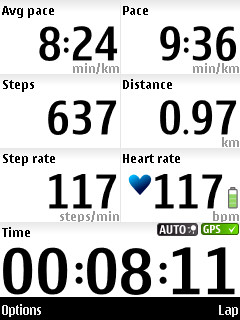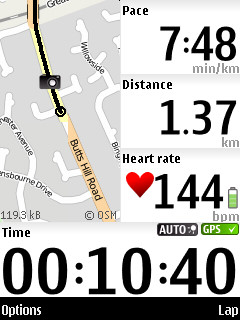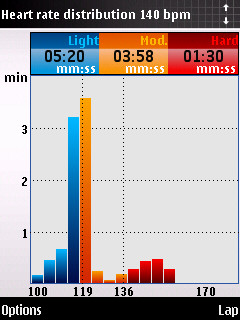 The camera icons on the 'map' indicate that Sports Tracker's aware of images created during your workout - in this case screenshots taken for the purposes of the review, but potentially photos that caught your eye
After one workout then, Sports Tracker and its monitor had practically helped me with planning my exercise regime. If, like me, you're someone who doesn't fancy the idea of a gym, exercising with two dozen other people and breathing in sweaty, recycled air, then this kit is great for giving you a lot of the stats that gym equipment would give you, while allowing you to exercise in fresh, natural air.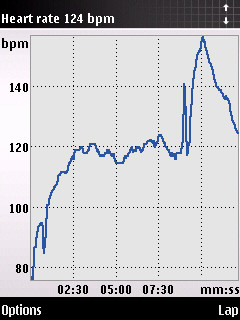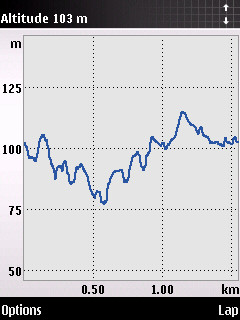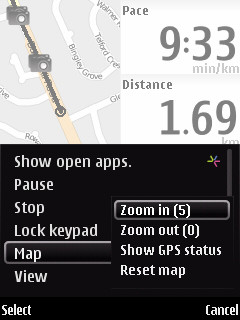 Having covered walking (and, to some extent, running), I wanted to try another workout type - so I broke out the bicycle. Not having cycled for a while, I was pretty sure this would use muscles I hadn't used in ages and my heart would hopefully get pushed quite a bit further:
I was right. I didn't have time to do a long ride, but what I did showed a healthy mix of heart rate involvement, including quite a bit in the 'High' exercise band, with heart rate up at 180bpm for much of the time. The drop outs and oscillations in this chart were mainly because I'd forgotten to moisten the electrodes and I suspect the heart rate detection kept cutting out.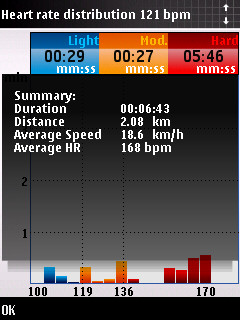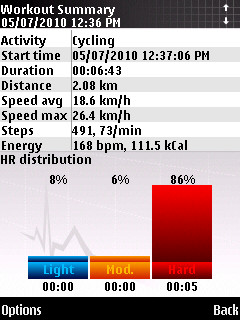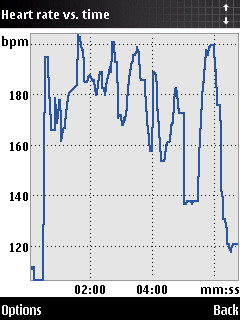 Report from the second half of my 4km cycle - I recorded it in two separate chunks ( I stopped to fiddle with the chest strap half way round, to experiment with positioning!)
As you can see in the reports stats in Sports Tracker, every important number you need is there in the summary, plus most have their own graphs available too. There's an estimate of the number of calories burned too, though sadly(!) not in the world's favourite units: Mars bars. [If you're interested, through my whole 4km cycle I burned off around half a Mars bar 8-) ] As with running, cycling got my heart working very hard and again I can't fail to come to the conclusion that I need to get fitter, such that a cycle ride of short distance had my heart in that orange 'Moderate' range far more. Thanks a bunch, Sports Tracker, now I've got to go out and really work at it! -grin-
In terms of interface, Sports Tracker is borne of numerous iterations on previous generations of Symbian smartphone and there were no nasty surprises. Set up is a doddle, just pick the workout type and press (or tap on) 'Start' and the GPS and other electronics do the rest. When in motion, up and down on the d-pad cycle through the different graphical displays available (only about half of which are represented on this page) while logging continues in the background. Every important number on the main screens is shown in a large enough font that it's easy to read even while running - ditto the graphs, obviously.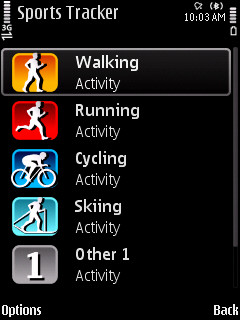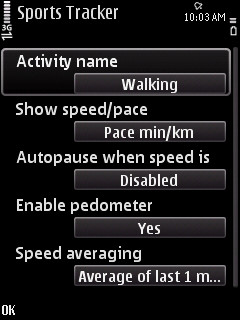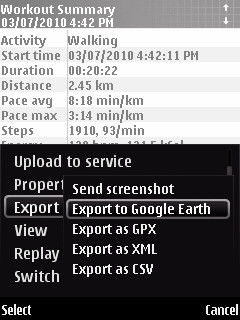 Every workout is logged to an internal Calendar and you can bring up details of your activities for analysis later on, with a variety of export options, of both the tracklog (where you went) and exercise data (how you performed, with data declared for all main parameters, one reading for each second of the workout).
There's also an 'Upload to service' option, whereby you can upload your workouts directly to the Sports Tracker web site, for sharing with (and receiving encouragement from) others - or at least this is the theory. The service isn't live yet, though as you can see below, you can pre-register the username you want and upload data, ready for the big public opening.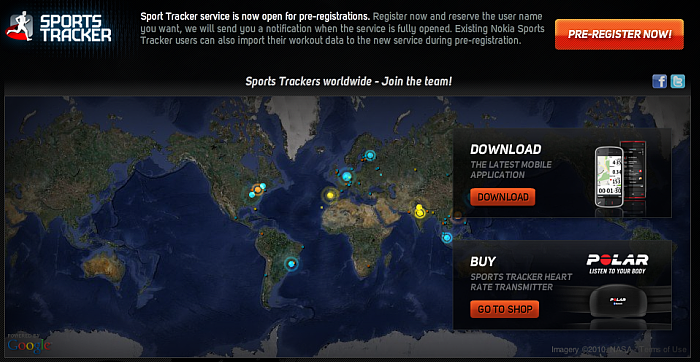 It's easy to run out of superlatives when talking about Sports Tracker - it runs so smoothly, uses Symbian so well, does everything you might want it to do (and then some), handles Internet and Bluetooth connections faultlessly - but thankfully you don't have to take my word for it. STT's model of giving the software away for free, for trial on any GPS-equipped Symbian phone, and then making a profit on the heart monitors, means that you can run it for a while and enjoy the standard logging functions, then upgrade to get the hardware for when you want to get serious about your exercise.
Some have said that 70 Euros is a lot for a heart rate accessory - given the amount you'll use it, given the extra qualities that getting fitter will add to your life and given the cost of a monthly membership to a decent gym, I beg to disagree. If you have any interest whatsoever in outdoor exercise and own a compatible Symbian-powered smartphone then embrace STT's system with open arms.
Steve Litchfield, All About Symbian, 5 July 2010
Reviewed by Steve Litchfield at