"Many of our users are passionate about exercise and we are extremely happy that, together with the Polar heart ratetransmitter, Sports Tracker is even closer to their hearts. Sports Tracker makes exercising even more enjoyable by providing valuable and motivating data about your performance", says Antti Sorvari, Co-Founder, Sports TrackingTechnologies Ltd.
The Polar WearLink is a small plastic unit, which attaches to soft textile strap, which is worn around the chest. The strap has two conducting points that capture the heart beat information and pass it to WearLink unit that transmits it to the phone via Bluetooth.
Previously the Polar WearLink was only available as part of the Nokia N79 Active bundle. The WearLink available through the Sports Tracker ship is exactly the same model, though it no longer has any Nokia branding. Polar is one the leading manufacturers of sports instruments and heart rate monitors.
"This launch with Sports Tracker will make pioneering Polar heart rate monitoring available to millions of sportstrackers, enabling them to train at the right intensity to achieve their goals. Polar sees a growing demand for proven and reliable heart rate sensors that connect with mobile devices. Our heart rate transmitter utilizing Bluetooth transmission technology is the optimal solution for this area." says Marko Möttönen, Accessories Segment Manager, Polar.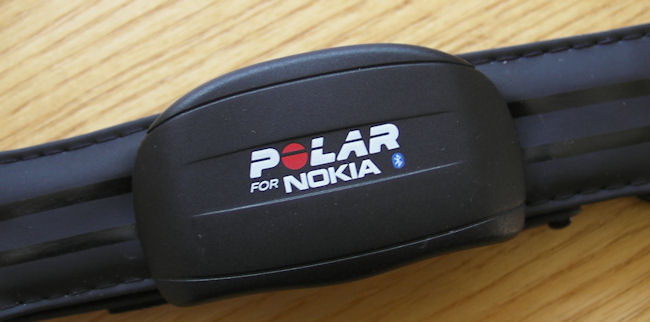 Sports Tracker captures and stores the heart rate information as an additional set of data, complimenting the existing location and step information, collected from the GPS and accelerometer respectively. While tracking is active your heart rate is displayed on the screen (bottom right, first screenshot). Perhaps more importantly it is also used to provide information (average heart rate, heart rate zones, haerat rate distribution) and additional analysis once you have completed an activity. For example, in the second screenshot below you can see a graph showing the heart rate distribution of a recent activity.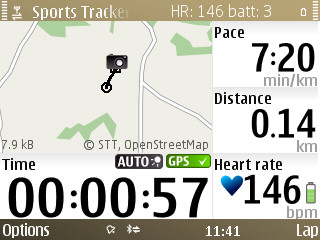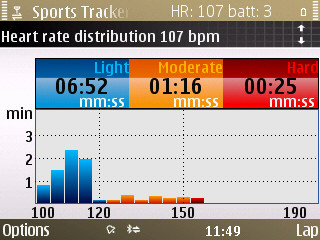 The Polar WearLink+ transmitter with Bluetooth is on sale now and the first orders will start shipping on July 1st. You can also buy a replacement batter for €5.90 (battery lasts around 150 hours in active usage).