The press release contained the usual endorsing statements:
Steve Kaufer, TripAdvisor founder and CEO:

"Our collaboration with Nokia further strengthens our commitment to providing trusted and valuable travel advice at home or on the go. We are thrilled to launch TripAdvisor for Nokia which gives even more travellers a new way to access the more than 35 million traveler reviews and opinions available on TripAdvisor."
Robert Rogers, Senior Manager, Ovi Publish:

"The ability to find the best places around you is a key advantage of connected mobile services. The TripAdvisor integration means Nokia users get immediate access to the latest user reviews of the restaurants, hotels, and attractions in their immediate area, or anywhere else in the world they may want to discover while on the go. Global free drive & walk navigation on Ovi Maps means that once you find that great place, you are sure to get there hassle-free using Ovi."
The press release says that the TripAdvisor application is available now, worldwide, in the Ovi Store and that it has been localised into twelve languages. However, at the time of writing, the application is not currently available, which is something of a wasted opportunity. Nokia would be well advised to sync releases into the Ovi Store with news announcements. We'll cover the application in more detail once it becomes available.
Update: the app is now available from the Ovi Store, it is a simple shortcut link to the mobile site. However it uses the WRT framework to obtain your current location, which it send to the TripAdvisor site, so that the site is location aware (i.e. it will show you listings based on your current location).

By contrast, the Ovi Maps TripAdvisor integration has now gone live in selected markets; it will roll out globally over the next month. As with other Ovi Maps integrations (TimeOut, Expedia, Qype), the service is available via 'Extras' from the main Ovi Maps menu. It gives rapid access to a customised, location aware, version of the TripAdvisor mobile website, which runs within, and is connected to, the Ovi Maps application.
When you first open the service, you are shown a listing of local restaurants, sorted by distance from your current location (which is taken, automatically, from the GPS). For each listing, there's a range of information including an address, phone number and a map link (show location of listing on a map). Below this, there is a summary of the review information, with an overall score and a ranking, based on user submitted reviews (see below). Further down the page, many of the listings have further information, such as web site addresses, price range, description and additional meta-data.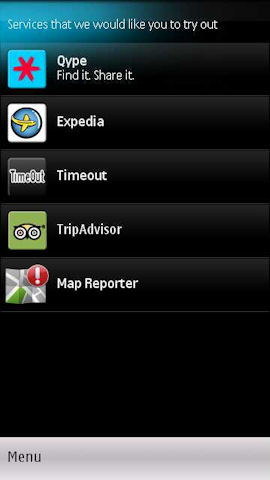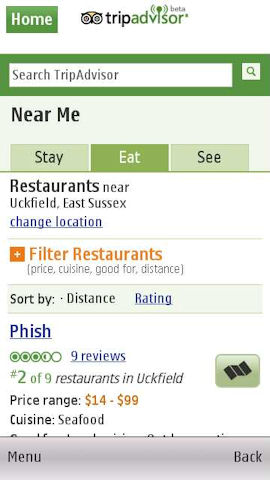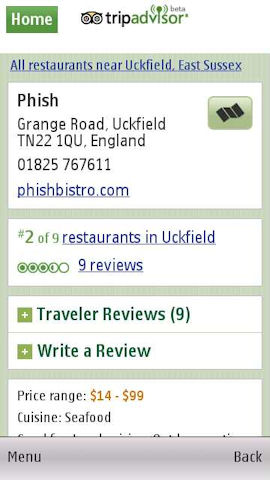 TripAdvisor has an extensive collection of user generated reviews and it's here that TripAdvisor really stands out compared to the traditional travel guides such as Michelin and Lonely Planet. The reviews can be accessed via an expanding section of the page. As with any user generated content, there's no guarantee on accuracy on objectivity, but there's nearly always a range of opinions that enable you to get a good idea of what you can expect from any given venue. You are also able to contribute reviews to TripAdvisor via a form that includes a numeric rating system and a box for text comments.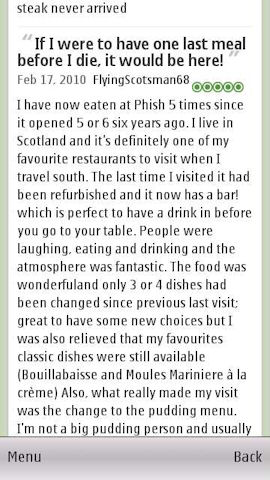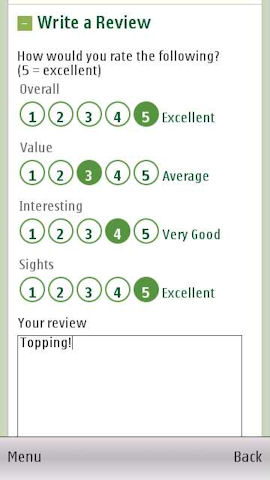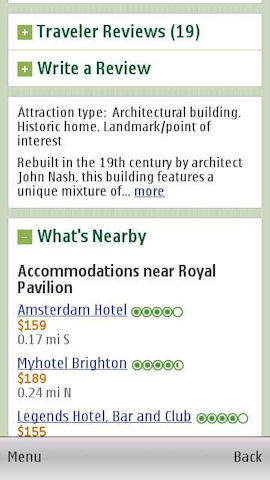 Listings in Trip Advisor are divided into 'Eat' (restaurants, cafes and bars), 'Sleep' (hotels and other accommodation) and 'See' (sights, museums, attractions). Each of these categories can be narrowed down through the use of filters. There are some common filters, such as price and distance, but there are also some category-specific filters (e.g. accommodation type in 'Sleep' or cuisine in 'Eat'). The end result is that its very easy to find what you are looking forward without much effort. TripAdvisor have clearly applied the many lessons they have learned, over the years, on their web site, to their mobile service.
For some businesses (mainly hotels), it is possible to make a booking. However these are done through third-party web sites, not TripAdvisor itself. The majority of these booking sites are not very mobile friendly. It may be easier to call the hotel or restaurant directly to make a booking. A seamless end-to-end service, similar to OpenTable, would be an obvious improvement, but may be very difficult to achieve.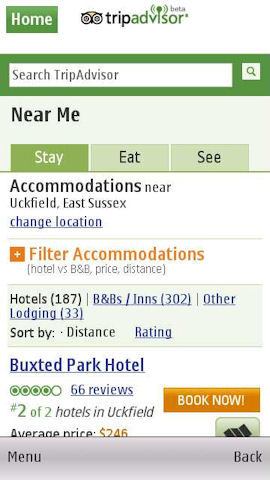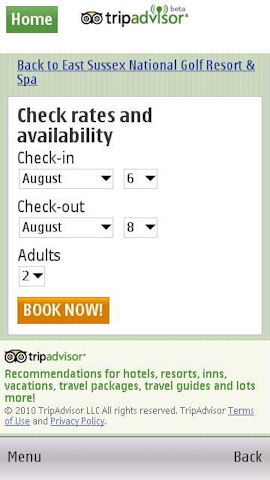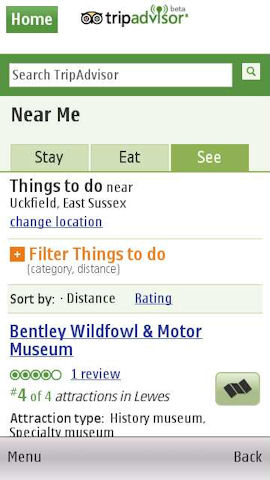 While the emphasis in the Ovi Maps integration is naturally on your current location, it is possible to change to a user specified location when carrying out searches. This means you can look up listings for anywhere in the world and take advantage of TripAdvisor's information and user generated content.
It's also possible, via the 'Home' button on the top of every page, to access TripAdvisor's other services. These include forums, which are a great source of local knowledge and travelling tips, and the flight search tools. TripAdvisor will search across multiple airlines to find the cheapest available tickets and, as with hotels, offers links to third party web sites, where you can book the tickets.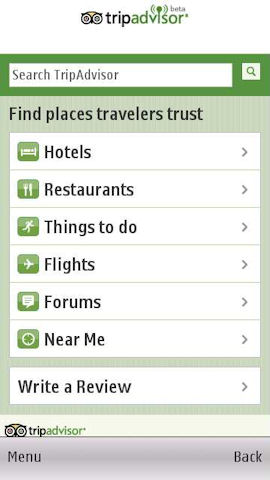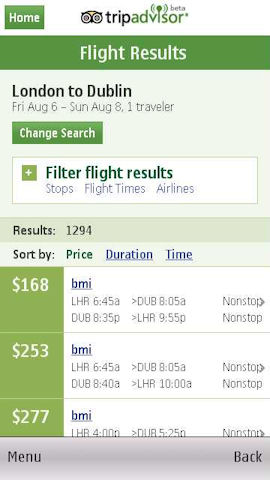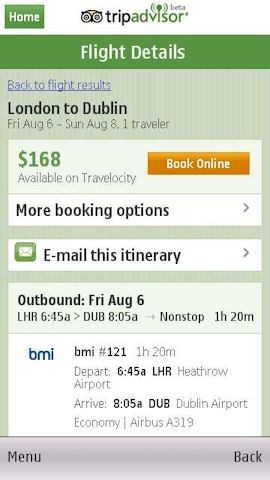 What stands out about this Ovi Maps integration is the attention to detail and good, mobile orientated, design. There's an emphasis on simplicity and consistency, while, at the same time, maintaining access to a large amount of information. This characteristic, together with the huge database of places and user generated reviews, arguably makes TripAdvisor the most useful Ovi Maps integration to date.

We mentioned earlier that the TripAdvisor Ovi Maps integration is a customised version of the TripAdvisor mobile website. If you visit the site in your phone's browser you'll see the same design and functionality, but, crucially, it lacks the location awareness and links to Ovi Maps (useful to view location on a map, and more importantly, to save them as favourites, for use in drive or walk navigation). It's an excellent example of how, for services, sensible mobile application integration can trump a pure mobile browser offering, without the need to extensively rework the service backend.
For TripAdvisor, there's a clear discovery advantage, the average consumer is far more likely to be made aware and make use of TripAdvisor on their phone if it is integrated into Ovi Maps, which is used by tens of millions of users. For Nokia, integration with TripAdvisor improves Ovi Maps access to points of interests (PoIs), or, put another way, its physical world discovery capabilities. You should be able stand in any major city and discover, on your phone, places to eat, things to do or see and places to sleep, all within just a few hundred metres of your current location.
Rafe Blandford, All About Symbian