Each listing entry has information about the event (e.g. concert, film, play, exhibition) along with a brief Time Out rating, description and in some cases a review. Where available there are phone, email, web and maps links to find out more information or to book a ticket and each listing also includes a link to venue information. Choosing a map link open up the map view of Ovi Maps, making it easy to find the venue using the built in satellite navigation functionality.
The Time Out listings are divided into various categories (film, eating and drinking, around town, music, stage, nightlife and art). Listings within these categories can be sorted by time, critic's choice (quality) and distance (nearest first).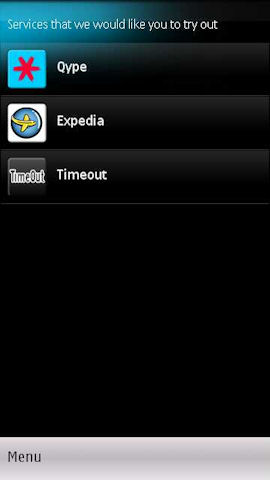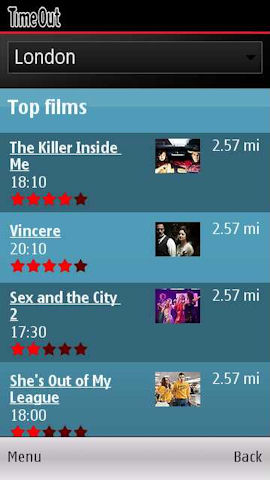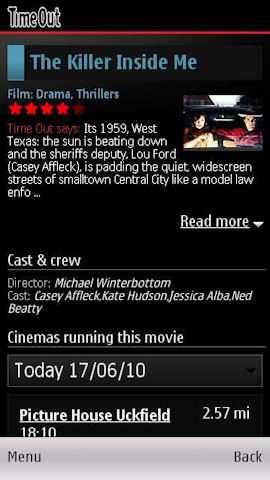 On the home page of the Time Out listings it possible to switch to another city (e.g. New York as shown below). This makes it very easy to browse around a city's listings to see what's on.
Unfortunately this browsing ability does not seem to work very well within the geographic catchment area for one of the cities covered by the Time Out listings. There seems to be a distance limit over which listings are not displayed (around 15 miles), which means you see only a sub set of listings.
For example I live near London, but I can only see a few listings at a nearby cinema - nothing else - what I really want to do is to be able to see and browse the all of the listings for London (regardless of how far away they are).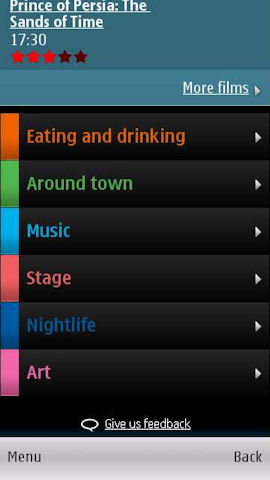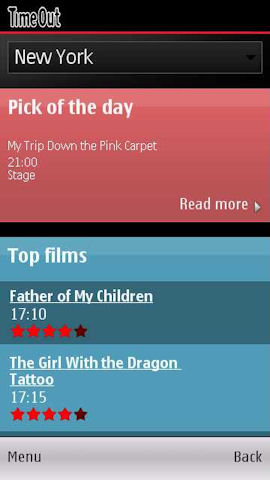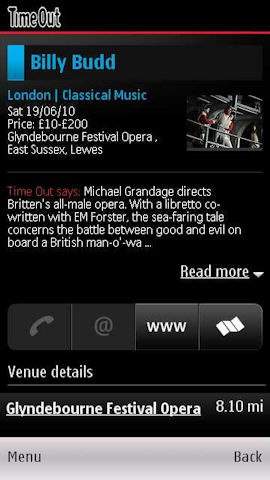 What really stands out about Time Out is the dynamic feel; these are listings that are continually being updated. They allow you to get a feel for the events going in around you at the current time.This is an area where map applications, which normally rely on fixed points of information databases, have traditionally performed poorly.
Finding the cinema or theatre was not the problem, rather finding out what is on at the venue was the problem. By contrast a listings service provides information about what is on, but does not help you navigate to the venue. The idea is that, by combining a listings service, such as Time Out, with its core navigation functionality, Ovi Maps gives a better user experience.