The results are significantly ahead of market expectations, with Nokia's share price up 10% since yesterday.
Olli-Pekka Kallasuvo, Nokia CEO, said:
"We grew our market share in smartphones in the fourth quarter, driven by the successful launch of new touch and QWERTY models. Our performance in smartphones, combined with continuing success in the emerging markets, helped us increase sales in our Devices & Services unit, both quarter-on-quarter and year-on-year. Our solid results also owe a good deal to world class supply chain management and impressive sales execution.
I was also pleased with Nokia Siemens Networks' performance in Q4, especially considering the ongoing challenging conditions in the infrastructure market. That performance enabled it to turn in a full year profit on an operative basis.
Our focus remains firmly on execution, especially around user experience. Here I want to highlight our move to shake up the navigation market with free walk and drive navigation on our smartphones, a good example of how we are leveraging our assets to bring real benefits to consumers."
Points of interest
Nokia mobile device volumes were 126.9 million units, and 12% year on year and up 17% sequentially (not unusual for Q4, which includes the holiday market). This is set against estimated industry volumes of of 329 million units, up 8% year on year and up 14% sequentially. Nokia's overall (phones) market share was 39%, up 2% from Q4 2008 and up 1% from Q3 2009. Average selling price was EUR 63, down from EUR 71 in Q4 2008 and up from EUR 61 in Q3 2009.

Services and software net sales were EUR 169 million, up 15% sequentially.

Converged device shipments (smartphones) were 20.8 million (up from 16.4 million in Q3 2009 and 15.1 million in Q4 2009), of which 4.6 million were Nseries and 6.1 million were Eseries. This means that 10.1 million smartphone shipments were numbered Nokia Symbian devices, reflecting Nokia's continued strategy of pushing 'converged' devices into the mid tier (e.g. the 5530).

This shows continued growth for Eseries sales driven by the advent of the E52, E55 and E72 mass market availability. Nseries devices sales remain relatively flat and are likely to included around 100,000 N900 (Maemo devices). Numbered devices also showed impressive growth against continuing good sales of the 5800 and the advent of the 5530.


Converged devices sales were higher than expected, with converged device (smartphone) marketshare up 5% from the previous quarter. Nokia converged devices sales growth has significantly out-grown the rest of the market.

Estimated global market volume was up to 52.4 million from 47 million, which means that of the 5.4 million extra smartphones sold last quarter 4.4 million were Nokias. However as we've mentioned before sequential figures do tend to be quite variable, due to the fact big individual launches can still have an impact on the relatively small smartphone market (52.4 million devices in Q4).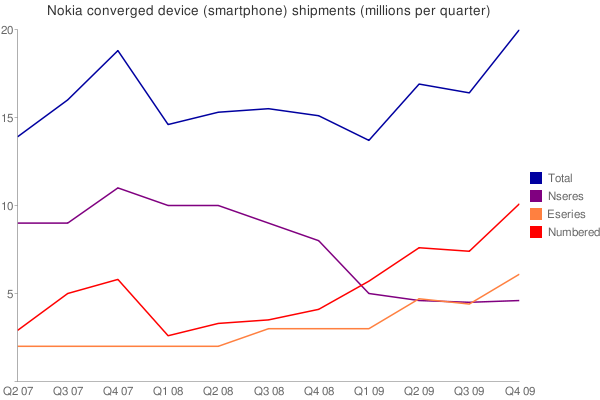 Nokia smartphone shipments over the last two and half years.
Notes from the conference call
Ovi Store Downloads up to 1 million a day. More than doubled number of Ovi Mail accounts to 5 million. Nokia Messaging deals signed with more than 69 operators. Comes with Music in 12 countries, supported by 25 operators.


Shipped almost 10 million touchscreen devices (or put another way more than 10 million non-touchscreen devices - of which 6.1 million are Eseries).


Additional Maemo device in H2 2010 (OPK 'product announcements continue to happen - Symbian and Maemo in H2 2010').


Question about Symbian/Maemo tablet - nothing specific - have been exploring with Booklet 3G, but more activity in this space. [my comment: really this is where Maemo operates - i.e. space between smartphone and laptops].

See also
Earlier results: Q3 2009, Q2 2009, Q1 2009, Q4 2008, Q3 2008, and Q2 2008