The phone itself is a standard Nokia 5800 XpressMusic, which has been one of Nokia's best sellers since its release 9 months ago. The 5800 Navigation Edition is cosmetically different; it replaces the black plastic bevel around the upper outside of the phone with a silver plastic bevel, giving the 5800 Navigation Edition a unique look.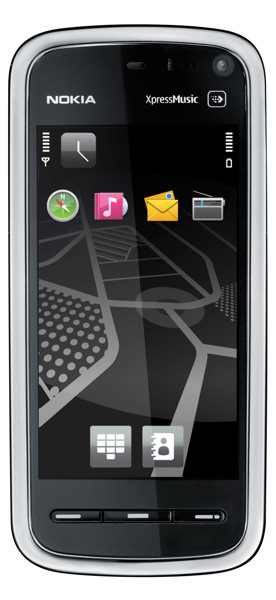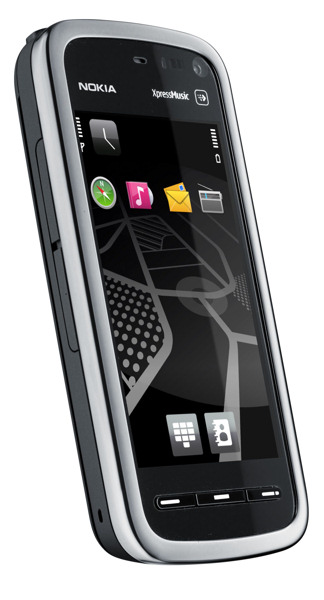 Nokia 5800 Navigation Edition (high resolution image)
In our original 5800 review we noted that:
"The wide screen is similar, in size, to that used by some PND (Personal Navigation Device) units and, together with the touch i nput, effectively matches the hardware experience. The extra size (compared to most previous S60 phones) means that it is easier to see directions and touch interfaces are generally easier to use when driving. In the same vein, the 5800's loud stereo speakers make it easy to hear turn by turn directions."
Clearly others have noticed these attributes; bundles, such as the Nokia 5800 Navigation Edition, are usually driven by market demand. This offering may be popular with operators and independent phone sellers who are looking to add products which expand beyond the usual phone area. In one sense, you can see the Navigation Edition as the equivalent of the 5800 Comes with Music Edition (£299), except this version is for frequent travellers or those who get lost easily. 'Comes with Maps' anyone?
Since we wrote the original review, Ovi Maps 3 has been released, which includes a number of additions such as high-resolution aerial images, topographic map view, 3D landmarks, weather forecasts, premium travel services (traffic information and safety warnings) and an improved point of information database. The UI was also significantly updated, making touch interaction easier and improving the usage experience whilst in navigation mode.
With the 5800 Navigation Edition, the features we highlighted are combined with navigation licenses and accessories to create a compelling car navigation bundle. The emphasis here is on value; the bundle offers significant saving over purchasing a separate personal navigation device (in addition to a phone).
There's also a significant saving over the individual cost of the items in the bundle. The total cost of the bundle has, approximately, a £50 premium over the standard 5800. However the accessory bundle is worth around £45 (although, shopping around, you should be able to find it cheaper) and the navigation licenses are worth around £80 (depending on region and assuming 2 years of usage). Effectively, you are buying the accessories and getting a free lifetime (of the device) license for Nokia's Ovi Maps service.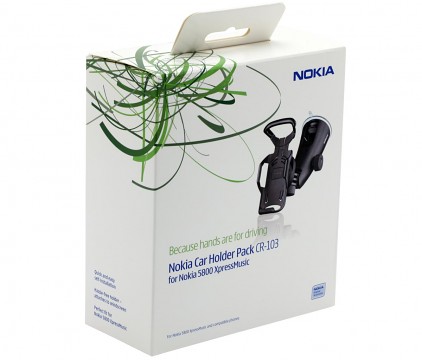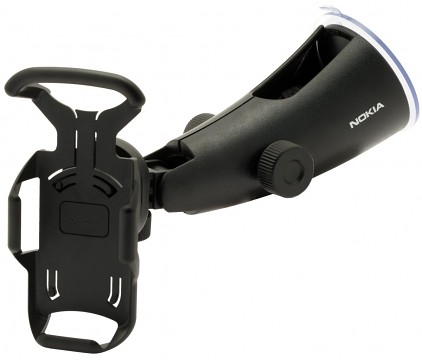 Car Holder Pack (CR-103) with Rotating swivel adaptor (AD-69) and Easy Mount (HH-17)
Nokia 5800 Navigation Edition Video
(via Nokia Conversations You Tube Channel)
Related Content
Ovi Maps 3.0 (beta version write up)
Nokia 5800 - touch enabled, mid-range, music focused S60 phone
Nokia 5800 XpressMusic announced
Nokia 5800 XpressMusic Preview Part 2 - Multimedia Capabilities
Nokia 5800 XpressMusic Preview Part 3 - PIM Applications, Application Compatibility and Conclusions
Nokia 5800 XpressMusic - Steve Litchfield's Review