Review:
Nokia 5800 XpressMusic Preview - Part 2: Multimedia
Version Reviewed: PR
Please bear in mind that these impressions, observations and pictures come from pre-release hardware and software.
See also: Nokia 5800 XpressMusic Preview Part 1 - Hardware / Design and Touch Implementation and Part 3 - PIM Software, Application Compatibility and Conclusions

Multimedia Introduction
The 5800 maintains Nokia's reputation for creating powerful and feature-rich multimedia mobile devices. The breadth and scope of its multimedia functionality out of the box is extremely impressive, even more so considering this is a mid-tier device. The large screen and touch interaction of the 5800 are not multimedia features in themselves; they do not add any extra capabilities to the device itself. However, as we shall see in the next section of this preview, they do have a marked impact on the multimedia experience for the consumer.

Music and Audio
With its XpressMusic moniker, it'll be no surprise that the 5800 is an extremely capable music device. It ticks the important boxes on the hardware front: 3.5 mm audio jack, fast USB transfers (Hi-speed), stereo Bluetooth (A2DP, AVRCP), stereo speakers, and decent capacity (8GB out of the box). The stereo speakers are able to output a surprising high volume, though the sound quality is best at half-volume. Sound quality is very good, though, as ever, you'll need to replace the in-box headphones to make the most of it.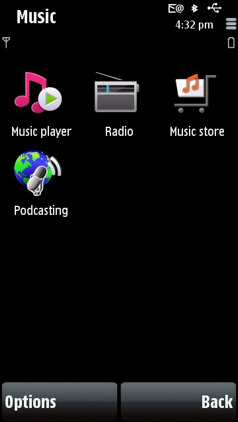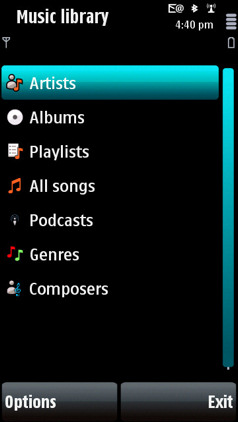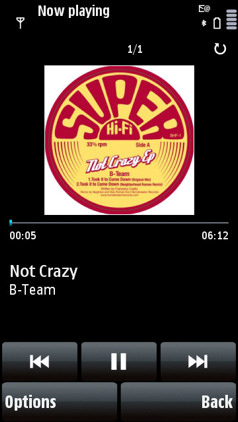 Music player has been touch-enabled (toolbar buttons: back, play/pause, forward and movable track time indicator), but otherwise has the same layout as recent Nseries devices. Divided between the music library and 'now playing' section, it is a feature rich, but easy to use application. 8-channel editable equalizer presets, setting for bass booster, balance and stereo widening, comprehensive playlist management and editing, and auto-updating music library are all present. It supports a good range of formats: mp3, wma, aac, aac+, and wav which means it's easy to 'side load' existing music collections.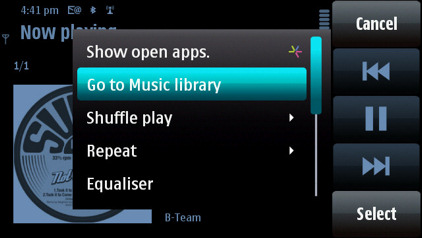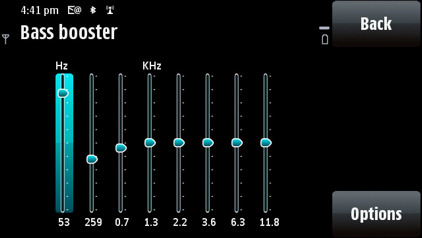 The 5800 ships with Nokia's equivalent of iTunes, Nokia Music (a music client for Windows), which provides comprehensive music management and transfer tools for the PC. Getting music onto a Nokia phone has never been so easy - it is a first rate program. Nokia Music also provides easy access to the Nokia Music store on the PC for downloading new music tracks. In this, it is mirrored by the Music store application on the phone which gives access on the move. With its PC client and Music Store now established, Nokia now has an excellent all round music experience for consumers and the 5800 is going to be the first S60 handset to benefit from this out of the box.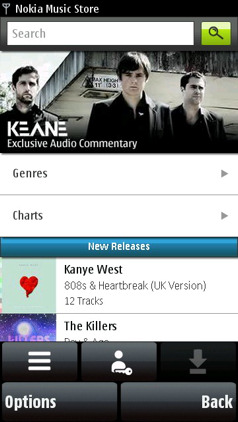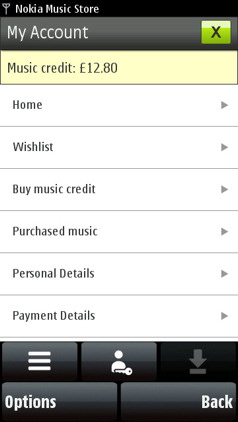 Nokia Music Store gets a a new look for touch devices
The 5800 will be available as a Comes with Music device. This gives Nokia a significant hook to lure new users to its music ecosystem. One way to look at it is this: for roughly the same price you have a choice between an iPod Touch and a Comes with Music Nokia 5800. Both would have their advantages, but the 5800 offers arguably more functionality and unlimited music downloads for a year. In a blind test (leaving aside brand and style considerations), it is obvious which solution would come out on top.
The 5800's audio credentials are further burnished by the inclusion of the Podcasting and Radio applications. Podcasting, once you have set up the podcasts you want to listen to, can be left to its own devices. You can access podcasts for playback through the podcast category in the Music player's music library. Radio is a polished application with automatic station scanning and editable presets, it has also has had a small facelift for S60 5th Edition - once you have tuned into a station, its frequency and name scroll across the screen in a mish mash pattern. It is a small thing, but is exactly the sort of visual enhancement that it would be nice to see more of in S60 devices.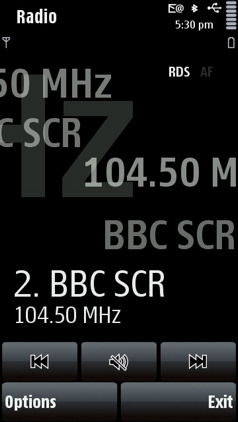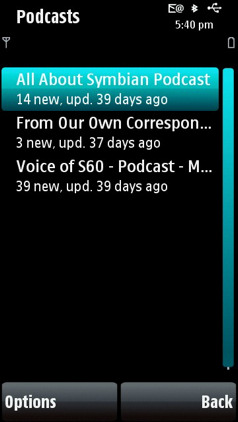 Camera and Video
The 5800 has a 3.2 megapixel camera with autofocus and Carl Zeiss optics. It's not fair to draw definitive conclusions from early hardware, but in general the overall performance is very much middle of the road. It is perfectly sufficient for the odd shot, but not enough to satisfy those looking for more. The dual LEDs provide a reasonable amount of illumination, but as with other camera phones you get the best results in well lit conditions. Video recording at a nominal VGA resolution (640 x 480) at around 30 frames per second is impressive for a device at the 5800's price point, but plainly is unable match the performance of optics in higher end devices, such as the N82 and N95.
The camera is activated using the capture key on the side of the device. Start up time is just over a second with the auto focus lock taking another second or so. The camera software takes full advantage of the touch screen; the majority of settings are accessible from a pop out box from the toolbar. It's the usual selection of scene mode, colour tone, white balance, exposure light sensitivity, contrast and sharpness. With most settings just a few taps away, they're more accessible than on softkey driven devices, but most of the time the fully automatic mode is perfectly sufficient. The most common setting (flash on/off) is on the toolbar, together with a capture shortcut, a bit pointless given the dedicated button - a shortcut to scene mode would have been more useful. In video mode, the settings are sparser, but I was very happy to see that the universal symbol for record, a red spot, has been used as the shortcut icon on the toolbar. A good example of where iconography can make things more intuitive than a text labeled shortcut.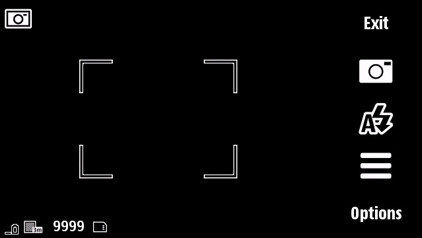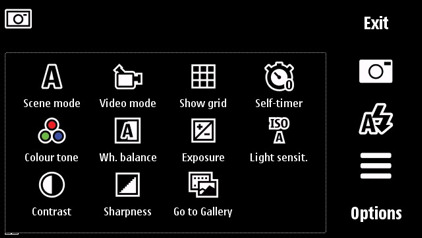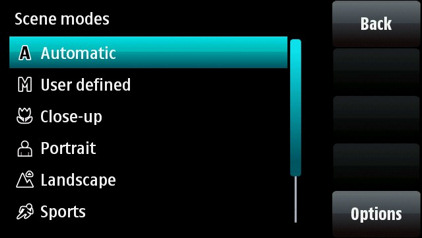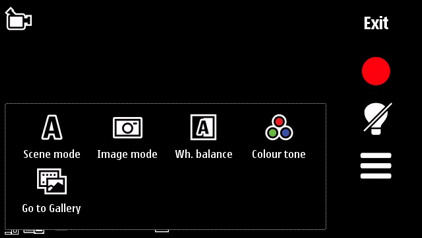 For media management and viewing, the 5800 uses the Gallery application. It uses the top level hierarchy (images and videos, songs, sound clips and other media), as in previous S60 implementations. Photos and videos are shown as thumbnails in a grid. Touching on a selected image shows it full screen and, as you might expect, you can flick through the images in sequence by sliding your finger or stylus over the screen. Touch the screen again and a number of shortcuts and controls appear. There's a zoom bar (the volume keys, on the side of the device, can also be used), plus shortcuts for sending the media item (via email, mms or web upload), playing the media (video or slideshow) and deleting the media. The options menu gives access to further actions, including editors (now standard in 5th Edition) for both images and videos. Gallery does get the job done and has a good range of features, but its top level hierarchy is antiquated and it can be a little slow to load or switch between images so there's definitely room for improvement.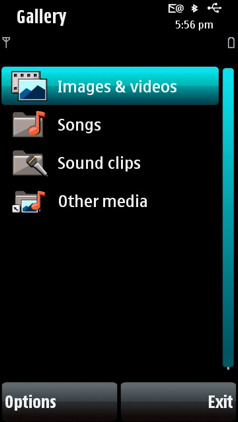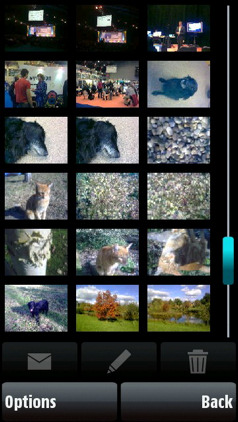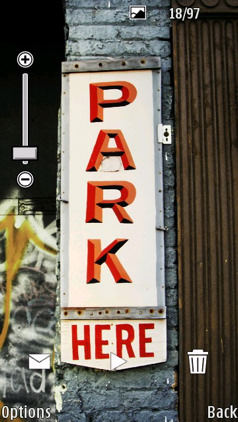 An area where the 5800 impresses is its ability to easily upload captured media to online services (Flickr, Share on Ovi and more) through the Share online application. Both the Gallery and Camera applications integrate with the Share online application via the send shortcut (web upload). In the case of the camera, this means you can capture media and be uploading it to the web just a handful of seconds later. The Share online application does a great deal more too, you can use it to view images your contacts have themselves recently uploaded to the sharing sites and read or add comments to them. While the functionality is broadly the same as earlier versions, the bigger screen size and touch interaction makes it less fiddly to use. At the recent Symbian Smartphone Show I carried both the N78 and 5800 to post 'live' images to the front page; I ended using the 5800 almost exclusively because it was quicker and easier. There is one important feature addition in Share online in 5th Edition (and in v4.0 on selected handsets as a standalone download - Ed); it now has an outbox and you can line up as many uploads (posts) as you wish, whereas previously you had to let the last upload finish before you could start a new one.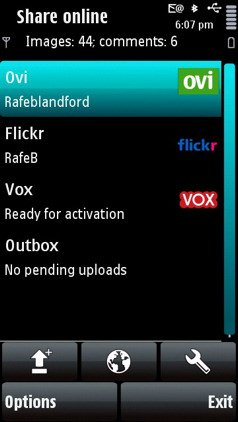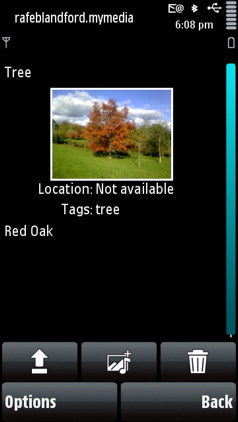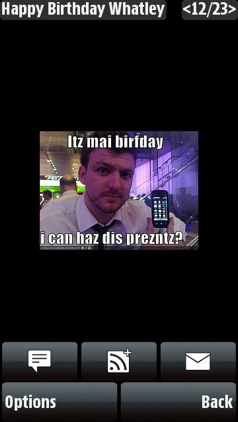 For video playback there's Real player, which does a good job; it'll happily play videos, either locally or via streams, either diectly or those that are passed to it by other applications. It supports a wide array of formats including H.263 and H.264 codecs (3gp/mp4), wmv and flv, and is not as fussy about access points, resolution or bit rates as previous versions. The 5800's large, high resolution screen makes for an excellent video playback experience and, coupled with Real player, there's a lot of potential here.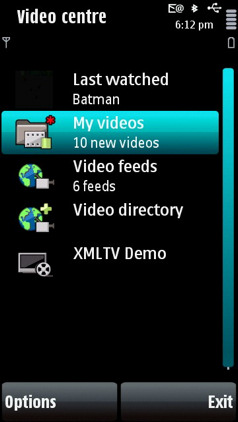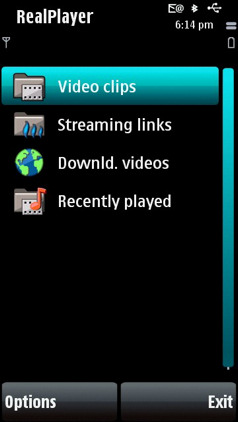 The Video centre application provides a way to download video on the phone (via RSS feeds), but there is a limited selection of generic content available. You can also copy video directly from your PC (side loading), but there's a good chance it will need re-encoding to achieve optimum playback. Video centre does make it easy to access videos stored on the phone, but the overall experience is much less slick than that for music; side loading content is less straight forward, nor is there a video store for commercial or premium content. These limitations are likely to be partly offset by regional variants being pre-loaded with local content feeds and applications (e.g. the BBC iPlayer widget which provides a way for British users to view BBC content in a hassle free way). As Steve recently found out, with the UK variant of the N96, this can be very effective and the media-centric Nokia 5800 is an obvious candidate for this kind of local customisation.

GPS and Nokia Maps
The 5800 has an integrated GPS with assisted positioning support. GPS is slowly becoming standard, but it is still relatively unusual to see them in devices in the 5800's price bracket. Along with GPS comes Nokia Maps. As usual, mapping and location is free of charge, but you'll have to pay an extra fee for turn by turn car or pedestrian navigation. The Maps application works well with touch: you can drag the maps around the screen and there's an on screen slider for zooming in and out. Unsurprisingly, it is one of the applications that benefits most from the higher resolution screen.
The wide screen is similar, in size, to that used by some PND (Personal Navigation Device) units and, together with the touch input, effectively matches the hardware experience. The extra size (compared to most previous S60 phones) means that it is easier to see directions and touch interfaces are generally easier to use when driving. In the same vein, the 5800's loud stereo speakers make it easy to hear turn by turn directions. The version of Nokia Maps on our pre-production unit isn't the final one so we'll revisit Nokia Maps, in more detail, in our review of the retail version.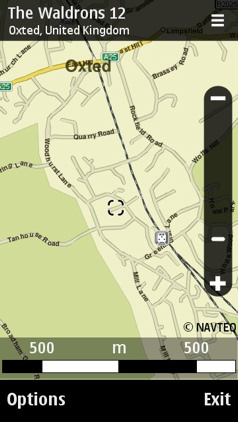 Web
As with other S60 applications, Web has been 'touch enabled' - you can scroll around a page by dragging your finger or stylus across the screen. There's an on-screen control for zooming, or a double tap switches between two different zoom levels, iPhone-style. From the toolbar, a pop out dialog containing shortcuts allows quick access to many of the most commonly used browser functions. Web is one of the applications that makes the best use of the new toolbar UI component in S60 5th Edition. Shortcuts on the toolbar are context sensitive - for example, if you're browsing, there's the shortcut button, 'go to page' button and zoom button, if you're looking using visual history then the toolbar has backwards and forwards buttons. This means that there's rarely any need to go into the full options menu, since most actions can be accessed from the toolbar shortcuts.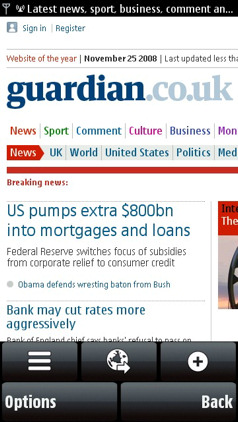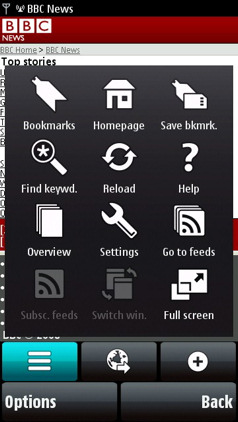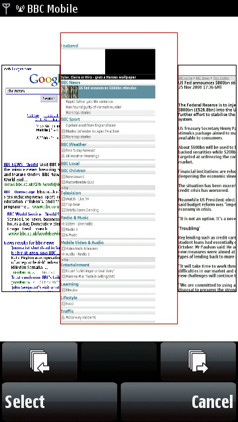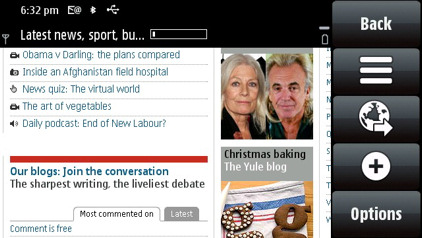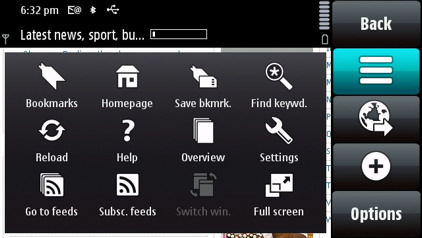 Web on S60 5th Edition uses a more recent version of WebKit (the open source rendering engine), but the difference this makes is not immediately obvious. It is, however, able to run Acid3 (a test page that checks how well a browser follows web standards) and scores 47/100; previous versions of Web were unable to load the test page fully. 47/100 is a decent score for a mobile browser, but it is beaten by the most recent versions of Opera (73/100) and iPhone's Safari (74/100). However, all three of these browsers comfortably out perform 'standard' mobile browsers.
In real world situations, the difference in the respective browsers' rendering ability is not as large as these scores would suggest; mainly because the upper end of the Acid3 test checks for compliance on standards that are not yet widely used by web developers. Each of these browsers are capable or rendering the vast majority of web pages - there may be a few visual glitches, but these are more likely to come from limited screen resolution or the browser attempting to change the text flow of a page to 'fit to screen'. From a technical point of view, for the average user, there is little to choose between them. The inclusion of Flash support on the 5800 does give it an advantage over its competitors in this area, although performance for Flash sites is a mixed bag. Flash video generally works well, for example, clicking on a video will load it up full screen, which makes for a great web video experience.
However, technical capabilities are only one side of the coin, performance and usability are the other. The 5800 performs very well on small pages, but on some larger pages (on our preproduction firmware unit) Web starts to feel sluggish and page rendering can take a few seconds. This is especially noticeable if you're using a speedy WiFi connection. Moving around the page is easy, thanks to the touch screen, but it is fair to say, that for finger touch use, the capacitive technology used in the iPhone is better than the resistive technology used in the 5800; it is better suited to drag and glide movements typical used when scrolling around a page. Once learnt, the multi-touch 'contract and expand' gestures make zooming easier on the iPhone than the on-screen control on the 5800.
The 5800's browsing experience fails to match Safari on the iPhone; it's mostly down to performance, but there's also an ease of use element too. Despite this, it is still impressive and, thanks principally to the higher resolution screen, is a large step forward compared to most earlier S60 devices. Plus in some areas, such as handling RSS feeds and bookmark handling, it does a better job than the iPhone. You might forgive the difference in the browsing experience for the 5800 (since it's half the price of the iPhone), but this version of Web will be used across all of Nokia's touch devices so saying that is a bit of a cop out. Moreover, both browsers are built on WebKit so it is not unreasonable to expect a similar level of performance. On the other hand, if you compare the 5800 with anything other than the iPhone then it is going to come out in a much better light. It should also be noted that there may be improvements in the retail release software version, so again, we'll revisit this area in a future review.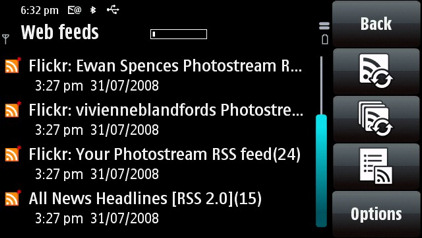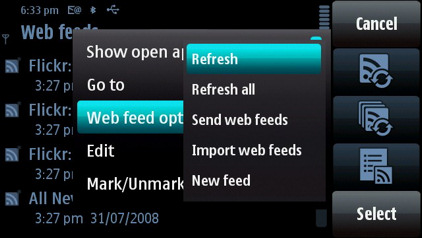 The mobile Internet experience is not just about what goes on inside the browser. Other areas such as widgets and rich internet applications (RIA) are becoming increasingly important and here S60 is the market leader. In S60 5th Edition, Flash Lite and Web Runtime (widgets) have both added platform services, which means that they both have the ability to integrate more deeply with the device (e.g. access location from the GPS, edit and add contacts). The full impact of this will not be felt until developers take advantage of the new capabilities, but it does underline S60's credentials as an open platform for Internet based services. There's also Nokia's standard Search application which gives quick access to Internet results. The search engines available vary by country; in the UK you can choose from Google, Yahoo or Microsoft.

Gaming
The games Bounce and Global Racer are both pre-installed on the phone. While both have been seen before on previous Nokia phones, the control mechanisms have been re-worked for the 5800. Bounce is a 3D platform game where you control a red rubber ball moving along a predefined course and overcoming obstacles. The same game is available through Nokia's N-Gage platform, but on the 5800 everything is controlled through touch. You can slow down or speed up the ball's movement by dragging your finger up or down, steer by moving your finger from side to side and jump by double tapping. With a bit of practise, the touch control works well, though I found I needed the accuracy of the stylus on the trickier parts of the harder levels. Global Racer is an arcade racing game which is controlled by tilting the phone from side to side; it uses the 5800's accelerometer to do the steering and acceleration is automatic. Getting the 'right' level of tilt takes practise and the game feels more like a technology demonstrator than an entertainment add-on.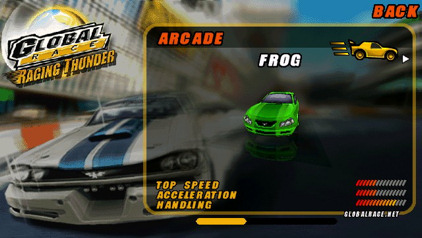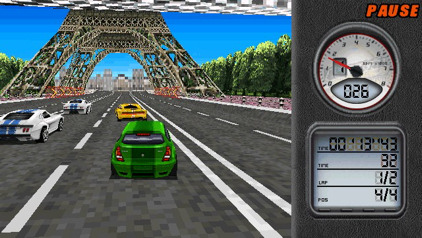 There are likely to be many more games on the way too. At the 5800's launch, some phones had a touch version of Gameloft's Rock Band music game installed; this game will ship with the phone in some markets. With many more S60 5th Edition devices on the way, games publishers will be looking to port across existing games and create new ones that take full advantage of the touch and sensor capabilities.
Nokia also recently mentioned that it is planning to add touch to its N-Gage gaming platform next year, although there was no definitive statement on whether those plans include the 5800. The hardware of the device should be sufficient, but the lack of physical keys may be more of an issue.

TV Out
The 5800's TV out capability, which as with earlier devices is analog composite video based, allows the 5800's screen to be replicated on a TV or a monitor. The output resolution is the same as that of the screen (640 x 360); in some circumstances, such as viewing images in Gallery, the output resolution is increased slightly to VGA. The supplied TV out cable can also be used to connect the phone to stereos with auxiliary inputs (fairly common), providing an easy way to play back music using the speakers in a home audio system.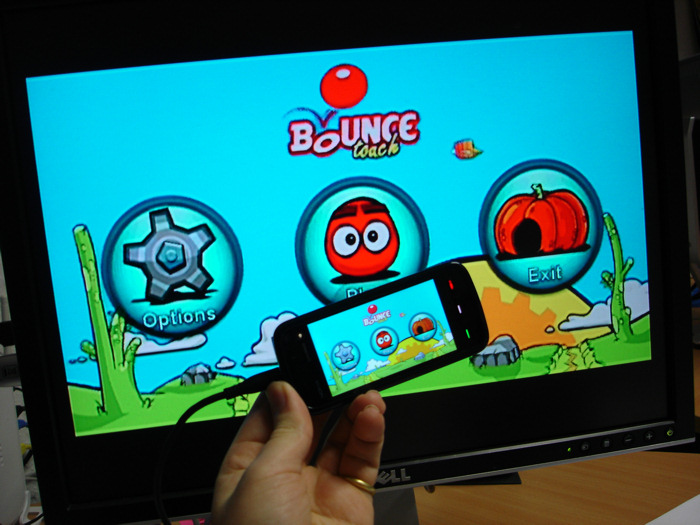 The TV-out functionality is good for showing captured images and videos particularly, when showing them to a group of people. There are also obvious benefits to 'super sizing' the screen when playing games or couch-surfing. The limited resolution and inherent quality issues of analog video do mean there are limits to its utility as a computer replacement, but for many tasks it is more than sufficient and is an unusual function to see on a device at this price point.
Rafe Blandford, All About Symbian, 25th November 2008
---
In part 3 of my hands-on Nokia 5800 XpressMusic preview, I'm going to be looking at the rest of the S60 software bundle and application compatibility before drawing some final conclusions. Part 3 will be available later this week.
See Also
Nokia 5800 XpressMusic announced
Nokia 5800 XpressMusic Preview Part 1 - Hardware / Design and Touch Implementation
Nokia 5800 XpressMusic Preview Part 3 - PIM Software, Application Compatibility and Conclusions
Reviewed by Rafe Blandford at