Key changes in this beta

Ovi Maps 3.0 now supports S60 5th Edition (Nokia N97 and Nokia 5800 XpressMusic).


Underlying map data has been updated.


Details view now includes weather forecast information.

Application performance has been improved (e.g. map zooming and panning), bug fixed and stability improved. There are improvements in search (division between addresses and place), general UI prompting (less warning messages). This is the final beta before release and feels very much like a release candidate.


The built in shop has been streamlined. Purchase options have been simplified and the on-device purchase process (credit card and pSMS) is much improved. There is also a clearer option for manually entering a license key. The navigation services costs £52.99 for a year, £6.00 for 30 days, or £1.50 for a day for a European wide service. Existing country specific licenses will be automatically upgraded to European wide licenses. Pricing for other regions do vary (e.g. North America is £43.99 a year), but follow a broadly similar pattern. Travel guides have been removed from the shop; they are now available via Ovi Store.


Traffic information functionality has expanded and is available in more markets. It includes both real time traffic information and speed camera warnings. The service costs £15 per year, £1.50 for a month, or £0.80 for a day for a European wide service.
Mapping and application performance

The new beta updates the map data set to the latest set issued by Navteq. Maps 3 includes 2D and 3D maps modes, satellite imagery and terrain mapping. There's also support for 3D buildings and full map rotation.
One of the most welcome improvements in the new beta is the improved application performance. The application is much snappier, with map zooming and panning particularly impressive given the level of detail being displayed.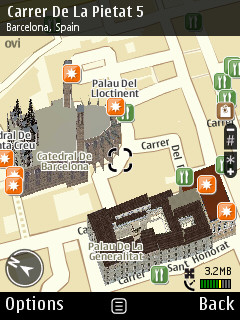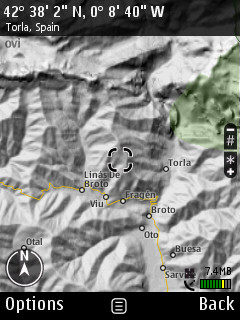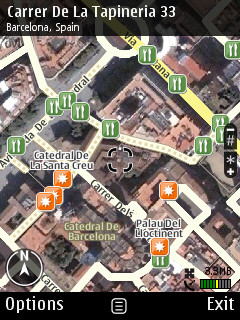 Favourites (landmarks) and Sync
Places and routes can be stored as favourites. This allows them to be more quickly accessed and used in the future. Maps 3 adds the ability to organise places and routes into categories (folders) and customise their name and appearance.
A key feature of Ovi Maps is its ability to sync with Ovi Maps for the web. This allows you to sync places (landmarks) and routes between a mobile device and the web. This means you can find a new place or plan a route on a desktop PC (where input and screen size are less restricted) and have it automatically synchronised to your phone when you start Ovi Maps.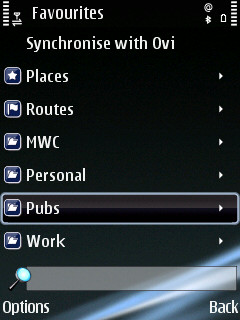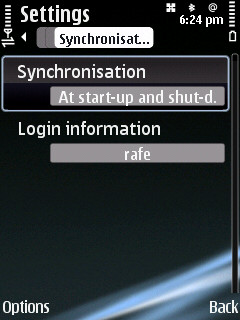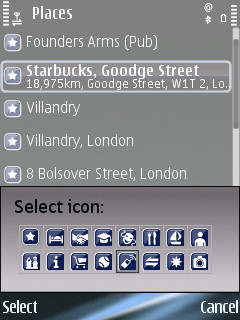 Routing / Navigation

The routing functionality remains much the same as previous beta, although a number of UI tweaks have been made. The example screenshots below show route overview, the options menu (which allows you to access key functions when driving) and an example of navigation mode.
Maps 3.0 also supports pedestrian navigation. Where applicable the software will route pedestrians on non-car routes (e.g. a pathway through a park, or the wrong way up a one way street).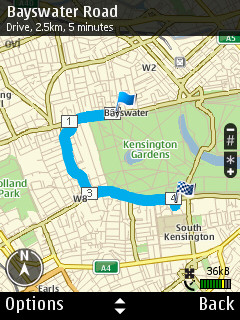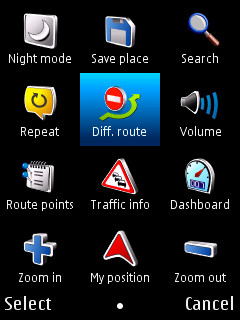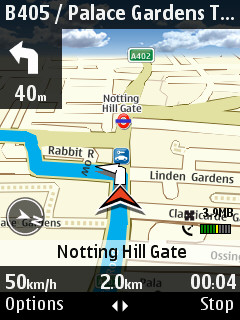 Details view and weather forecasts
Weather forecasts are now included in the details view (accessed via the central context menu). This allows you to see a weather forecast for any places you may be visiting.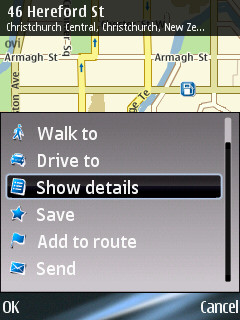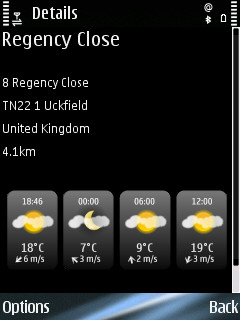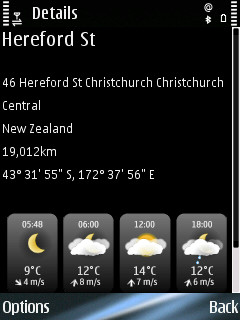 Search and PoI access via explore
The search function has been divided into an address search (i.e. postcode or street) and places. A places search looks through the PoI database for matches and is therefore better an finding particular services. The address search includes support for full postcodes and the ability to select an address from the Contacts application (annoyingly it does not filter out Contacts which do not have an address). Alternatively you can directly input a lat/long co-ordinate set.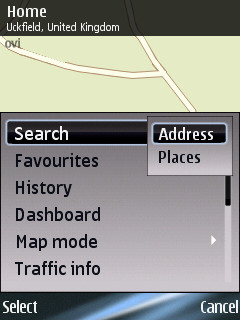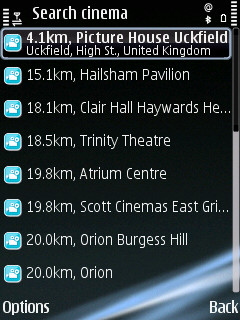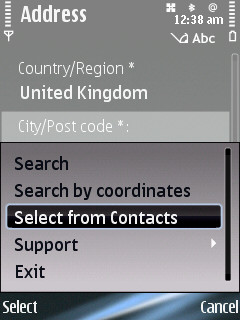 As with previous beta versions of Nokia Maps 3.0 one of the easiest ways to discovers local points of interest is to use the Explore entry from the central contextual menu. Shown below is an example for local shops.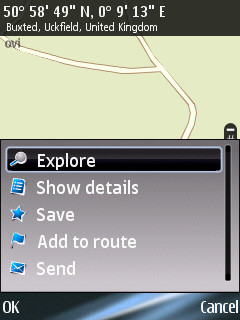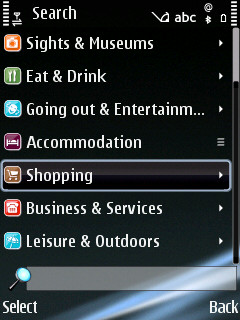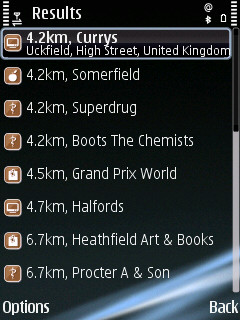 Traffic information and speed cameras
The traffic information service, which is available as an add-on service, has been improved and expanded in the latest beta. It is also available in more countries.
The service consists of two elements: traffic information and safety spot (speed camera) PoIs / warnings. Traffic information is overlaid on the maps as a red line. Alternatively a list of problems can be viewed, sorted by distance from the currently selected location, can be view via the Options menu. In both cases selecting the incident and choosing 'More details' from the central contextual menu displays more detailed information about the problem. Traffic information can be set to update automatically, at specified intervals, or can be updated manually.
When in navigation mode Ovi Maps can re-route you to avoid traffic problems. This can be set to happen automatically or to be manually prompted.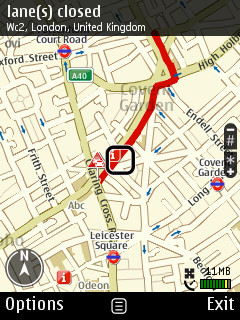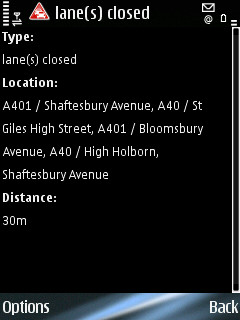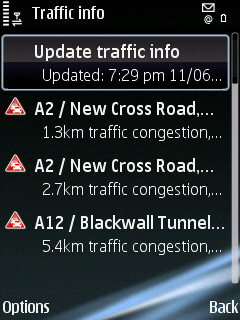 Safety spots (cameras) are indicated on the map by a small camera icon. In navigation mode the voice directions will give an audible and that you are approaching a safety spot and indicate the speed limit. A visual warning is displayed on the screen, the graphic alternates between the safety spot icon and the maximum speed limit. This is in addition to the optional speed limit warnings which are available as part of the basic navigation mode.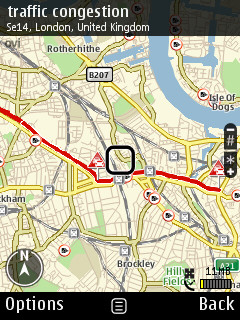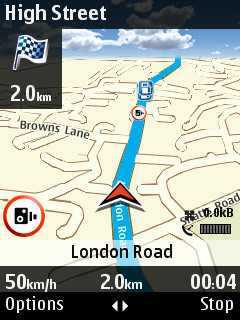 The traffic / safety camera service costs £15.99 / 18 Euro for European wide coverage; this compares favourably to competing products, for example TomTom charges £35 a year for a similar level of service.
In Europe the following countries support traffic information: Belgium, Denmark, Finland, France, Germany, Italy, Luxembourg, Netherlands, Northern Ireland, Norway, Spain, Switzerland and United Kingdom. The following countries support safety spot (cameras): Andorra, Austria, Belgium, France, Italy, Netherlands, Northern Ireland, Norway, Romania, Poland, Spain, Sweden and United Kingdom.
Installation and compatibility
As with previous updates there is a multi-step install process to follow.
Here's the full list of compatible devices:
S60 3rd Edition Feature Pack 1 (E63, E66, E71, E90 Communicator, N81, N81 8GB, N82, N95, and N95 8GB)

S60 3rd Edition Feature Pack 2 (E55, E75, N78, N79, N85, N86 8MP, N96, 5320 XpressMusic, 5630 XpressMusic, 5730 XpressMusic, 6210 Navigator, 6220 Classic, 6650, 6710 Navigator, and 6720 Classic)

S60 5th Edition (5800 XpressMusic and N97)
Further details can be found on the Nokia Beta Labs website.
We will take a more detailed looks at Maps 3.0 in due course.