The front of the device is dominated by the 3.2 inch nHD screen, there are three buttons along the bottom (right to left: end key, S60/home key, and send key) and a single button on the top right of the device which activates the media bar (a similar arrangement to the multimedia key on Nseries devices). The left hand side of the phone has a microSD card slot, the top of the phone houses a miniUSB connector, 3.5mm audio port, 2mm power port and the power button. The right hand side of the device has volume keys, a key-lock slider and camera capture button. The back of the device houses the 3.2 megapixel auto focus camera which boasts Carl-Zeiss optics and an accompanying dual LED flash.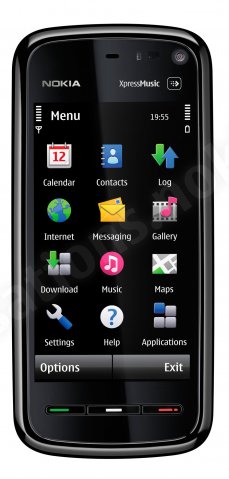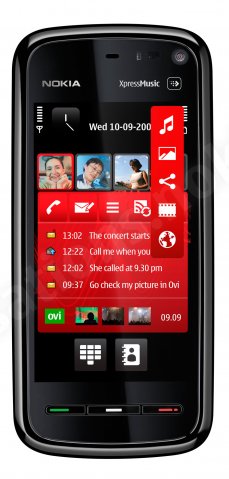 The physical shape of the 5800 is closer to a typical phone than the wider tablet form favoured by many touch devices (e.g. iPhone). At 111 x 51.7 x 15.5 mm, it is about the same size as the Nokia N78 (113 x 49 x 15.1). The crucial difference is that the touchscreen takes up the majority of the front of the device and there is no numeric keypad.
The S60 5th Edition UI is designed to be used with either finger touch or with a stylus. While the UI has a familiar S60 feel, it has been optimised for touch. In portrait mode, two enlarged 'softkey labels' work as virtual keys for accessing menus (i.e. Options) and other common actions; in landscape mode, there are four virtual buttons (making up a toolbar) which do the same thing. On screen icons and menus all respond to touch interaction.
The familiar S60 applications are all available - PIM (Contacts, Calendar and Messaging), Media (Music player Gallery, Video centre, Web), services (Maps, Download!, Share online, Search) and a number of tools and utilities. Many applications have been optimised to take advantage of touch interaction and the extra screen space available. Web allows you to scroll around a page and select links using your finger, Calendar has a split screen view in landscape mode, Gallery lets you flick through media using your finger and so on.
The 5800 has a number of extra touch-related customisations. Firstly, the Media Bar, which gives quick access to the key multimedia applications. This is a drop down menu-bar that appears on the right hand side of the screen when you press the dedicated Media Bar key. Second is the Contact Bar (see image below) which lets you put your favourite contacts on your homescreen and displays information about them. Nokia call this a 'human interface that truly puts people first'.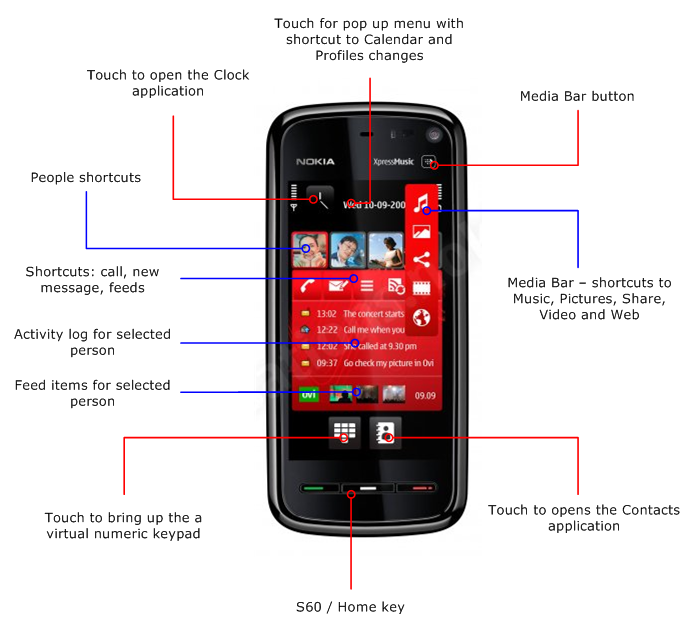 The Nokia 5800 XpressMusic's Contact Home Screen
Key features of the phone:
Software:
Runs S60 5th Edition on Symbian OS 9.5. It supports both finger and stylus touch. The 5800 has a stylus built in that is stored in a holder on the back left hand side of the device (although you can use any other instrument too).

Contact bar, a customised home screen which offers a people centric user interface. It lets you have four contacts/people on the home screen. When a person is selected, an activity log of communication and recent feed entries is shown, along with action shortcuts for calling and messaging. Contact bar is one of three choices for the home screen (idle screen), the others are the standard basic home screen and the shortcut home screen which offers application and function shortcuts (previously known as the active idle screen).

Media bar (drop down menu), which is accessible, at any time, via a dedicated key on the top right of the device. It offers shortcuts to the media functionality of the phone (music, pictures, share, video and web).

There are three text input methods available. First, via a virtual on screen QWERTY keyboard which is available in both landscape mode (suitable for finger touch) and portrait mode (better suited to the stylus). Secondly, via a virtual on screen numeric keypad, including T9, in portrait mode (suited to both finger touch and stylus). Thirdly, via hand-writing recognition (stylus by necessity). You can also use Bluetooth (HID profile) keyboards with the 5800.

The phone will ship with the new Nokia Music PC client, which can be used to synchronize music to and from the device. It can also be used to buy and download music from the Nokia Music Store. Alternatively, you can use Windows Media Player 11 or any other software which supports MTP (Media Transfer Protocol).

The 5800 ships with two games, a version of Bounce (a 3D platform/puzzle game) and a version of Global Racer. In Global Racer, you steer your car by tilting the phone from side to side, using the built-in accelerometer.


Hardware:
Physical dimensions: 111 x 51.7 x 15.5 mm; weight: 109g.

3.2 inch, 360 x 640 resolution, touch screen (resistive). You can use the touch screen using your finger, stylus or plectrum. A stylus is built into the device and the phone will ship with one spare stylus and a plectrum (musical gadget used to puck strings) which is attached to the included lanyard.

Haptic feedback when you touch the screen. This is provided via general vibra feedback (i.e. it is not specific to the area of the screen you touch).

Proximity sensor (to prevent accidental screen touches) and an accelerometer sensor which is used to automatically rotate the screen, orientate photos and can be addressed via third party developers via Sensor APIs in the SDK.

3.2 megapixel camera with Carl-Zeiss optics and a dual LED flash. Photos and videos can be uploaded to Share on Ovi, Flickr and Facebook using the embedded Share online application. The camera can also be used to record videos at up to VGA resolution (640x480) at 30 frames per second.

Integrated A-GPS, which is used by the Nokia Maps application to provide turn-by-turn, voice guided car navigation as well as pedestrian navigation. The GPS is also used to automatically (and optionally) geotag photos.

microSD card slot, with support for SDHC cards up to 16GB in size (and likely 32GB cards when they come out). An 8GB card will be included in the sales box. 81MB of internal memory.


WiFi, 3.5G (HSDPA) and Bluetooth connectivity (various profiles including HID, SAP, A2DP and AVRCP).

1320 mAh battery, with a quoted talk time of 9 hours (WCDMA) and music playback time of 35 hours.

The sales box contains a Nokia 5800 with stylus pen, an extra stylus, Nokia Connectivity Cable, stylus plectrum in wrist strap (CP-306), Nokia Music Headset (AD-54, HS-45), Nokia 8GB microSD card (MU-43), Nokia Carrying Case (CP-305), Nokia Portable Stand (DT-29), and Nokia Video-out Cable (CA-75U).

There are three different model variants (5800-1 -2 and -3) with different 3G bands for different markets. The 5800 will be available in three colour variants: silver-black, red and blue.
The inevitable comparison
The Nokia 5800 XpressMusic will inevitably be compared with Apple's iPhone and T-Mobile's G1 Android phone. While a direct comparison does have it uses, it is also worth noting that the three phones all occupy different segments.
The 5800 is not a flagship device for Nokia; it does not have the Nseries branding, and this is reflected in its price point. Clearly the 5800 will receive attention as Nokia's first S60 touch-enabled phone, but the touch features are best seen as an enabler rather than a central function. Nokia has long regarded touch as something that is a feature that is built into the platform - as such the 5800 is not Nokia's 'touch phone'; indeed, from now onwards, we can expect to see numerous S60 devices, from multiple licensees, taking advantage of the new touch capabilities of S60.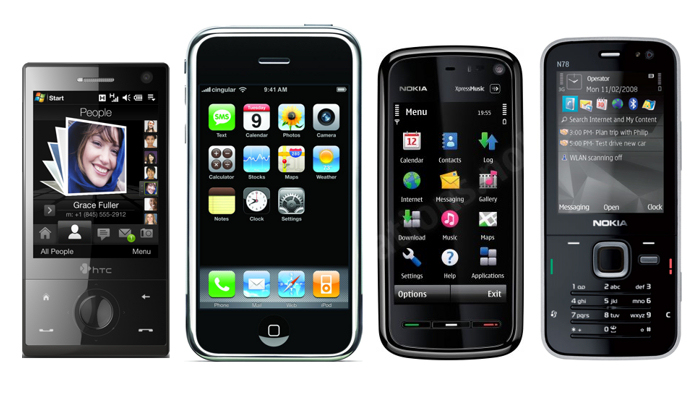 Size comparison of HTC Diamond, Apple iPhone 3G, Nokia 5800 XpressMusic and Nokia N78
And finally...
We'll be adding more information and publishing further coverage in due course.
Check back later for our hands-on impressions after we've got back from the launch event in London.
Please leave your questions in the comments thread and we'll do our best to answer them or get you answers from Nokia.
See Also
Evolving S60: Touch UI, Sensor Framework and Accelerator Toolkit (feature article from last year)
External links:
Official Nokia 5800 XpressMusic Flash product page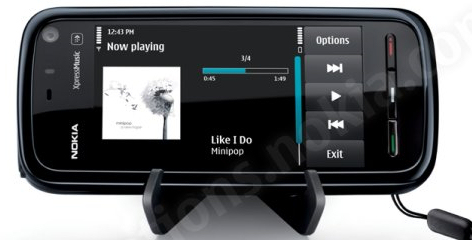 Nokia 5800 Xpress Music on desk stand