The Ultimate Alarm for S60 3rd Edition

After calls and text messaging, perhaps the third most used function of a mobile phone is the alarm. It's just so darned handy to have an alarm wherever you are, not just to wake you up but to remind you to do something. It's curious then that the alarm system on Symbian S60 phones has remained pretty much unchanged for the past three years. There's clearly potential for making improvements, and that's what this article is all about.
In search of the Perfect S60 Alarm
So, what makes a perfect alarm? Well, with help from All About Symbian forum members, here's what we came up with. Hopefully both third party software makers and the S60 hardware manufacturers will take notice.
(DISCLAIMER: This article was written without access to S60 3rd FP1, which apparently has an upgraded version of Clock. According to S60.com: "The FP1 Clock application has multiple alarm options. Several alarms can be assigned for the same day or even for several days. Alarms can be repeated daily, weekly, or on selected workdays.")
1. What S60 Clock gets right
The S60 "Clock" time and alarm application already has some good features, and the perfect S60 alarm would have to retain all of them:
- Works as a non-active application
- Works even when the phone is switched off
- Snooze button
- Displays of the amount of time left when you set the alarm
- Lets you customise the default alarm to any sound file stored on the phone or memory card
- The app is totally dedicated to alarms, you can use it easily without having to mess about with calendars (perfect for operating when you're really really tired)
2. What's missing from S60 Clock
(Incidentally, the developers of S60 ought to note a bug which appears on some S60 3rd Edition models according to certain forum members: If the alarm has been set and the phone switched off, the alarm must not activate early if the phone is switched on, yet it does on certain models.)

S60's "Clock" does need beefing up, however. Here's what's needed to turn Clock into the perfect alarm app:

- Alarms that let you choose whether to use sound, vibration or a flashing screen to alert you, or a combination of two or three.

- Repeated alarms (for example the same alarm every day, or a work profile where you get woken at a particular time every weekday but not at weekends)

- Allow alarms to go off on particular times on particular dates, at particular intervals (weekly, fortnightly, monthly), and in patterns that have no set interval (for example the first monday of each month).

- Multiple alarms

- An optional more active alarm system which makes sure the user is 100% awake before it stops ringing. This could be done by forcing the user to enter a particular code, or a particular name, or even solve a simple mathematical problem. This would put an end to the phenomenon of users switching their alarms off while half-asleep, then waking up hours later with no memory of the alarm even going off.

- An optional much more soothing alarm which eases the user awake by activating the radio or MP3 player with a particular station or playlist. The proper alarm could also then go off a certain amount of time later, once the music has done its work.

- Have a default snooze time, but also allow the user to set how long the snooze time is for each alarm, in terms of seconds, minutes, hours, days, weeks and months. This setting should be accessible both when the alarm is set and when the snooze button is first pressed.

- An optional "nanny" alarm where you tell the alarm application how much sleep you need that night, and when you wish to wake up in the morning. It will then alert you when it's time to go to bed, based on all this data. This feature could also be set to activate over an entire working week, with a graph at the end of the week displaying how much sleep you've had compared to how much you should have been getting (based on your age, etc).



Alternatives to S60 Clock
Looking at pure alarm applications rather than calendars and more complex apps, there appear to be only two alternatives to Clock on S60 3rd Edition: Alarm Pro/Handy Alarm/Alarm Manager (all essentially the same) and BestAlarms. Neither can replace Clock in every way, they can't activate when the phone is switched off, for example, but both offer improvements over Clock in other ways.
Alarm Pro by Intellsys - $14.99 - (click here to buy)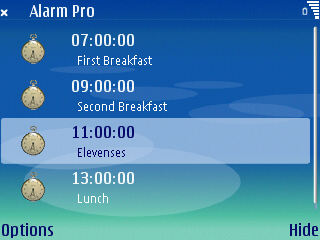 Alarm Pro appears to be functionally identical to Handy Alarm by Epocware and Alarm Manager by Igor Dontsov. I have no idea what the relationship between these developers is, and it's unclear if one developer wrote the app and licensed it to the others to customise, or if they all just made the same design decisions independently.
Alarm Pro lets you set multiple alarms, each alarm can use its own sound file if required, each can display a message when it goes off, and each has a snooze button which delays the alarm by 5 minutes. Alarms can be one-offs which go off at a particular date and time, or regularly go off on a particular day of the week at a particular time, or periodic where they go off at a particular time interval (for example every four hours, thirty-one minutes and seven seconds) and repeat over a specified number of those intervals.
Unlike Clock, Alarm Pro has to be active in the background in order to work and the phone has to be switched on. However to compensate for this inconvenience the Alarm Pro app includes an option to automatically start up on boot, so you don't have to restart it yourself every time, and the right soft key in the app hides it rather than exits it so that you don't switch it off by accident (you can exit the app fully from the app's main menu). Pressing the red 'Exit/End Call' key does kill the Alarm Pro app though and stops the alarms from going off. If you do exit the app, it will remind you of any missed alarms when you next start up the app.
When I tested Alarm Pro on my E61 it seemed to get confused by the music files I had on the memory card, and by default tried to use artists' directories as sound files so there was no sound when the alarm went off (just the alarm's message). I couldn't drill down into any of the directories in the app, and had to use the sound files that came with the phone in order to get a working alarm going. It's worth setting a phone sound file as the default alarm sound from the app's main menu, so that you don't have to alter the sound file every time you add a new alarm.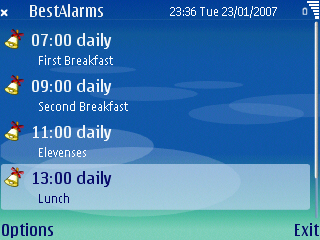 BestAlarms also lets you set multiple alarms, each with its own message (they helpfully provide a selection of pre-written ones, automatic copies of ones you've used before, or you can write a brand new one). Each alarm can be set to go off once or repeat itself with certain rules: to repeat itself in 24 hours, to go off every day, to go off on work days (i.e. Monday to Friday), or to go off on a particular day of the week. Multiple alarms are made easier to manage in BestAlarms as they can be marked for batch deletion or deactivation (you might want to deactivate your work-related alarms when you're on holiday, for example, and then reactivate them when you come back).

There's no way to customise the alarm sound, either by default or for any of the individual alarms, they all use the S60 default alarm sound even if the S60 Clock app uses a customised sound.

The snooze function is slightly confusing: when an alarm goes off you're given the option to stop it (to switch it off) or to silence it (which activates snooze). But when you've pressed the silence button it suddenly renames itself snooze even though silence does the same thing as snooze. There's also a slight bug with alarms: they seem to randomly give the date of activation as 02.01.1980 if you alter an existing alarm or put it on snooze. :-)

Unlike Alarm Pro, BestAlarms can make alarms go off without the app being active, so you don't need to worry about it taking up RAM needed by active applications. However, BestAlarms cannot make the alarm go off when the phone is switched off, which means you may have to put the phone in silent or offline mode overnight so you aren't woken by calls. If you do switch your phone off, BestAlarms will not remind you of any missed alarms, which is a pain if you accidentally switch off the phone out of habit and forget about the alarms you've set.
One warning from an AAS forum member: they created an alarm in BestAlarms, uninstalled the app without deleting the alarm, and the alarm continued to sound. This may be because BestAlarm uses the S60 system's own alarm features in order to activate when the app no longer runs, and the uninstall process for BestAlarms doesn't remove these system-based alarms.
S60 Calendar - Free, included with all S60 phones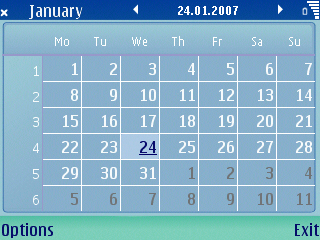 Of course the cheapest and most flexible alternative to the Clock app is arguably the built-in S60 Calendar app. Although it's clearly designed more with appointments and meetings in mind, adding new items in Calendar is almost exactly like setting an alarm in a dedicated alarm application.
The Calendar app will work without being active, you can set multiple alarms, which can go off at regular intervals (such as repeating wake-up calls on workdays) or on a particular date, and you can see a list of upcoming alarms on the standby screen of your S60 phone. You can also see all the alarms in the context of the days or months ahead as if they're displayed on a diary or wall calendar style screen. If you're serious about managing your time rather than just being nudged into doing something, a calendar app such as the one included with S60 is probably a far better option than an alarm app.

On the downside, the Calendar app will not sound an alarm if the phone is switched off, and unlike Alarm Pro you cannot assign a different sound for each alarm. There's also a certain lack of simplicity to using Calendar purely as an alarm, as it was designed for the subtly different task of managing your time rather than simply getting your attention at regular intervals. Many people probably wouldn't want to use Calendar to set an alarm when they're tired and emotional at three in the morning.
Two excellent third party S60 3rd Edition alternatives to the built-in Calendar include Papyrus and Aqua Calendar.
Summary Table

| | | | | |
| --- | --- | --- | --- | --- |
| | S60 Clock | Alarm Pro | BestAlarms | S60 Calendar |
| | FREE | $14.99 | $4.95 | FREE |
| Works when non-active | Y | | Y | Y |
| Works when phone off | Y | | | |
| Snooze button | Y | Y | Y | Y |
| Displays Time Left | Y | Y | | (alarm time on standby screen) |
| Customise Alarm Sound | (only default) | Y | | (only default) |
| Dedicated Alarm App | Y | Y | Y | |
| Sound/Light/Vibrate | | | | |
| Multiple Alarms | | Y | Y | Y |
| Repeated Alarms | | Y | Y | Y |
| Timed & Dated Alarms | | Y | Y | Y |
| Aggressive Alarm | | | | |
| Soothing Alarm | | | | |
| Nanny Alarm | | | | |
| Alter Snooze Length | | | | |