Unless you're an utter smartphone virgin, you'll be well aware of the concept of 'themes'. Don't confuse these with a simple 'wallpaper', a personal image (e.g. your friend or pet) that can be displayed on your phone's standby screen. A theme is a consistent set of graphics, encompassing wallpaper, title bar/dialog element replacements, status icons and sometimes even replacement application icons. And, once installed, most applications will use some or all of these new graphics. The end result is a smartphone that looks totally different and will be, for a while at least, graphically fresh and exciting.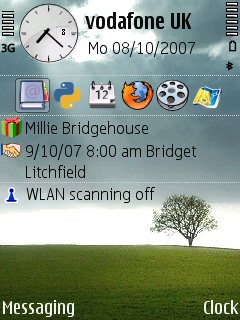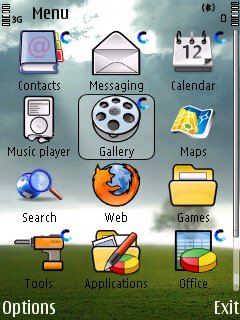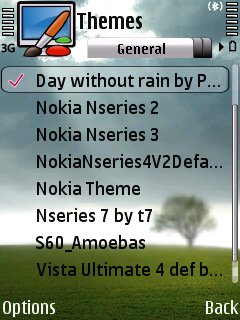 A similar plaudit has been rightly aimed at the Apple iPhone, and it's true that Apple's touch interface and software design appeared really fresh when it first appeared, although even this is now commonplace enough. Applying a new theme to your S60 or UIQ smartphone won't, of course, give you Apple's finger-friendly gesture system but it will put a little zest back in your smartphone step.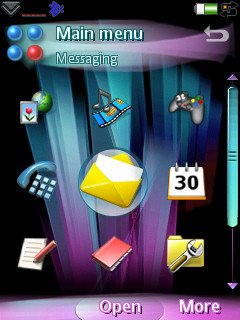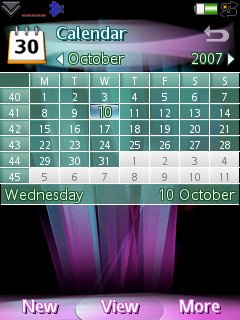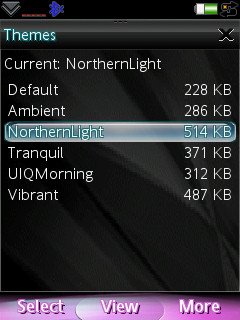 As a geek, it's easy to be utterly boring and stick to the old adage 'clearest is best' and simply slap a plain white theme onto your N95 or E90 or P1i powerhouse, but all work and no play makes said geek a pretty dull boy or girl. So, with that in mind, here's my guide...
All About Themes
Things to note about themes
You can make your own themes if you really, really want to. In addition to tools like this for S60 and this for UIQ 3, there's the smartphone-hosted Theme DIY (for S60), but once you've got past the novelty of painstakingly making a theme based around a photo of your cat, you'll realise that creating a good theme is hard, really hard. Having to make sure that all the highlight colours, dialog elements and background panels work well with all applications is definitely not trivial and is best left to the experts, whose work is featured below.
Next, note that there are plenty of people out there trying to sell you themes. Nothing wrong with this, it's a free market, but why pay $5 for a theme when there are hundreds, if not thousands, of completely free themes around?
Finally, it's worth noting that there's a slight impact on system performance when using themes. The elements used all have to live in RAM and in general the larger and more complex a theme is, the more RAM it will use up. Meaning that there's less for your applications to use. Some commercial themes also include a screensaver, an animation that appears instead of the default clock/blank screen, but again there's a hit on your smartphone's resources, not least the battery, with the processor having to work even when you're leaving it alone to idle. And all for an animation that you can't really appreciate because the device's backlight will be off. My advice is to stick to free themes with no screensaver.
Finding themes
You'll find a handful of utterly professional themes supplied inside your smartphone's firmware. On a S60 device, look under 'Tools | Themes'. On a UIQ device, look inside 'Tools | Control panel | Themes'.

Go for more official themes, from the likes of Nokia and Sony Ericsson. For example, there are a good selection over at S60.com, try in the 'My Exclusives' section and then fall back to the free themes section in 'Downloads'. For UIQ 3, there's an excellent selection of free themes on the main UIQ site, under My UIQ. Extra themes can also be found lurking in some S60 device's Download! catalog.




"Ameba" (sic), free on S60.com





"Northern Light", from the UIQ main site


Look at the sites of personally recommended theme artists. For S60, I'd suggest starting with the two Italians, pasco (yes, the site's mainly in Italian but look at the Categories tree in the right sidebar) and PiZero, both of whom have designed some utterly stunning and useable themes, including one mimicking the look and feel of the upcoming Nokia N95 8GB. Recommendations for top notch free UIQ 3 theme artists welcomed!



One of my favourite themes from my favourite Italian designer!


Finally, there are plenty of sites offering 'free themes'. Some of these themes are complete rubbish, bloated or of dubious nature and unusable but others are quite good and worth grabbing. Try Symbian Themes, which offers filtered results for just your particular S60 smartphone (the UIQ 3 ones I tried didn't work), or Mobile9, which has a good selection for both S60 and UIQ 3 devices.





A typically specialist selection of themes from a mainstream site, in this case Symbian Themes


Changing themes
S60 themes are all downloaded as .SIS or .SISx files, for installation in the usual Symbian way, while UIQ 3 themes are compressed and have a '.utz' extension, but are recognised and installed by the smartphone.
To change your current theme, on a S60 device, go to 'Tools | Themes'. 'Preview' on the menu lets you remind yourself of what each theme will look like before you 'Set' it. After setting/activating a theme, do be patient, as chaging all the OS graphical elements can take a few seconds to complete. On a UIQ device, look inside 'Tools | Control panel | Themes', from where you can 'View' each one or 'Select' it. As with S60, the activation process takes a few seconds, so watch and wait.
Getting rid of themes
For a well behaved and professionally packaged theme on a fully working S60 smartphone, removing a theme is as simple as switching to another theme (of course) and going into 'App Mgr' (usually in either the 'Tools' or 'Installat.' folders). Each theme appears there as just another 'application' ready to be 'Removed'. In the event of a problem, caused by a malformed theme or simply a bug in your device's firmware, note that there's a way of deleting the theme files manually.
UIQ 3 users have things easy as well, with 'Control panel | Themes' having 'Delete' right there on the main menu.
Have themes, have fun
It's fair to say that themes are pretty trivial and merely waste space in your smartphones memory. But it's also fair to say that a new theme can cheer you up on a bad day or give your smartphone a new lease of life, in terms of the fun of interacting with it (you can tell I'm a geek, can't you?....)
Comments and suggestions for your favourite themes welcome!
Steve Litchfield, All About Symbian, 10 October 2007