---
Click here for a complete list of All About Symbian's Nokia 5800 XpressMusic tutorials
---
How to use Bluetooth on the Nokia 5800 XpressMusic
What IS Bluetooth anyway?

Bluetooth is a wireless technology used for sending stuff (photos, music, messages, pretty much anything) from one electronic gadget to another. Bluetooth can also be used for connecting accessories such as wireless keyboards, wireless headphones etc. It works within a range of about 10 metres / 10 yards.

Over the past few years Bluetooth has become by far the most common standard for very short range wireless connections, used in many different types of products including mobile phones, laptop computers and games consoles.
Why is it called Bluetooth?
Bluetooth is named after a Viking king called Harald Bluetooth, and the official Bluetooth logo is made up of two Viking runes combined into one (the rune equivalents of B and H). Bluetooth technology was originally developed by Ericsson, a Swedish company, and of course Sweden is one of the places where Vikings came from.
Is Bluetooth secure?
Yes, pretty much. No transmission system is perfectly secure, but Bluetooth is about as secure as they come on consumer electronics. The transmissions between Bluetooth devices are encrypted, and Bluetooth has a very short range so it's physically pretty difficult for others to listen in anyway.
What is Bluetooth's range?
As we said above, Bluetooth works over distances of about 10 metres or 10 yards. If you're going to use Bluetooth, try to make sure that the gadgets involved are within 10 metres/yards of each other.
Where is the 5800's Bluetooth aerial?
It's inside the casing between the screen lock and camera buttons, you can see its location indicated by the blue box below: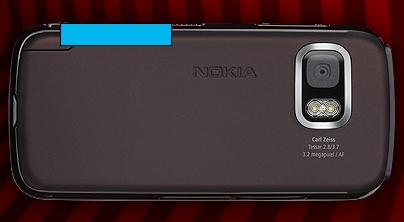 Is Bluetooth free to use?
Yes, it's totally free to use. There are no charges at all because it doesn't use any networks, it's transmitting directly between devices.
Does Bluetooth use up the phone's battery quickly?
No, Bluetooth is a very low power form of wireless communication so it doesn't take much from the battery. That's why so many battery-powered gadgets use Bluetooth.
How can I use Bluetooth on the Nokia 5800?
There are three main ways to use Bluetooth on the 5800:

- For sending a single item (such as a message, photo, music file etc) to another phone or computer.

- For establishing a permanent link to an accessory such as a wireless keyboard or wireless headphones.

- For using the 5800 as a wireless 3G modem, for example a laptop can connect to the internet through the 5800's mobile phone connection by using Bluetooth.
We'll explore all of these options below.
How can I switch on Bluetooth on the 5800?
1. Touch the top right corner of the screen just to the left of the battery indicator.

2. Select the Connectivity icon (the two horizontal arrows pointing in different directions).

3. Double-click on "Bluetooth".

4. Change the "Bluetooth" setting to "On".

5. Press the red button to close the Connectivity menu.
How can I switch off Bluetooth on the 5800?
1. Touch the Bluetooth logo which appears in the top right corner of the screen.

2. Select "Bluetooth" from the list that appears.

3. Change the "Bluetooth" setting to "Off".

4. Select "Exit".
Should I switch Bluetooth off if I'm in a hospital or aircraft?
Like almost all wireless standards, Bluetooth uses radio waves to send and receive information. If you're in an area where radio transmissions are forbidden, you should switch off Bluetooth as well as all the phone's other radio transmissions too.
The easiest way to do this is to put the phone into Offline mode (also known as Flight mode). You can find out how to do this in our 5800 profiles tutorial.
How do I tell when Bluetooth is switched on or off?
When your 5800's Bluetooth connection is switched on, you'll see an angular B logo in the top right corner of the screen.
If the connection is switched on and also actively doing something, the B logo will have a double-arrow logo next to it. Here's an example: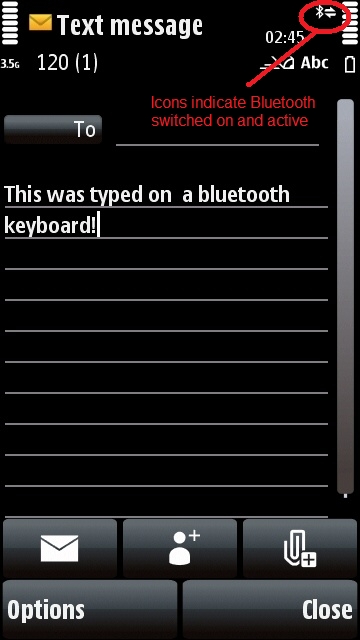 How to use Bluetooth to send a single item to another phone or computer
As an example, let's look at how to send a photo via Bluetooth. This method can be used to send the photo from the 5800 to another Bluetooth-compatible phone or computer:

1. Make sure the other phone or computer has its Bluetooth switched on. Refer to their manual if you're unsure how to do that.

2. On the 5800, go to its main menu and select "Gallery".

3. Select "Images & Videos".

4. Select a photo and then select the envelope button.

5. Select "Via Bluetooth". If it then asks whether to turn Bluetooth on, select "Yes".

6. Select "More Devices" if this is the first time you've sent something to the other phone or computer. (If it's not the first time, you may see the other phone or computer on the list already.)

7. The phone will search for nearby Bluetooth devices and list their names. When the list appears, select the device you want to send the photo to.

8. The other phone or computer will ask your permission to receive the photo. Give it permission (i.e. select "Yes", "OK", or whatever).

The photo will now be sent. It may arrive on some phone models as a multimedia text message.

You can use this same method in reverse to send things to your 5800 from another phone or computer.
Someone I don't know is sending me a Bluetooth message, should I allow it onto my phone?
No!
Do NOT allow any strange or unknown Bluetooth connections to access your phone. They may try to install malicious software which could cause your phone to stop working properly.

You can avoid this problem by never accepting unknown Bluetooth connections, and by keeping your 5800's Bluetooth switched off whenever you don't need it.
How to link the 5800 to a Bluetooth wireless keyboard and wireless headphones
- Click here for our tutorial on how to link a Bluetooth wireless keyboard to the 5800.

- Click here for our tutorial on how to link Bluetooth wireless headphones and headsets to the 5800.
The above methods can also be used for linking the 5800 to other Bluetooth accessories.
How to use the 5800 as a wireless modem for your computer
We will be covering this in a future tutorial on using the 5800 as a modem. We'll add a link to the tutorial here when it's published.
The Nintendo Wii's controller uses Bluetooth doesn't it? So can I use it to control my 5800?
Nintendo's "Wiimote" does indeed use Bluetooth, and yes in theory you can use it to control the 5800. If you plug the 5800 into your TV set, the Wii controller would make an excellent way to control your 5800's functions while sitting on the sofa.

However, for the Wiimote to work with the 5800, you'd need to install an application that can translate the Wii controller's actions into actions on the phone. Mobipad is just such an application, and it is currently in development for the 5800. Mobipad is already available for older Nokia smartphones, and you can see a video of it in action on the Nokia N95 below.
The 5800 version of Mobipad should be out soon, and when it is you'll be able to do this with it:
---
Click here for a complete list of All About Symbian's Nokia 5800 XpressMusic tutorials
---