(Banner image credit)
We'll be looking four major cloud storage services: Dropbox, SugarSync, SkyDrive, and Google Drive. With these, we'll go through your options for accessing via your Symbian device, and what free and paid options are available.
---
Dropbox
While Dropbox may not be the most secure cloud storage service, it has gained the most traction and support from third party developers – as such, there are several clients available for Symbian. There are also desktop clients for Windows, OSX and Linux. Dropbox offers new users 2GB of storage for free; which is the least of any of the cloud services listed here. You can increase your storage limit for free by referring other users. Dropbox currently rewards you with 1GB of storage per referral, up to 32GB. Speaking of referrals, if you'd like to try Dropbox, then you might like to use my referral link(!)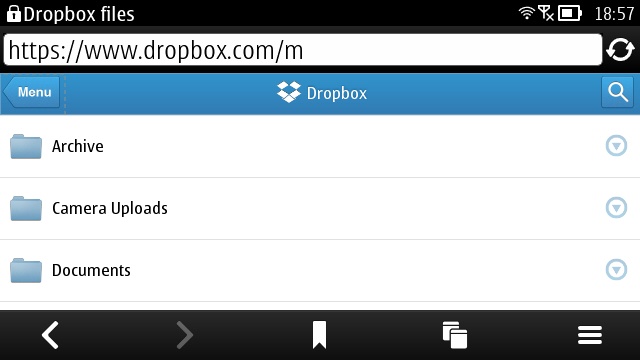 The Dropbox mobile website was updated last year to provide better functionality.

There are two paid tiers for individual users:
50GB for $9.99 (£6.38) per month.
100GB for $19.99 (£12.76) per month.
50GB for $99.99 (£63.82) per year.
100GB for $199.00 (£127.01) per year.
As mentioned there are more Dropbox clients for Symbian than any other service:
---
SugarSync
SugarSync is the other stalwart of the cloud storage world. It has a special place in the Symbian world, thanks to having an official application, which we recently reviewed, as well as a mobile site. While Dropbox has enjoyed more popularity, many people have chosen SugarSync instead, partly thanks to the Symbian client, and partly thanks to SugarSync offering 5GB for free accounts (as opposed to Dropbox's 2GB).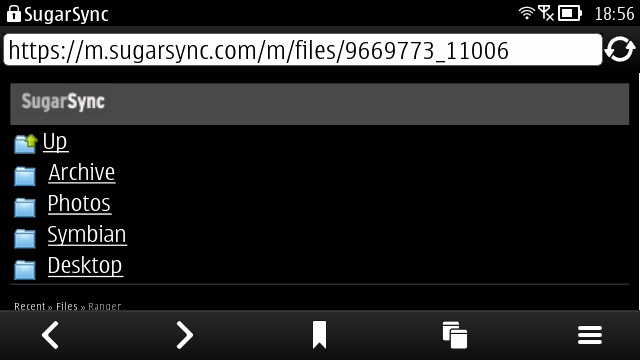 SugarSync supports Windows and OSX on the desktop, and has official applications for every major mobile platform. SugarSync also has a referrals program, by getting people to sign up via your referral link you'll be rewarded with an increase of 500MB (up to a limit of 32GB) if they sign up for a free 5GB account, but you'll earn 10GB (with no reward limit) if someone signs up for a paid 30GB account with your link. If you're interested in signing up, you might consider using my referral link(!)
SugarSync has far more payment plans than Dropbox, so as to better suit individual needs:
30GB: $49.99 per year, $4.99 per month.
60GB: $99.99 per year, $9.99 per month.
100GB: $149.99 per year, $14.99 per month.
250GB: $249.99 per year, $24.99 per month.
500GB: $399.99 per year, $39.99 per month.
---
SkyDrive
SkyDrive is Microsoft's offering into the cloud storage world and comes as part of its Live services. Of all the cloud storage services, SkyDrive has the most storage available for free accounts. It is currently 7GB, however, it was initially 25GB and existing users were given the option to keep this when the reduction to 7GB was implemented. In addition to raw storage, the desktop SkyDrive website also includes web-based versions of the Microsoft Office suite allowing for online editing and collaboration – however the functionality of these web applications are noticeably scaled down to their desktop versions, and aren't as good in practice for real time collaboration as Google Docs.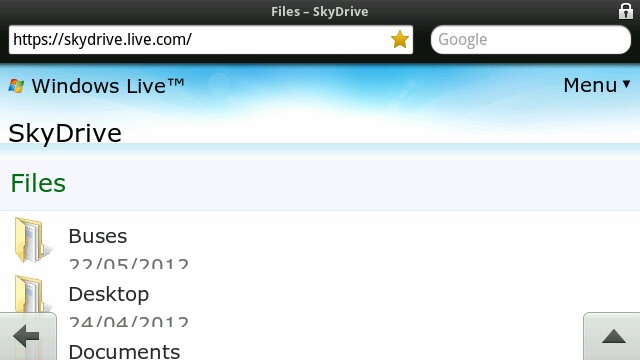 SkyDrive's mobile site works best with Opera
In terms of Symbian use, there is a third party application, "SkyFiles", which we recently reported on. Additionally, several applications like Microsoft OneNote and the latest version of Quickoffice Premium all access your office documents on SkyDrive. There is also a mobile website for SkyDrive, however it does not appear to support the Symbian browser (it does work with Opera though!).

The costs for expanding your SkyDrive storage are as follows:
+20GB £6.00 per year.
+50GB £16.00 per year.
+100GB £32.00 per year.
Clearly there is great value for money here compared to the competing products. However, in my use of SkyDrive, I have observed that the desktop sync client (available for Windows and Mac) performs quite poorly when faced with a huge number of files (in excess of 10,000), and so while you can theoretically buy the storage to back up most (if not all) of your files, the actual sync process won't scale to large amounts of files until Microsoft fix it.
---
Google Drive
Google Drive is listed here as a kind of antithesis to the rest of the article. Google's strategy is to be omnipresent. The more people that use Google, the better Google becomes and the more its users benefit as it becomes smarter about how people use its services – a virtuous circle – unless you're a Symbian user that is! There's no Symbian client for Google Drive, and seems doubtful there ever will be.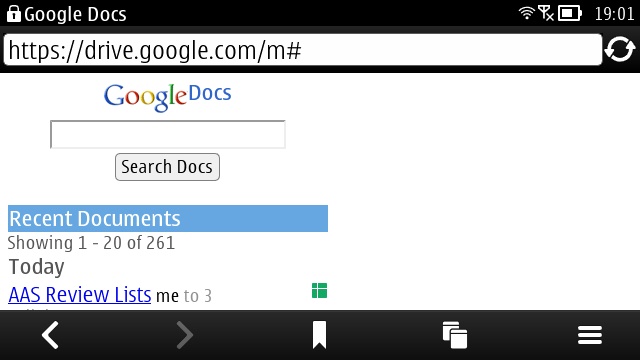 The mobile site for Google Drive may be of use to Symbian users, but note that it reverts to the mobile Google Docs website, but at least it gives you access to viewing your files. Also, Quickoffice Premium can access files stored on Google Drive. However, only uploaded office files are editable. Files created in Google's native format cannot be edited.

Google Drive, formerly branded as Google Docs, has a number of things in its favour though. You start with 5GB of free storage, and can pay to add more storage, which will be shared across Drive, Picasa and Gmail. Plus, like SkyDrive, Google Drive has built-in editors for office files, and there is a clear choice to make of whether you go with SkyDrive or Google Drive. If real time collaboration is most important to you, then Google Drive is the best choice; however, if preserving file formatting and compatibility is most important, then you should go with SkyDrive, as Google Docs has a poor track record for round-tripping office file (i.e. converting from one format to another and back again).
The Google Drive monthly price plans are as follows:
25GB $2.49
100GB $4.99
200GB $9.99
400GB $19.99
1TB $49.99
2TB $99.99
4TB $199.99
8TB $399.99
16TB $799.99
---
Universal access
Readers should note that a service called Otixo provides webDav access to all the services mentioned above, and that Davi is a new Symbian webDav client that can then access all of these in one application. We'll be reviewing this soon.
---
Conclusion
There are three factors to consider with each of these services:
Accessing files via a native Symbian client.
Financial restrictions and value for money.
Being able to edit files on the web.
Clearly, if the last point is important to you, then Google or SkyDrive will be the best options. However, these two are the least well catered for on Symbian. SkyDrive offers the best value for money, and will provide benefits down the road if you're planning to move to Windows Phone 7. However, if you are (or are planning to be) an Android user, then it makes much more sense to go with Google Drive. Then again, many third party services prefer Dropbox usage, and if this affects you, you'll need to use Dropbox.
Fortunately though, you can use all of these services in concert via your home computer. All the services, except SugarSync, work by synchronising a special folder for that service. However, there are various ways in which you can reconfigure either the sync client, or your operating system, so that you can have your mission critical folders within these sync folders, and even have one sync folder within another. These are all tricks for another day, and probably left for another site to tell you about though.
My best recommendation is to sign up for everything and to use all of the services in concert as best you can. For example, I use SkyDrive to sync my desktop folder with the cloud, but my SkyDrive folder is a sub-folder of my Dropbox folder. Then for an added layer of protection, I also have SugarSync keeping a copy of everything too.