Review:
DropML
Score:
50%
Just like the proverbial bus service, yet another unofficial Dropbox application has appeared in the Ovi Store. Last week, Rafe reviewed Cutebox, now we have DropML, another Qt-based application for accessing your files in the cloud. With a different feature set and user interface, how well does DropML measure up? Read on to find out.
Version Reviewed: 1.0
Buy Link | Download / Information Link
DropML has three main views. The Dropbox view lets you navigate the files stored in your account. Favourites is a list of all the files downloaded to the phone, through which you can stay synchronised with the corresponding copy on Dropbox. Finally, there's the Settings page, more on that below. There is a carousel-like set of tabs at the bottom of the screen, or at the left in landscape, for switching between views. Alternatively, you can swipe across the screen. The more I use touch interfaces, the more I like to see swiping gestures, instead of tapping buttons, it feels much more appropriate.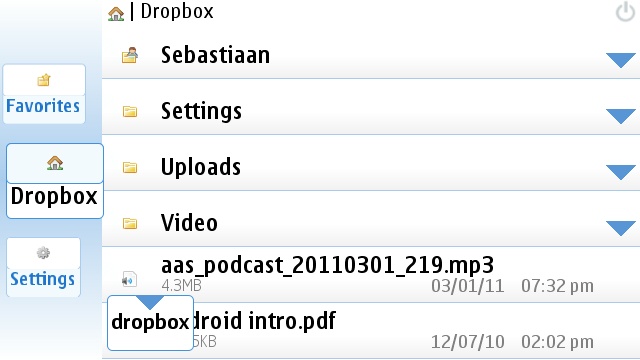 The main Dropbox view
The settings page has a graphical display showing how much of your storage quota is in use. Preferences allows you to set which folder to store local copies to. There is also a setting for synchronisation frequency, which determines how often DropML will check to see if it has an up to date copy of locally stored files.
The settings menu
The Dropbox view gives a kinetically scrolling list of files and folders. Kudos to the developers as kinetic scrolling isn't yet natively supported in Qt. The bottom of the list is partially obscured by a "breadcrumb" control, a list showing the path taken through directory levels as a series of links. Each file and folder has a blue downward arrow, which, when tapped, expands to show an actions menu. I was surprised to see that there was no rename option, which is an obvious file management feature to have.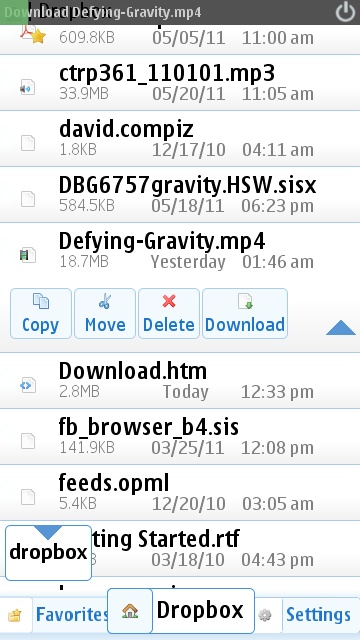 DropML's action menu (see the middle)
Files and folders can be copied, moved, or deleted, but only files can be downloaded. I'd have liked to have seen the option to download an entire directory of files. At least moving folders is possible, for bulk file management. Speaking of which, tapping to the left of any file or folder places a tick for selecting multiple items, but where's the select all option? (See below!) Copy and cut iconography is used with the copy and move buttons, respectively. This is always a confusing mix of metaphors! Pasting into the current directory is achieved by tapping the paste button placed by the current breadcrumb.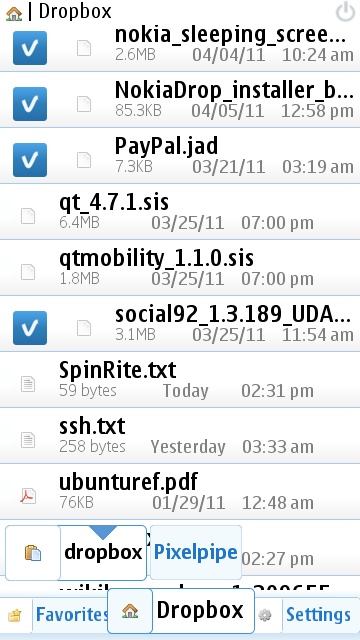 Selecting multiple items
Tapping on the current breadcrumb brings up a menu of actions for the that Dropbox folder. Via this menu, you can upload a file or folder. The latter is a very welcome feature, especially for the hard working AAS reviewer wanting to upload his screenshots! When you launch this menu, the select all/none buttons, that we were wondering about earlier, are finally shown. This placement is not at all obvious, as the assumption is that they would be available through some sort of long press, rather than being hidden away in a completely different part of the UI.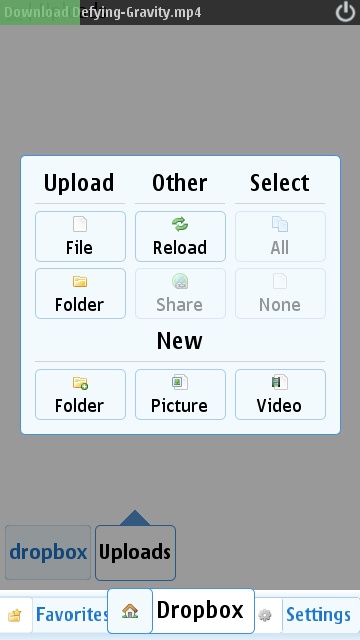 The directory menu
The other options in the 'current directory menu' allow for creating content. You can create a new folder, as well as taking photos and video in-situ for automatic upload. These are welcome features, but it seems strange that the option to create a text file wasn't implemented. Creating text files is possible in the official Android client, and is good for taking quick notes.
Feature wise, DropML actually beats Cutebox. It can synchronise files with Dropbox, and allows you to upload entire local folders. The latter would be enough for me to choose it over Cutebox. Also, I had trouble with Cutebox incorrectly recognising some of my folders as files. But DropML recognised everything perfectly. (Update: This is a bug which I cannot reliably reproduce.)
There is one big problem though, DropML is terribly unstable. It often crashed completely. It failed to handle transfers of a large number of files, and couldn't handle long data transfers while the user continues to browse files. It also is very slow at refreshing the screen. For example, trying to get back into DropML after the screensaver has activated has you waiting for almost a minute.
Sadly, the poor stability of DropML and its confusing UI means that I cannot recommend it. DropML is free from the Ovi Store, so you can try it for yourself and let us know if you agree with this review in the comments.
David Gilson for All About Symbian 23rd May 2011
Reviewed by David Gilson at