All About Symbian score 85%
WordPress is one of the most popular blogging platforms on the web. Until recently, the only option on Symbian had been the official client. Now though, thanks to the freedom of open source software, Abhishek Kumar has created CutePress. This new WordPress app takes the code of the official client, revises the feature set, and wraps it up in a QML user interface.

The most obvious change is the dark colour scheme, which is much friendlier to AMOLED screens. The whole user interface has been recast in line with the Nokia Belle style guide. While WordPress has a clean appearance, CutePress looks tidier and more attractive.

A functional aspect of WordPress that really spoils the user experience is that the editor launches a fullscreen keyboard, which makes handling large blocks of text impractical. CutePress improves on this by making use of Symbian Anna's split-screen keyboard facility. Scrolling through text shown in the editor box is easy, and tapping anywhere launches the standard keyboard on the lower half of the screen.

Both WordPress and CutePress are available for free. Abhishek Kumar should be commended for taking the source code of the Nokia WordPress client and creating a much easier to use interface. Having used both, the only reason I can see for choosing WordPress is if you absolutely have to have analytics about your blog. Otherwise, CutePress will make your mobile blogging life much easier. Since they're free – why not install both?!
CutePress is free in the Nokia Store.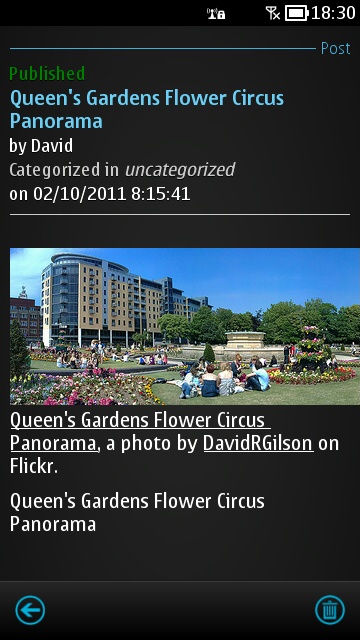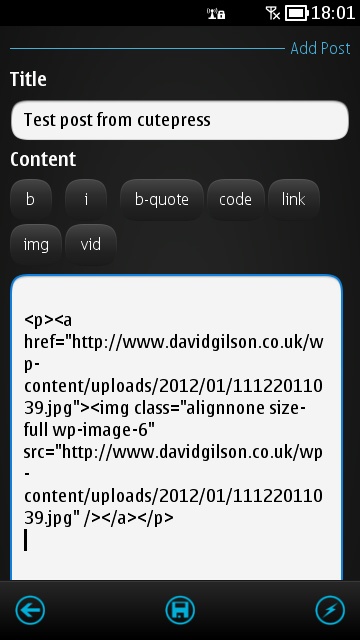 All About Symbian score 85%
Flickr is the photo sharing site of choice for photography enthusiasts and professionals. Symbian users can already upload to Flickr either by email or Gravity. However, until FlickrUp came along, there was nothing available for browsing and uploading. This Nokia Belle-style Qt app is fully functional, resplendent with options, and is available for the princely sum of zero!

If you don't want to diddle with options every time you upload, you can choose your defaults via the settings page. This page also lets you select which local folders you'll choose uploads from. Those who are keen on optimising the battery life of their AMOLED smartphones will be glad to know they can choose between a light or dark theme.

FlickrUp does have some limitations that surprised me though. I would have expected an image download capability – this would have been a great way to get new wallpapers for your phone. There's no option to share images via your social networks either – even the Twitter and blogging options that you can set up on your Flickr account are not included.

Overall though, FlickrUp is a great product despite the limitations discussed above. It's designed completely within the Nokia Belle style guide, and is one of the quickest applications to switch between portrait and landscape that I've seen. I'd reasonably expect an app like this to cost as much as £3.00 [free], but FlickrUp is free on the Nokia Store. Apart from the "About" page, there aren't even any advertisements!
FlickrUp is free in the Nokia Store.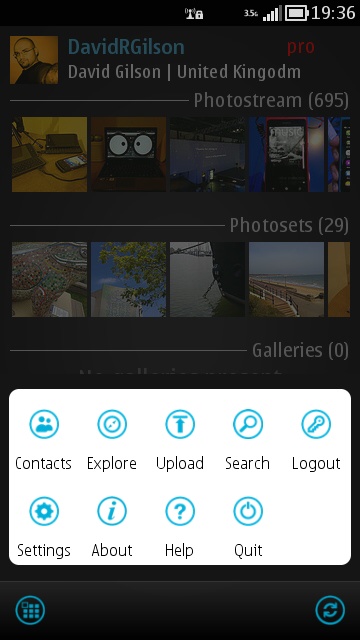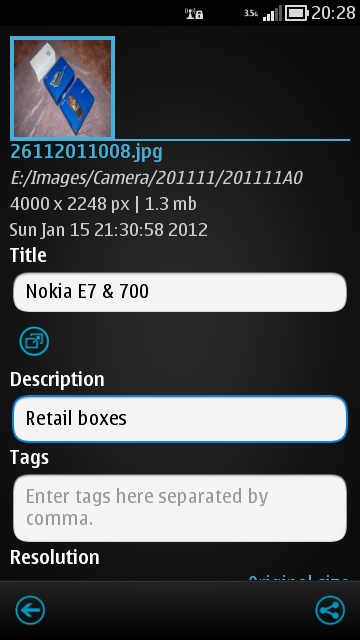 All About Symbian score 80%
Symbian Bloggers are in for a treat – after having two options for WordPress, they now have a LiveJournal app too. LiveJournal is one of the original blogging platforms, and was a social network before there were social networks as we now know them. Users will be glad to hear this app is functionally equivalent to the WordPress apps, and supports specific features like LJ-Cut and other tags specific to the platform.

After launching and logging in, you are presented with the feed of posts from everyone on your friends list and your communities. However, the start-up view can be changed via the main settings page. This stream of posts can be filtered by your friends groups – something you need to set up on the desktop website.

All of the standard LiveJournal fields are supported, such as mood, current music, and location. The privacy setting allows for public, friends-only, or private. However, you cannot restrict posts to a group (i.e. subset) of friends.

LiveJournal has several custom HTML tags, which are supported in this client. The LJ-USER tag is automatically inserted, allowing you to select from a floating list of your friends. The LJ-CUT tag is supported too – this is like WordPress' "More" tag.

Overall, LiveJournal for Symbian is great for browsing accounts you're subscribed to and for making very short posts. However, I feel that making long-form richly formatted posts will be too fiddly to bother with. It's definitely worthwhile with little to complain about though, especially considering that LiveJournal is free in the Nokia Store.
LiveJournal is free in the Nokia Store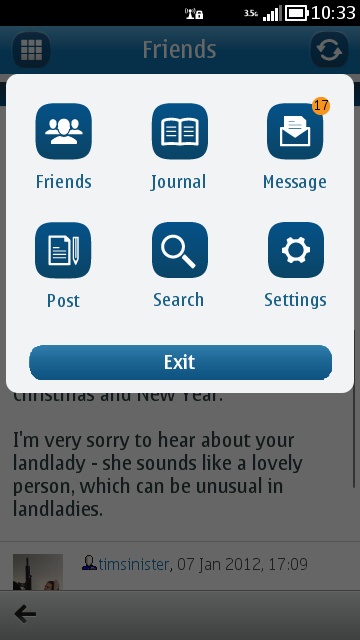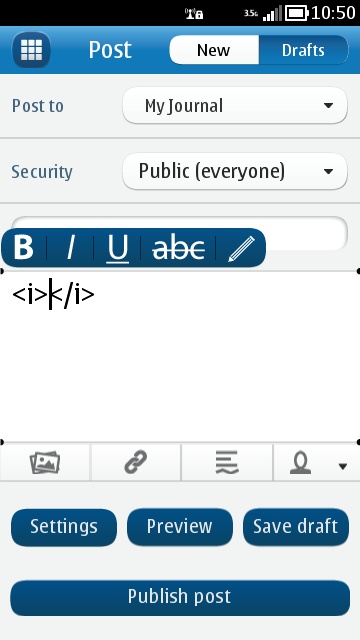 All About Symbian score 70%
This app isn't just about content delivery though – CNN has an initiative called iReport which embraces the emerging field of citizen journalism. As the name implies, this is where members of the public can contribute reports, photos, or videos from the scene of an event. Other, more open, platforms for citizen journalism include Blottr and Wikinews.

Once in the iReport screen, the toolbar changes its icons to Back, Featured, Assignments, and Submit. "Featured" gives a list of stories and photo essays submitted by readers. Meanwhile, "Assignments" contains posts by CNN requesting specific subjects foriReport features.

The first step in story submission is selecting or creating a photo or video. You then select which assignment you're submitting to, and finally enter a title and type your story. You'll find the current version (1.3) is a little out of date as it does not support Symbian Anna's split screen keyboard, so navigating large bodies of text will be tricky. Instead, I suggest you type descriptions in another application, such as Notes, and then paste into CNN.#
CNN is free in the Nokia Store.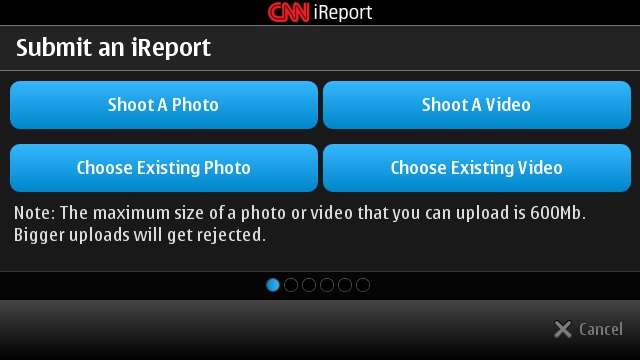 All About Symbian score 65%
It's incredibly hard to create an application that will update a blog to the high standard that many readers expect; partly because there are so many different blog hosts that are not quite compatible with each other in their back end; partly because the majority of blogs which are self-hosted (such as my own) will be ever so slightly different, but mostly because it's pretty complicated to format, edit, proof read and publish digital thoughts from a small mobile screen. Many have attempted it, and the latest contender, the open source Nokia Wordpress Client, is better than most.

Can you develop a single client that will work on every blog? Probably not, there are just too many variables; but you can make a client that hits a majority, which I think is the reason that this Qt-based client focuses just on Wordpress.

Given the number of blogs that some people work with, it's nice to see a clean interface that allows you to manage multiple blogs – you'll be logged into the last used when you start the application, but the top menu entry lets you switch to any other blog. And setting up the blog is a matter of entering the homepage URL (not some complicated admin URL) and your username. This touch of simplicity is nice.

Throughout this app is the idea of simplicity – and, while blogs are complicated beasts, this, as I've said previously, is one of the best mobile blogging clients I've used. Yes, it needs work to fill in the obvious gaps and the stability, but this is a strong foundation to build on, and it's one that I'm already using.
Download WordPress for Nokia from its developer blog.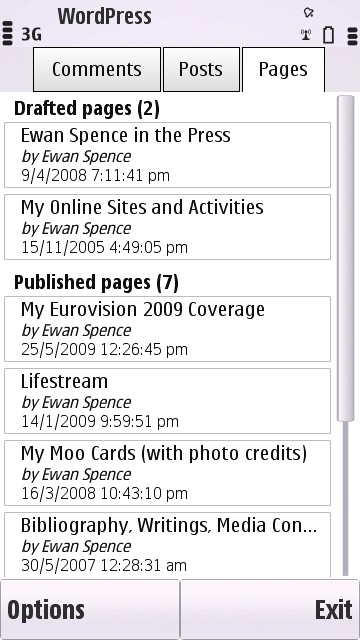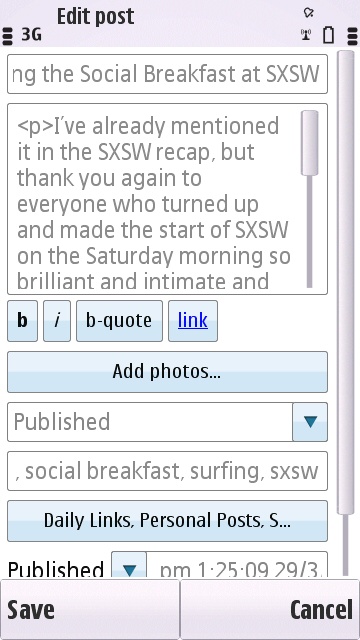 Honourable Mentions
These aren't the only tools at the disposal of the Symbian-wielding mobile content creator. Don't forget that social networks are an effective way of getting information out to the public.
Gravity is the most comprehensive Twitter client out there, but it is also an effective Flickr upload agent too. If you want to microblog with images, this is defintely the tool you should be using.
If still images aren't enough, then you might want to upload videos to YouTube. CuteTube is the ideal way to do this from a Symbian device.
The written word and visuals aren't the only types of content you can publish. Thanks to Audioboo you can upload audio recordings while on the move too, and they have an app for Symbian.
David Gilson, 21st March 2011.