Review:
Nokia N80
Score:
80%
Steve finds that the truly spec-heavy Nokia N80 is something of a mixed bag, full of potential and yet not quite delivering in some areas...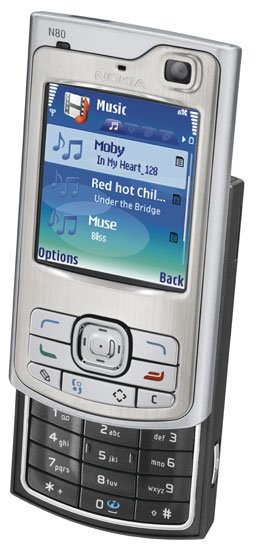 Nokia's range of S60 3rd Edition smartphones has been fascinating to weigh up as they've arrived, one by one. The E61 is great in so many ways, with large screen and qwerty keyboard, but falls down for me because there's no camera. The N91 and 3250 are superb as music players, but the first is over-large and S60 3rd Edition doesn't really agree with either of them with their standard (176 by 208 pixel) displays. The N71 perhaps gets closest, with a larger display and neat two-screen design, but you've really got to love clamshells to appreciate it. And the E60 and E70 haven't darkened doors near All About Symbian as yet.
All of which leaves the N80 which, on paper at least, should be THE 3rd Edition flagship. It's the smallest in terms of length, it's got the usual Nseries photographic goodies, it's got UPnP, Wi-Fi and every other comms technology known to man. And it's got the highest pixel resolution of any S60 device. Surely, surely this is the smartphone that's going to impress me...
It's worth mentioning that some of the comments below are comparing the N80 to its natural predecessor, the best-selling N70. Many industry allumni, including myself and Rafe, have ended up with the N70 because we believe it's just about the best smartphone out there. And of course the N90, though with its professional optics it's perhaps just too much of a specialist device. But the N80 out-guns these, in theory...
Hardware
Let's start with the exterior. The N80 is tiny, at least in terms of plan dimensions, with the slider closed it's 20% shorter than the N70 and with similar silver plastic and stainless steel front, looking very smart. The bottom segment of the N80 is in black plastic and the slider mechanism feels very solid. Overall thickness is a little disappointing, at 25mm, compared to the N70's 21mm, but it's easy to forgive this because of the amount of components packed in and because it feels very pleasing in the hand.
The main smartphone control keys are on the top half of the slider, as you can see here, with the numeric keypad on the bottom half. The arrangement works very well indeed most of the time, although as an old S60 hand I'm used to hitting number keys to launch applications on each menu grid and, with the slide closed, this isn't possible on the N80, making application launching and switching somewhat more awkward. The navigator key doesn't help, having more travel than the N70's and thus requiring more finger work.
The number keys themselves are larger than normal, as you'd expect with the extra real estate afforded by the sliding design, and text input using predictive text was faster than on the N70, which has smaller and fiddlier keys.
So far so good then, and a casual look around the hardware also reveals an infrared port (lacking on the N70) and a 'macro' lever below the rear camera lens (marked with symbols for macro or landscape). This lever, in addition to being rather rattly and fiddly, protrudes from the rear of the device in a way that doesn't let the N80 sit flat on the desk.
Final first impressions are topped off positively once you power the N80 on, with a gorgeous screen of the usual physical size but twice the pixel resolution. Although most elements of the S60 interface aren't any clearer (in fact, the opposite, as the smaller fonts used in many places make text harder to read), they are much, much smoother. Vector graphics used wherever possible and all the application icons have been reworked for the better. The new, high resolution screen comes into its own most when rendering images and videos, which have more room to breathe here than on the N70.
Wi-Fi and Web
Another hardware difference over preceding models is the inclusion of Wi-Fi, or 802.11g. Now, hear me, I'm not knocking Wi-Fi and of course I'd rather have it than not, but with such a small physical screen (even with the extra pixels), web browsing is still a chore. When I think of Wi-Fi on a handheld or smartphone, I think of free, high-speed web browsing, but even with Nokia's clever 3rd Edition Web browser I struggled to surf more than a handful of regular pages - in order to get page width set up to show me the articles I needed, the font and images had to be manually zoomed out slightly, and my eyesight was simply not good enough to enjoy the experience. Of course, your eyes may well be younger and more flexible, and the type sof sites visited markedly different, but I'd still rate browsing on a 2.1" diagonal screen as somewhat hard going.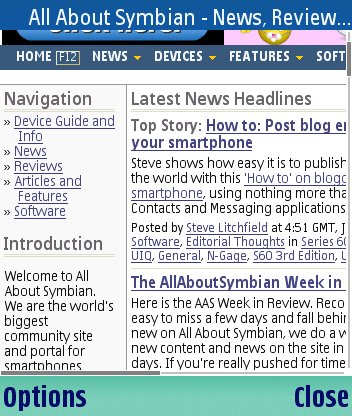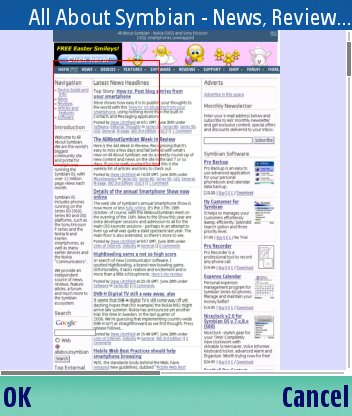 Another main use of Wi-Fi is going to be in mobile email, of course. Messaging on the N80 is as good as on all previous S60 smartphones, with manual or automatic scheduled retrieval of messages or headers for as many mailboxes as you like. There's the facility to set your own 'home' network, with emails only retrieved when within range of this.
It's also worth noting that the Wi-Fi implementation on the N80 isn't as sensitive as that on the E61 or 9300i, I found that I had to have a signal stronger than "50%" or so in order to get anywhere, and that I had to be slightly closer to surrounding networks in order to 'see' them. This lower Wi-Fi reception is possibly linked to the smaller overall device size.
With Wi-Fi on all the time (except in the 'Offline' profile), better than average battery power is needed to keep things chugging along. The E61 ships with a 1500mAh battery, but here the N80 has a relatively tiny BL-5B, rated at around 750mAh. I'm guessing that the physical form factor dictated the choice of battery, but 750mAh isn't really enough, especially when users of the N80 are reporting that it expends a lot of energy trying to hang onto weak 3G service signals. Still, it'll get you through the working day with a typical mix of phone use, web browsing, photography, games and music playback. Just be sure to take the charger with you on a trip.
Imaging
One of THE selling points about the N80 is its 3 megapixel camera. That's 2048 pixels by 1536 pixels and compares well, in theory, to many a standalone digital camera. But there's a problem, and it's a big one. Picture quality isn't just about megapixel specs, it also has a lot to do with sensor size, how the sensor data is handled, lens size and quality. I was looking forward to putting the N80 through its paces in this department, especially looking at its macro mode. First up, I took the same photo (i.e. same scene, same light, within a few seconds) on both the N70 and N80 and zoomed in on a random area of detail: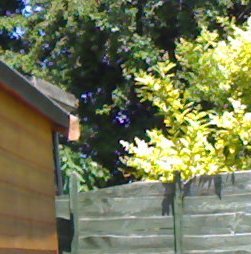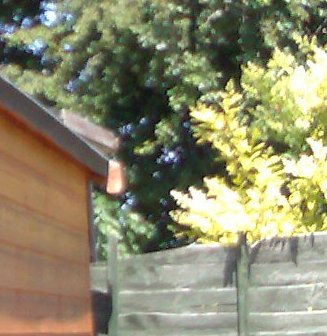 As you can see, the N70 produces noticeably more detail and copes much better with differences in light intensity. This surprised me, as I'd thought that the cameras in each Nseries device were similar in implementation. But a little industry digging reveals that the N70's sensor has its images processed 'onboard', i.e. by dedicated electronics inside the camera, whereas the N80's sensor simply passes its data to a Texas Instruments chip on the N80's motherboard.
In addition, there are two more factors in the quality difference. The sensor elements in the 3 megapixel camera are physically smaller, almost by definition. And the lens used is part of a moveable array (i.e. swappable with the macro one), possibly not as precise an arrangement as the fixed lens on the N70. Whatever the reason, the picture fragments above tell their own story. Admittedly I was shooting in extremely bright sunlight, trying to stretch the camera electronics, I suspect that day to day light conditions might show more of an equality.
Picture taking was roughly as quick as on the N70, around 2 seconds per shot, provided you disable the option to show each image after taking.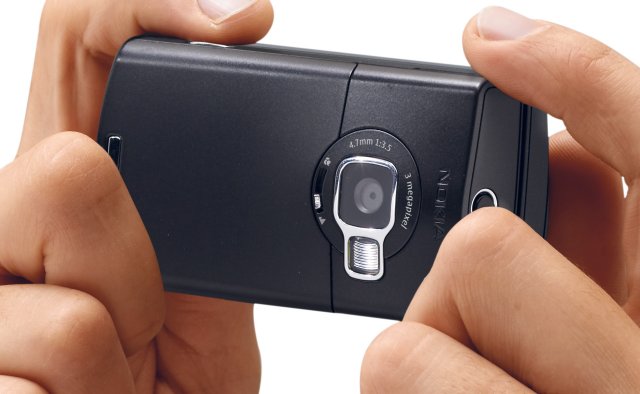 There's the macro mode though, surely that's a major benefit on the N80? Yes indeed, if you take lots of close (between 7 and 9 inches) shots, the macro mode makes a detectable difference, especially in indifferent light. Here are photo fragments of a noticeboard, taken in normal and then macro modes: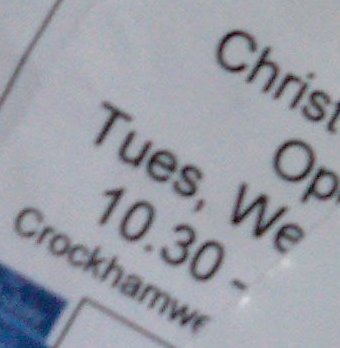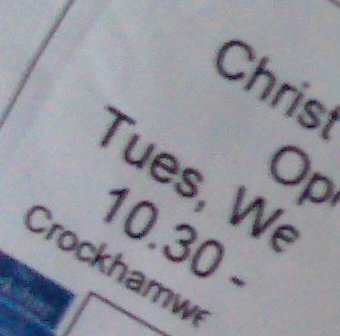 Whether you're into ad-hoc nature photos or snapping stuff for eBay, the macro mode is genuinely useful, although given its presence I would have expected even sharper images, and I just wish the lens-swapping lever wasn't quite so loose.
As with other Nseries camera, there's an LED flash, this time with a serious attempt at red-eye reduction (a flash before the one used for the actual photo) but with the usual caveat that the LED is only really for filling in light in low light situations for close subjects - it's no match for traditional camera flash bulbs.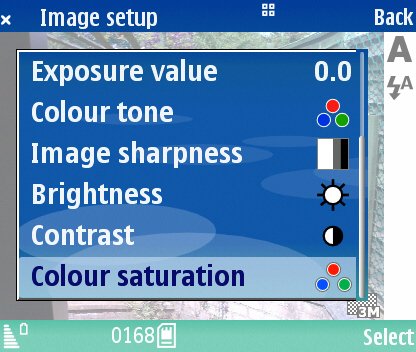 The camera interface is one of two applications on the N80 where S60 3rd Edition switches everything into 'landscape' mode. Your shutter button is then the silver button on the N80's 'top', a system which works better than the portrait mode used on the N70. Curiously, Gallery (Images/Videos) is the other 'landscape' application, perhaps so that you don't get fed up seeing the interface switched around when moving backwards and forwards between the two. As usual, there's a variety of camera settings (shooting mode, flash, white balance, exposure value, colour tone, image sharpness, brightness, contrast and colour saturation), although I can't believe that more than a tiny fraction of users will ever use these. When shooting photos on a smartphone, there's rarely time to stop and ponder which settings to use - as a result I always compare results taken using the default/automatic settings.
Gallery is interesting in that there's a new 'Options' command: 'Show via home net(work)', a reference to displaying or streaming via Universal Plug and Play (UPnP). Rafe's the UPnP expert around here and he'll be doing a separate review of this integration, along with his own take on the N80 in a separate article, coming soon.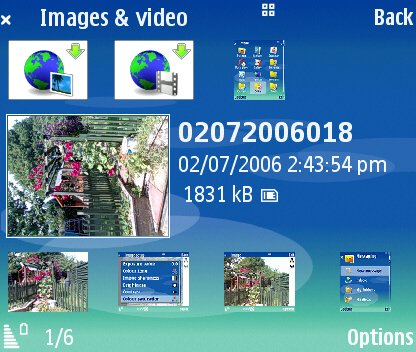 Video recording is at the same (useful but not spectacular) resolution as the N70, i.e. at 352 by 288 pixel frame size, at 15 frames per second, and quality looks much the same, perhaps not surprisingly as processing for video capture and encoding is all done in software rather than hardware.
Applications
Web browser and Camera/Gallery aside, there's a pretty typical set of S60 built-in applications, including RealPlayer for MP4 and 3GP videos, the Quickoffice document viewers and LifeBlog. Most applications appear much as on previous generations of S60 smartphone, with the exception of text being rendered more smoothly on the high-res screen.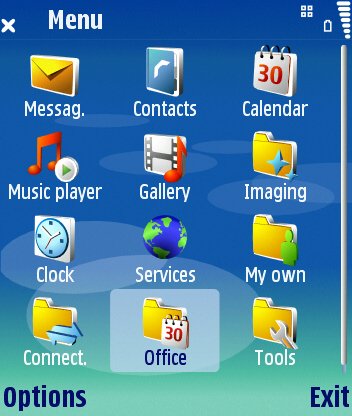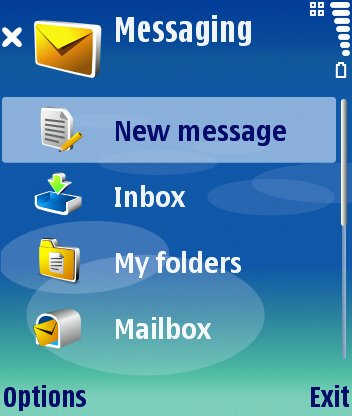 Music player is advertised as being 'Xpress Music' compatible and it certainly coped well with Windows Media Audio files I dumped onto its memory card. Playback was crystal clear - for rock music, at least - and there's a choice of half a dozen equaliser presets if you want to change the way your tracks sound. As ever, music playback quality depends a lot on the quality of the headphones being used and audiophiles should use the (thankfully supplied) Pop port adapter with their own hi-fi headsets. Disappointingly, there's no A2DP profile for supporting stereo Bluetooth headsets, so you'll be stuck with a wired solution.
Unlike the N91 and 3250, there's no obvious Media Player synchronisation mode. Instead, when plugging in the Pop port USB cable, you get the choice of 'PC Suite', 'Data transfer' and 'Pictbridge'. PC Suite works just as on all previous Nokia smartphones, of course. The data transfer mode offers slightly faster direct access to your memory card from your desktop (useful if you're dumping 500MB of MP3 or WMA tracks) and also integrates at a basic level with Windows Media Player by simply being yet another 'removeable disk'. The Pictbridge option is for connecting to compatible imaging devices or printers.
One oddity is the default icon placement in the main applications screen. Why leave the old WAP browser 'Services' on the front screen and leave the brand new Web stuck in the 'My own' folder? That's going to catch people out, especially as the icons are almost identical.
I was slightly disappointed to note that the N80 only comes with 18MB of RAM free (after boot up, for running programs). In fairness, this is still plenty for the vast majority of users (for example running a sat-nav system and a big Java game at the same time, but it seems odd to note that the older N70 comes with 30MB free after booting. Performance on the S60 3rd Edition N80 varied; some operations were quicker than on the N70, some were slower, but there's generally not a lot in it.
Verdict on the N80
Despite the niggles I've picked the N80 up on, it should be borne in mind that I'm not a typical user and that the N80 will perform admirably for the vast majority of people. I liked the build quality and sliding design, I liked the inclusion of Wi-Fi and infrared and I liked S60 3rd Edition, including the new camera interface. I even quite liked the slightly gimmicky macro mode. I was less enamoured by the poor battery life, the (slightly) lower quality camera and the way the sliding form factor got in the way of keypad shortcuts. One other possible factor is the still relatively poor third party application catalogue for 3rd Edition, the area where previous generations of S60 smartphone were so strong.
As a first S60 smartphone, most users will embrace the N80 with open arms and use it for what it is, a very powerful smartphone (though do make sure you get it upgraded to the latest firmware, the review model with older firmware was not without the odd glitch).
But, from a personal viewpoint and with an emphasis towards photography and application compatibility, Nokia will have to excuse me if I still consider the S60 2nd Edition-powered N70 and N90 to be, on balance, the current devices for me.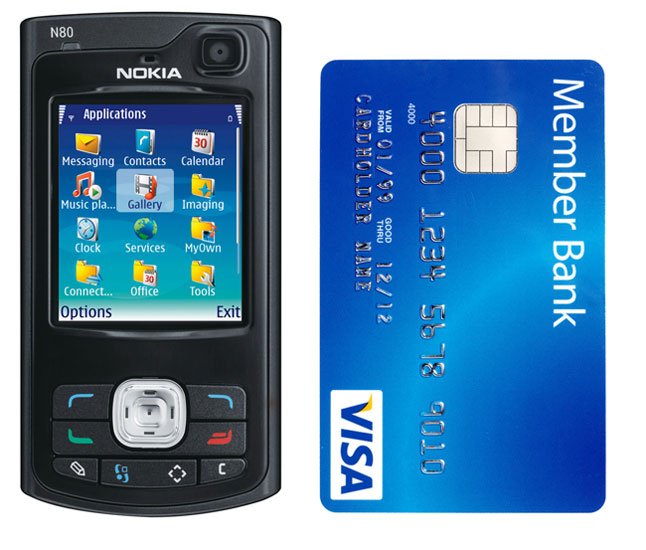 Reviewed by Steve Litchfield at