Review:
Nokia N70
Score:
88%
A terrifically competent smartphone, currently top of the pile as I write this in January 2006.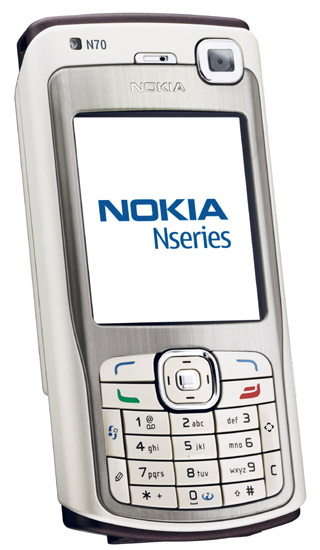 As has been noted elsewhere, there's a real pattern in the evolution of Nokia's standard 'candy bar' smartphones. Starting with the 3650/7610 generation, with their ugly and non-standard keypads, there has been a gradual refinement of what you and I want in a Series 60 phone. Mono sound has given way to stereo, keypad design has become more and more traditional, cameras have become higher and higher spec, GPRS has been augmented with 3G data, and so on.
The Nokia 6630 was perhaps the base for the modern generation of smartphones, being the first with 3G and stereo music output, but the 6680 refined the concept further, at the expense of gotchas like having less RAM to run programs in. The N70 is the current state of the art (amongst shipping devices, at least), bringing the spec up to date with 32MB (count 'em!) of free RAM, 21MB of free flash storage in its internal disk, a 2 Megapixel camera, near-VHS video recording and an FM radio. And the N70 is arguably smaller than the 6630!
All is not completely sweetness and light though, as there have been some changes which are perhaps not so welcome. The familiar Nokia charging socket, common to every phone of theirs since the dawn of time, has been changed to a thinner pin size. Of course, there's an adapter in the box, so that you can use older adapters than you come across in your travels, but it's a bit of a pain having to remember to bring this with you. Nokia adapters had become so ubiquitous in the modern world that we've taken their presence for granted, but you're going to have to stop and think from now on.
In addition, the 6680 introduced a sliding camera cover that was very much a personal taste thing. Yes, it protected the lens and provided a quick way to launch the Camera application, but it also added quite a bit of extra bulk. The N70 has a virtually identical slide, with similar observations.
The N70 runs Series 60 v2 Feature Pack 3, which means it has all the latest OS support for different, higher screen resolutions, landscape mode, new input methods, and so on - except that it doesn't take advantage of any of them, which seems something of a waste. Still, the S60 interface looks prettier than ever. The icons and general presentation have been improved (again) with Feature Pack 3 and, as ever, it's fun to apply a different theme (four are supplied, but there are dozens more on the Internet) and get a whole new, fresh look to your phone.
The core S60 applications are here, of course. Contacts, Calendar, Notes, Tasks and Messaging, all syncing nicely over to Outlook using the latest PC Suite. Clock and File manager will also be useful to many. Interestingly, third party applications that you install appear in a new folder 'My own', an innovation for Feature Pack 3 that stops the top level application list becoming unmanageably large. As ever, it's easy to shuffle icons around and put the application shortcuts exactly where you want them.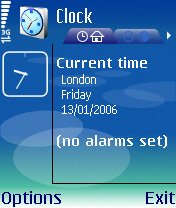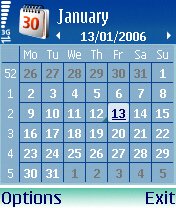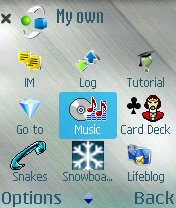 As with the 6680 before it, there's an 'Active standby' screen. This is probably your 'home' on the smartphone, presenting you with the essential telephony status (network, strength, date and time, etc), plus shortcuts to your five most used applications and a summary of your Calendar entries for today.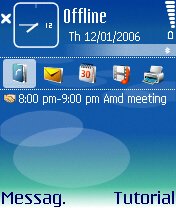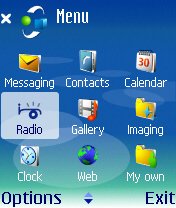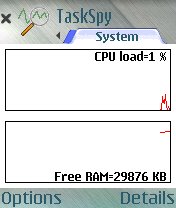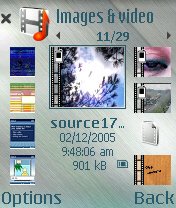 Gallery is (mainly) your centre for images and videos, presenting them all in a carousel arrangement of thumbnails. While this does slow up if you store too many items on the smartphone, most people are going to be archiving new pictures off onto their PC using the 'Image store' feature of PC Suite, so this is unlikely to be a big issue.
There's a rather good Tutorial application, divided into dozens of slideshow lessons. These progress fairly slowly, but would be pitched at about the right level for a beginner. A generic IM client is useful to have, but will depend on the specific support offered by your network provider. An Office folder brings up welcome icons for the various Quickoffice components, plus Adobe PDF viewer and Info Print, a HP utility to print PIM data to one of their Bluetooth printers. There's also an icon for 'Symantec security', although Nokia must have realised how controversial this subject is, because the icon is to the installer, which means that by default it's not loaded at all. Thankfully. There's absolutely no need for anti-virus or firewall software in a Symbian OS device and installing it is as good as agreeing to give away processor cycles and slow your smartphone down.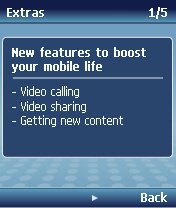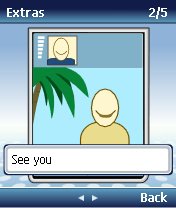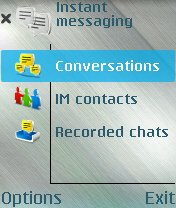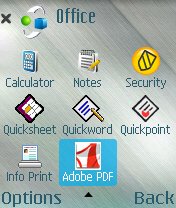 New for the N70 is an icon 'Media key', a simple dialog letting you assign an application to the extra button on the N70's front (by default this launches Gallery). I can only assume that the reason why this setting wasn't included in the main Settings system was that there wasn't time in the development process.
The other application addition is 'Radio', or 'Visual radio', to give it the proper name. As on the off-the-wall Nokia 7710, this is a standard FM radio with extra links (via GPRS or 3G) through to Internet content about the music you're listening to. Unfortunately, Visual radio has yet to catch on in the UK and in many other countries, so you'll need to do some checking before making this a reason to buy. In addition, I found the radio component rather insensitive, only picking up two stations (out of dozens) in my local area.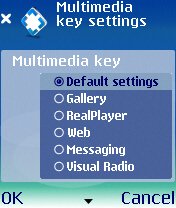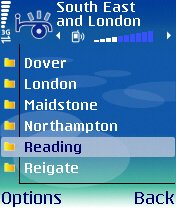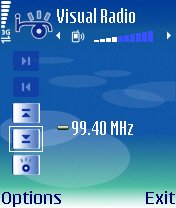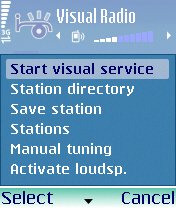 Multimedia is one of the N70's strong points, with the (fixed-focus) 2 Megapixel camera able to equal the results from the Carl Zeiss lens-equipped N90 in some lighting conditions for outdoor images. In direct comparison to similar specification cameras from the Windows Mobile world (e.g. that on the Orange M5000), the N70 produces far sharper and better lit results. Moreover, the video recording is (at last) useful on a smartphone. 352 by 288 pixel movies aren't far off the VHS specification that we've been used to watching for years on TV, and as long as you don't pan around too much, you won't find the lower frame rate of 15fps too frustrating. Stick to outdoor work, though, as there simply isn't enough aperture in the lens to produce good enough video results indoors, with the usual digital pixel noise.
As with other recent S60 smartphones, music playback is a strongpoint, with Music player handling MP3 and (unprotected) AAC-formatted files, which is sufficient for casual use. Serious audiophiles will want to install the third party OggPlay or WMAPlus, so be compatible with more modern and more efficient digital music formats. The stereo headset supplied with the N70 has toughened cables and looks well equipped to handle real-world use without tangles or breakage.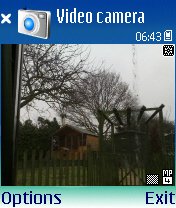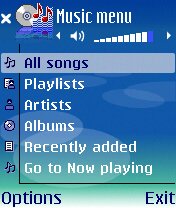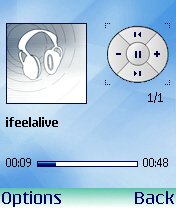 Summary
There's probably not enough here to tempt a 6630 or 6680 owner to sell up and buy the N70 instead, but these things tend to go with phone contracts, and if you get offered a good enough deal then you won't go far wrong with this smartphone. The smartphone world moves at a furious pace these days, but now, for a month or two at least, the N70 is the device to beat.
(Rafe will be along in a few days to give a second opinion and to talk about the changes made by Orange for their own-branded N70...)
---
Buy an N70
You can buy an N70 on any of the UK networks via our Phoneshop.

Reviewed by Steve Litchfield at