Ovi Sync allows you to sync contact, calendar, to do and notes entry from your phone to the Ovi.com web site. This acts as a backup, but, perhaps more usefully, also allows you the browse and edit information on Ovi.com. By syncing your data to Ovi.com you'll immediately have all your data available in an online calendar and contact web application. Information that is edited on the web site is copied back to the phone at the next sync.
Setting up a device for sync is straight forward; you fill in your details on the site and Nokia sends a text message with the appropriate settings. A sync is started from the Sync application on your phone. Unfortunately this has to be done manually, which may limit the utility of the service for some.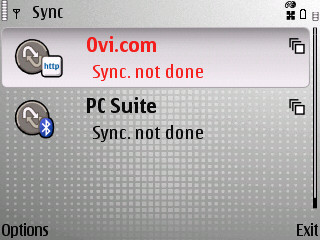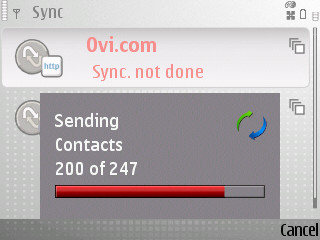 The Ovi Sync service uses Nokia's new unified log-in service, as does Files on Ovi. Eventually all of Nokia's online services are likely to transition to this account. However both N-Gage and Share on Ovi currently use their own system which can be a little confusing.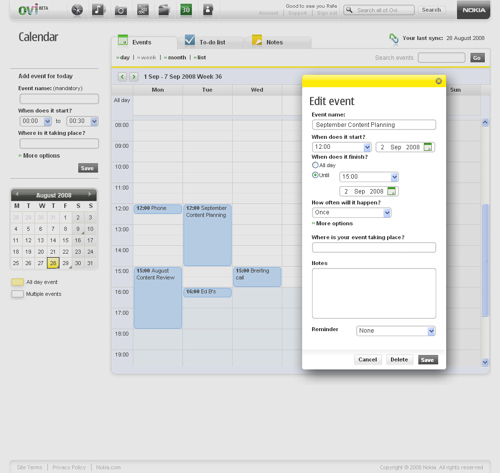 Editing a calendar entry on Ovi.com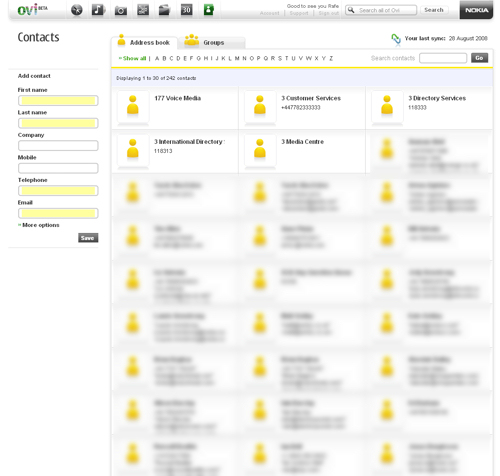 Contact list on Ovi.com
Ovi Sync is similar to My Nokia Backup. It has a different design (front-end), but uses the same technology on the back end.
With the Ovi Sync component in place, Nokia has also refreshed the design of the front page of Ovi. If you are signed in (e.g. to Ovi Sync), the front page of Ovi.com acts as a personlised dashboard.
Information which has been synced from your phone is shown (e.g. upcoming calendar events), but you can also choose to add image streams from Share on Ovi and Flickr. Each of these is a module/widget (similar to those found on WebTop services such as Netvibes or iGoogle). In due course, we expect to see many more of these modules, both from Nokia and from third parties, to be made available in the future.
In effect, this is the first real implementation of the web side of the Ovi vision - a doorway to your content and services.
Here's a screenshot of my personalised Ovi home page. You can see information that has been synced from my phone (Your events, Your to-do list, Your notes and Your contacts) as well as image streams from Share on Ovi and Flickr.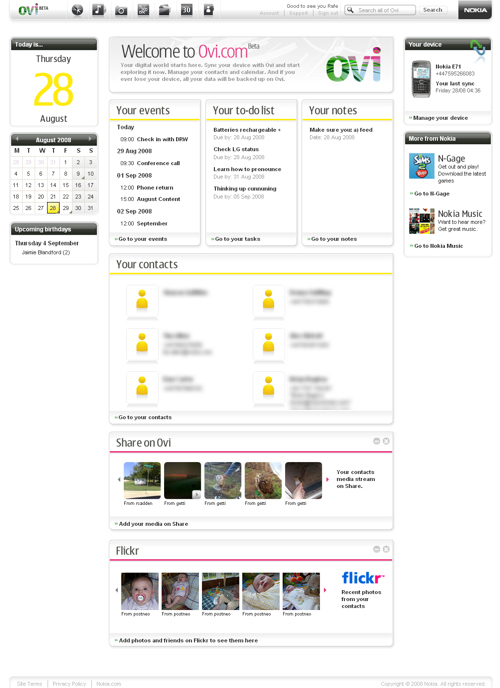 Ovi has always been intended to be a three pronged strategy - phone, web and PC. It is interesting to note that version 1.0 of Ovi Suite for PC (effectively a rebadged version of PC Suite) has been made available for download on the site. The same page mentions that Ovi Suite for Mac is coming soon.
Rafe Blandford, All About Symbian