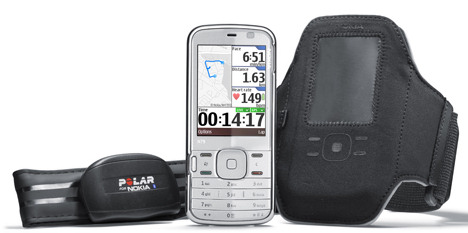 N79 Active with heart beat monitor and arm-band case. Also bundled are Sports headphones and 4GB microSD card.

Nokia Conversations reports: "When it ships, it's going to come packaged with an armband so the device can be strapped to you whilst simultaneously plotting your route on the new version of Sports Tracker via A-GPS, and Bluetooth-connected to the Polar heart monitor that also comes bundled with it.... The N79 Active will also come with 4GB of onboard storage, included for the purpose of ensuring you've got plenty of space to store enough songs for a marathon session. It will cost 375 Euros plus the usual taxes and subsidies. "
Here is a promotional video showing the N79 Active. Be sure to watch out for the Position Art.
Here's an extract from the press release:
"The Nokia N79 Active is all about fun and fitness," said Juha Kokkonen, Director, Nokia Nseries. "This handset keeps you entertained on those long workouts as you get in shape for next summer, while the Polar heart rate belt lets you know exactly how you're doing. And with Sports Tracker you can add a new social dimension to your fitness program by building up and sharing a great record of all your workouts. This is an inspiring way to track your progress and to challenge yourself and fellow workout partners."
"Polar is the number one choice for heart rate worldwide," said Marco Suvilaakso, Executive Director, Polar, Sports Business Area. "Now with the Nokia N79 Active, the comfortable Polar Bluetooth WearLink heart rate belt takes the guess-work out of training. When you can objectively see how hard your body is working, you can enjoy working out with a whole new level of confidence."