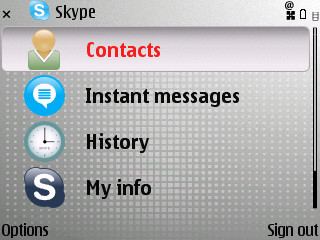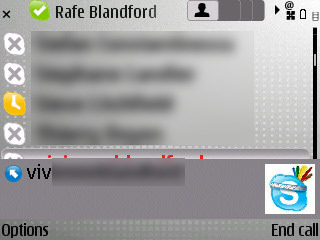 The home screen of the application and making a Skype call.
I carried out a couple of tests and call quality seems to be reasonable, although it varies depending on the type and stability of the connection. I was partaicularly impressed by the quality of a Skype Out call (over WiFi) to a UK landline, with very little or no discernable difference to a cellular call from the same phone..
The client takes a standalone approach - it does not seek to integrate with the existing contacts or telephony applications (though it will import contacts from the Contacts database). By contrast, the Skype client announced early for this year the Nokia N97 is more deeply integrated into the handset. We're expecting this N97 version to be released in due course (Nokia said it was due to arrive in Q4 2009).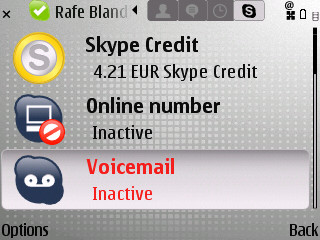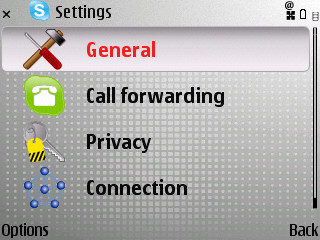 Support for Skype geographic numbers and voicemail and comprehensive settings.
Skype for Symbian has been in development over a long period of time. It was first demonstrated at 3GSM in 2006, running on the Nokia 6680. It seems likely that a combination of technical difficulties and industry politics (e.g. operator relationships) have delayed its release.
It is worth noting that in the intervening time period a number of third party applications which add Skype functionality to Symbian phones, have been released, including fring (which also supports video calling over Skype) and Nimbuzz.
Hands-on report
Asri, calling in from Malaysia, gives us this hands-on report: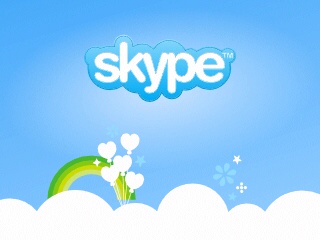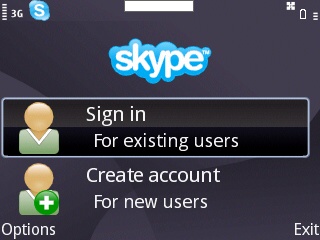 I tested the beta on an E63 (latest firmware v400) and connected to Skype network using my home WiFi. Signing in was a breeze and very quick. Design-wise, I think the development team did a stellar job here to following the S60 developer style guide, which means the application should intuitive for most users (especially compared to some of the more complex multi-headed IM/VoiP solutions for Symbian).
The Symbian application implements all the standard features of Skype. In addition to the standard Skype calling (including Skype out support), you can use it to chat with your contacts via instant messaging, send and receive files, buy Skype credit, and manage your contacts. It also allows new users to register directly.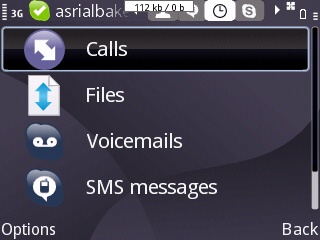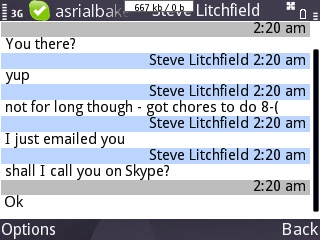 As for the voice quality, during the test call, I was able to hear Steve's voice loud and clear, as if he was standing in front of me, but Steve said my voice was tinny. Maybe it's something to do with the Internet connection in my place - I would be interested to hear your about your experiences in the comment thread.
You can download the 4.2MB SIS file from the official Skype blog. You must install it in the phone memory and use WiFi or 3G to connect.


Phone compatibility
The current beta supports the following phones: Nokia E71, Nokia E63, Nokia E66, Nokia N82, Nokia E51, Nokia N95, Nokia N95 8GB, Nokia N81, Nokia N81 8GB, Nokia E90, Nokia N96, Nokia N85, Nokia 5320, Nokia 6210 Navigator, Nokia 6210 Classic, Nokia N78, and Nokia N79.