Video-calling has been much hyped over the years, notably during 3G spectrum auctions, but it does retain some practical applications. Skype video calls are popular for their cost (free) and are frequently used by geographically separated families (e.g. on business trips). As such, given their respective popularity, fring's implementation of Skype video calling on mobile is, at least for some users, arguably more useful than operator/cellular enabled video calling.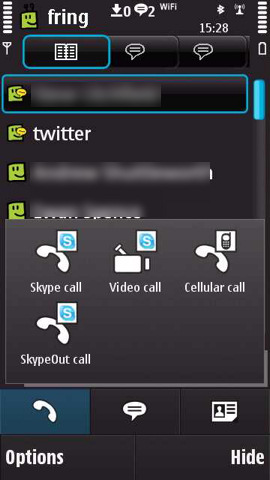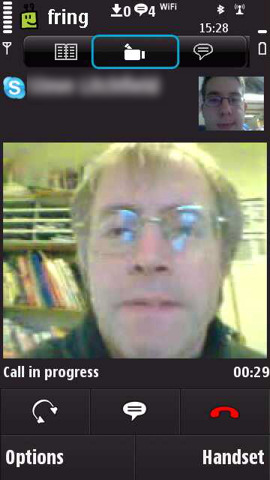 Example video call using Fring enabled Skype video on the N97 (to a N97 mini).
As you would expect of a mobile to mobile video call, the video is relatively low quality (similar to that of a cellular/operator based video call for me). A mobile to desktop Skype call gives slightly better video quality, although this may be partly due to the quality of the web camera at the other end of the call (multi-megapixel as opposed to VGA resolution).
fring already provides a comprehensive set of voice and instant messaging communication options across a range of bearers and services (Skype Google Talk, MSN/Live, ICQ, SIP, Yahoo, AIM, Twitter and Facebook). Skype video calling is treated as an additional communication options (see screenshot above), which can be chosen when you select a fring contact to call.
The Skype video calling functionality is available on the Nokia X6, N97 mini, N97, 5800, N95 8G and N95 devices. Additional device support will be added in due course. You can download fring from m.fring.com
Video
From the fring press release:
"fring, the multi-award winning mobile application that lets users communicate and share web-based experiences from their mobile devices, today announces the world's first mobile video calls over internet protocol (IP).

fring video enables users to conduct video calls with other fringsters as well as with Skype contacts over their device's Wi-Fi or 3G internet connection."