Thanks all, for voting in our recent poll. The idea was both to establish the mix of readers accessing AllAboutSymbian, in terms of the Symbian platforms preferred and also to get an idea of intentions in the near future. We try and produce news and editorial to a particular mix and I was keen to see if we were getting the mix about right.
So, on with the results. In terms of what AAS readers are currently using:
55% - Series 60 (S60)
19% - UIQ (e.g. Sony Ericsson P900/P910)
14% - Series 80 (e.g. Nokia 9300/9500)
12% - other devices
This is more or less what I expected, looking at the activity in the forums and the comments to news stories. And, hopefully, the proportions are pretty similar to the relevancy of new content that Rafe, Ewan and I add to the site. Maybe there's not been enough UIQ content in the last year, but then there's been very little activity in the UIQ scene, although that will hopefully change this summer.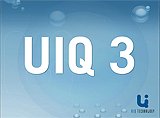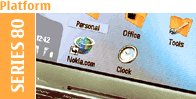 With the huge number of S60 devices now arriving (over 10 from Nokia alone in the last seven months) and with the next generation of UIQ smartphones not that far away, I used the time period of 'six months' deliberately in the poll. Where do people see themselves in late Autumn this year? What will you all have dipped into your wallet for?
62% - Series 60 (S60)
22% - UIQ
11% - Series 80
5% - other devices/plans
Interesting to see both S60 and UIQ picking up interest, at the slight expense of Series 80, but this is in line with Nokia's own gradual withdrawal of enthusiasm for the traditional Communicator line. On a personal note, it's sad to see the Nokia 9500 die an ignominious death and, presumably, the 9300i too in a year or so's time, Series 80 was the form factor most like the Psion clamshells of old that most of us fell in love with in the second half of the 1990s. From Nokia's perspective it perhaps makes sense to concentrate on just the one software platform though, and S60 3rd Edition has the potential to eclipse Series 80's general purpose office functionality.
I was a little surprised at the increased figure for UIQ, thinking that perhaps you might have become impatient with Sony Ericsson at the continuing delays in the appearance of their new devices, but maybe you're more patient than me! On the other hand...
...In terms of the stats for people happy with and planning to stay with their current smartphones:
82% of Series 80 owners were happy and had no plans to upgrade to another device
20% of S60 owners were happy " " " " " " " " " " " " " "
12% of UIQ owners were happy " " " " " " " " " " " " " "
Yes, I know that there are more new goodies in the latter two worlds for people to lust after, but the loyalty shown by Nokia 9300 and 9500 owners to their Communicators is again worthy of note. Nokia, if you're reading this, surely this form factor is worth further development? Even if you end up putting S60 3rd Edition into the 9300 case....
One final stat is that those who have traditionally preferred one Symbian OS interface over the others aren't that keen to jump ship. Only 8% of S60-owning respondents saw themselves switching to one of the new UIQ devices and only 12% of UIQ owners planned to upgrade to a new S60 3rd edition device. As with Series 80 above, there's a surprising amount of interface loyalty.
Comments on the stats and analysis welcome. With 219 answers, the poll wasn't exactly huge, but it's certainly given the AAS editorial team some opinions to run with.