Seen in an uninformedly dismissive review of a Symbian-powered smartphone and of its related app store a couple of months ago:
"... and I couldn't even find an eBay app!"
The mobile web and the story so far
Let's recap, as at 2010:
Almost every major web service or site now has an official 'mobile' web site, together with a 'mobile' URL

Web, built into every Nokia smartphone, is a very rich browser and more than up to the task of downloading and rendering everything the mobile web cares to throw at it

The Bookmarks system built into Web is super for getting to a particular site or service very quickly. One line, one site, it's very intuitive. You can also add book marks to the homescreen easily.
Now, don't switch off because I referred to a 'mobile' web site. In the old days (2004!), a mobile web site was usually a very poor relation to the full web site, was often little more than a placeholder and, in extreme cases, was actually WAP-based rather than using standard HTML. In 2010, most mobile web sites mentioned on these pages have a very healthy fraction of the functionality of their more bloated desktop equivalent. Which means far less crud and a far higher proportion of real content.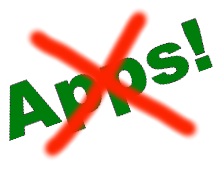 Given that a 'desktop' web site (apparently the marketeers and bloggers expect us to browse these, on our large touch-screened devices, though I have to confess it's something I only do as a last resort!) can often be several Megabytes of code and images, using the 'mobile' version instead can save huge amounts of bandwidth. A 2MB desktop page will often only be 20Kb as a mobile page, a saving of over 100 times.
Of course, bandwidth is more plentiful in 2010 than in 2004, but not unlimited (as many people are finding out). Saving bytes isn't necessarily about keeping bandwidth down (though it will help a lot here too), it's also about drastically reducing downloading and rendering times. A mobile web page will usually load in a couple of seconds, where the equivalent desktop page would take the best part of a minute to do much the same thing.
So, we have an Internet that's more mobile-aware than ever, with servers auto-detecting a mobile phone OS and adapting their content automatically, so why not use this in Web on your smartphone to bypass a lot of typical high profile 'apps' entirely? Set a bookmark to each and you're done. And all with only one icon slot used on your S60 menu!
The downsides of going down this route (rather than trying to find an 'app' that manages the site or service for you) are threefold: firstly, you'll rarely get the full functionality of the site or service - there will undoubtedly be some compromise needed. Secondly, what you see will look more rarified, in terms of graphics and interface - usually. And thirdly, not all mobile sites are adept at managing cookies, resulting in you sometimes having to login each time you visit - a possible dealbreaker, though this is quite rare.
With all the above in mind, I started at the top of the 'apps' tree - the Apple iPhone App Store. Looking at the top 200 paid and free applications, I tried to identify the most popular 'online' applications, created here for the iPhone but also, in some cases recreated for other platforms, including Symbian, as apps that can be downloaded and automatically installed. How many of these top apps could be replaced by a simple one-line bookmark in Web? And how practical is this approach in real life? I went a-testing. My aim was no apps, no expense, no touch needed, no app store needed....
There's a Bookmark for that!
Note: We've used a QVGA-screened S60 3rd Edition device for the screenshots, but this applies just as much to other Nokia phones and mobile devices in general. We've also used the default browser, but any other browser will work too.
In no particular order:
eBay
One of the most impressive mobile sites to bookmark, eBay Mobile makes a dedicated application completely redundant. In fact, it's so good that it's arguably better than the full desktop eBay experience, in terms of speed and rendering. Every common buying and selling activity is supported, it remembers your login details and I can't recommend bookmarking this site highly enough.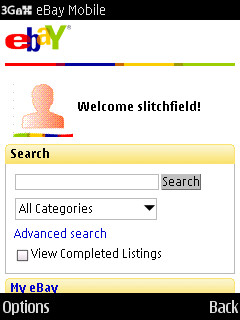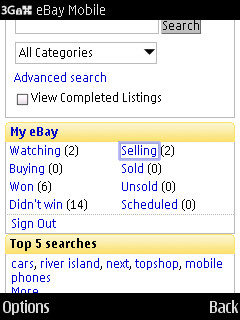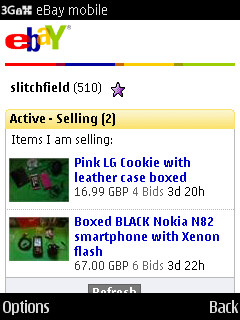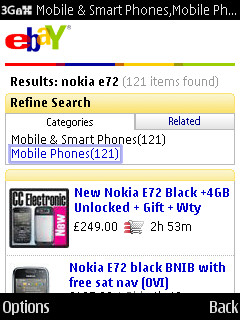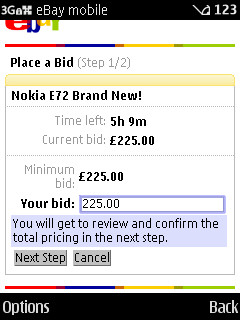 Address to type in on your phone and bookmark: ebay.co.uk
News and Weather
I guess it'll depend on what sort of news you're after and what geographical slant you need, but there's absolutely no need to go hunting down a news app or news widget when any of these bookmarks will be faster and do just as well: BBC News is superlative, with categories of news, just the right level of graphical embellishment, shortcuts for sports and weather forecasts and even a video summary if you do want to throw bandwidth caution to the wind. CNN is great as well, though without so many extras. You do get a weather widget at the top of the homescreen though, and it's easy to change your home city - click on this to see a full five day forecast.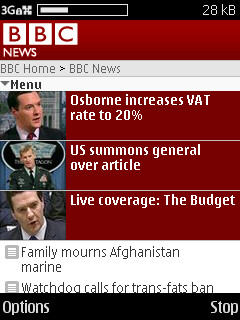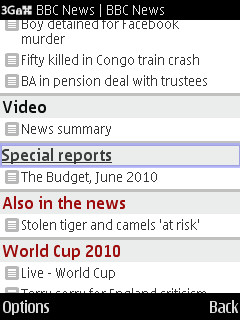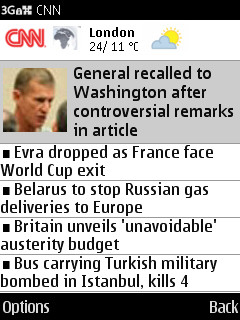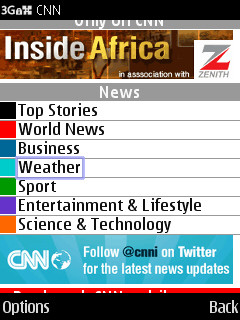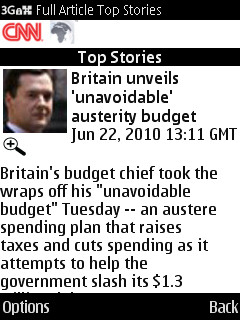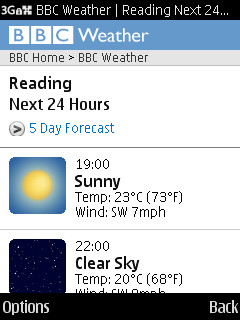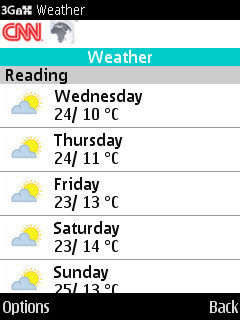 Addresses to type in on your phone and bookmark: news.bbc.co.uk - m.cnn.com
Amazon
The all purpose hyper-mall that's online and for which you don't need to actually leave your home - but if you do, you can still shop happily, thanks to the mobile version of the Amazon shopping experience. Items can be searched for, filtered by category and type, added to your Amazon wishlist and - of course - bought. I was at the beach with my family last month and we were discussing a present for my sister. My wife suggested a particular title but couldn't remember the author. Whipping out my Nokia N82, I was able to find the book, let me wife know the author's name and buy it - in less than 60 seconds. "Why don't we get it, then?" she said. "I just did", I said. "It's on its way to my sister's house right now". The power of mobile - and all without an 'app'.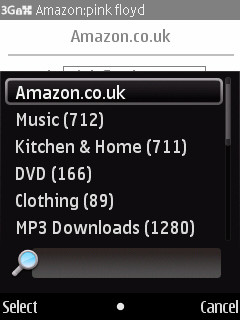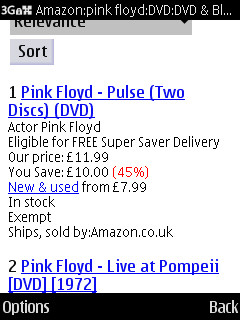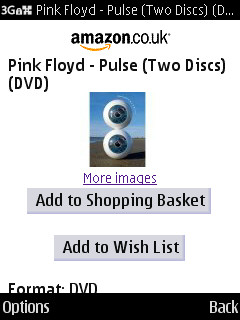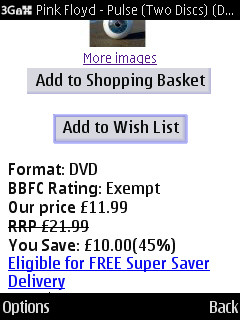 >
Address to type in on your phone and bookmark: amazon.co.uk
Facebook
The ubiquitous, biggest social network in the world, and it also comes with a number of clients and widgets on most platforms. S60/Symbian isn't that well served though, with just the Web runtime-based widget for touchscreen phones. Luckily, the mobile site, like eBay's, is superb. Almost everything you can do, in terms of basic updates, friends and messaging, is supported, and it's all very fast to load. Even external links are unlikely to be a problem, since you're in the web browser already 8-)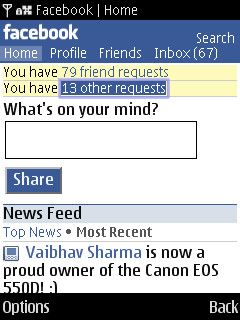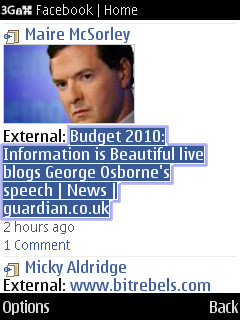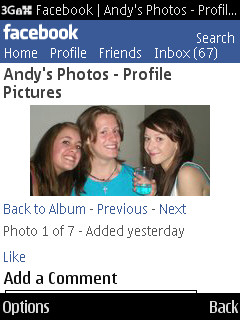 Address to type in on your phone and bookmark: facebook.com
Twitter
Ah yes, the micro-blogging service that has gone uber-social and which has spawned a thousand clients. I guess that with so many apps on so many platforms, a mobile web site/bookmark is somewhat redundant, but there are two options here as well - talk about choice! Twitter's own mobile site is a good backup bookmark, but it's a little cumbersome to move around if you're a heavy tweeter (the reply icons are 'off the screen' for QVGA displays, for example). Better is Dabr, which acts as a mobile web interface into Twitter's data (APIs). Reply and retweet shortcuts are far more handy here, though note that for both of these, at least as at June 2010, Twitter's overall speed was proving crippling at some points in the day. When Twitter raids its piggy bank for new servers all should be well though.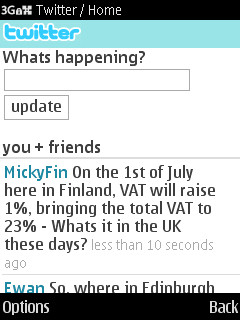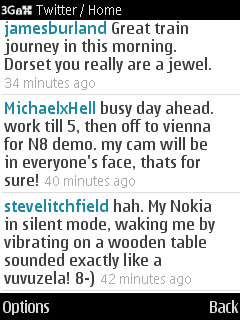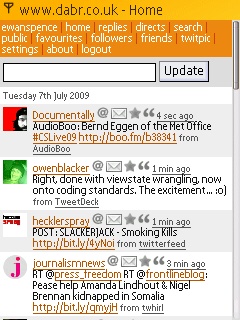 Address to type in on your phone and bookmark: mobile.twitter.com - dabr.co.uk OR airlineindustryreview.com/dabr/
Flickr
Uploading to Flickr is, of course, built-in to every Nokia S60 phone, but you'll also be wanting to do some browsing of this, still one of the world's premier photo-sharing sites. The mobile site is more spartan than some of those above, but it's still quick and easy to browse recent uploads and comments on your own photos and videos. The main limitation is not being able to download images from their original size. As usual with Web, you can save the images that you see, but only going through the slightly cumbersome 'Display options>View images' menu.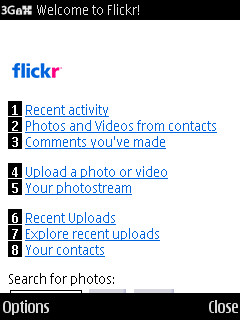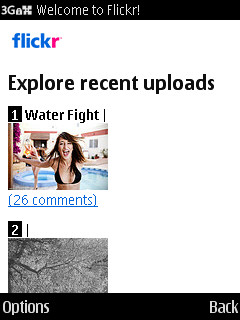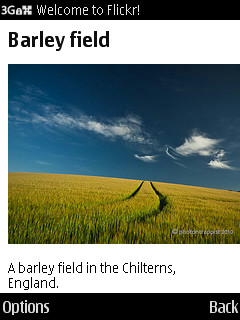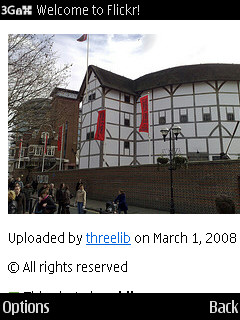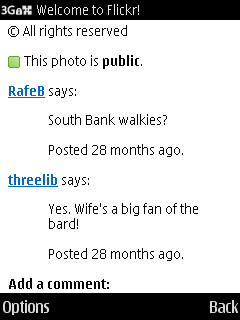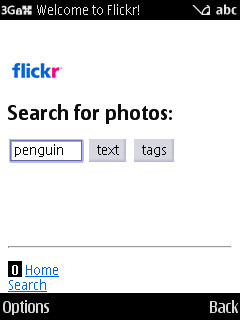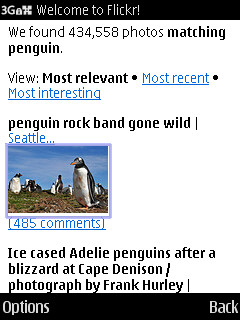 Address to type in on your phone and bookmark: m.flickr.com
Gmail
There's the infamous Java-based client, but don't forget that you can do just as much, without messing around with an extra app, by using the mobile webmail version of Gmail, shown here. The full range of Gmail functions are here, including rudimentary document viewing and attachment downloading [something you can't do with the Java client] with the only slight annoyances being that the 'Reply' links usually need quite a bit of down-scrolling in order to get to - and you don't get to see any inline images, though this might be a blessing on a mobile connection anyway and certainly keeps things speedy.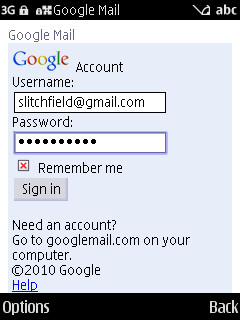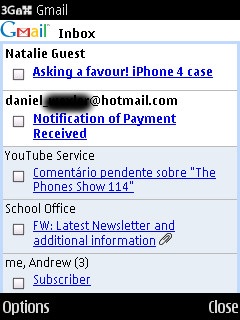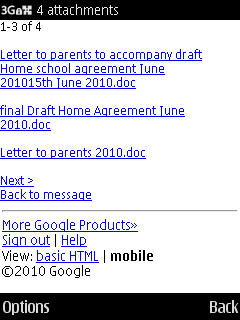 Address to type in on your phone and bookmark: gmail.com
Also of note are the various other Google Mobile sites, for Reader, Documents, Calendar, Tasks, and so on. Again, access to all of this Google data may just mean that you don't need an actual 'app' for each. Experiment by going to
m.google.com
Autotrader
One of the most popular third party apps on the iPhone, this is just as quick to nip to courtesy of a bookmark in Web. Autotrader's mobile site is superb - again - with full searching ability and filtering, full vehicle details, photos and contact information. You can even save favourite searches and get notified by SMS when a match turns up. Top notch.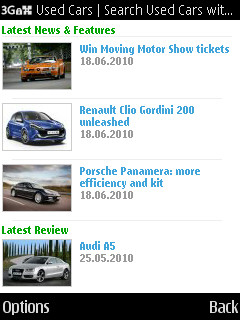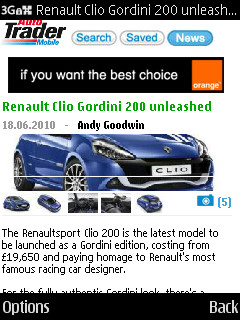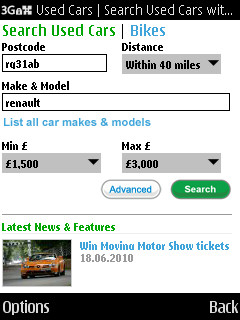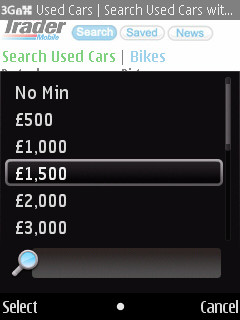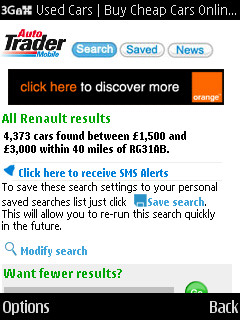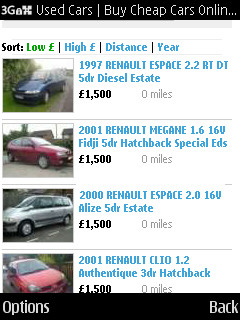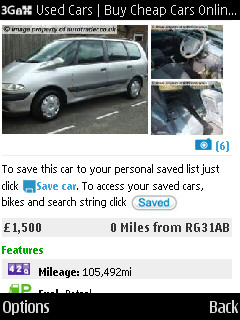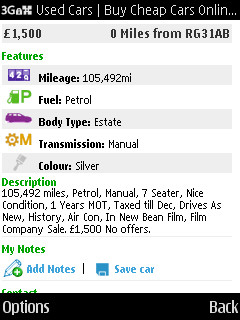 Address to type in on your phone and bookmark: m.autotrader.co.uk
Dopplr
This popular travel network lets you see where others are in the world on their business travels - and let them see where you are - or at least where you plan to be. That way, wherever you are, you can see which of your contacts is going to be nearby and can arrange to meet up. The mobile site is fully functional, right down to adding details of a new trip.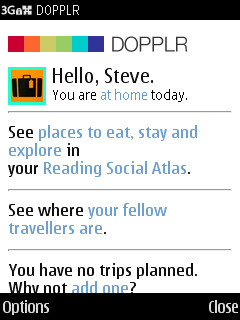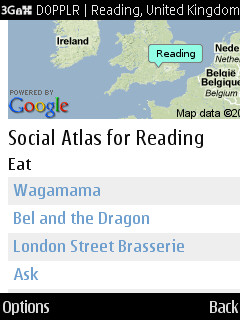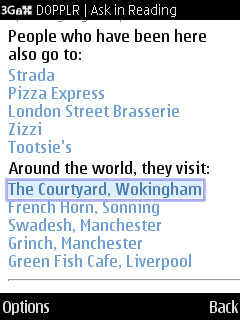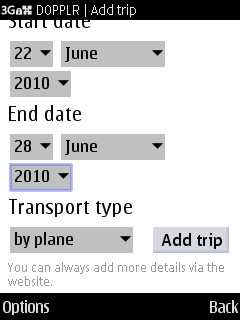 Address to type in on your phone and bookmark: m.dopplr.com
Flights Status
An amazing mobile web site, this will give you answers faster than the desktop version, I suspect. One bookmark and you're in. You can query every flight from every airport, checking exactly when it's going to take off or land, right down to touchdown and arrival at the gate. The perfect accompaniment to meeting someone from a flight.... or perhaps checking all is OK with your own.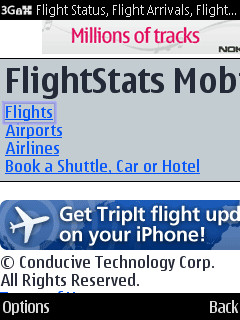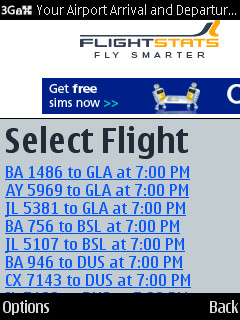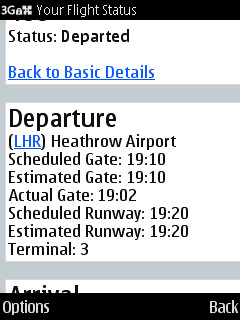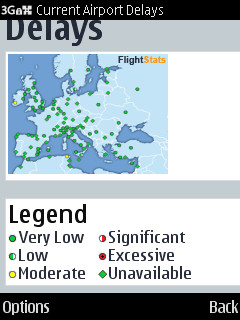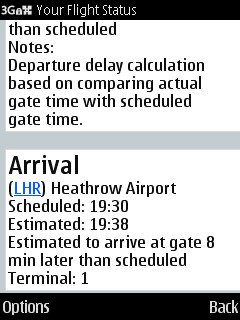 Address to type in on your phone and bookmark: m.flightstats.com
Rail enquiries
One of the most popular iPhone app categories bar none is train enquiries - but it's also pretty easy (for some countries at least) using a mobile web bookmark. In the UK, where we're based, there's a good mobile site, just plug in the start and destination stations and you're shown journey timings and details. There are lots of extras, including 'live' station-centric arrivals and departures, plus pricing is available, though the system does stop short of letting you buy tickets online, sadly.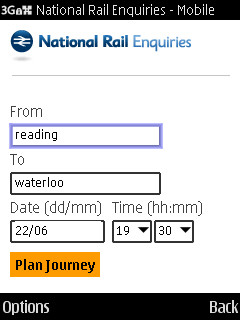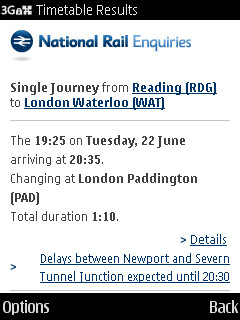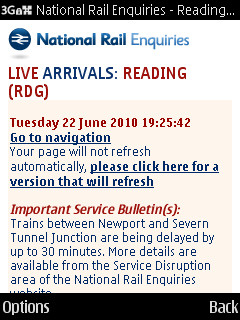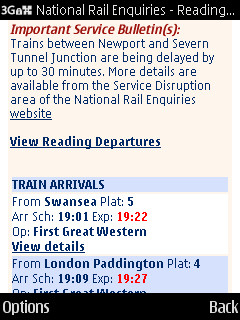 Address to type in on your phone and bookmark: nationalrail.co.uk
Four Square
One last social network - Four Square is the location-based system when you check in as you go to various public places and can then interact with others in person by spotting who's also there, plus you can read and write reviews of the place and, if you go there enough, become 'mayor' of that location. The mobile site is bare-bones, but pretty functional, largely obviating the need for an application provided you don't need a degree of GPS automation.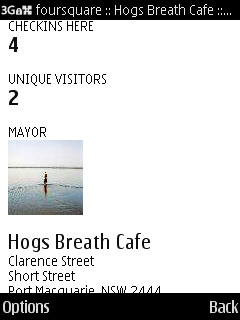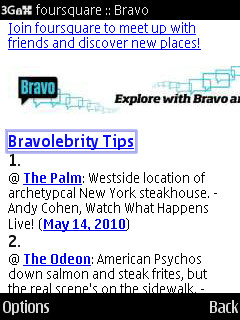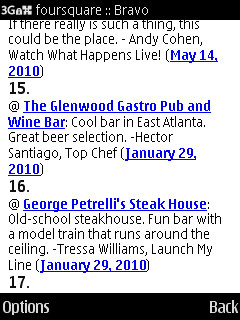 Address to type in on your phone and bookmark: foursquare.com
Finally, how could I miss out a mention of All About Symbian's own mobile site - make sure you bookmark it at mobile.allaboutsymbian.com !
_________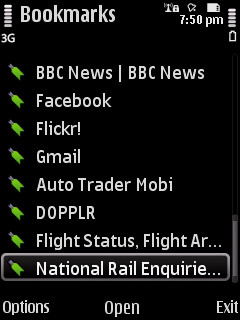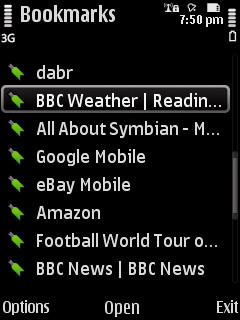 My list of Web bookmarks may look a lot duller than a few screens of brightly coloured app icons - but I reckon I get much the same functionality while keeping my smartphone installation as simple and trouble-free as possible.
eBay? Autotrader? Weather? Amazon? There's a Bookmark for that!
Steve Litchfield, 23 June 2010