You'll know exactly what I'm talking about, of course. You're out and about in the sunshine and fresh air with your family or the dog and either your smartphone rings or you need to do something on it; make a call, enter an appointment, check something on the Web, etc. You pull out your smartphone from its holster or pocket and....
... and you squint. With such bright light, there's not a hope of the relatively feeble backlight on any smartphone making a difference, whatever setting you've got it on. With some observations of adequate visibility in this situation and with some of disappointing visibility, I thought it time to try and put some thoughts and some photos together. Here, under identical conditions, are the screens of the Nokia E70, N93, Sony Ericsson P990i, Palm Tungsten TX, i-Mate K-JAM and Nokia 7710 (all of which just happened to be to hand). Comments below...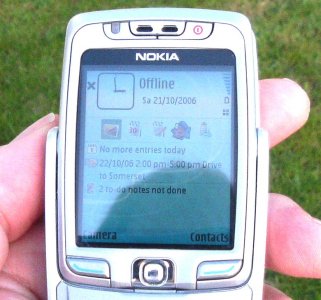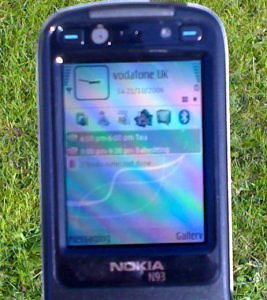 The Nokia E70 and N93
(the latter photographed with the E70's non-focussing camera, which is why the background is in better focus than the foreground 8-) )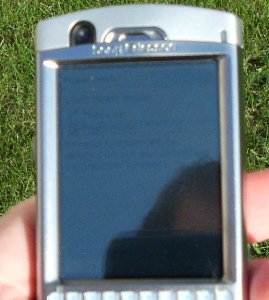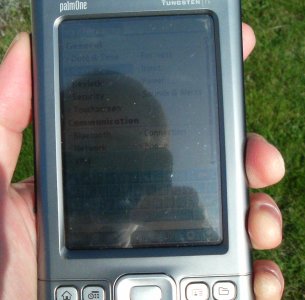 The Sony Ericsson P990i and Palm Tungsten TX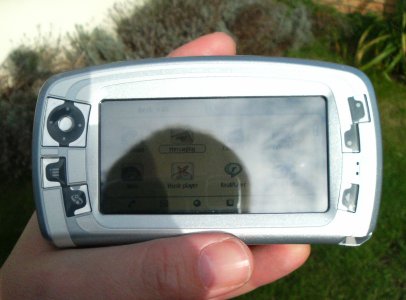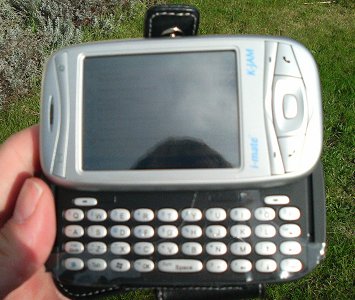 The Nokia 7710 and i-Mate K-Jam, also in bright sunlight
The difference is, to be honest, brutally clear, and it's no fault of any one company, per se, it's just that the latter four devices have touch-screens and the two Nokia S60 units don't.
Screen technology has generally improved a lot in the last 10 years, and display contrast, with or without a touch-screen, is now universally excellent - at least it is indoors. The fact is that I've yet to see any touch-sensitive display that's anywhere near as good in bright light as its stylus-ignoring brethren. In typical sunlit conditions, it's very difficult to use any of the latter four devices shown above. Which, for a handheld/mobile device might be a bit of a problem - the whole point being that you're going to try to take them with you.
Of course, there are other issues involved, such as user preference for stylus/touch-screen input and general device capabilities. But, if you're still choosing your ideal smartphone and are an outdoor sort of person, I'd recommend trying out a few devices away from the indoor showroom and away from the typical office.
In general, all S60 and Series 80 Nokia smartphones have no touch-screen layer, along with all HTC-made Windows 'Smartphone's and RIM BlackBerry devices. With poorer outdoor performance are touch-screen devices from Sony Ericsson (the P series, plus M600i and W950i), Nokia's 7710, plus all other Windows Mobile and Palm OS devices.
For those that are interested, I've added outdoor screen contrast to my interactive Grid, which may also help you choose your ideal mobile device.
Steve Litchfield, October 2006