The Nokia N73 may not have been the centre of attention at the recent Nseries device launch in Berlin thanks to the N93 and its
DVD recording capabilities
, optical zoom, integrated Wi-Fi, but it is still a very capable smartphone (or rather multimedia computer as Nokia would have us call it). The N73 is an attractively small package, at less than 90cc and with dimensions of 110 x 49 x 19 mm it is one of the smallest S60 phones ever and shaves about 6% of the size of the N70. S60 devotees may recall our fondness for the cancelled Sendo X2 which was principally due to it's small (85cc) size. The N73 may not be quite that small, but it has a lot more to offer and it does reach the sweet point at which size is no longer a deterrent for potential owners.

It is worth drawing a parallel to Nseries event last year when the N91, N90 and N70 were introduced. The N70 was largely ignored next to its flashier stablemates, but it is the N70 that has gone on to be Nokia's best selling and, perhaps more importantly, most profitable phone in the first quarter of the year. The N70 makes up the vast majority of the 5 million Nseries phones Nokia has sold thus far. The story with the N73 should be broadly similar, although the N72 is likely to outsell the N73. The N93 may get the convergence geeks slavering , but it will be the N73 that you see in the street.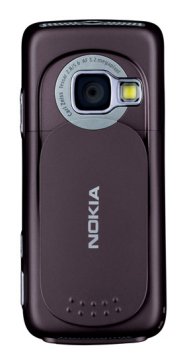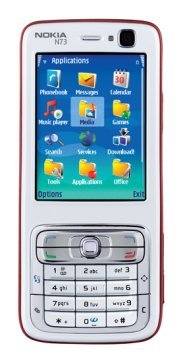 The N73 will come in two variants on with WCDMA and one without. It is a quad band EGSM phone (850/900/1800/1900 MHz) which means it can be used almost anywhere in the world. Cellular data connectivity is provided via WCDMA Data, EDGE or GPRS. The N73 has a new class of battery, the 1100 mAH BP-6M, which adds 10% more power than the older BL-C5 used in earlier S60 phones and results in talk time of just under 4 hours for WCDMA and 4.5 hours for GSM with standby times of 370 (WCDMA) and 350 (GSM) hours.

The 2.4 inch QVGA (240 x 320 pixels) 262,144 colour screen is one of the biggest seen on a mobile of this size. It adds an extra 0.3 inches over the N70 which explains the N73 slightly longer profile. With the higher resolution pixel density is higher which should result in a sharper and brighter on screen image as well as being a boon in reading orientated tasks such as web browsing. There is 42 MB on onboard memory which should be enough for a few applications and pictures, but for greater storage you will need the hot swappable MiniSD card memory slot. MiniSD current supports card sizes up to 2GB which should be plenty of room for storing applications, images and music tracks.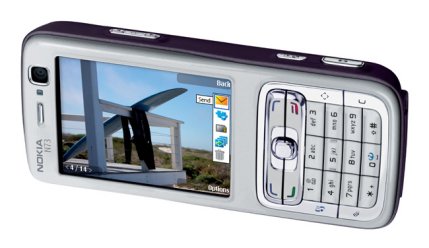 The camera on the N73 will be one of it's key selling points, and together with the screen and software is where you find the biggest changes compared to previous S60 phones such as the N70 or Nokia 6680. The camera is hidden behind a spring loaded cover which when opened will automatically activate the Camera application. The camera is 3.2 megapixels with Carl Zeiss optics and integrated LED flash; crucially it also has an auto focus function and a manual shutter. Auto focus should help improve close up shots, and the manual shutter allows for sharper shots of moving subjects. This should give excellent results and first indications are that the N73 out does the N90 which means for many it will be acceptable as their only camera. Video capture at 15 fps and CIF (352 x 288) resolution is also supported which while not as good as the N93 should suffice for capturing memories. The on board Camera application has been updated and it is no longer necessary to navigate menu to change settings, instead a series of on screen icons allow you to make quick changes similar to a stand alone digital camera. On the right hand side of the phone there are dedicated shutter and zoom keys (digital only) for taking photos. The intention is that you hold the phone on it's side as you would a standard camera and use the screen which is in landscape orientation as the view finder. The shutter button can be partially depressed to activate the auto focus functionality.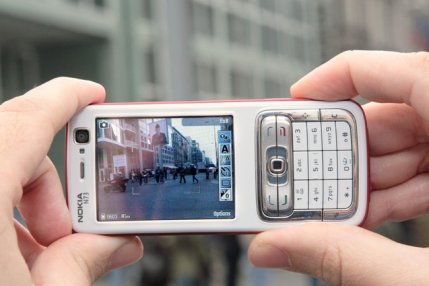 New features in the Gallery application for media management includes the ability to upload photos to Flickr via a menu entry and an upgraded slide show functionality. Nokia describe this as the Ken Burns effect (which you can more about here on Wikipedia) in which images are randomly zoomed and panned to show them off in extra detail and as before you can set background music. Images can be transferred using PC Suite (XpressTransfer), printed via USB with PictBridge or Bluetooth via BPP (XpressPrint), and shared using email, MMS, Bluetooth and Lifeblog (XpressShare ).

The N73 is a capable music device too with support for MP3, AAC, eAAC, eAAC+ and WMA. Music can be synced PC Suite and Music Manager, but Windows Media Player should also be supported. The Music application has the standard refinement such as playlist management and customisable equalisers. There is also a stereo FM Radio in the phone together with support for Visual Radio . The N73 has dual speakers at the top and bottom of the phone for stereo loudspeaker output with 3D sound effects, alternatively audio out put is via the Pop-Port stereo headphones, unfortunately there is no stereo Bluetooth support (standard only in S60 3rd Edition Feature Pack 1).

Office functionality is also included with the standard messaging client supporting IMAP, POP3, and SMTP. Word, Excel and PowerPoint attachments can be viewed using the included Quickoffice software, together with PDF and ZIP files. PC connectivity for PIM synchronization is via PC Suite and the USB 2.0 enabled Pop-Port. The USB Mass Storage profile is also supported so you can view the phone's memory as extra drive in your desktop PC. Bluetooth is also available in it's 2.0 version which means support for enhanced data rates allowing for faster files transfer to and from other Bluetooth 2.0 devices.

The N73 runs Symbian OS 9.1 and S60 3rd Edition which brings a raft of improvements over previous versions including a more responsive and easier to use UI as well as many small upgrades in various standard applications. This includes the new opensource based S60 browser with support for browsing the 'full' web, RSS feeds, and easier page navigation using 'minimaps'. By the time the N73 becomes available there should be a healthy pool of S60 3rd Edition compatible third party software.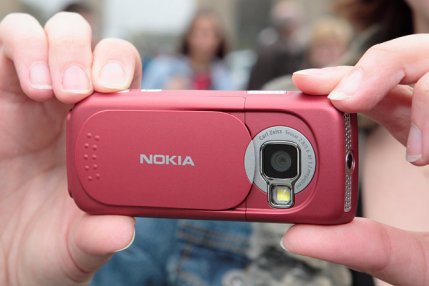 With the Nseries Nokia are keen to stress that they have 'taken technical products and made them easier to use'. No where is this better exemplified than in the N73 which is an extremely capable multimedia device. Integration with Flickr, Lifeblog 2.0, improved music functions, and a new user friendly camera UI all add up to a user experience that is designed with ease of use in mind. Previous S60 phones has appealed principally to the tech-savvy market and early adopters, but Nokia are clearly hoping to broaden the appeal of their Nseries devices. They are also seeking to differentiate themselves from their competitors, Nokia refers to the N73 not as smartphone, but rather as a multimedia computer. It is illustrative to draw an analogy with Dell computers: customers recognise and understand the difference between Dell's £300 word processor focused computer, and an £1100 multimedia focused computer. Similarly what Nokia is trying to do is create a new product category - that of the mobile multimedia computer. By doing this they can justify the higher prices of Nseries devices, which in a world where the mobile phone is commoditised could be vital for future growth and profitability.

With a bigger and higher resolution screen, a much improved camera, and a major software upgrade all in a smaller device the N73 is a worthy successor to the Nokia N70. It should take over from the N70 as the standard S60 phone in high end markets, although it will also be competing against Nokia's N80, N71 and Eseries phones as well as the usual competitors.

And what about next year? Well the interesting thing is that, if you compare the Nokia N90 announced a year ago with the N73 announced a few days ago, you will find a broadly similar level of technology. Carl Zeiss optics in the multi megapixels cameras, high resolution screens and all round network connectivity. This might suggest a pattern, the N7x of next year may inherit features from the N93, while the N9x continues to push both pockets (financially and in size terms) and technical barriers.

The Nokia N73 is scheduled to go on sale in July for around 440 Euros in Europe and Asia. The N73 non WCDMA variant may be available in the US at a later date dependent on operator interest. The N73 is available in Silver Grey/Deep Plum or Frost White/Metallic Red. In the sales box you will find a Nokia N73, a Nokia Battery BP-6M (1100mAH), a Nokia Charger AC-4, Nokia Charger Adapter CA-44 (for use with old style Nokia chargers), a Nokia Classic Stereo Headset HS-23, a Nokia Connectivity Cable CA-53, a wrist strap and lens cleaning cloth, a CD-ROM: Nokia PC Suite & Adobe Photoshop Album Starter Edition and User Documentation.
---
You might also want to check out other coverage from around the web:
Phonescoop, MobileBurn, Google News 'Nokia N73' search and Technorati 'Nokia N73' search.