---
Click here for a complete list of All About Symbian's Nokia 5800 XpressMusic tutorials
---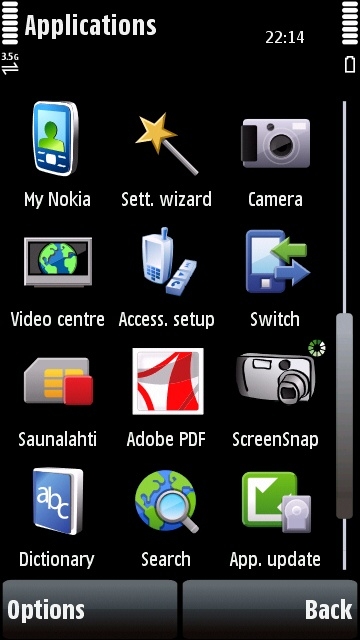 The Best Screen Snap icon is marked with a circle, which means it's running in the background.
How to take screenshots on the Nokia 5800 XpressMusic
If you want to create screenshots of the Nokia 5800 in action, here's how:

You'll need to download and install the "Best Screen Snap", a free third-party application from smartphoneware.com. Click here to find out more about installing applications on the 5800 in our app installation tutorial.

1. Go to this address on your phone's web browser (it's complicated but you only need to do it once):

http://www.smartphoneware.com/screen_snap-for-s60-5th-edition-download.php

2. Click on the download link labelled as the "SISX file".

3. When the app has finished downloading, click on its name to start the installation.

4. Follow the on-screen instructions during the installation process, and choose to install it to your memory card.

5. To activate Best Screen Snap, go to the Applications folder and click on its icon.

6. Set the shortcut key to be the camera button, and the storage place to be the memory card.

7. Select "Hide" to get back to the phone menu while leaving the BSS app running.

8. When you want to take a screenshot, press the camera button.
9. If you want to exit the BSS application, hold down the white menu button and select its icon, then select "Options" and "Exit".
You'll find the screenshots in the "Images" folder of the memory card, in a subfolder dedicated to BSS called "ScreenSnap". You can view these images using the phone's Gallery application, and you can transfer them to your computer using the USB cable.

Important Note: The current version of Best Screen Shot has a bug which means you can only take screenshots with BSS in the mode where you launched it. So, for example, if you launch BSS in vertical/portrait mode you can only take screenshots of apps running in vertical/portrait mode. If you try to mix modes the screenshots get mixed up.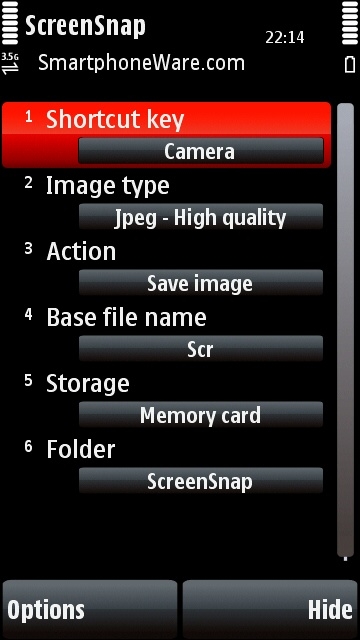 The settings screen of Best Screen Snap.
---
Click here for a complete list of All About Symbian's Nokia 5800 XpressMusic tutorials
---