---
Click here for a complete list of All About Symbian's Nokia 5800 XpressMusic tutorials
---
How to change ringtones, message tones, vibration alerts, and ringing volumes on the Nokia 5800
To change the phone's ringtones, message tones, vibration alerts or ringing volumes, you need to edit the Profile you're currently using. We strongly recommend you click here to see our Profiles tutorial and find out more about them, they're very useful and let you easily put your phone into a mode that suits your present situation.

You can use any sound file or video file as a ringtone or message tone on the 5800, including all music tracks and videos already loaded onto the phone. If you want to load a ringtone onto your phone, just transfer its sound file or video file onto the phone's memory card and it will appear automatically on the list of possible ringtones. You can find out more about transferring files in our USB transfer article.
Here's how to choose your phone's tones, alerts, vibration etc:
1. On the main standby screen, press the white menu button.

2. Select "Settings".

3. Select "Personal".

4. Select "Profiles".

5. Double-click on the profile you normally use (this will usually be "General").

6. Select "Personalise".

7. Click on whatever you want to alter (for example "Ringing Tone" to change the call ringtone). Note that there are different ringtones for ordinary and video calls, and different settings for keypads and touchscreens.

8. When you've finished altering the settings, press the red button to go back to the main standby screen.

To switch to a different profile, tap the standby screen's date and choose the profile you want.
How to choose a ringtone from the music player
You can also select a ringtone from the 5800's music player, just go to the track you want to use and select "Options". One of the options will be "Use Tone", giving you the choice of using it as the ringtone for the current profile, or as the tone for a specific person.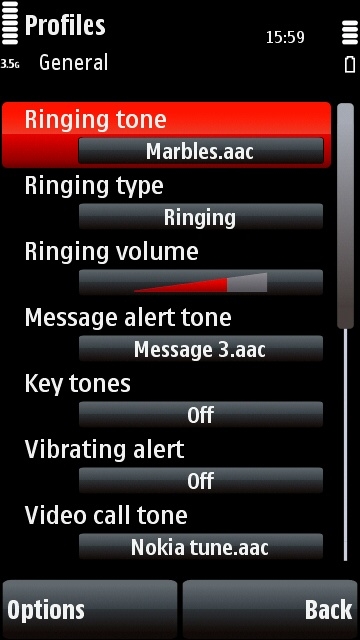 The profile editing screen for the General profile, where you can edit all tones, volumes and vibration effects.
---
Click here for a complete list of All About Symbian's Nokia 5800 XpressMusic tutorials
---