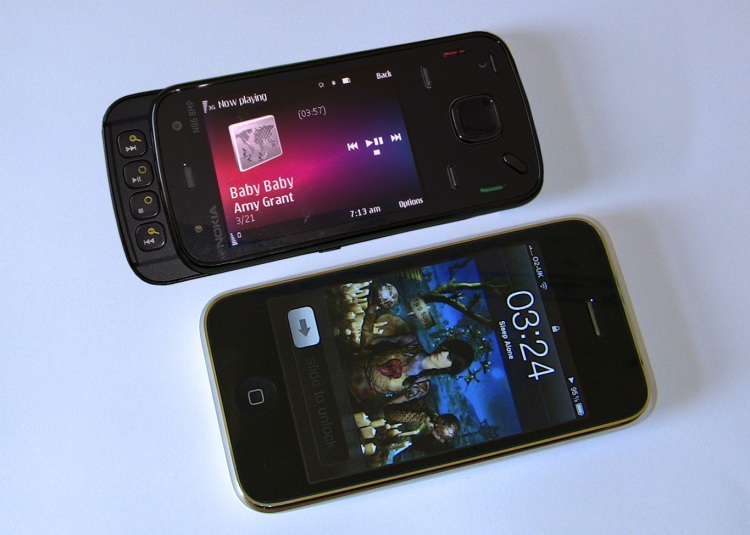 Device
Nokia N86 8MP
Apple iPhone 3GS
Weight, dimensions
149g, 103.4 x 51.4 x 16.5-18.5 mm (surprisingly heavy, quite a bit of metal used in the construction)
133g, 116 x 62 x 12 mm (light for its size)
Form factor/Mechanism
Very solid dual-slide, thankfully no wobble. I think Nokia's got the hang of making these things now 8-) Keylock toggle switch on side is very handy
Tablet form factor. Sleep button on the top acts as keylock - press this or 'Home' key and then swipe screen to restore operation

Display
240 x 320 AMOLED, glorious display in most light conditions, but does black out in 100% direct sunlight. Tempered glass construction.
320 x 480 transflective LCD with capacitive touch, behind tempered glass. Very good display in all light conditions, including direct sunlight.
Processor/RAM

434MHz, 80MB free after booting. Generally speedy, S60 3rd Edition FP2 is very mature now and the N86 rarely slips up in the speed stakes. Multitasking means that you can run up to 20 or so applications at once and switch between them quickly.

For games, SPMark 3D score is 1170, with 95,000 polygons a second. Fully Java compatible, although SPMarkJava, rather curiously, refused to give me a 'score'!

600MHz ARM Cortex, 256MB of RAM, PowerVR SGX graphics co-processor, generally very quick within an application, although there's no multitasking - all applications have to close when they leave the foreground due to limitations imposed by iPhone OS.

Exact SPMark score not available, but millions of polygons per second certainly possible, at least ten times faster than all currently shipping Nokia hardware. Not compatible with Java games.

Base OS
Symbian OS 9.3, with Platform Security
iPhone OS 3.0, derivative of Mac OS X, based on a flavour of Unix
Internet
'Email' (Nokia Messaging), S60 Messaging, Web - superlative for mobile sites, powerful for full desktop sites, including Flash content, but hampered by the need to scroll a lot.
Mail, Safari - intuitive web browsing, optimised for full desktop sites that don't have much Flash content, nice experience on the large screen, but runs into trouble on some mobile-designed web sites.
Application set highlights
Ovi Store (1,000 apps/games at present), Share online, Quickoffice viewers (editing version available), S60 PIM, Podcasting, Nokia Music Store, BBC iPlayer (in the UK), Internet Radio, N-Gage (including one free game)
App Store (50,000 apps/games at present), iPhone PIM, Office file viewers (editing versions becoming available from third parties, though with some limitations), iTunes, YouTube client, Weather
Navigation
GPS/Digital compass, with Ovi Maps, with full voice route guidance on ad-hoc subscription model (first three months 'Drive' free though - depending on market), lifetime pedestrian real time guidance.
GPS/Digital compass, with Google Maps, no turn by turn navigation, but real time sat-nav add-ons to be available separately as commercial products in the future.
Camera (stills)

8 megapixels, Carl Zeiss optics, autofocus, variable aperture optics, dual LED flash, superb results in all light conditions except pitch darkness in large rooms/outside. Click each thumbnail to download or enlarge.

Sample photo (outdoors, shadowy sunlight):

Sample photo (outdoors, very low light, very impressive how the optics and sensor work to keep apparent light levels up):

Sample photo (indoors, artificial light, only 100W main bulb, 60W lamp and the N86's dual LED flash to light the scene - rather impressive lack of digital noise):

3 megapixels, no flash, subject-selectable autofocus, good results in good light conditions. Click each thumbnail to download or enlarge.

Sample photo (outdoors, sunlight):

Sample photo (outdoors, lowish light, but sun still 'up', surprisingly good handling of light and dark):

Sample photo (indoors, artificial light - no flash, of course, the iPhone's small optics and sensor show typical camera phone problems with low light here):

Camera (video)

VGA, 30fps, produces good results in most light conditions (thanks to the lack of 'pixel-binning', the F2.4 aperture and the high quality sensor) for subjects between 0.5 metre and 30 metres away. The usual Nokia (H.263-limited) video traits of blurring of dense areas of detail (e.g. greenery/trees) is evident. Interestingly, the aforementioned use of all the pixels on the sensor mean that you can use the digital zoom and get good results - this is, as far as Nokia know, the only phone on the market that uses this technique. See also http://is.gd/1xlra for a demo of this facility.

See below.

VGA, 30fps, produces terrific videos in good light conditions, with subject-selectable initial focus, though this does mean that you can't switch subjects mid video without ugly blurring.

Note that the editing and YouTube rendering have taken a slight toll on video quality in the embedded sequence below.

Audio
3.5mm audio/TV jack, plus stereo speakers (tinny)
3.5mm audio/TV jack, mono speaker (tinny)
Electrical
microUSB data and charging, 1200mAh, user-replaceable battery (expect two days of use between charges in typical use - the small OLED screen is quite frugal)
iPod data and charging port, 1150mAh fixed internal battery (expect to charge each night in typical use - the faster processor, hungrier OS and bigger screen eat current!)
Wireless specs
Quad band GSM, HSDPA, Wi-Fi, Bluetooth (full profiles, all accessories), FM transmitter (e.g. for car use), FM radio
Quad band GSM, HSDPA, Wi-Fi, Bluetooth (limited to headset and early implementation of A2DP)
File/Media Capacity
8GB internal mass memory, plus microSD expansion, officially up to 24GB
16GB or 32GB mass memory, depending on model
Cost
£365 inc VAT in the UK, from £Free on £30/month contracts (data use bundles may be extra - shop around!)
16GB model is £440 inc VAT in the UK, locked to O2, 32GB is £540 inc VAT, typical contract is £185 up front for the 16GB iPhone 3GS plus £35 a month for 18 months (though this does include unlimited data use, to be fair)
As mentioned at the top, the N86 8MP and iPhone 3GS are very different devices, each top of the tree in a different market segment. But many of their functions are comparable, I was struck by the equality in several table rows above. The Nokia N86 8MP outguns the iPhone 3GS in terms of hardware gadgets, camera, and battery life, while the iPhone 3GS outguns the N86 8MP in terms of screen size, overall capacity, graphics power and range of third party applications (mainly games).
I've talked before about the divide between content creators and content consumers, e.g. the Nokia N82 and iPhone 3G were polar opposites in this regard. The introduction of the N86 and iPhone 3GS have changed things significantly - the N86 is better than the N82 at consuming content because of its larger, far brighter screen and iPlayer compatibility - the iPhone 3GS is better than the iPhone 3G because of its rather good camera/camcorder - so the two marques have drawn much closer together, but I'd argue that there's still some division along the same lines. Plus, of course, there's the whole touch-versus-buttons debate to consider. The latter seem to be out of favour at the moment in parts of the tech world, but there's still plenty of mileage in traditional form factor and in qwerty-based devices.
Personally, I'd be more than happy to own either of the two phones - they each have weak points but also have more than than enough 'pros' to balance these out. However you look at it, the iPhone 3GS comes out significantly more expensive though - as is typical with Apple hardware (and I speak as a fan) - all other things being equal, those on a budget will perhaps continue to be slightly wary of the latest 'Rolls Royce' iPhone.
Steve Litchfield, All About Symbian, 14th July 2009
PS. Thanks to James Burland for helping with images and video in this article.
PPS. You'll have gathered, from the fact that the sample photos and videos weren't of the same subjects, that the N86 and iPhone 3GS aren't physically in the same reviewer's hands yet. James and I are planning a meet up to do a day of direct head-to-heads - watch this space!
PPPS. See also my Nokia N86 detailed review series: Nokia N86 8MP Review - Part 1 - Overview / Nokia N86 8MP Review - Part 2 - The Camera/Camcorder / Nokia N86 8MP Review - Part 3 - Other features and Wrap-up