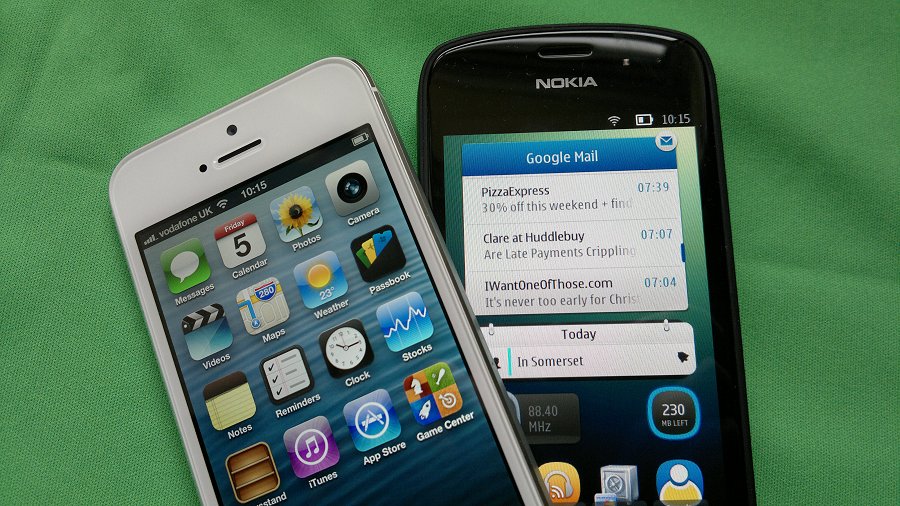 Back in my four way comparison, I said about the Nokia 808 PureView and iPhone 5 that they were 'fairly different devices aimed at different types of user' and I still hold this opinion - the typical iPhone fan is not going to look twice at the 808 and a potential 808 owner is unlikely to be even considering an iPhone, whether for technical or political reasons.
However, despite technical and ideological differences, the Nokia 808 PureView and Apple iPhone 5 actually have an awful lot in common: they both have great build quality, great cameras and speakers, great screens and (relatively) fast processors. Which is why I was very interested to take my head-to-head tabular format to the next level in terms of detailing my experiences with each device in each area of functionality.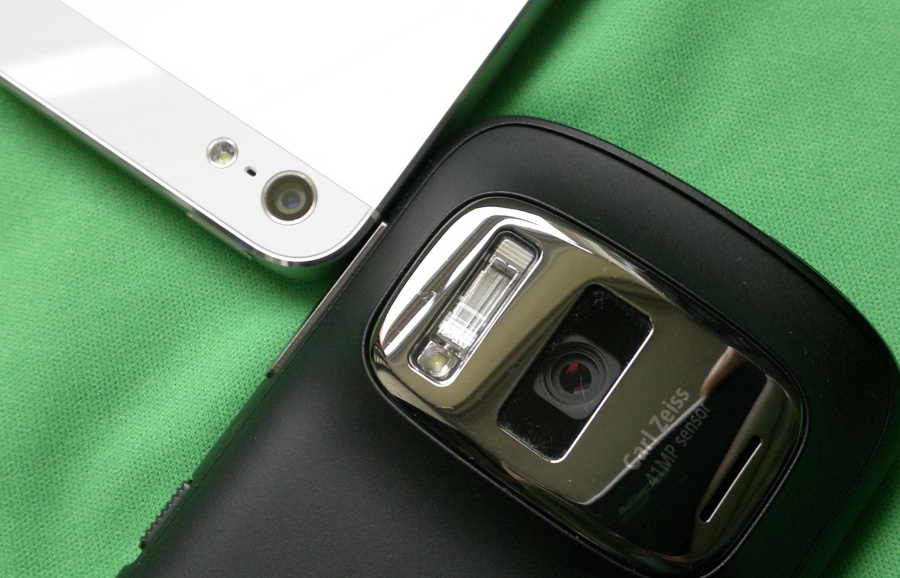 As usual, the table is part reference, part subjective opinion. And where obviously appropriate (some criteria are 100% subjective!), I've allocated a row winner (or winners, plural, where I can't split two devices), in green.
Nokia 808 PureView
Apple iPhone 5
First sold
May 2012
September 2012
OS
Nokia Belle FP2 (over the air update, though temporarily pulled again at the time of writing)
iOS 6
Form factor, materials
Solid plastic body, full-face Gorilla glass capacitive touchscreen, very robust in the months I've used it, still looks like new, have never dropped it thanks to a very grippy texture on the back and sides. Weight is 170g
Aluminium frame and back, glass front and rear inserts, feels wonderfully high tech. Very smooth and droppable though - a slip case of some kind is mandatory. The white iPhone 5 that I've been reviewing stands up to abuse reasonably well, since the sides are very solid aluminium (think Nokia N8), though the black iPhone is reportedly a lot easier to mark, thanks to the colourised finish. Weight is 112g
Dimensions
124 x 60 x 14 mm (including the camera 'hump'!)
124 x 59 x 8 mm, both devices feel physically similar in the hand in terms of thickness, since the fingers naturally avoid the 808's hump, though the weight difference is appreciable.
Connectivity
Pentaband 3G, Wi-Fi b/g/n, Bluetooth 3.0, 'USB on the go' (to USB disks/accessories), wifi tethering built-in via Joikuspot Light, but requires an app upgrade to get full functionality, Near Field Communications (NFC), enabling tap to pair, tap to share, etc.
Quad band 3G plus LTE (misc bands), Wi-Fi b/g/n, Bluetooth 4.0, integral wifi tethering, Lightning port (proprietary, to various accessories). The lack of NFC is a shame and has been much commented on. NFC is taking off and I think Apple will come, in 2013, to regret not including it in the iPhone 5 ....
Input mechanisms
Adequate virtual qwerty landscape keyboard with multitouch support under Belle FP2, spoilt by not auto-inserting corrections - they're offered on-screen but have to be manually tapped on. There's also an optional numeric 'T9' input in portrait mode. Compatible with most Bluetooth and USB keyboards.
Excellent predictive virtual multitouch keyboard in portrait and landscape mode. Some voice input/dictation possible, too.
Display
4.0" (360 x 640 pixels) AMOLED with ClearBlack Display polarisers, true RGB pixels, readable in bright sunlight
4.0" (640 x 1136 pixels) IPS LCD display, true RGB, readable in bright sunlight. Colours aren't quite up to those of AMOLED, but there's not much in it and I was impressed by the clarity and contrast all round here, mainly due to the integration of touch sensors into the display layer itself.
Interface
(Symbian) Nokia Belle FP2, kinetic scrolling everywhere, multi-touch where needed, six homescreens of live widgets, whole interface works in portrait or landscape mode.
iOS 6, kinetic scrolling and multitouch everywhere, static grids of application icons/folders in portrait mode only, a good number of applications do work in landscape though.
Speed
Good, 1.3GHz ARM 11 with 512MB RAM and a graphics processor to help out with effects, transitions and multimedia, plus a dedicated PureView camera GPU. Full multitasking with no limits, more or less everything can run at the same time in the background if needed.
Excellent, dual core (up to) 1.2 GHz custom A6 processor/co-processor, class-leading performance in web page rendering and in benchmarks. Limited multitasking (system apps, plus some background threads allowed for third party apps), but, in fairness, you have to really stretch to find use cases where the system doesn't work well for most users.
Memory capacity (storage) and flexibility

Up to 512MB of C: (system) disk, plus 16GB mass memory and flexible microSD expansion, e.g. adding an extra 64GB, so over 80GB in the device. Apps can be installed on any disk, very flexibly. Plugging in the phone to any desktop computer allows mass memory and microSD to be mounted and treated like any other disk. Plus generic USB disk support via 'USB on the go', adding up to 128GB extra.

16/32/64GB integral storage, non-expandable, no mountable functions, data and content is transferred by iTunes on a desktop or over the air directly from Apple's servers. Some flexible USB expansion options via Lightning port and assorted adapter cables (some accessories still not available, so we don't know all the possibilities yet).
Camera (stills)

Capable of 38 megapixel stills, though usually running in the superlative 5mp 'PureView' mode, offering zero digital noise with hardware-driven oversampling and 'perfect' pixels with lossless 3x digital zoom. Huge 1/1.2" sensor and Carl Zeiss optics. Exposed camera glass. Proper shutter button.

Genuine Xenon flash and tuned camera hardware make for foolproof evening/social shots and for flexible 'fill-in flash' in tricky lighting situations.


Excellent 8 megapixel stills from a BSI 1/3.2" sensor, a limited amount of software-driven oversampling in low light and LED flash. No camera button, though one of the volume buttons can be used at a pinch if the phone is held 'upside down', with the camera lens at the bottom right.

Surprisingly good results in general, but it's not in the 808's league.

Camera (video)
1080p video capture, with intelligent (non-lossy) 3x digital zoom, thanks to the 41 megapixel raw sensor; audio capture in stereo and with pro-quality digital mikes and 'RichRecording' software and electronics, capable of handling a very wide volume range.
Good 1080p capture, with accelerometer-based software stabilisation and good audio. No continuous auto-focus (there's initial focus and after that you have to manually tap subjects as needed)
GPS and navigation
Good GPS, backed up by Nokia Wi-fi location, with Nokia Maps 3.9 worldwide free sat-nav. Maps can be fully pre-loaded by continent, country or area.
Good GPS and Wi-fi positioning options, though Apple Maps software is still very immature, with some errors and omissions, as has been widely documented.
Audio out
Loud, high quality mono speaker, 3.5mm jack, A2DP, FM transmitter to car radio, plus Dolby Digital Surround Sound (through HDMI port), DLNA via built-in Nokia Play To system.
Loud mono speaker, 3.5mm jack, A2DP, DLNA/AirPlay to compatible equipment.
Multimedia playback
Video playback is terrific on the AMOLED screen, with a very wide range of codecs supported

from local or remote files.

YouTube playback in high quality requires a third party download (e.g. CuteTube), or plays in full-screen 360p via the mobile YouTube web site.

Video playback excellent on the new 16:9 iPhone 5 high resolution screen, limited mainly by having to use the iTunes transcoder on the desktop, though plenty of add-on applications are available for handling streaming video sites (e.g. YouTube). Video podcasts can now be handled on-device over wi-fi, at long last.

Tough to pick a winner here, each device has pros and cons when it comes to video handling and playback.

Web browsing
Symbian Web, functional without ever really impressing, though it's faster on the 808 than on any previous Symbian handset. Multiple windows possible. Many people replace Web with Opera Mini or Opera Mobile, but you still need Web for some URL launches and purposes.
Very fast web page rendering and zooming/panning and paragraph reflow. Multiple windows possible. Slick, slick, slick. No Flash (but this is a good thing, in my book, I hate it).
Email
All purpose Mail client provides 'push' facilities for (one) Mail for Exchange (account), Hotmail, Gmail and a selection of others - works well on the whole but some slight performance and cosmetic annoyances, when particularly 'rich' emails come in.
A strong email application, with support for most of Gmail's features in particular.
Other application highlights out of the box

Microsoft Office Mobile editing suite/cloud integration, Quickoffice as well(!), Dictionary, Zip manager, Photo editor, Nokia Social Networking (Twitter and Facebook).

Plenty of titles/apps, but some (e.g. Office Mobile) are slow and clunky...

Stocks, Weather, Twitter and Facebook, Photos (with editing), Podcasts.
Application store and ecosystem
Nokia Store client, hundreds* of high quality native Symbian applications are compatible. There's an automatic update system, supporting multiple apps, but installs are somewhat intrusive and slow where the Qt Smart Installer is involved.
Apple App Store client, many thousands* of high quality applications. Installation is generally quick and multiple updates can be applied in one 'manual' operation.
Battery capacity and flexibility/longevity
1400mAh, replaceable when needed, microUSB charging, casual use should last 2 days.
1440mAh, sealed in, Lightning (proprietary) charging, adapters for sale for other charging inputs at extra cost, casual use should last 2 days.
Ongoing firmware support and OS updates
The grand-daddy in terms of OS among this bunch, twelve year old Symbian's long term prospects are of course time-limited now. Belle Feature Pack 2 is out (and then temporarily pulled again!), bringing quite a facelift. After that, support and minor upgrades will continue at some level though, for another two years. OS modules and components can be upgraded, over the air, as-and-when using the 'Sw update tool' in the device, or via Nokia Suite under Windows.
iOS is getting on a bit now (five years), but Apple has shown great commitment to updates, even for older hardware, so it's a fair bet that the iPhone 5 will get iOS 8 in 2014, for example! Updates are now over-the-air, too, or via iTunes.
Number of 'greens' above
6
7
* yes, yes, overall numbers in each store are much higher, but I'm estimating the number of genuine high quality applications/games. Not novelties or copycats or junk.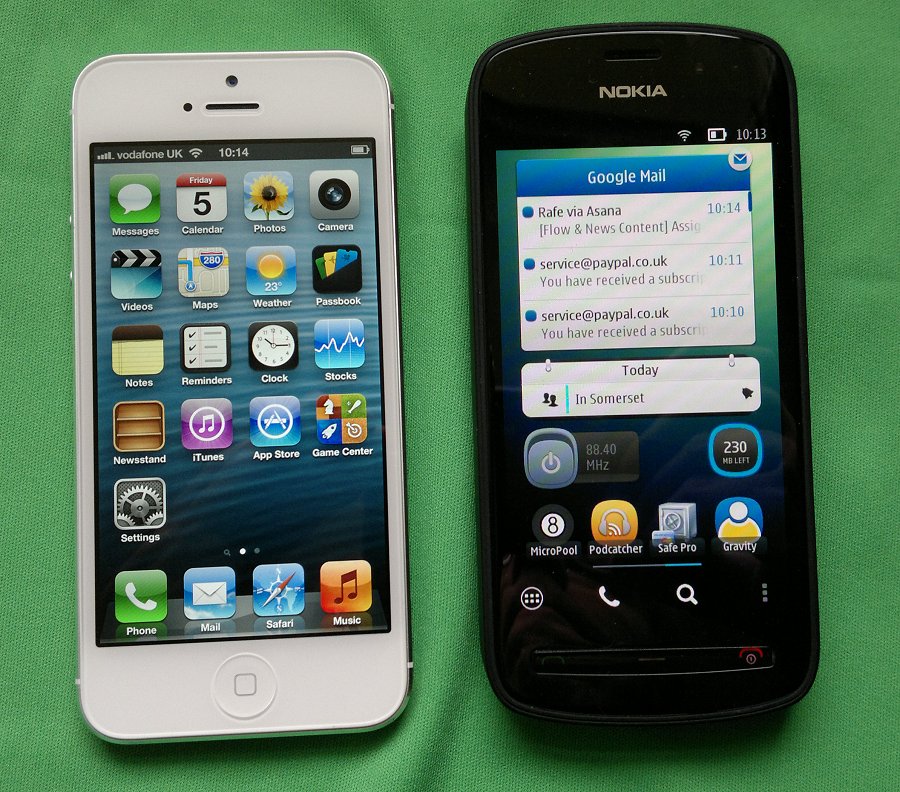 As ever, the 'greens' scoring isn't always reliable, but it does hopefully help when trying to compare top devices against each other. The scoring's fairly even, with the Nokia 808 PureView and Apple iPhone 5 still being hard to split. It could be argued, quite convincingly, that the 'application store and ecosystem' section above should be double, or even triple weighted, depending on the needs of the user. There are some very decent applications for Symbian, but there are also 'holes' in the ecosystem, plus a lack of development for the future - so if the iPhone 5 was edging the score anyway, this factor seals the win convincingly.
For me personally, I have a dozen or so great applications that I use day to day on the 808, quite happily, and the fact that the iPhone has half a million more titles available is utterly irrelevant, but I accept that many people's needs will be for a far wider choice of apps and games and Symbian won't be as suitable as iOS for them in 2012.
The Nokia 808 PureView oscillates wildly in my day to day use, between "Oh, wow, this phone is so awesome" moments (usually when camera or media related) and "that's just ugly and wrong" palm-to-forehead ones. While the iPhone 5 is a lot more consistent - it delivered exactly what I expected from a 2012 iPhone, no more and no less (apart from NFC). Apart from the build materials and price, it didn't wow me at all, but then the iPhone 5 also never once let me down, whatever I asked of it.
Comments welcome as usual. Which one do you think should have won? Would you rather go for the camera and media prodigy that's also occasionally prone to tantrums or the reliable, steady professional that gets the job done fast and with little fuss?
By the way, if you want to see more of my iPhone 5 thoughts, I've embedded Phones Show 182 at the bottom, which gives you 10 minutes or so of media to watch over a cup of tea...
Steve Litchfield, All About Symbian, 8th October 2012

(Thanks to The Ideas Network and Vodafone for the review loan of the iPhone 5.)