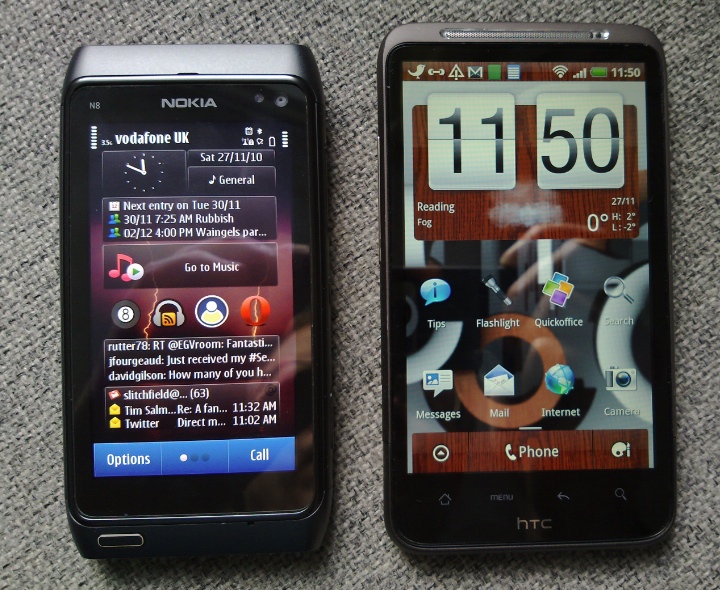 As you can see from the photos, the N8, despite being Nokia's largest touchscreen Symbian device since the ill-fated 7710 in 2004, is still somewhat dwarfed by the Desire HD. I've been alternately calling the latter a 'proto-tablet' and a 'superphone', since it's clearly a lot more than just a phone with a smartphone OS and some converged functions.
However, as I've pointed out at some length, changing a device's remit to be a great Internet browser with a huge display does usually come with some compromises, namely price, size (obviously), robustness, battery life, almost mandatory two-handed operation, among other factors. I could go on (I usually do!...)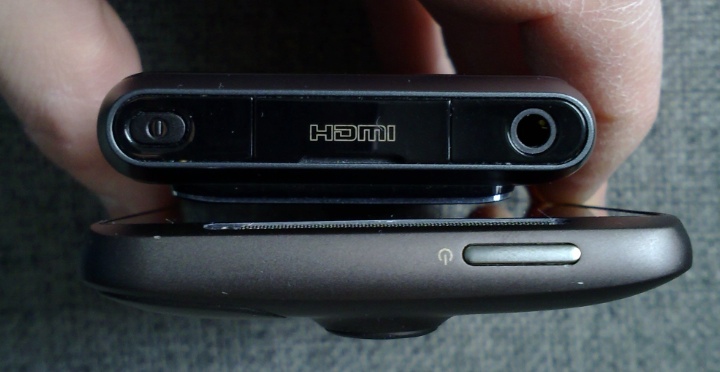 Camera islands aside, the thickness of the two devices isn't that different, but you can see from the photo the difference in width - the N8 feels like a phone in the hand, whereas the Desire HD always feels like a PDA or tablet first and a phone second - hence 'superphone'.
As usual, I've approached the head to head comparison by breaking each device's attributes and functionality down and, as usual, I've tinted with green the cells in each row that indicate an obvious 'winner' for that attribute, for purely academic interest, and if appropriate. See below for more comments on why you should take most of this with a pinch of salt though...!

| | | |
| --- | --- | --- |
| | Nokia N8 | HTC Desire HD |
| Price in the UK, inc VAT | £370 SIM-free | £460 SIM-free |
| Latest firmware | v11 | Android 2.2 |
| Form factor, materials | Aluminium shell, plastic end caps, full-face glass capacitive touchscreen, 135g | Mix of plastic and aluminium, full-face glass capacitive touchscreen, 164g |
| Dimensions | 113 x 59 x 13 mm | 123 x 68 x 12 mm |
| Connectivity | Pentaband 3G, Wi-Fi b/g/n, Bluetooth 3.0, 'USB on the go' (to USB disks/accessories) | Dual band 3G, Wi-Fi b/g/n, Bluetooth 2.1, DLNA |
| Input mechanisms | Virtual qwerty landscape keyboard with writing aids, plus virtual numeric 'T9' input in portrait mode. Compatible with most Bluetooth and USB keyboards | Virtual qwerty keyboard in both portrait and landscape modes, with excellent writing aids, plus surprisingly good voice search in most cases. Compatible with some Bluetooth keyboards |
| Durability | 'Gorilla glass' display and camera glass, unibody construction, no obviously removable panels, access slots very secure | Standard glass display and camera glass, unibody construction, removable battery panel on right, removable plastic rear section for microSD and SIM |
| Display | 3.5" (360 x 640 pixels) AMOLED with anti-reflection layer, gorgeous indoors, still quite readable in sunlight | 4.3" (480 x 854 pixels) 'Super LCD', good indoors at full brightness, hard - but not impossible - to read in sunlight |
| Interface | Symbian^3, kinetic scrolling everywhere, multi-touch where needed, three homescreens of live widgets | Android 2.2 plus HTC Sense, multi-touch where needed, up to 7 homescreens plus multiple 'scenes' (sets of homescreens), heavy widget focus and flexibility in terms of size and placement |
| Speed, RAM | Good, with 130MB free RAM and a Broadcom graphics processor to help out with effects, transitions and multimedia. Video playback is terrific, with a wide range of codecs supported | Excellent, 623MB user RAM, runs with over 150MB free even with many apps running, impressively. Video playback is patchy - codec compatibility is theoretically better than the N8, but some videos showed display corruption or aspect ratio weirdness/cropping |
| Memory capacity (storage) | 250MB of (C:) system disk, plus 16GB mass memory and microSD expansion. Apps can be installed on any disk | 1.5GB of system disk, plus microSD expansion. Apps can be specially written to be transferred to card, though not that many have been so far. |
| Camera (stills) | Superlative 12 megapixel stills, with huge sensor, professional optics and Xenon flash. Exposed camera glass. | Over-processed but colourful 8 megapixel stills (they don't bear enlarging very much), with dual LED flash. Interestingly, capture can be quite quick as auto-focus gets to work as soon as the device detects that you've stopped moving the phone about, so it's ready for the snap. Exposed camera glass. |
| Camera (video) | HD (1280 by 720) video is superb, fixed focus but large depth of field, from 50cm to infinity, CD-quality 48kHz audio capture in stereo and with pro-quality digital mikes | HD (1280 by 720) video is decent and there's initial autofocus on a scene, but further focus changes have to be manually applied by tapping on the screen. Audio capture is poorish at 8kHz sampling and in mono only. |
| GPS and navigation | Good GPS, backed up by Nokia Wi-fi location, with Ovi Maps 3.4 worldwide free voice-guided sat-nav. Maps can be pre-loaded by continent, country or area or loaded over the air. Includes digital compass | Good GPS, backed up by Google Wi-Fi location and the latest Google Maps and with real time voice navigation now active in the UK and a number of other countries. Includes digital compass. Oddly, also includes a Locations mapping service, based on Route 66 software, and which does include preloaded country maps - but you have to pay for real time navigation |
| Audio out | Loud, medium quality mono speaker, 3.5mm jack, A2DP, FM transmitter for sending music or voice to a car radio, Dolby Digital Surround Sound (through HDMI port) | Quiet, tinny mono speaker, 3.5mm jack, A2DP, DLNA sharing to compatible hi-fi, Dolby Digital Surround Sound |
| Web browsing | Symbian Web (webkit-based), functional without ever really impressing, though there is Flash Lite support (including video) if needed and multi-touch for zooming | Browser with official Flash 10 support, very responsive and fast to render pages and their javascript. There's multi-touch, multiple windows and also intelligent reflowing of text blocks after zooming |
| Email | All purpose Mail client provides 'push' facilities for Mail for Exchange, Hotmail, Gmail, Yahoo! mail and many others - works well on the whole but some limitations and annoyances | Tightly integrated (and generally superb) Gmail client, plus a general purpose POP3/IMAP/Exchange client |
| Social networking | A Web Runtime-based, extensible social tool, currently working for Facebook (full functionality) and Twitter (limited functionality). Overall a little slow and clunky. Some integration with Contacts. | Multiple clients, with Peep, Facebook, Twitter and the FriendStream aggregator. Confusing to set up but eventually quick and slick, with status updates appearing in the People (Contacts) applications. |
| Other application highlights out of the box | Quickoffice viewers, Dictionary, Zip manager, Photo editor, Video editor, Web TV, Search | YouTube client, Quickoffice viewers, Flashlight, Wi-fi hotspot, SoundHound, Search anywhere, BBC News and Weather, (Kobo) Reader, News (Google Reader client), HTC Likes (curated freeware store), Desk Clock, Blocked Callers |
| Application store and ecosystem | Ovi Store client v2.0, hundreds of native Symbian applications are compatible. There's currently no automatic update system and apps are expected to go online and check for themselves if updates exist | The Android market boasts many tens of thousands of applications - though quality is variable, there's no shortage of choice. Application updates are automatically checked for and offered |
| Battery and expected life | 1200mAh, not strictly user replaceable (though it's not that hard if you own a Torx T4 screwdriver), microUSB or 2mm charging, moderate users may get two days, nightly charging needed for power users | 1230mAh, battery can be swapped, microUSB charging, nightly charging needed for all users. Daytime top-ups needed for power users |
| Ongoing firmware support and OS updates | Prospects excellent, Nokia are expected to ship a firmware update in the next month and then a big upgrade in February, with new browser, re-jigged homescreen mechanics and new portrait qwerty overlaid keyboard. Most experts estimate support and upgrades will continue for up to 18 months. Many OS modules and components can be upgraded as-and-when using the 'Sw update tool' in the device | HTC do ship updates to their devices, but the frequency has been erratic and there's usually a delay in introducing new versions of Android due to the work needed in integrating all the various extra modules and functions for their Sense UI. |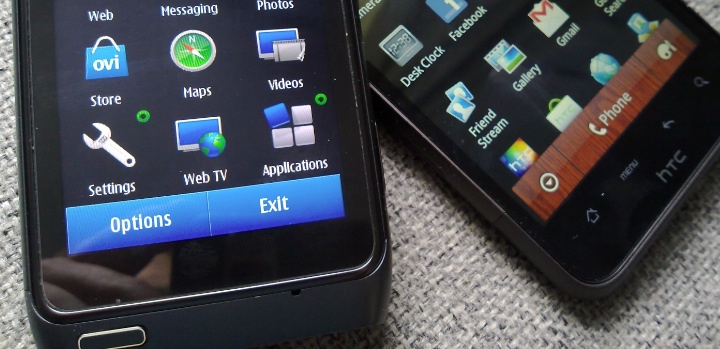 Now I swear - honestly - that I didn't pre-think any of the function categories above - and yet the Nokia N8 and Desire HD each come out with 9 'wins' each. More telling though is where those wins come for each device and I stand by my 'smartphone' vs 'superphone' analysis.
Purely on a person note, if I was offered a choice of the two devices and asked to pick a 'phone', I'd take the N8 without hesitation. It'll last me through every day and not run out of juice, it'll play my podcasts, videos and Internet radio nice and loudly, it'll take stellar photos even down the pub or at an evening social event, it'll survive a little day to day rough treatment, it's not too large, you can read its display in the sun, and it's always my sat-nav with every street in the UK pre-loaded and ready for action even if I'm in the middle of nowhere. Oh yes, and it makes really clear phone calls!
In contrast, my colleague from The Phones Show Chat, Tim Salmon, has a completely different set of priorities. He unequivocally chooses the Desire HD, quoting the wonders and Google integration of Android 2.2, all on a large clear screen that's great for ageing eyes (not that I can talk...!), he loves the Android Market and has a number of Web 2.0 apps that he can't live without. Battery life and size isn't a problem for him for his 'main phone' - he's rarely far from a charger. Tim also loves the huge RAM and not having to worry about it being a problem. And he doesn't take many photos with his phone, so isn't after perfection here. Most of all, he likes the customisability of Android - enhanced still further by HTC's simply massive set of extra settings, widgets, panes and links - the Desire HD is a fiddler's dream phone.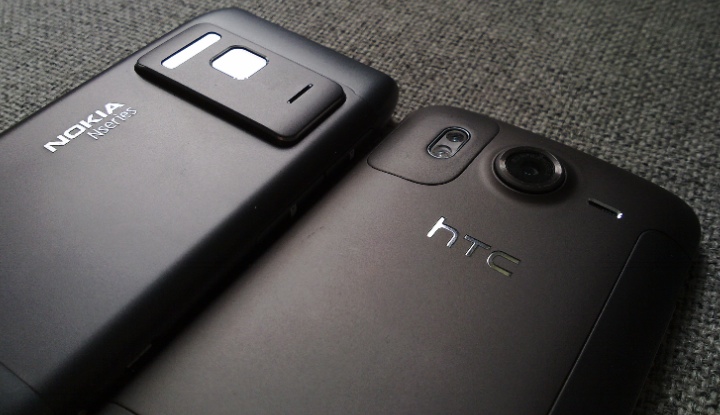 So - two friends, two different sets of priorities. I'm far better off with the N8 smartphone, Tim's far better off with the Desire HD superphone*. There's no overall winner here because there can't be. These are two completely different phones with completely different sets of hardware and software compromises. Which is exactly as it should be - the more choice for us all in terms of mobile devices, the better!
Steve Litchfield, All About Symbian, 28th November 2010
* (what the US tech media call a smartphone, confusingly)
_____