I think it was starting to really rankle me that almost every online application I tried had a bundled weather forecaster - surely enough was enough? Anyway, it made me determined to find out the best way of getting weather forecasts on a Symbian OS smartphone, once and for all, after which I could ignore all the other options.
One disclaimer is that I was focussing on UK weather forecasts. While many of the systems below are truly international, some aren't, but there will be equivalent local alternatives for most other regions of the world. My aim, for each item tried, was to get an accurate five day weather summary for my (fairly large) home town of Reading, in Berkshire, UK.
WorldMate
A commercial application whose core content has recently been made free (for the S60 version), WorldMate gets ten out of ten for polished professionalism. It's trivial to install and the weather component can be set to update manually, or once or even twice a day, using an Internet access point of your choice. There's also an optional spoken voice summary that chimes up when you're not expecting it and frightens the life out of you....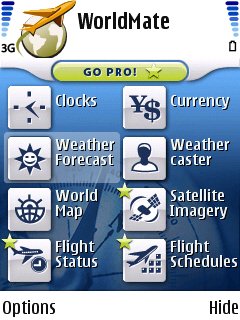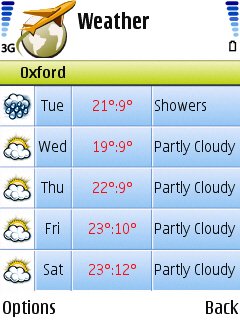 Price: from Free - Downsides: Reading wasn't in its database (I used Oxford instead). Also, weather information for all world cities is grabbed on each update, so there might be bandwidth costs to be considered. Plus WorldMate, when used properly, uses up at least 2MB of RAM, running in the background. Probably not a major problem, but on the N95 in particular it's the straw that breaks the proverbial RAM-limited camel's back!
Links: UIQ 3 version, S60 3rd Edition version
Pocket Express
A Java-based informational suite, this is currently just about impossible to download for most S60 smartphones outside the USA (go on, you try it!), though it is included in the Download! application for some Eseries devices (as featured in my recent article). Works well once loaded up though, for weather on demand.
Price: Free - Downsides: The usual huge 10MB hit on RAM for running a Java application, plus the current limited downlad-ability is a pain. HandMark, please sort out your download system so that people outside the USA can grab the software!
Links: The Pocket Express page
Handy Weather
The original Symbian OS weather utility, of course, and one that's won awards right left and centre. By default you get a five day forecast, and it knew about Reading. Impressively, it only grabs the data for the city (or cities) you select, keeping the data costs very low indeed (a few kilobytes each time, with the default update every 8 hours). There are a variety of different screens, including 'night' temperatures and 'Current conditions', which includes, wind direction, speed and pressure. You can even send the forecast to someone else by text or email. A significant extra is an optional screensaver module that replaces the usual Nokia date and time bar with a full 24 forecast for your main city.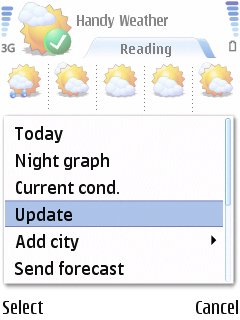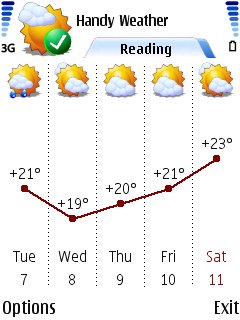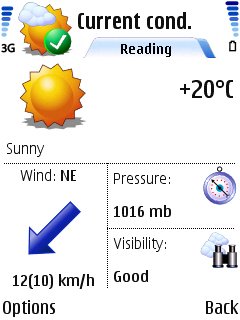 Price: $15 a year - Downsides: Very few, other than the fact that it isn't free. The RAM hit is only 1MB and there's no need to keep Handy Weather running in the background, as there's a separate update scheduler that uses negligible RAM and which you can forget about.
Links: Download Handy Weather for S60 from the AAS Software Store, Download Handy Weather for UIQ 3 from the AAS store
BBC Weather Mobile
And now we come to services/pages that can be called up as bookmarks within Web on any mobile device. The BBC comes up trumps as usual, with www.bbc.co.uk/mobile/index.shtml . With a full five day forecast and more detailed 24 hour forecast for any place or postcode, supplied by the UK Met Office, there's little need for a separate application. And you can bookmark the specific results page for your town, to save entering the details each time.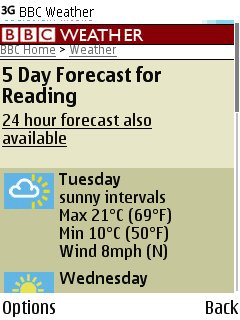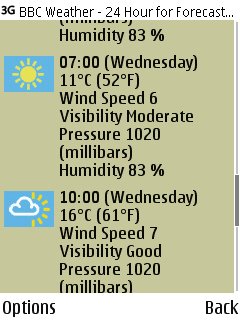 Price: Free - Downsides: Web has to be running, so that's 5MB or so of RAM gone, but then this application is often running anyway.
MSN UK Portal weather
Another mobile-friendly weather web page, with the current conditions and forecast provided by Foreca this time. Again you can bookmark the results page specific to your location. Start at mobile.msn.co.uk and then click on 'weather' etc.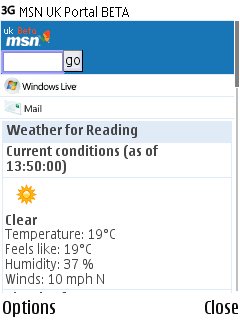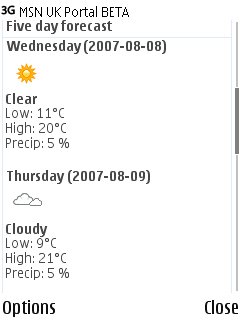 Price: Free - Downsides: Hosted in Web again.
Weather Underground
Yet again, web hosted, but this time with data centrally gathered in the USA from weather stations across the world. There's exceptional detail, with even moon phase and sunset/sunrise times, plus a whopping seven day (and night) forecast. Start at mobile.wunderground.com and follow your nose... As with the previous two sites, just bookmark the page when you've drilled down to the weather station you want.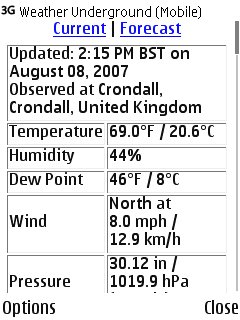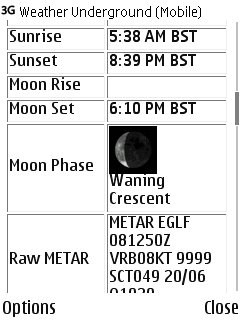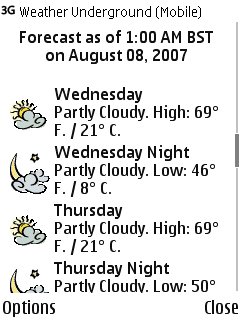 Price: Free - Downsides: Hosted in Web, not focussed on major towns, so you have to recognise the names of weather stations vaguely near where you want the weather for.
Metcheck
With data again being USA-sourced, it's surprising to find a mobile weather site that's almost exclusively relevant only to the UK. You get by default a three day forecast for a 'county' area but you can extend this to seven days and you also get the forecast broken down into tiny 3 hour segments and neatly tabulated, with animated GIFs giving a nice illustration of the weather for each segment. Start at pda.metcheck.com and go from there, bookmarking when you've drilled down etc.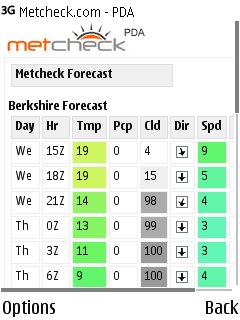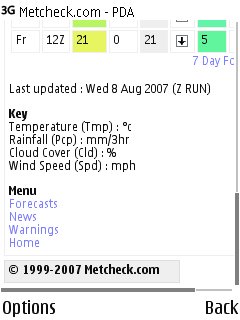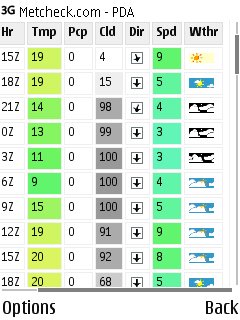 Price: Free - Downsides: Again hosted in Web, and this time you have to settle for a specific county in the UK.
iGoogle
Yes, many of you probably use iGoogle (Google's personalised home page) as your mobile start page anyway. There's a weather widget which you can add, showing just a single icon for today and one for tomorrow, with high and low temperatures. All a bit minimalistic, but if you're on iGoogle anyway then this is a quick way to 'absorb' what's coming up tomorrow without having to go to a separate bookmark. If you haven't already got it bookmarked, you can find iGoogle at www.google.co.uk/ig/mobile .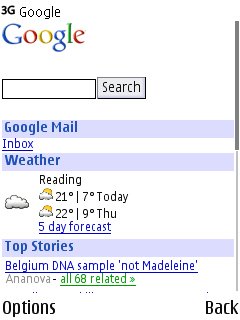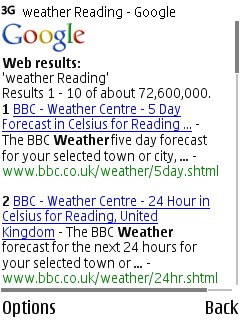 Price: Free - Downsides: Hosted in Web and very limited. Strangely, if you click through to the '5 day forecast' you get dumped in a screen of Google search results!
---
The services above are probably not exhaustive. If you have any UK weather favourites then drop me a line at steve at allaboutsymbian.com and I'll consider adding them to the feature.
Picking a winner is a bit pointless because all except one solution are completely free. Having said that, if Handy Weather was also free then I'd award it the top position, it's just so slick and I love having the weather in screensaver form. But I'm a stingy old fruit at the end of the day and so my winner is the BBC Weather Mobile bookmark in Web, www.bbc.co.uk/mobile/index.shtml - but each to his own!
Steve Litchfield, AllAboutSymbian, 9th August 2007