Review:
Motorola Z10 - Part 5 - Camera and Conclusion
Score:
76%
Following on from Ewan's first four review parts, listed below, here's the final part - from me, covering camera functions and performance, as well as an overall verdict on the device.
Whatever you think of the rest of the Motorola MOTO Z10's specification, user interface and applications, the one point you surely can't criticise is its camera, right? The original Z8 was dubbed (somewhat over-eagerly by Moto PR) a 'multimedia monster' and the Z10 is undoubtedly better and of higher specification. But by how much and is it enough, in these Nokia N95-dominated days?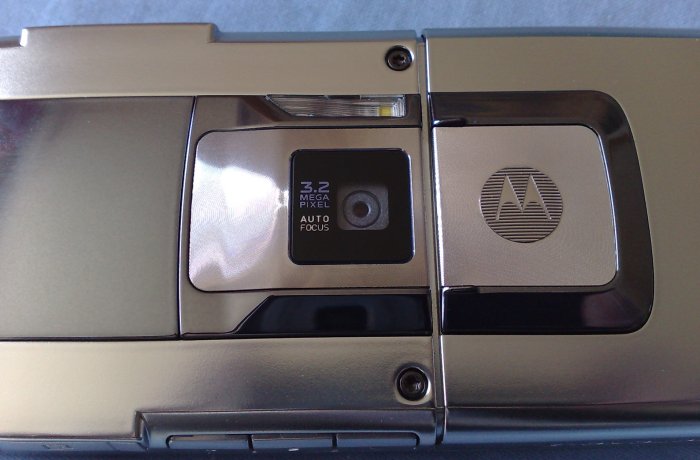 Photography
Neatly ensconced amidships in the Z10's rear, the camera glass is unprotected, N95 8GB-style, with the usual worries over scratching in real world use. The review unit was still pristine, of course, but I'd expect deterioration of the glass's condition in time. A flash window looks suspiciously like a Xenon unit, but it turns out to just be a style feature, highlighting a standard LED flash. The camera shutter button itself is on the right hand side of the phone (the top, when in camera mode) and is superb, recessed to avoid accidental pressing and with a lovely feel and key travel.
Pressing and holding down the shutter key launches the Camera application - in typical UIQ 3 style, this mixes landscape icons with portrait text, if you see what I mean - the screenshots will help. The on-screen icons are self explanatory, showing d-pad functions, camera mode, photo size selected, flash, etc. The Options menu is where you'll head first though - in my case to up 'Picture Quality' to 'High' and 'Picture Size' to 'XLarge'. There are also settings for 'Sharpness', 'White Balance' and 'Effects', but fiddle with these at your own risk, it's easy to produce horrible results. At least by going into 'Settings' (which, bizarrely, is a shortcut to a duplicated set of camera controls) you can 'Restore Factory Settings', which will get you back to square one.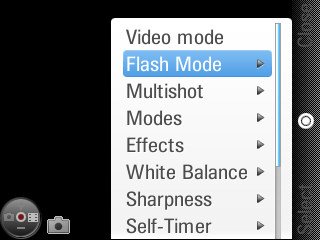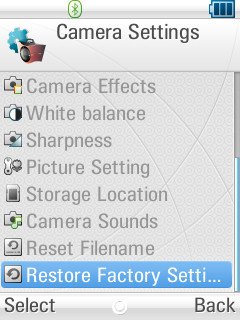 Focussing is on a small patch at the centre of the image window, which is fine by me, and it's faster than on my N95 8GB, easily in 'good enough' territory. The highlight of the stills camera is probably its terrific 'Multishot' mode, whereby you can take, say, 5 or 10 shots of the same thing, quickly in sequence. Where an N95, for example, would take a 'Burst' of five images at roughly one a second, the Z10's multishot mode is much, much faster, getting in five shots per second. When trying to snap your kids at a sports day or capture a pet or wild animal, such a fast multishot is really useful. With an N95 or N82's Burst mode, you'd get one shot about right and the rest would be 'before and afters', whereas on the Z10 you truly can shoot a sequence in which any of the photos might be 'the one'.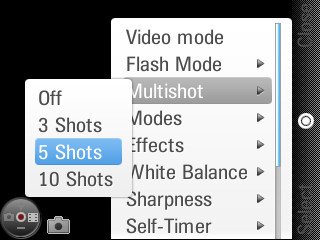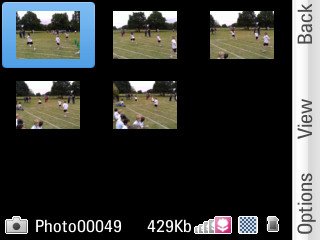 In terms of photo quality, I'd put the Z10 up at the same level as the Nokia N73 and E90 - the Z10 certainly bests the newer E71 and E66, both with 3 megapixel cameras. The crispness of focussing here, the pleasant colouring and the good (if not perfect) handling of extremes of light mean that the Z10 can certainly hold its head up here. Slightly controversial will be the fairly zealous use of image sharpening to make everything seem crisper than it really is - witness the flower photo below, for example. But the default setting is probably a good one for most people. Disappointingly, there's no way to decrease this sharpening, only to increase it.
Here's an example, blown up, of the edge enhancement (sharpening) used: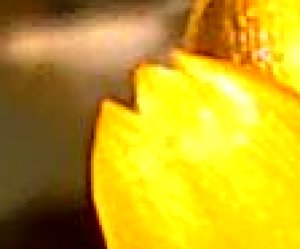 This close up, it looks horrible, of course, but for most users it's tuned to produce crisp and clear pictures. Photography enthusiasts stay away though!
Night time flash shots are as mediocre on any non-Xenon-flash-equipped phone - useful for dire emergencies only. A Xenon bulb would have suited the Z10 quite well and given it another unique selling point - the LED is rather disappointing.
Video
Now, if you thought Multishot in the stills camera was a bit of a party piece, you've got a bigger surprise coming: the MOTO Z10 has focussing in video recording mode! Every single previous phone (including the N93) had fixed focus video shooting, meaning that anything less than about 80cm away was out of focus - and the closer, the worse it got, obviously. You can see the effect in some of the horribly blurry videos of other new devices shot on the N95 at shows, for example. The N93i, you'll recall had continuous auto-focus in video mode in its prototypes, but the Nokia engineers decided that the wear and tear on the focussing mechanism would kill it sooner rather than later and so the feature was disabled in software.
What Nokia should have done was what Motorola did here - allow the user to set an initial focus and then carry on shooting at that focus. The usual half press to focus and then fully down to start recording. Of course, you run the risk of the user then carrying on filming other things at a different distance, which may then be blurry, etc. But if you're clued up enough to use the focussing feature then you should be good enough to know what to shoot and when to stop shooting, starting again with new subject and new focus. The casual Z10 user will just mash down on the shutter button and will get infinite focus, just as on any other device. Good thinking all round and I'd kill for initial focus in any of my Nokia Nseries phones.
Running against this killer feature is that video recording is only at QVGA resolution - given that the Nokia N93 has had VGA video recording for over two years and that the N95, N82, E90, 6220 Classic and others have all had the same VGA video resolution since then, QVGA is starting to look very average. It's not even YouTube friendly anymore, with the site recommending VGA for uploaded videos. Picture quality isn't perfect either, even within this resolution.
Another downside is that, like its predecessor, the Z8, the MOTO Z10's handling of recorded sound isn't good - as you'll hear on the test video below, it appears tinny and hissy - at least compared to recorded audio on Nokia's smartphones, which tends to be uniformly excellent.
Videos are handled by third party ArcSoft's Media Player, tying in nicely with their Media Editor suite, with basic trimming and audio-dubbing of recorded video clips, along with a storyboard system for stitching together photos and videos along with text clips and fancy transitions. On the one hand, it's great to see this sort of functionality in a phone (bringing the video editor in the N95 classic to mind); on the other, it's shame UIQ had to license in third party code at all - I guess even a year ago, when the Z10 was being developed, in-house resources must have been tight.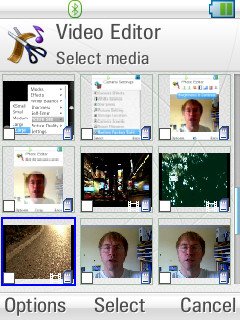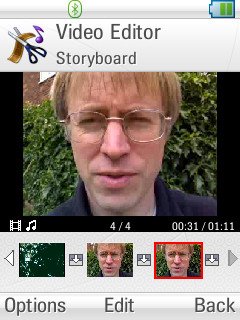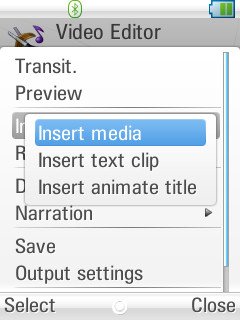 ArcSoft's Media editor also handles photo editing, by the way, doing a good job of red eye removal, cropping, auto-colour-adjustment, and so on. Each of the ArcSoft modules is well integrated into the keypad driven UIQ 3 interface.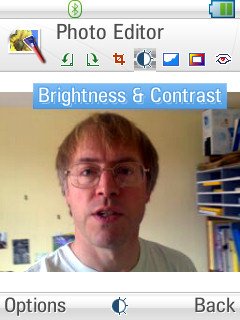 A Voice recorder and a bundled copy of ShoZu (the photo uploading utility) complete the Z10's very acceptable multimedia suite. Also of note are other third party video solutions that tie in with bought or downloaded content: Mobiclip Player and vTap Launcher. Finally, there's the Sky Anytime client, reported on previously, for remote programming of your Sky box.
Conclusion
The MOTO Z10 has arrived in the world at a most unfortunate time, in essence. With the setting up of the Symbian Foundation and Nokia's buyout of the other Symbian partners, the medium-to-long term future for UIQ looks very grim (parts of it may or may not be rolled into S60 3rd Edition, which will become the base for the new Symbian 'standard' platform). In the short term, this shouldn't affect users' perceptions of devices, of course, but there's a problem.
The Z10 is now, I'd estimate, at the same stage of development as the N95 was when it was hand delivered to me, one dark night late in 2006 - buggy as heck, very short on RAM and barely useable as a smartphone for anyone with any real ambitions. Like the N95, the Z10 has lots of potential - maybe not to the same degree, but potential nevertheless. Unique selling points include:
the kick-slide form factor (which still impresses everyone I show the Z10 to)
the non-touchscreen version of the powerful UIQ 3 interface
charging via miniUSB

storage via the standard microSD (unusual for UIQ 3-based smartphones)
the stunningly fast Multishot mode in the altogether rather good stills camera
the initial focus when recording video
However, at every single turn we encountered glitches. From jerky video previews to UI 'not supported' popups, from keypad shortcuts (and time savers) simply not being present to applications failing through lack of free RAM, from spontaneous resets to problematic charging, the Z10 is crying out, nay screaming out for further software development. To fix the bugs, to optimise the OS to free up RAM, to tweak apps for usability, and so on.
My N95 took three or four major firmware revisions to get to a stable, happy, productive state - with Motorola's current financial problems and with UIQ now effectively being dead in the water as a future mainstream platform, you have to seriously doubt whether the Z10 will get the same tender loving care that it needs. Motodev claims that UIQ support and development will continue, let's hope they make good on this intention.
The Z10 was already late to the scene in terms of specification, it would have been a true flagship a year or so ago - it's no longer anywhere near the cutting edge, mid-2008. Should the Z10 therefore be proclaimed dead in the water? Hopefully not yet, some of its unique features are very enticing, I'd hate to see this vanish without a trace.
Steve Litchfield, All About Symbian, 18 July 2008
(previous review parts in this series by Ewan Spence)
---
Reviewed by Steve Litchfield at