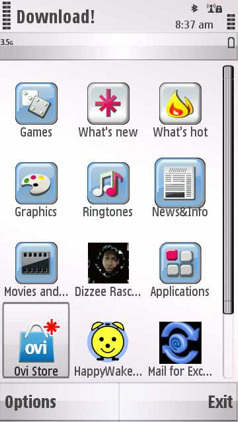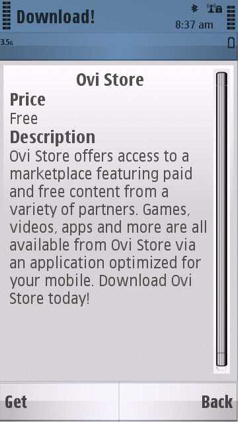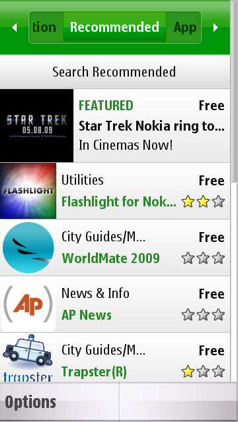 Steve's Observations
Installation was smooth and but trying to sign-in with my Nokia account produced a 'Socket closed' error. Browsing through app pages often brings up 'This operation could not be completed due to an error'. Teething troubles, teething troubles....

Annoyingly, there's no distinction in the store as to which items are Java and which are full, native Symbian apps. Tempting to just look at the price (i.e. £4 games are likely to be Java), but this should be much clearer.

Performance of the Ovi Store client on both my 5800 and N95 wasn't brilliant, with waits of up to five seconds common between screens. Far more optimisation needed in the code (especially as more and more applications and items are brought online) if the Ovi Store is in any way to be compared favourably to the iPhone's App Store experience...

There appears to be no obvious way to browse through each sub-category, e.g. Utilities, Social networks, and so on. Turns out the user needs to know to drill deep into Options>Categories - not sure many users will find this, Nokia.

I also think there's plenty of room for improvement in the touchscreen handling in the client. Over and over again my attempts to drag a page up or down got intepreted as a tap on a product instead.


Buying content requires at least three screens, sometimes more. That's really too many.

Overall content level is low so far, but it's early days, let's give Nokia a week or so to iron out the wrinkles and finish adding in content? It's also worth noting that content shown is specific to your device and region, so exact items shown will vary.


From Nokia PR
Here's Nokia's own introduction to the service:
"Today is one of those monolithic milestones for Nokia and the advancement of mobiles, as Ovi Store has officially gone live. It's a moment that many believe is set to spark a rapid evolution in the way we all use our mobile devices - exploring the depths of what your device is capable will be far easier with Ovi Store now primed to be the one-stop hub to let you soak up bite-size bits of free and paid-for content and apps."
"There is a mountain of mobile content already available for you to download to your phone, enabling you to flesh out your handset with new talents, ranging from innovative new location-based services to podcasts, videos, games, and heaps more. More than 50 Nokia devices are compatible with the service from day one, with stacks more slated to roll out over time - Nokia estimates that around 50 million people with Nokia devices will be able to benefit from Ovi Store right now."
Steve Litchfield, AAS, 26 May 2009
See Also
Our intial story on Ovi Store covers the rolling launch.