Currently the Ovi Store should be considered to be in soft launch. Nokia are likely doing performance test and checks before the formal roll out.
Ovi Store application installed, start page of the Ovi Store.
The Nokia E75 uses the WRT based client. Earlier phones (S60 3.1) will use a XHTML mobile site version (i.e. one that runs in the browser).
In the images above you can see the basic application listing, including the featured listing (also known as spotlight), which is a premium placement.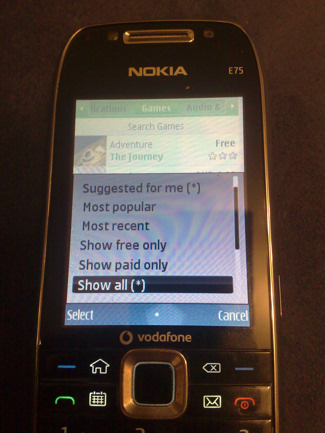 You can filter the application views by popularity, time, and pricing.
We'll keep you up to date as we hear about the further roll out of the Ovi Store. And, of course, please do let us know in the comment stream or by email if Ovi Store has launched in your country and what you think of the service.
Update: Here's what the Ovi Store looks like on the Nokia N97.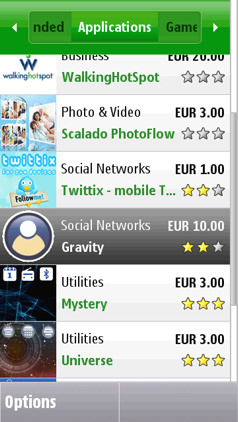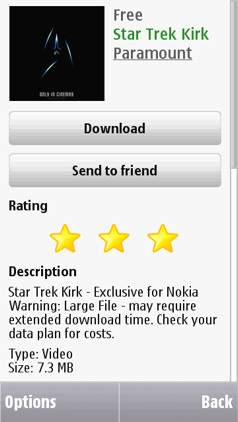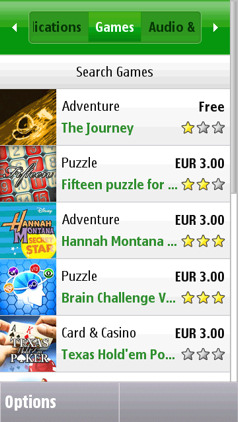 Ovi Store as it appears on the Nokia N97 and Nokia 5800.

Updates
Ovi Store is also available on the Nokia N97s in Forum Nokia RDA program (thanks to S).

Ovi Store working on multiple devices / operator variants in Australia.

Ovi Store is available in Ireland.

Ovi Store is available in Singapore (thanks zerohour69).

Nokia Conversations, Nokia's official blog, confirms Ovi Store is rolling out as it moves to 'production servers'. They say: 'Keep in mind that the Ovi Store is only available through a select number of devices in select countries at the moment. You can expect a broader announcement and consumer availability soon'.

Ovi Store is now available in Spain (@bheetebrij)


Ovi Store is now available in Finland

Ovi Store is now available in the UK. Steve has shared his first impressions here.


You can access the store through store.ovi.com and store.ovi.mobi


Nokia's formal press release for Ovi Store has been released. It says Ovi Store is now available globally:

"In available countries, customers can update their devices with the Ovi Store mobile application by selecting the Ovi Store icon in the Download! folder on their device. The mobile client is available in English, German, Italian, Russian, and Spanish and supports operator billing in Australia, Germany, Ireland, Italy, Russia, Singapore, Spain and the United Kingdom. Globally, credit card billing is available through the mobile application and the mobile website. Additional countries, languages, devices and features will be added throughout the year."
How to download and install Ovi Store (provisional)
Currently, to download and install the Ovi Store, you need to:
Open Download and choose Options > Refresh content
Open the Nokia Extra's Category, here you should find an entry for Ovi Store
Download and install Ovi Store
Access Ovi Store as you would any other application (it'll be in your Installations / My Extras or similar folder).

Thanks to A for the tip off and photos.