The basic principal is that you create a meeting (either on your mobile or PC) by going to easymeet.nokia.com, add participants (by email or SMS), and share content.
When setting up a meeting you can also specify suitable voice conference calling and PIN numbers. Aside from sharing media (currently jpg, png and ppt), there are also chat and minutes (notes) modules, which help to enable actove collaboration during a meeting.
What impresses is the ability to do everything from your mobile device as the following screenshots demonstrate.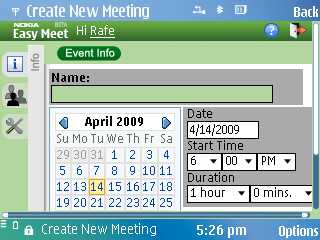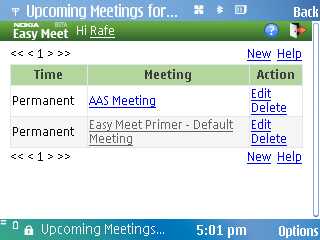 Creating a new meeting and list of available meetings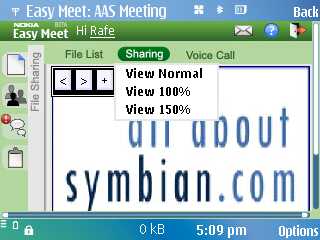 Content sharing and chat modules
Sharing media is done either by uploading from your local device, or by selecting a file from your Files on Ovi account (Nokia's under-rated online file storage / sync service).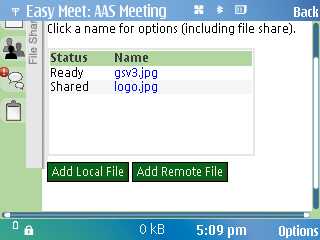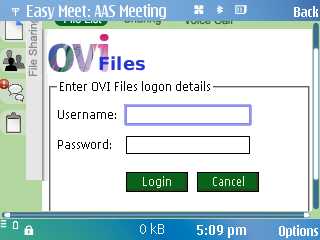 Sharing files
The service runs entirely in the web browser, although there is a WRT widget for S60 devices which puts an icon on your phone and automates the log-in procedure.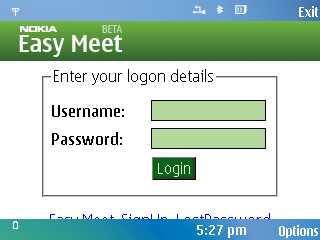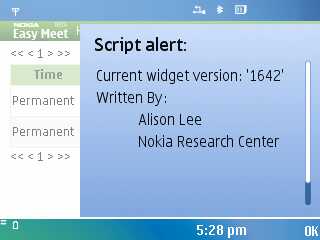 Looking to the future it's possible that we might see an evolved version of this service being bundled with Enterprise devices for use my small and medium sized businesses, just as Files on Ovi is currently bundled with the Nokia E63. Nokia Sports Tracker grew out of a NRC research concept and is now standard on many of Nokia's Nseries devices.
---

Here's a video, from Nokia beta Labs, explaining the concept: