"Today sees the introduction of S60 5th Edition, the latest release of the world's leading, open smartphone platform, S60 on Symbian OS. The S60 5th Edition has the most advanced set of features that enable new innovations and new experiences for consumers that want to fully embrace the use of smartphone products.
With S60 5th Edition, the user interface is extended by the introduction of touch and with full support for tactile feedback. Enhanced display resolution support and a new Widescreen mode further compliments the touch UI and enables engaging visual experiences. Also, for the first time, the platform includes a framework for the use of advanced sensor technology. This all allows S60 device manufacturers to create innovative new device concepts for a wider range of user segments, while preserving the rich capabilities of the existing software platform."
The first device to use S60 5th Edition is the Nokia 5800 XpressMusic which was announced today, see other news items.
Developers can download the S60 5th Edition SDK and tools from Forum Nokia from today.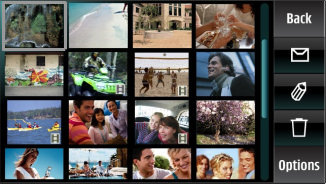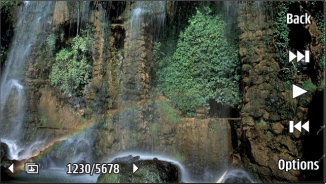 Shown here is an example of the UI in landscape 'widescreen' mode.
Note the finger touch friendly toolbar on the right hand side.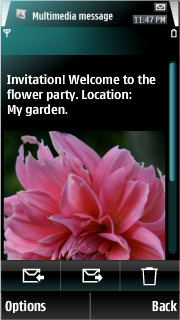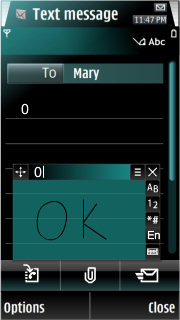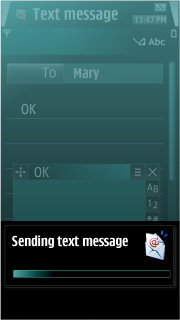 Shown here is an example of the UI in portrait mode. Note the toolbars above the soft key
areas and the hand writing recognition input area. Text input is via hand writing recognition,
on screen QWERTY virtual keyboard or on screen virtual alphanumeric keypad.
Key highlights of S60 5th Edition
Based on Symbian OS 9.4, which brings a host of OS level improvements, which should increase performance and battery life. The OS is also the enabler for many of the technologies described below.

Adds touch enablers and tactile feedback to S60. The UI is designed to be used with finger touch or a stylus. The UI and base applications have been optimised for touch usage. Tactile feedback gives a physical signal to the user (buzz/vibrate) when an on screen interaction takes place.


Standard S60 applications have been extended and optimised to take advantage of touch interactions.



In order to help enable touchscreen devices there is enhanced support for higher resolution displays and a new 'widescreen' mode.


Adds a framework to enable the use of sensors in the UI and by third parties. Such sensors might include accelerometers, which enable functionality such as 'flip to silence' or 'shake to unlock'. Third party access is enable by APIs which are available in the software development kit.


Enhanced support for Internet technologies, including an updated Web browser (more recent version of WebKit) and Flash Lite 3. The browser has been optimised for touch usage, including the ability to scroll around the screen using a finger and finger touch-friendly toolbars and controls.


Adds S60 Platform Services to the S60 Web Runtime (also known as WRT 2). This enables the creation of personalised and context-aware widgets. This gives widget developers access to many features of the S60 platform, including GPS, contacts, calendar, messaging, audio and video. These are accessed via custom javascript and actionscript API calls.


Adds new image and video editors (i.e. now standard part of platform), making it simpler to edit media on the device. The image editor functions include red-eye reduction, cropping, image adjustments and the ability to add text and images. The video editor lets you cut, merge and add sound to videos stored on the device.


Adds Open C++ (following on from Open C) to the platform. This brings the Standard Template Library (STL) and other popular platform-independent C++ libraries to S60.

Quotes from the press release
"S60 5th Edition's new features and added functionality significantly enhances the products that intend to provide rich multimedia and Internet experiences for consumers. Intuitive sensor technologies, interactions via touch, and tactile feedback creates delight and excitement for consumers and unparalleled innovation opportunities for developers and internet content providers," said Lee Williams, Senior Vice President, S60 Software, Nokia. "With this release we will see manufacturers create and extend their portfolio of products with new types of devices addressing a broader range of consumer needs."
"The versatile developer support offered by S60 5th edition enables developers to write applications in a range of languages that they are already very familiar with," said Tom Libretto, Vice President, Forum Nokia. "That familiarity and being able to arm developers with the tools and technologies that best suit their needs will allow for further innovation of new applications and services, not only for S60 5th edition, but also for S60 3rd Edition Feature Packs 1 and 2."
"The S60 5th Edition SDK presents an exciting opportunity for mobile application development," said Erik Abair, senior vice president of engineering and co-founder of Kyte. "Development on this new platform will advance touch technology, provide more flexibility to create new user interfaces for our mobile application, Kyte Mobile Producer, and improve the overall user experience for consumers."

"Over the years, SHAPE Services have observed an astounding evolution in Nokia mobile platforms and development environments which have been further revolutionized by the latest Symbian S60 5th Edition SDK," said Igor Berezovsky, CEO, SHAPE Services GmbH. "It is great to see that Nokia was able to keep the original spirit of the S60 platform while continuing to provide compatibility for previous editions of S60. This allowed for quick and easy porting of Shape Services' IM+ All-In-One Instant messenger to the new Nokia 5800 XpressMusic."
You can read the full press release here.
We'll be bringing you more news on S60 5th Edition in due course.
See Also
Evolving S60: Touch UI, Sensor Framework and Accelerator Toolkit
S60 Touch video from last year