The 6650 is set to become the first S60 phone since the Nokia N75 to be taken by a US operator. It is notable that none of Nokia's Ovi services are available on this phone, which is indicative of the strength of operators in the US market. This is, probably, also the reason why the North American versions of recent Nseries devices (N95 8GB, N78, etc.) have not, yet, made it on to either T-Mobile or AT&T in the US.
The 6650 is an entry level S60 phone, but should still have enough features to get a decent amount of attention in the US market. It does mark a significant way-point in Nokia's efforts to increase its presence in the US market.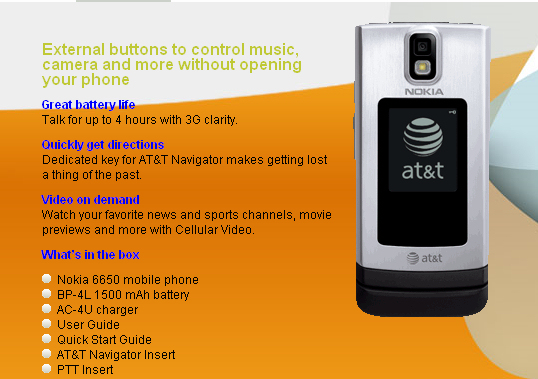 Key points about the phone
Clamshell form factor with dual screens. The inner screen is a 2.2 inch QVGA (240 x 320) screen, the external screen is 1.36 inch (128 x 160). The outer screen is a cover UI that gives access to common functions including Calendar, Camera, Music Player, Profiles and call / messaging notifications. Below the outer screen are three touch sensitive buttons that give access to, and allow you to navigate around the cover UI.


Integrated GPS with support for assisted GPS. The device will ship with AT&T Navigator - this is AT&T's maps and navigation services. It features turn bu turn navigation instructions, maps and traffic information. There's also a dedicated GPS key which launches the AT&T Navigator application on the side of the handset.


The AT&T variant will ship with the following applications and games: AT&T Navigator, Instant Messaging software (AIM, Live, Yahoo), Push To Talk, MobiTV, XM Radio, Music ID, Yellowpages, The Weather Channel, Mobile Banking, Tetris, Diner Dash 2 and 3D Midnight Pool.

The technical specifications indicate that the phone will support the WCDMA bands used by AT&T: 850 and 1900 Mhz. This can be used for data speeds up to

384kbps. The phone also supports quad-band GSM (including EDGE at up to

236.8kbps).


The 6650 has changeable keypad lights. These can be set to match a theme and used to indicate missed calls and messages. See the video review below for a demonstration of this.

The AT&T variant will be available in silver or red.


2.0 megapixel camera with LED flash.


2.55mm audio jack for stereo headphones, FM Radio with RDS support.


microSD card slot with support for SDHC cards and 40 MB of internal memory.


Connectivity: microUSB port with support for USB 2.0 HiSpeed for fast transfers. Bluetooth with EDR and support for A2DP and AVRCP profiles.


Dimensions of 3.93 x 1.86 x 0.64 inches and weight of 3.95 ounces. This compares with the N75 which weighed in 4.36 ounce and had dimensions of 3.74 x 2.05 x 0.80 inches.


Uses S60 3rd Edition Feature Pack 2 on Symbian OS 9.3


Nokia is reusing the 6650 number, the original 6650 announced in September 2002 was Nokia's first 3G phone.


In box contents includes: Nokia 6650 mobile phone, BP-4L 1500 mAh battery, AC-4U high performance charger, User Guide, Quick Start Guide, AT&T Navigator Insert, and PTT Insert.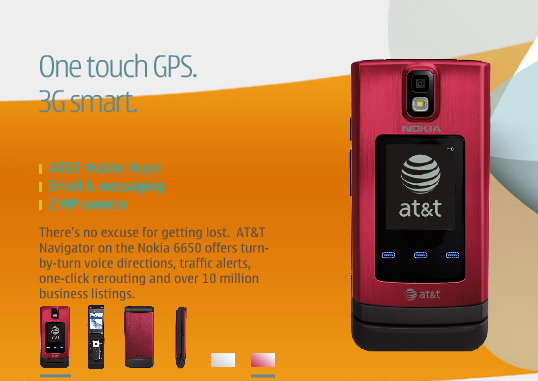 At the time of writing pricing and availability are unknown. I would anticipate that a formal announcement will be made at the upcoming CTIA conference. You can see more information about this handset on the Nokia USA website.
Here is our video review of the Nokia 6650 (T-Mobile UK version):