Review:
Nokia 6650
Score:
81%
It's something of an exclusive and rare beast, but we have the hands-on lowdown on the Nokia 6650...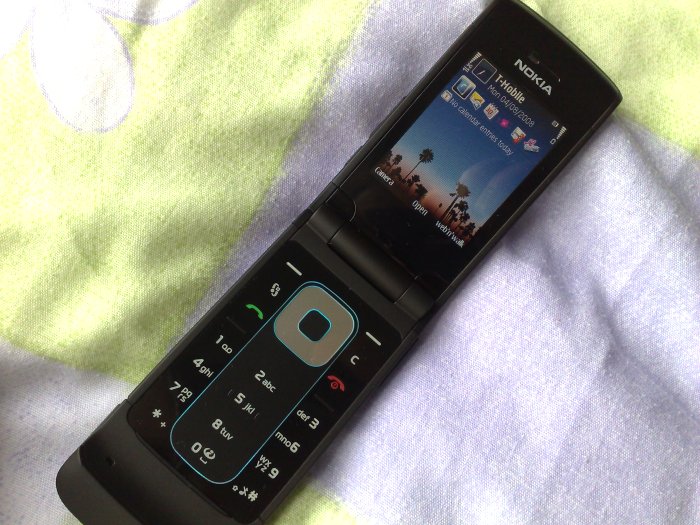 "But it's a Nokia!" my wife exclaimed after I'd handed her this clamshell phone... which says it all.
Nokia clamshells - at least simple clamshells without swivelling, twisting bits - have always been rare, but if the 6650 is anything to go by then they should make them more often. With brushed metal faceplate and battery cover, the 6650 looks both stylish and hard wearing. The device feels great (and cool) in the hand and looks more expensive than it is.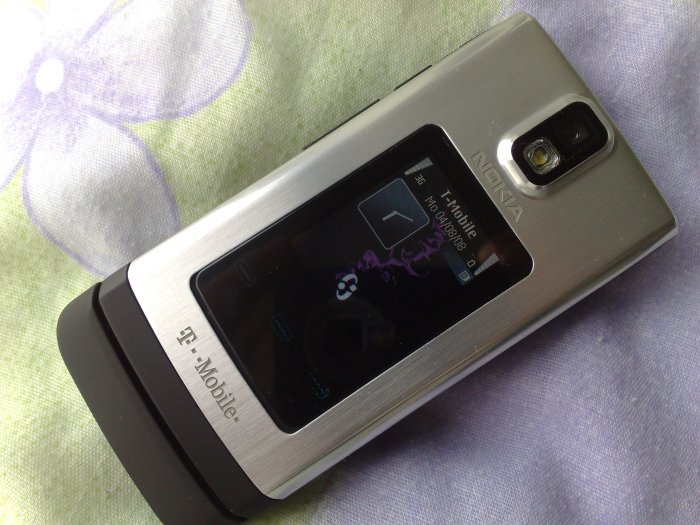 Build quality is very good, apart from some of the bits that are supposed to be flush, such as the port and card (tethered) covers, each of which is annoyingly slightly proud of the surrounding plastic.

As with some, but not all, clamshells, there's a cover display and simple UI, driven by the up-volume key on the 6650's side and three touch-sensitive areas beneath the cover display. These light up as needed and the UI cycles between a simple clock (disappointingly not full-screen, as on the old Panasonic S60 phones), Camera (for taking self portraits only, as the lens is then facing toward you!), Calendar (just showing you a month grid for ready reckoning purposes, there's no attempt to show your PIM data), Timer (a simple countdown timer with alarm, for reminding you to take something out of the oven, etc.), Stopwatch (a nice little app with multiple split times shown), Profiles and Music player.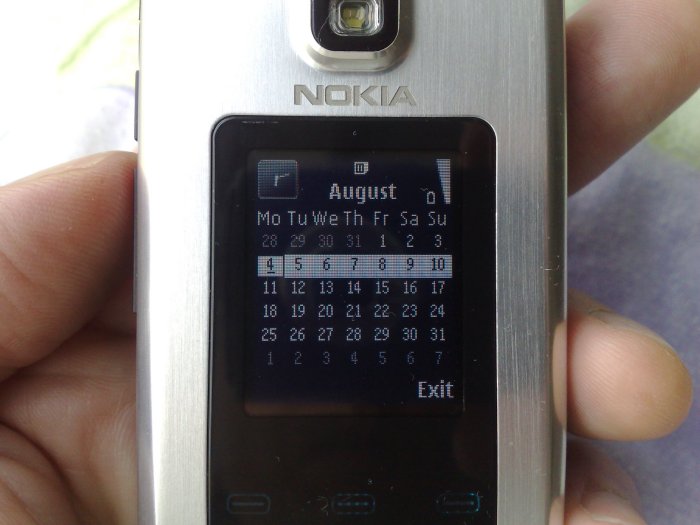 This latter has an animated graphic equaliser rippling away when music's playing, with the three touch buttons assigned to back/play-pause/forward, as you'd expect. It's possible to pick tracks using just the cover UI, but it's rather cumbersome - better to open the 6650 and use the full application.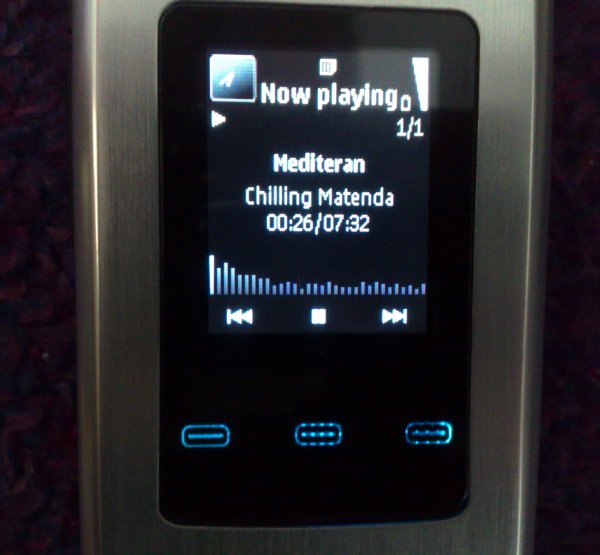 The biggest annoyance, by default, with the cover UI is that once the phone's gone into power saving mode (i.e. after a short while without user interaction), there's no way to bring up a backlit clock and the unlock sequence for the UI is three keys, one after the other (left side, left touch, right touch). Luckily, this 'sleep' mode can be turned off - the LED display then resolves to a full screen, non-backlit clock with just the usual left-right touches to unlock the controls. Much better. And if you're worried about impact on battery life then skip ahead to the end of this review in order to see one of the 6650's big surprises.
Above the cover display is a 2 megapixel camera, with LED flash and a dedicated shutter key on the side, although this only works with the clamshell open, curiously. Handy to have, though its positioning is mainly only of use to left-handers (using a thumb). The 6650's hinge opens to around 160 degrees, with the brushed metal front and back meeting elegantly on the reverse of the unit.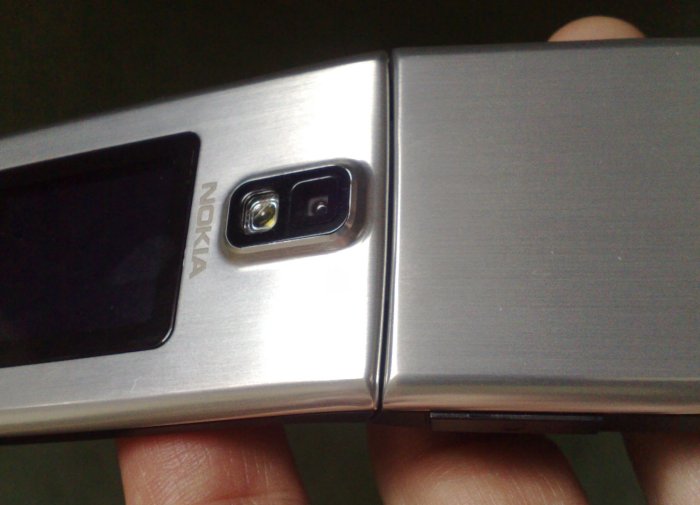 As usual with clamshells, there's plenty of room inside, with a flat keypad of generous size. Key feel is surprisingly good and it's certainly a good device option for those with thick fingers. Curiously the keypad finish is different for the 2-5-8-0 line of digits (matt) to that for the rest (gloss, attracting fingerprints).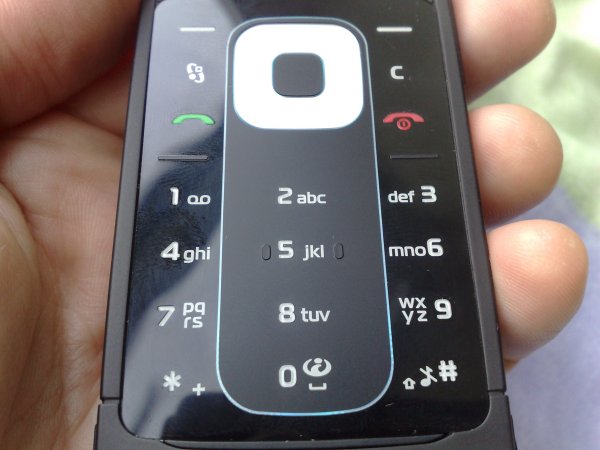 Rather intriguingly, the keypad backlight (actually the borders of the d-pad and the central 'oval') is customisable, with a number of primary colours available in Settings, along with an option, when idle, to pulse and cycle through all the colours, until the 'notification period' has expired. Very cool and rather fun.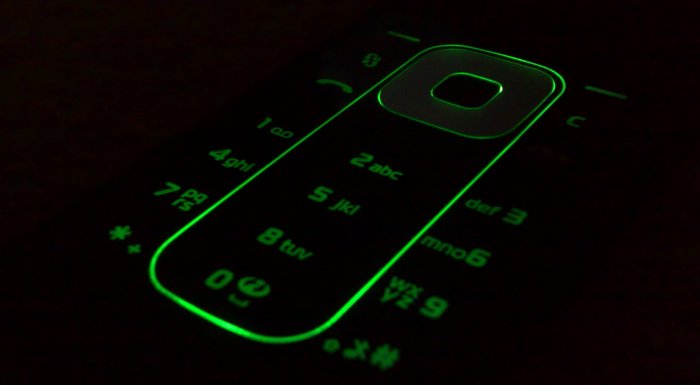 The upper part of the clamshell isn't quite so impressive, with the 2.2" screen somewhat lost in the larger black plastic surrounds. I know I end up saying this for nearly every S60 handset, but the 6650 should have come with at least a 2.4" screen and preferably a 2.8" unit - there's plenty of room. At 2.2" you have to have quite good eyesight to use all the 6650's functions, especially as quite a few are Web-based - going back to a 2.6" or 2.8" is a breath of fresh air for this 47-year-old's tired eyeballs.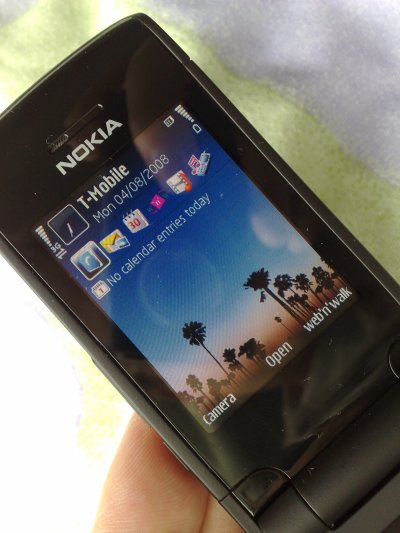 Once started up, it transpires that the 6650 runs S60 3rd Edition Feature Pack 2, similar to that on the recently reviewed Nokia N78, although without the trademark theme effects (transitions) or, of course, any of the Nseries multimedia goodies. There's still plenty to be going on with though.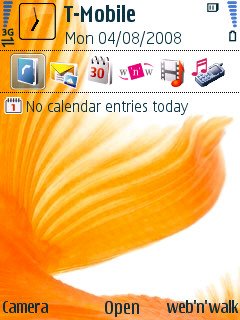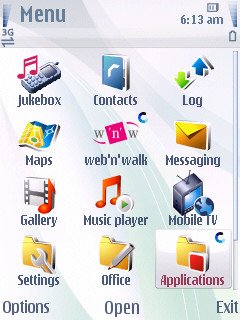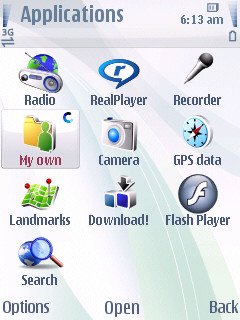 You'll notice from the standby screen that the 6650 is running on T-Mobile, who have the device as an exclusive at the moment - and they take every opportunity to push forward their brand and ideas. As they have every right to do, but it does get a little overwhelming at times.
Looking around the main application menu is always a good start for a heavily branded phone, giving you an insight into who the device is pitched at. Topmost on the 6650 is T-Mobile's 'Mobile Jukebox', annoyingly hard coded to go straight to their web music store home page, so if a novice were in the middle of browsing for music and they switched away, they'd probably go back to the main icon and end up being dumped back at the music start page. Not good.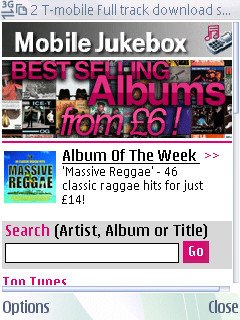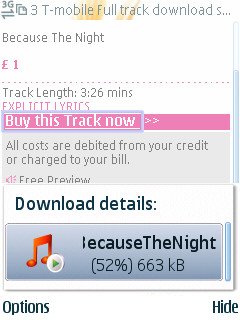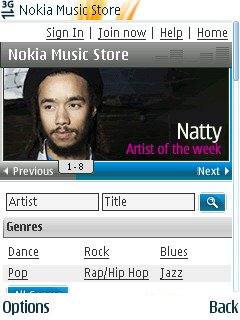 Buying music from the T-Mobile music store, along with proof that the Nokia Music Store is also an option - although casual users are unlikely to enter the right URL to get to it!
Music purchases are made in the usual way but, unusually, arrive as 'protected' 3GP files. Novices won't mind, but anyone with sense will steer clear and sideload their own music on eAAC+, AAC, WMA or MP3 formats, of course. Even more questionable are the way purchases are saved to the internal (C) disk - let's hope new users work out how to move files around - and the choice of a low bitrate that's really only suitable for 'pop' music.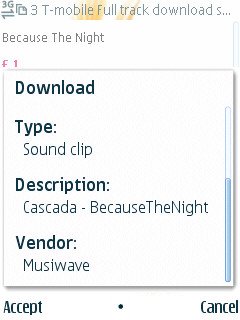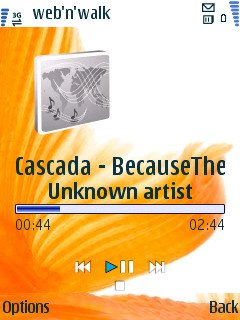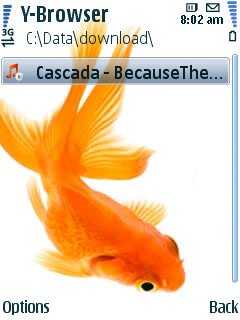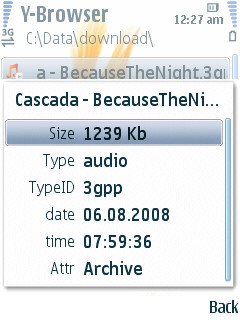 Note Musiwave as the store provider, plus note the file size, showing the very low bit rate used for downloads - these files are strictly suitable only for mobile listening, not for playback later on an associated higher-quality device
Next up are S60 stalwarts Contacts and Log. Then Nokia Maps, which is sadly the old v1.2, rather then the new v2.0, but it redeems itself slightly by coming with a month's free navigation, enough to really give a new user a chance to test it thoroughly. As with virtually all new Nokia's sold at the moment, there's full GPS (and Assisted GPS), of course, it's almost a given but is very welcome nonetheless.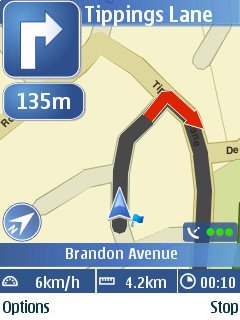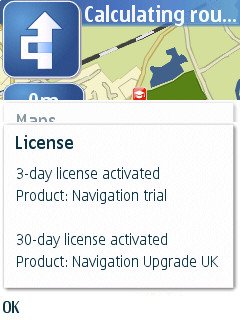 The usual S60 GPS Data application is present, together with a signal strength indicator revamp (standard in FP2):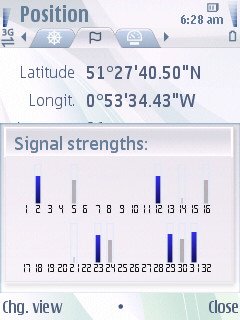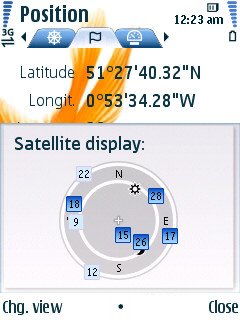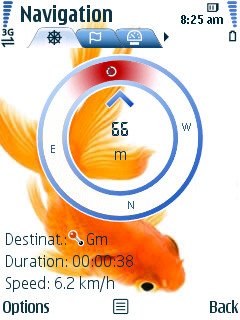 Web'n'walk is just Web, of course, customised with half a dozen T-Mobile service landing pages, but also with prominent portal links to web mail, eBay and Amazon, among others. A good starting point for the new mobile Internet user. One caveat was that I found T-Mobile's 3G data network fairly slow - possibly just bad timing, but Vodafone's network on my N95 was faster during the review period.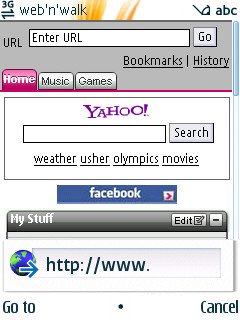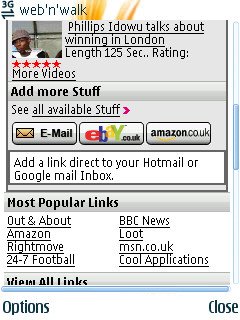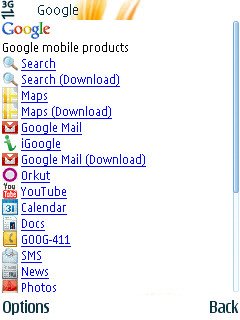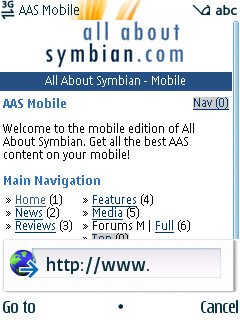 After Messaging comes Gallery, the vanilla S60 version of course, with basic image editing and no video twiddling at all. Still, it does the job. Next comes a tweaked Music player, one which knows all about C-saved 3GP music tracks and which has a menu option to go back to the T-Mobile web music store, but which is otherwise standard.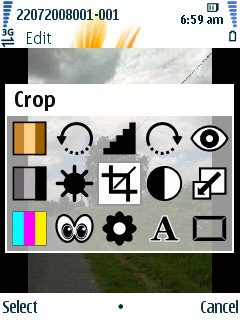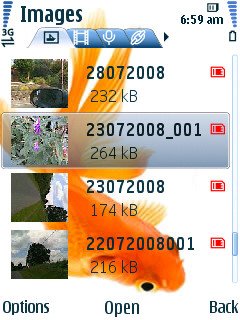 Aha. Mobile TV. No, don't get excited, we're not talking DVB-H or DVB-T here, this is data-intensive 3G data streaming TV, hosted by Web and which kicks off RealPlayer when needed to play an actual TV stream. None of it's free, naturally - there are mutually exclusive packages from Sky (News, Sports, Entertainment, Music), T-Mobile (ITV News, Channel 4, Be on TV, MTV Snax, Eurosport 2, Paramount Comedy, Nickelodeon), Erotic TV (you really want me to list the channels?!) and Videos (an on-demand music video shop). Quality isn't great by modern standards (I suspect streams are at 176 by 144 pixels), but you can make out who's saying what and can keep up to date/entertained - at a price.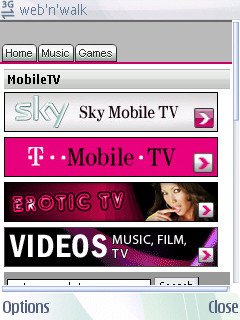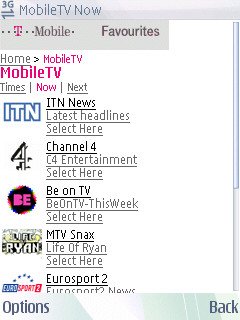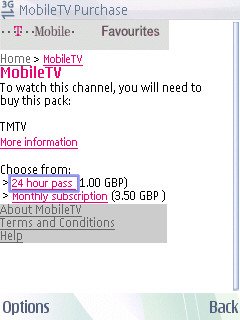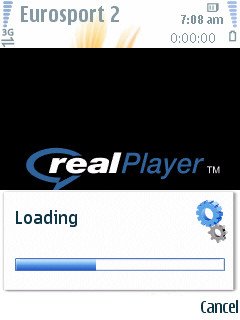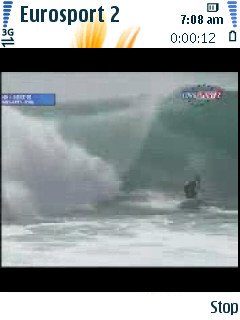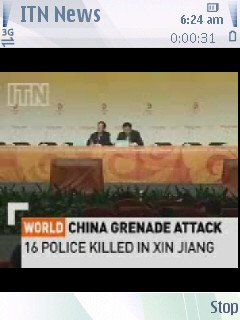 Settings is remarkable for the dialogs that are unique to the 6650, i.e. 'Keypad lights' and 'Cover display'.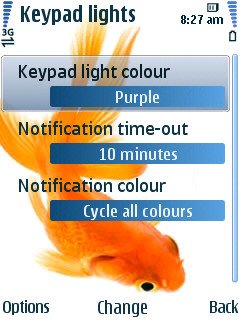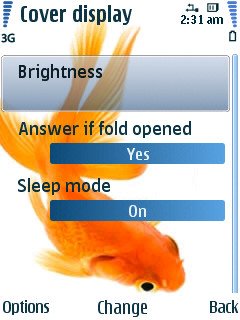 The Office folder, bizarrely, doesn't contain the S60 staple of Quickoffice - which makes you wonder why the folder was named in this way! Instead, it's just Calendar, Clock, Notes, etc.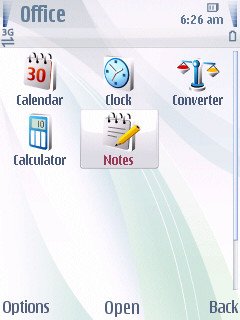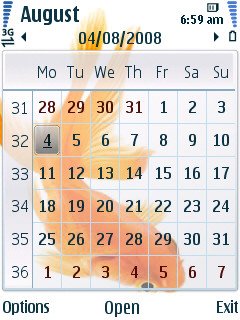 Finally, Applications is notable for Radio (FM, not Internet), Nokia Mobile Search and a very lacklustre Download! The sooner S60 and Nokia pull their finger out and do something - anything - to standardise a decent set of downloads across the platform, the better.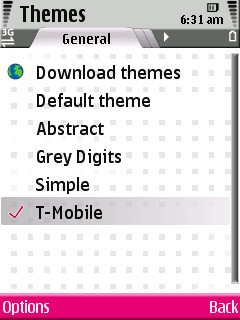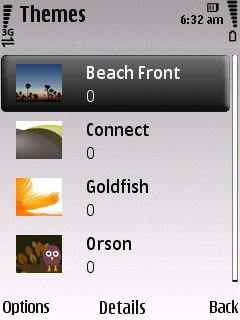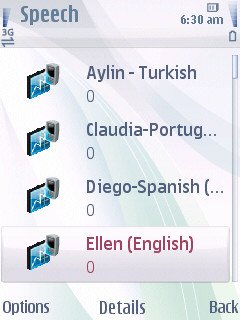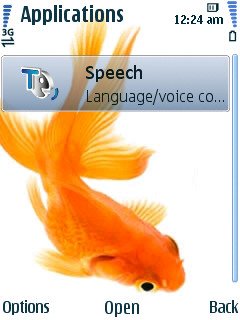 The boring themes supplied with the 6650, some of the rather good ones in Download!, along with the extra text-to-speech modules, also set up in Download! - but there's not much else to shout home about....

Most numbered S60 phones from Nokia have a bundled game - here it's the super little game Marble Cannon. An uninspiring software bundle from T-Mobile? Not exactly - the presence of GPS and Nokia Maps goes quite a long way. But yes, I'd have liked to have seen the Quickoffice viewers and Zip manager at the very least. And far more effort put into Download!
One problem is that, presumably to keep the cost down, Nokia has committed the cardinal sin of skimping on RAM - there's only 19MB free after booting, taking me back to the earliest days of S60 3rd Edition and remembering the problems. It's true that casual users are unlikely to hit the RAM limit very often, but it's a limit that shouldn't be there at all - RAM is cheap these days and there really is no excuse. Especially in view of the next major feature of the Nokia 6650...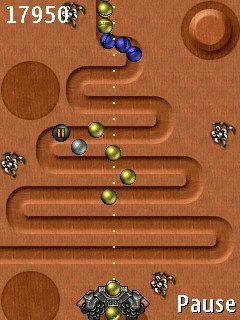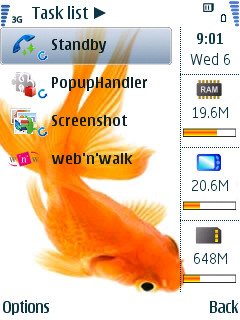 ...You see, skimping on RAM is often quoted as being driven by a desire to save battery life. BUT. Open the back of the 6650 and...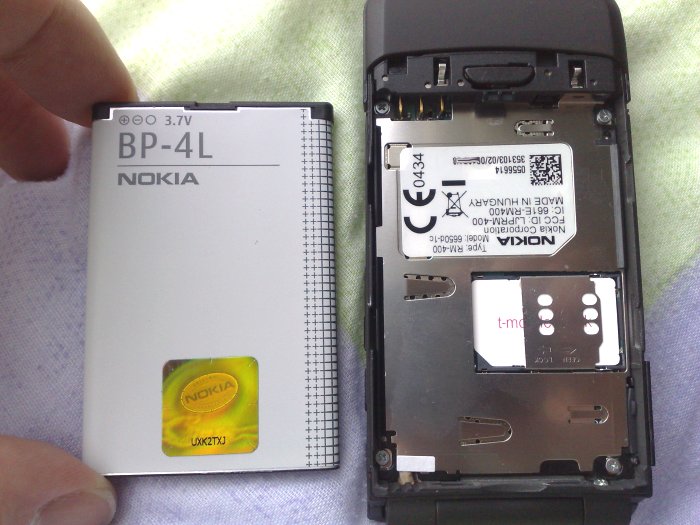 ...Whoa there! Occupying most of the bottom half of the clamshell is the monstrous, utterly capacious BP-4L battery, rated at 1500mAh and the power source inside the Nokia E90 and E61i, among others. I have absolutely no idea why Nokia went for this big a battery in such a relatively insignificant phone with no Wi-Fi and a small screen, but I can confidently predict that battery life will be very long indeed - expect to go 3 or 4 days between charges unless you make heavy use of the GPS. Maybe T-Mobile asked for a S60 phone with the same battery life as a common dumb-phone and so Nokia used the biggest battery they had available?
Also of note in the hardware is the use of a 2.5mm jack for stereo audio out - normally a point to gently criticise but in this case I genuinely don't think there was room for anything bigger. PC/Mac-connectivity is via microUSB.
The 2 megapixel camera is a Nokia budget staple and performs as well as expected. There's no focussing, but it's more than capable of producing good casual snaps in daylight. Video recording's at QVGA and 15 frames per second, looking great on the 6650's tiny screen but pretty poor once viewed on your PC or Mac.
Some sample photos, click to download or enlarge:
Verdict
To the crunch, then. Is the Nokia 6650 worth buying? To a new user buying afresh, I'd have to say no, with T-Mobile currently wanting £30 a month for 18 months in order to let you have the 6650 free, for example. There are better buys in the S60 world if you're starting afresh with a brand new contract. Better value by far is if you're an existing T-Mobile subscriber and your contract is coming up for renewal - chances are that they'll let you have the 6650 for free as an 'upgrade' on most contracts.
My hot tip though is to do what Rafe did here and pick up a SIM-free 6650 from eBay, they're going for about £130 at the moment, which is pretty great value considering what you're getting. New users will suffer the fairly poor software bundle without knowing how to fix it, but you, dear reader, will know what to add in terms of software (Quickoffice, Google Maps, Handy Taskman, Sports Tracker, Share online, etc.) And, with a little effort, you'll gain a stylish and hard-wearing Nokia clamshell with a competent camera, fabulous battery life, great keypad, GPS... and a sexy (idle) LED light show.
And that combination has got to appeal to someone!
Steve Litchfield, All About Symbian, 9 August 2008
See Also
Reviewed by Steve Litchfield at