Key points about the phone
It has a monoblock/candybar form factor, and at 12mm it's extremely thin for a smartphone, with an appearance that's very similar to the 6120 Classic. In fact it's slightly smaller than the 6120 (61cc instead of 66cc) but it's also slightly heavier (100g instead of 89g), presumably because the E51 has to include Wi-fi hardware.


It runs Symbian S60 3rd Edition FP1, also known as S60 3.1.


As well as Wi-fi, the E51 is a quadband GSM (850/900/1800/1900), dualband 3G (850/2100) and 3.5G (HSDPA) phone. Its Bluetooth profiles include support for stereo headsets (through A2DP, presumably). It also has a miniUSB port, an infrared port, and a 2.5mm headset jack.


Just like the 6120, the screen is a small physical size, 2", but with a full QVGA (240x320) resolution and 16 million colours.


It has 130Mb of internal flash memory, with a microSD memory card slot that supports cards up to 4 gigabytes in size.


There's no S60 "swirly" key, instead there's a button with a picture of a house, which leads to the "home screen". According to the Nokia For Business website this is the new name for the active standby screen, and we assume you also use it to access the main application menu.


A minor but perhaps very useful innovation is the addition of a Bluetooth function on the * key, presumably so you can switch Bluetooth on and off without having to go through the user interface.


It also includes a 2 megapixel camera (there doesn't appear to be a flash though), an FM radio and the usual S60 3rd Edition suite of music and video players.


Detailed specs show that it will ship with a full software suite. The usual suspects and some extra additions are bundled together under the Nokia Office Tools 2.0 branding. They include Nokia Team Suite, In-device Search, Quickoffice, Macromedia PDF reader, Zip manager, File manager and Active Notes.


Nokia Maps is also integrated into the device. A number of other (familiar) applications will be available via the Download! tool including: Symantec, F-Secure, McAfee, and Trend Micro antivirus software [why, why, why? - Steve], Pointsec encryption security application, Worldmate, Windows Live and Yahoo Go.


As expected for an Eseries device there is support for a wide range of push email platforms including Microsoft Exchange, RIM Blackberry, Nokia Intellisync, Vitso, Good and Seven as well as the standard protocols. There's also support for a number of corporate voice systems (PBX).


Instant messaging is highlighted in the specifications with support for the Yahoo, AOL, OMA 1.2, MSN service platforms.


The E51 will available globally in Q4 and will be priced at around 350 Euro.
Krisse's view:
When AAS reviewed the 6120 Classic smartphone, many people remarked that they'd love to have a version of the 6120 which included Wi-fi. Well, the newly announced E51 seems to be pretty much just that, albeit a bit more expensive.
The E61 is part of the Eseries range and intended for businesses, but many Eseries models have proved popular with consumers too. Those who were thinking of getting a 6120 may want to take a look at the E51 as a viable alternative.
Rafe's view:
With the E51 Nokia has produced a technically very capable phone, but in its press release highlighted the hardware and software features that are available to simplify the ease of use. These include a customisable version of the home screen, the use of One Touch hardware keys (Contacts, Calendar and Messaging quick access), notification LED for messages, improved set up wizards for email and Internet connectivity.

Quoted from press release:
"Business users increasingly need one device that they can count on to work productively and which offers them the level of efficiency that brings more freedom and balance to their personal lives," said Antti Vasara, senior vice president, Mobile Devices Unit, Enterprise Solutions, Nokia. "With the new Nokia E51 device, we are responding to this need with a business smartphone that combines the latest advances in business mobility and a classic, stainless steel design, at a price that makes it perfect for company-wide deployments."
Nokia also continues to promote the enhanced voice features of the E51 for corporate users thank to its ability to integrate with corporate telephony systems (PBX) through software such as Nokia Intellisync Call Connect for Cisco and Nokia Intellisync Call Connect for Alcatel. Nokia lined up BT (British Telecom) for a quote for the press release. BT plan to use the E51 in corportae deployments of Fusion, its FMC solution.
"Nokia and BT share a vision that business mobility adoption will thrive when our collective customers and their respective end users, derive productivity improvements from mobile enabled applications," said Rakesh Mahajan, global director of mobility at BT Global Services. "For the BT Corporate Fusion solution, we chose the Nokia E51 for its classic Nokia business smartphone features and design, its ease of integration into our solution, and its affordability, making it more appealing for widespread use within companies of all sizes."
There is also the usual support for VoIP services for both corporate and consumer users with Gizmo being used as an example of how customers can cut call costs. Gizmo will be available via the Nokia Download! application on their mobile phone.
For many the size of the E51 is clearly going to be a primary selling point. By comparison the E60's (Nokia's first generation Eseries device with Wi-Fi) volume was 96 cc (115 x 49 x 17 mm), which shows how fast things are moving. Even the E50, which up until today was the smallest Eseries device, clocked in at a volume of 70cc (113 x 43.5 x 15.5 mm).
For corporate users the E51 has an attractive feature set and price combination. It also offers more features than most enterprise phones which have been primarily focused on email. Although mobile access to email has thus far been primarily responsible for the uptake of smartphones in the corporate environment there are other drivers which have not been exploited.
There are also many workers who do not regularly leave the office environment and therefore are not prime candidates for mobile email. However they will utilise voice communications and having a device that is tied to an individual rather than a desk location makes a lot of sense. The E51, through its support for corporate PBX's and WiFi connectivity, combines the benefits of fixed lines (low costs, easy call management) with mobility. It is an exemplar of the ideas behind FMC (fixed-mobile convergence) in the corporate environment and this may enable Nokia to reach new corporate customers and widen the userbase of corporate smartphone users.
The fact that the E51 can also be used for additional services (e.g. corporate applications or web access to back end solutions) gives it further value. The E51 can of course be used for mobile email, although, realistically, only in a read only formats due to the limited text input capability. Other Eseries devices provide a better solution for email on the go (E61, E90).
As Krisse noted the E51 also has potential in the consumer market. This is similar to the E65 which has been adopted by a number of UK operators and sold as a high end consumer handset.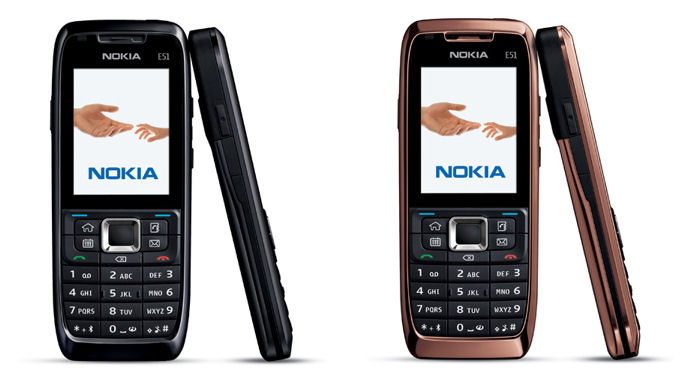 The E51 comes in three colour variants: Silver, Black and Bronze