Review:
Nokia 6120 Classic / 6121 Classic Review
Score:
87%
The Nokia 6120 Classic is probably the smallest and lightest smartphone in the world, and has the lowest S60 launch price so far. Is this amazing value for money, or cheap and nasty? Read AAS's review to find out.

Nokia 6120 Classic / 6121 Classic Review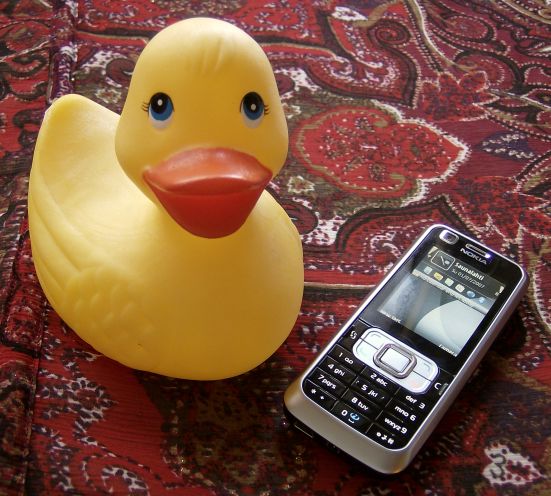 (Note 1: The Nokia 6120 Classic has the "Classic" tagged on the end to avoid confusion with the Nokia 6120, a much older phone.)

(Note 2: The Nokia 6121 Classic is the same as the 6120 Classic, but they have slightly different 3G frequencies. To save space, we'll just refer to the 6120 Classic in this review, though all of the content in the review applies to both models.)

We at AAS don't often mention our site statistics, but one unusual moment last week was when the 6120 Classic unboxing article drew a surprisingly large number of visitors, in one day managing to equal the total that most articles get in a week. This took us by surprise somewhat, as the 6120 Classic hasn't had any hype, and doesn't, on paper, appear to be any more special than other S60 models released recently.

Indeed, when this reviewer first heard about the phone it seemed like just another S60 model, without anything as novel as a built-in GPS or a twistable keypad. What would make the 6120 Classic stand out from the crowd?

Well, all it really took was seeing the actual phone in real life: it's probably the most compact and light smartphone in the world right now, just 66 cubic centimetres and 89 grams / 3.1 ounces. The photos don't do it justice, because they don't get across the sense of size that you get from holding the phone itself. If you didn't know it was a smartphone, you would be absolutely sure this was a normal "dumb" phone. On top of that, the launch price is also very distinctive, just 250 euros plus taxes, the lowest S60 launch price so far. It's about the same launch price and size as the Nokia 6300, a Series 40 non-smart phone.

The Hardware Bit

Technically speaking, the 6120 Classic is a Symbian S60 3rd Edition FP1 smartphone. It has Quadband GSM (850/900/1800/1900) and Dualband 3G UMTS/WCDMA (850/2100) as well as HSDPA compatibility. The 6121 Classic has different 3G frequencies, UMTS/WCDMA (900/2100), but is otherwise completely identical to the 6120 Classic.

HSDPA is a rather snazzy new standard for phone networks which lets you download internet data at 3 to 14 megabits per second, far faster than traditional 3G, and faster than many home broadband connections. For this reason, HSDPA is often called 3.5G.

The 6120 Classic has a 16 million colour QVGA (240 x 320) screen. It has a 2 megapixel main camera and flash, which can also capture video at 320x240, and there's a secondary camera on the front for videophone calls. On the bottom of the phone there's the charging jack, a USB port to connect the phone to a PC, and a 2.5mm stereo audio jack for headsets (you can use 3.5mm headphones if you buy an adaptor). The 6120 Classic is Bluetooth 2.0 compatible, and supports Bluetooth stereo wireless headphones through the A2DP and AVRCP standards. On the right side of the phone there's some external volume controls and a dedicated camera button. The left side of the phone has a mono external speaker, and a hotswap microSD memory card slot. There's a power button on the top of the phone.

The keypad has the usual alphanumeric buttons, a direction pad, a Symbian S60 swirly menu key and a C delete key. The old S60 pencil/edit key has been merged with the # key, and this works fine, you really don't miss the separate key at all. Holding down # from the standby screen activates the Silent profile, holding it down again activates the General profile. Using the keypad was generally fine, although people with very large fingers may have trouble with the small buttons. One slightly annoying thing was the position of the blue soft keys, it takes time to get used to them not being in the top right and top left corners.
The casing is very shiny on the front and back, with matt plastic and steel edges. It looks excellent, but the black version does tend to be a bit of a fingerprint magnet.
The 6120 Classic's battery officially provides a standby time of 9 days in GSM and 3G mode. It has 3.1 hours talk time in GSM mode, and 2.4 hours in 3G mode. How long the battery lasts in real life depends on what you use it for and how long you use it, it will vary tremendously from person to person. This reviewer charged the phone every couple of days.

For full tech specs, head on over to the Forum Nokia 6120 Classic page and the 6121 Classic page.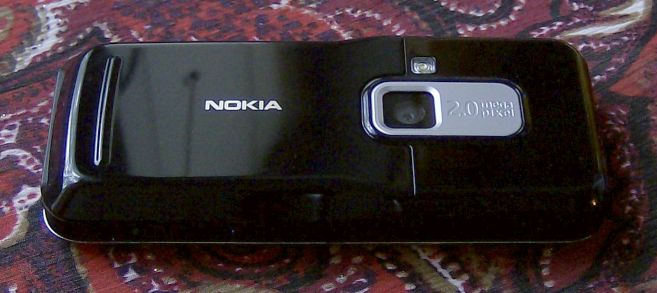 Telephony

The 6120 Classic worked fine as a phone, it didn't drop any calls and the sound quality was good. The Quadband GSM and Dualband 3G means you can use the phone on practically any GSM or 3G (UMTS/WCDMA) phone network in the world, and if the 6120's 3G frequencies don't quite suit you, there's the 6121 Classic variant instead.

As you'd expect, there's all the usual extras such as speakerphone mode, wireless Bluetooth headset support, voice commands etc. The 6120 also supports Push-To-Talk.

The messaging app lets you send messages by SMS text, MMS multimedia, email (including POP3 and IMAP4) or voice message. Webmail can be accessed through the built-in S60 browser.

The 6120 Classic also includes an Instant Messaging app in the Applications folder, which can be used with Yahoo, MSN, ICQ and AIM as well as your phone network's own IM service.



Multimedia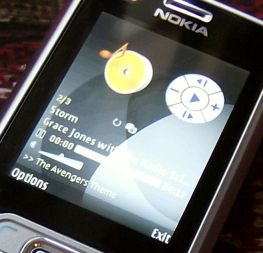 The 6120 Classic has similar multimedia features to other S60 3rd Edition FP1 models. It has a hotswap microSD memory card slot which can use cards up to 2 gigabytes in capacity (about 500 to 1000 music tracks). As stated above, the 6120 Classic is A2DP and AVRCP compatible, so you can use Bluetooth stereo headphones with their own music controls. If you prefer wired headphones, the 2.5mm headphone socket is stereo, and you can also use 3.5mm headphones through an adaptor (third party adaptors are small and very cheap, about 5 to 10 euros from any major electronics shop). There's an external mono speaker which is very clear and loud, but obviously a single speaker can't do stereo.

The 6120 Classic has a music player compatible with an array of formats (including AAC, AAC+, eAAC+, MP3, and WMA), and which can filter tracks by artist, album, playlist, genre or composer. There are customisable equaliser profiles, with five built-in presets. There are also various special effects including Bass Boost, Reverb and Stereo Widening. Playback can be sequential or random, and you can loop playback as well. The sound quality is good, but as with other S60 phones there's a one second gap between tracks and a one second delay between pressing a button and the music player responding.
You can use ringtones from an even wider array of audio standards: AAC, AAC+, eAAC+, MP3, MP4, M4A, WMA, Mobile XMF, SP-MIDI, AMR (NB-AMR), MIDI Tones (polyphonic 64 channel), RealAudio 7,8,10, True tones (WB-AMR), WAV.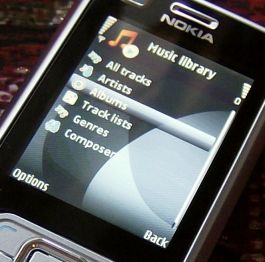 The built-in MP4 video player is good quality, and you can convert your own video clips to MP4 files using the free Nokia Video Manager software. MP4 files can also be used as video ringtones, and can be selected from the ringtones menu. Videos can be watched horizontally in full-screen mode, or vertically with bars at the top and bottom.

There's a built-in FM radio, which lets you download all your local presets from an online database. The radio can be listened to through wired headphones or the built-in speaker, but whichever you use the headphones have to be plugged in to act as the FM aerial.

You can also listen to internet radio on the 6120 Classic, through the Streaming Links option on the Gallery application. To listen to a station you need its RTSP address, which can usually be found by searching Google, or alternatively some station websites such as those of BBC stations have a "Listen in standalone player" link which contains their RTSP address. Clicking on a standalone player link in the 6120 Classic's web browser automatically starts the phone's streaming links player, and the stream's RTSP address can be saved to the Gallery so you can listen to it directly without having to use the web browser. If you haven't tried Streaming Links on an S60 3rd FP1 device, this reviewer strongly recommends it. (One slight complication, the phone may say you don't have a Default Access Point for streaming. This can be solved by going to the main menu screen, then Settings > Phone Settings > Applications > RealPlayer > Streaming > Network > Default Access Point - then just choose your normal internet access point.)
The 6120 Classic has a point-and-shoot 2 megapixel camera with flash, and the camera app contains the usual S60 options (flash on/off/auto, night mode, sequence mode, timer mode, panorama mode, white balance, colour tone, quality settings). There's a dedicated camera button on the right side of the phone which activates the application, and takes pictures if the app is already running. Pictures are taken while holding the phone horizontally, just like a normal camera. Here are some sample photos taken with the camera:
The main camera can also shoot video at a YouTube-friendly 320 x 240. There's an on-board video editing application in the Gallery, which also allows you to add other video and audio files to the video being edited, and there are effects including slow motion and monochrome. Uploads to video sharing sites such as YouTube can be done through the phone's built-in web browser.
Computing

The 6120 is a Symbian S60 3rd Edition FP1 smartphone, so it can run Symbian S60 3rd Edition applications and games. As with all S60 models, it's multitasking so you can run lots of applications at once, and switch between them by holding down the menu button. There's 20 megabytes free RAM for running apps and games, and 35 megabytes internal flash memory for storage. Applications and data can also be stored on microSD memory cards, so the flash memory can be expanded to 2 gigabytes. The 6120 Classic's central processor runs at 369 mhz, and the menu system and applications run pretty quickly and smoothly, far faster than older S60s which ran at just 200 mhz or even 100 mhz.

The 6120 Classic was completely stable when this reviewer used it, there were no crashes or unexpected events.

The built-in web browser is the latest version of the S60 OSS browser, and can render pages with Flash and Javascript content (this is switched off by default though, you have to switch it on from the Settings/Page section of the browser's Options menu). Most pages are rendered more or less like a PC browser, and indeed S60 OSS uses the same open source core as the Apple's Safari browser, which is also used in the iPhone. The 6120 Classic's browser can zoom in and out of pages, and can display them vertically or horizontally.

Along with the standard suite of S60 3rd FP1 built-in applications, the 6120 Classic also some extra ones built-in: Adobe PDF viewer, Quickoffice viewer (for looking at Microsoft Word, Excel and PowerPoint documents), Instant Messanger (compatible with Yahoo, AIM, MSN and ICQ), and a couple of games called Marble and City Bloxx.

As with other S60 devices, the 6120 Classic can use a wide range of Bluetooth accessories including stereo headphones, keyboards, GPS units and others.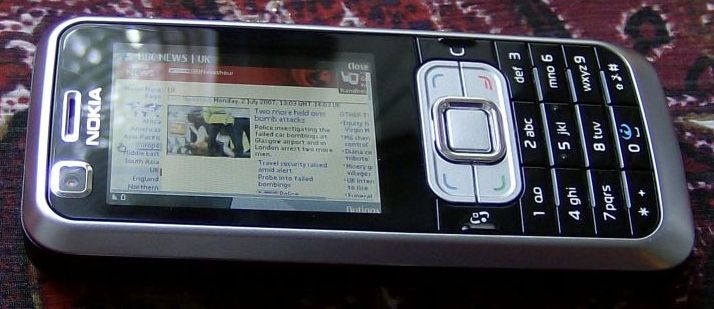 3G vs 3.5G (HSDPA)

The 6120 Classic's HSDPA compatibility shows up when you use the internet in a HSDPA-compatible 3G network. If you start to download data from the internet (for example by starting up the web browser), the 3G network icon turns into a 3.5G icon, which means download speeds can be up to 14 megabits per second. HSDPA only speeds up the downloading of pages, and doesn't affect how quickly the phone's processor renders pages once they've been downloaded, so a complex page can still take about 10 seconds to fully appear. However, there's no processing required on downloads of raw data such as application or video files, so the difference between 3G and 3.5G is much more noticeable when using things like the Download! service.
You can make and receive phone calls while using a 3.5G connection, but the phone automatically switches to 3G for the duration of the call.
This reviewer raced the 6120 Classic with the 6290. They both have the same browser (S60), the same platform (S60 3rd Edition FP1), the same speed processor (369mhz), and the same amount of free RAM (20mb), but the 6120 Classic has 3.5G while the 6290 only has 3G. Some pages loaded just as quickly on both phones, but on some sites (for example All About Symbian) the 6120 Classic was about twice as fast as the 6290. However, as with all internet speed tests, performance will vary greatly depending on which network you use and how much congestion there is on the network when you use it.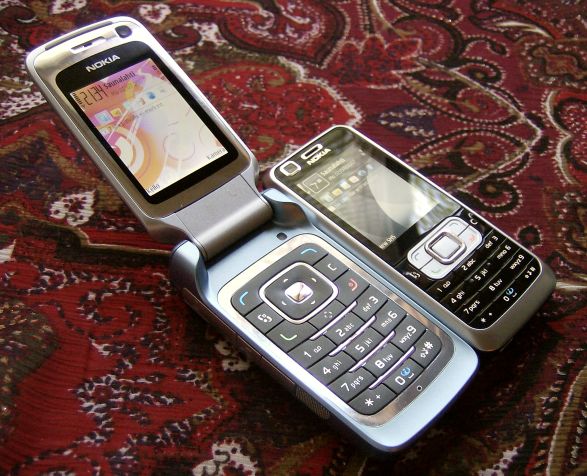 Nokia 6290 & Nokia 6120 Classic

Nokia 3310 & 6120 Classic

Size Matters...

The information so far probably makes the 6120 Classic sound like just another new S60 phone. It's functionally pretty similar to other current S60 devices, and you might think there's nothing unusual about it. However, there IS something different about it: it's (probably) the world's smallest and lightest smartphone. Using the 6120 Classic feels just like using a normal phone, there's absolutely no bulk at all about it, you can barely feel it in a pocket.

The upside of this is of course that you feel you can take it with you everywhere, you're never reluctant to slip it into a pocket or bag, and it's easier on your hands to use a lighter, thinner device. It also looks so much like a normal phone, it's probably also safer to use in public. This is a big step forward for S60, as it's far easier to convince newcomers to switch to a smartphone if they can buy a model that's as small and light as their existing normal phone.

However, a phone getting smaller does have unavoidable downsides. The 6120 Classic's screen is QVGA (240x320) just like other current S60 models, but it's physically fairly small and people with poor eyesight might have difficulties. The buttons on the keypad work fine, they're nice and clicky, but they're also fairly small, which may not go down well with everyone. People who want an S60 3rd FP1 smartphone but also want bigger buttons and a bigger screen might be advised to buy a Nokia 6290 instead.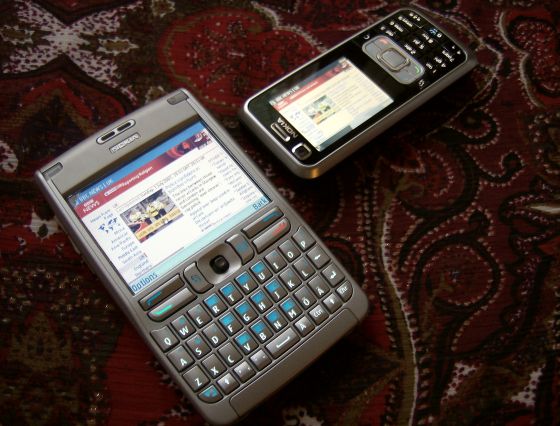 Nokia E61 & 6120 Classic: Same screen resolution, different physical screen size.

...And So Does Price

As well as a small physical size, the 6120 Classic also brings with it the lowest launch price for any S60 model so far, just 250 euros plus taxes for the unlocked sim-free model. This puts it well below the launch prices of many non-smart phones, and as launch prices always drop over the course of a year, we may well see the 6120 Classic available for under 200 euros (plus taxes) at some point in late 2007 or early 2008.
Overall

While other smartphones show off loudly about their technological prowess, the 6120 Classic has quietly appeared on the market without too much fanfare. However, it is the 6120 Classic which is the most likely candidate so far to take smartphones even further into the mainstream. The 6120 Classic's combination of small size, relatively low price and tasteful-but-neutral looks make it a much easier sell to the average person than an N95, E90 or iPhone.
The actual S60 technology is also now mature enough to attract ordinary users: the speed of the interface is generally as fast as on a normal phone, the settings menus have all been unified under a single menu icon, and there's an extensive range of animated how-tos which can be accessed from the Tutorial icon on the main menu. The S60 platform is now very stable, this reviewer didn't experience a single crash with the 6120 Classic.

The 6120 Classic seems to also be aimed at the tech fan who's always wanted a S60 smartphone but was put off by the size, the price or the menu speed. It deals with all of these fairly well, and still has the stuff that existing fans of S60 would appreciate. The 6120 Classic has most of the features of the Nokia N95 for example, but costs less than half the price, weighs 25% less, and is 25% smaller.

The catch is that people with bad eyesight or large fingers may have problems with the 6120 Classic's smaller screen and smaller buttons, and they might be better off with a physically larger phone, especially a clamshell model.

Overall, the Nokia 6120 Classic offers an alternative for people who are unimpressed by large expensive smartphones and want something closer to the size and price of a normal phone. It takes us a step closer to the point at which smartphones and normal phones are one and the same thing.
PS: You can see a ten minute video of the 6120 Classic in action, along with some high resolution photographs, on the 6120 Classic page at the Nokia Duck blog.
---
Buy the
Nokia 6120 on a 3 UK Contract here
.
---
A new unit of measurement
As stated above, you can't really appreciate the size of a phone until you're actually using it. You can of course compare statistics of phones, but statistics are dry and (in many ways) meaningless to us as human beings. It would be appropriate, therefore, to suggest a new unit of measurement, a way of getting across just how thin a cool new gadget really is, in terms that actually mean something to us. That new unit is the AEM: the After Eight Mint.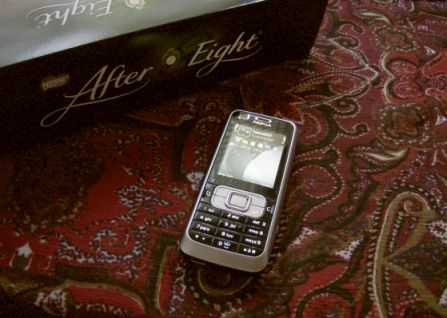 It's not that easy to find the thickness of one After Eight, so in the name of journalism we purchased a whole box of After Eights and measured the thickness of many. A quick bit of maths tells us that the average thickness is 4.375mm. This, then, is 1 AEM: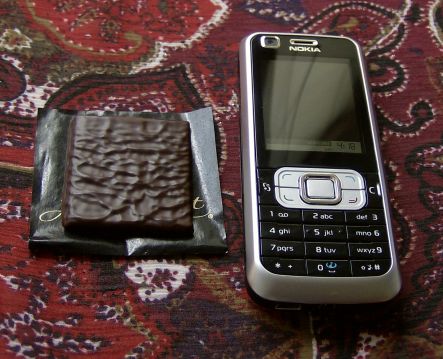 The 6120 Classic is 15mm thick, which is 3.43 AEMs. Here's a photo which shows the 6120 is indeed about three and a half AEMs:


And now, with the time well past 20:00, this reviewer is off to eat some AEMs.
Reviewed by krisse at