Nokia CEO, Stephen Elop, said:
"Focusing on location and commerce is a natural next step in Nokia's Services journey. We will provide next generation social-location applications and commerce to differentiate Nokia. We also aim to extend our content and services offerings to all consumers by making them available to partners and customers on a wide variety of devices and operating systems. Michael is a widely recognized authority in the fields of mobility and social location services, and I am delighted to appoint him to lead an area of our business that will be crucial in Nokia's transformation strategy."
The merger of Nokia's two major location based business areas is a logical step and emphasises the importance of location in Nokia's future strategy. Location data and services represents Nokia's biggest software and service contribution to its partnership with Microsoft. The most obvious part of this is the provision of location, mapping and navigation applications and services. An important growth area is location based advertising, an area that was specifically highlighted during the announcement of the Nokia-Microsoft partnership.
NAVTEQ currently provides data, platform and mapping services to a large number of companies across a diverse range of industries (automotive, mobile Internet, logistics, GIS, government, developers and media). Along with Tele Atlas, it's one of only two global providers of digital mapping and related location data. Nokia will continue to build that business, but clearly see an opportunity to provide additional services and content. Expect to see powered by Nokia under a diverse range of location related devices and services, many far beyond Nokia's traditional home in the mobile industry.
The Location & Commerce unit will be led by Michael Halbherr, who previously headed the product unit in Nokia's service business and has a long history with Ovi Maps and related activities. He joined Nokia in 2006 when Nokia acquired the mapping application company gate5 (the forerunner of Nokia Maps) and is one of Nokia's most coherent and forthright executives. Halbherr will report directly to Nokia's CEO, Stephen Elop, and, from July 1st, will join the Nokia leadership team, becoming an Executive Vice President.
Tero Ojanperä, who has served as the acting Head of Services and Developer Experience, "will continue as executive sponsor of Nokia's Bridge program". The bridge program is designed to help those employees who have been affected by Nokia's recently announced job losses and wish to start their own companies. Ojanperä will also continue to serve as a member of the Nokia Leadership Team.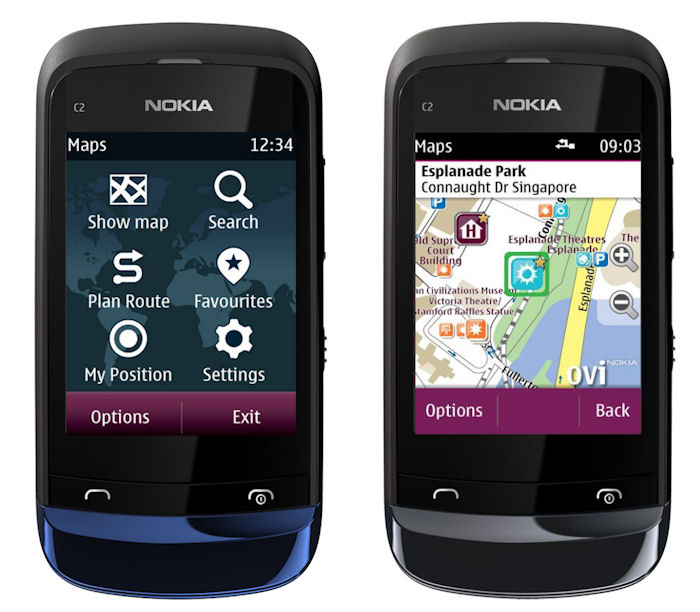 Nokia's recently announced Series 40 Maps service
Getting more from the data
The creation of the Location & Commerce unit represents a major strategic shift for Nokia's location services and mapping business. Nokia has run NAVTEQ independently from the rest of the company since acquiring NAVTEQ in 2007 for $8.1 billion. This has meant that the degree of linkage between Nokia's own location services, exemplified by Ovi Maps, and NAVTEQ has been relatively limited. The relationship has been nearer that of a favoured external partner, with only limited knowledge and information exchange.
This has meant that Nokia has not fully realised the potential of combining the companies' two data assets. NAVTEQ's mapping and geo-data assets are well understood; less well known is Nokia's data around consumer usage patterns and behaviour, which stretches across almost every price segment and every geographical region.
Combining the two of these together and using the billion plus Nokia devices in use to further refine the data will be a key activity for the new unit. It will be critical to build both an accurate and complete data-set, as this will directly impact the value that can be extracted from it. The value of such a data-set is also likely to increase in the years ahead as location becomes a universal index, integral in every mobile platform. Nokia's possession of such a data set could be a key competitive asset, both in creating new services, positioning consumer propositions and making business strategy decisions.
Source: Nokia press release