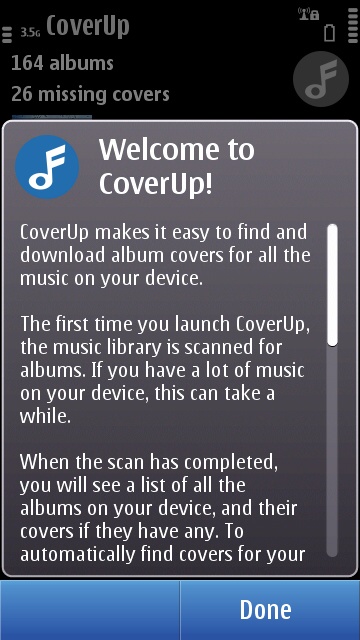 Cover Up's new welcome page

The previous version of CoverUp featured a two-tabbed user interface (UI), listing both all albums, and those without covers. This has now been done away with, in favour of a unified list. The new UI displays a text summary, informing you of the total number of albums, and how many do not have any detectable cover art.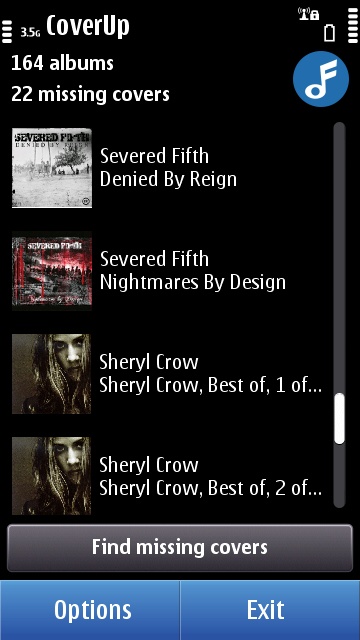 The new unified list in CoverUp

A simple button at the bottom of the screen labelled "Find all covers" will trigger CoverUp2 to go and query Amazon for all the album titles it can find on the device. The list of albums can be kinetically scrolled through, and missing album art will be depicted by a blank place holder icon. Tapping on an individual album allows the user to tailor the search query sent to Amazon. However, there is now also an option load an image already stored on the device, e.g. the typical "Folder.jpg" stored with album files. The user will, of course, have to manually navigate to this file.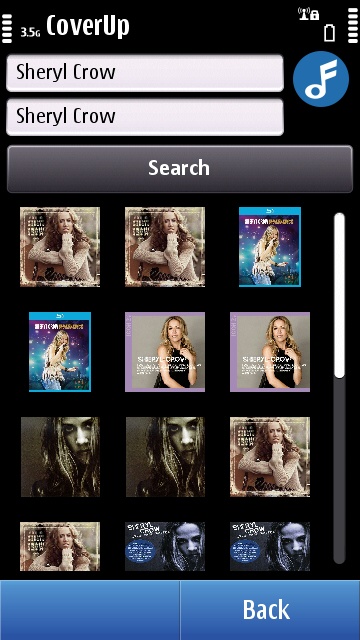 Creating custom art searches, or loading your own

Overall, this is a great update to an already unique and genuienly helpful application. Those who have purchased the original version will have to uninstall, and then reinstall via the Ovi Store to get the update.
CoverUp is available on the Ovi Store for £1.50.
David Gilson for All About Symbian, 13th May 2011.