AppMe's use is best illustrated with another walk-through, this time using the brand new mobile version of its wizard, which you can try out for yourself in Web on your Symbian smartphone at http://appme.eve-c.org/m/ :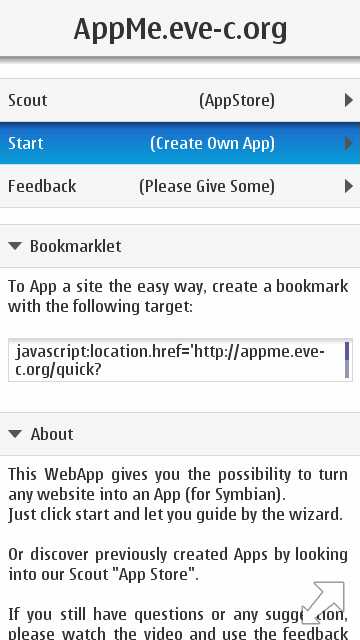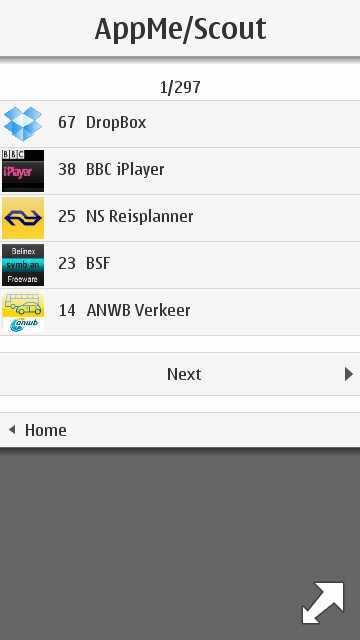 Above left, the AppMe mobile home page, let's try the new Scout 'app store' function first. Rather than have loads of people try creating 'apps' for identical web bookmarks, AppMe now saves what you create in its own little store, so that you can browse other peoples' creations (above, right, showing some common uses) and simply download the SIS file immediately. A nice time saver.
However, in this case, I'm trying to demonstrate AppMe's (enhanced) creation facilities again, this time via the brand new mobile web interface. One page I go to a lot, via a Web bookmark, is the BBC's weather forecast for my local area, so let's use this as my example.
To get the URL, I bring up the Bookmarks view in Web and then long press on the appropriate one and tap on 'Edit'. Then bring up the URL, highlight it (below, left) and tap on the mini-menu and 'Copy'. OK, that's a fair few steps - you might prefer to just scribble the URL down somewhere and then type it in again.
Tapping on 'Start' in the AppMe home screen gives 'Step 1' of its wizard, and it's easy to fill in a suitable name and to tap in the URL field and 'Paste' in the URL needed (below, right).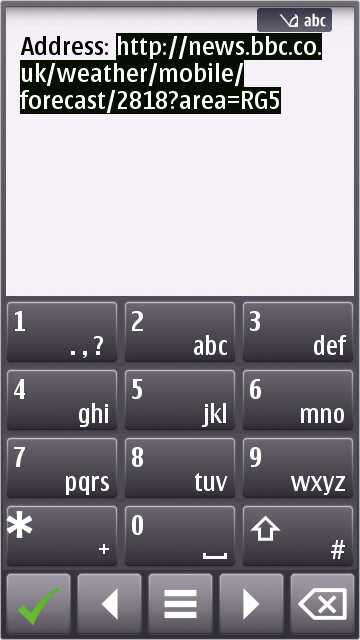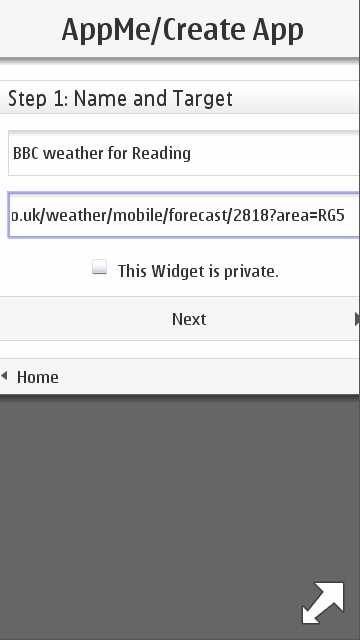 Tap on 'Next' to move onto 'Step 2', choosing an icon. New for this version of AppMe is the retrieval of any 'favicon' from the web URL quoted. This sometimes exists and can save time. But not here!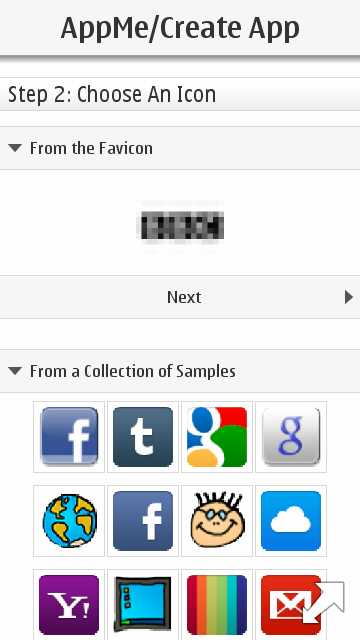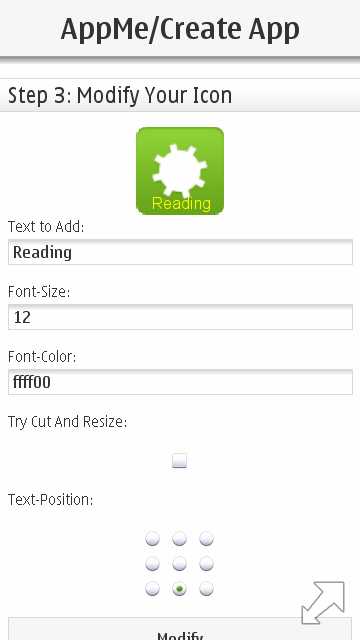 Having chosen (from the provided gallery), or uploaded, a suitable icon, 'Step 3' is to customise it with overlaid custom text, you can even specify the font size, colour (in RGB, so 'ffff00' is all red, all green and no blue, i.e. yellow) and position relative to the graphic (above, right). Again, all this is being done on the phone via a mobile interface - which means you can do it all on the 'go'.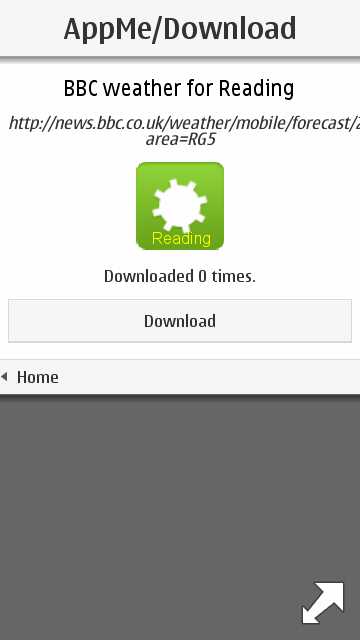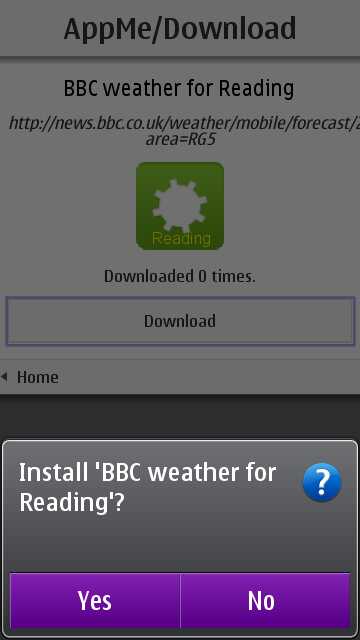 Finally my 'application' is created and offered for download (above, left). As with any other Symbian application, it'll be offered for installation automatically (above, right). As the resulting app is small, I suggest on the internal disk, so that you never have any issues with the app being locked out while your phone is plugged into a desktop computer.
Now it's up to you how you use your new bookmark-as-application. Most obvious is to stick it in a shortcuts panel on the Symbian homescreen. You'll recall that standard bookmarks can be added to homescreen shortcuts panels but they end up with a default icon and no descriptive label (so you can't tell which bookmark is which) - I attempted a crude workaround some time ago but this is 100 times more elegant.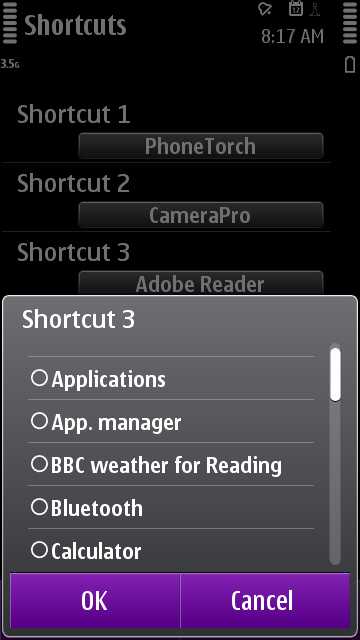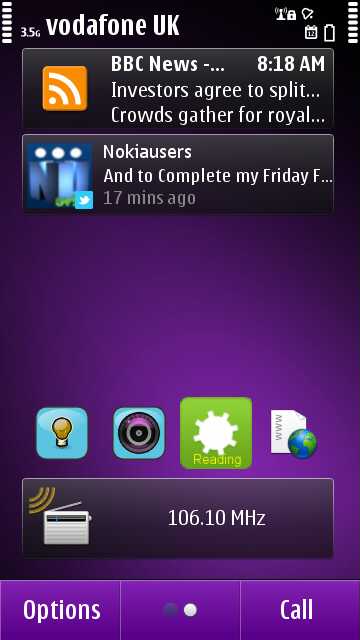 As you can see, above left, the new 'application' shows up in the regular app lists and can be picked for use in a Symbian homescreen shortcuts panel, with my chosen icon and text proudly displayed, above right, next to a standard Web bookmark, for comparison.
As with the first version of AppMe, tapping the icon goes first to a brief interstitial screen, with a possible ad display (1 time in 10?), and then onto your chosen URL, but the developer has specified a modest amount for donations/pledges ("As soon as I get donations, or pledges for donations, in the amount of 100 €, I will remove all advertising from appme.eve-c.org and all future appme-apps.") and if even a few dozen people support the concept we could see a version of AppMe which is even slicker and faster. So, if you like the idea, please get involved and let's get the developer over this speed bump!
One final addition for this new version is an 'AppThis' 'bookmarklet' that works in your desktop web browser to quickly get started on a new AppMe app when browsing a page you want to get to later (from an app) on your phone. Interesting, though I didn't try this out.
Comments welcome!
Relevant links:
AppMe blog entry announcing the new version
AppMe main desktop browser home page
Steve Litchfield, AAS, 30 April 2011